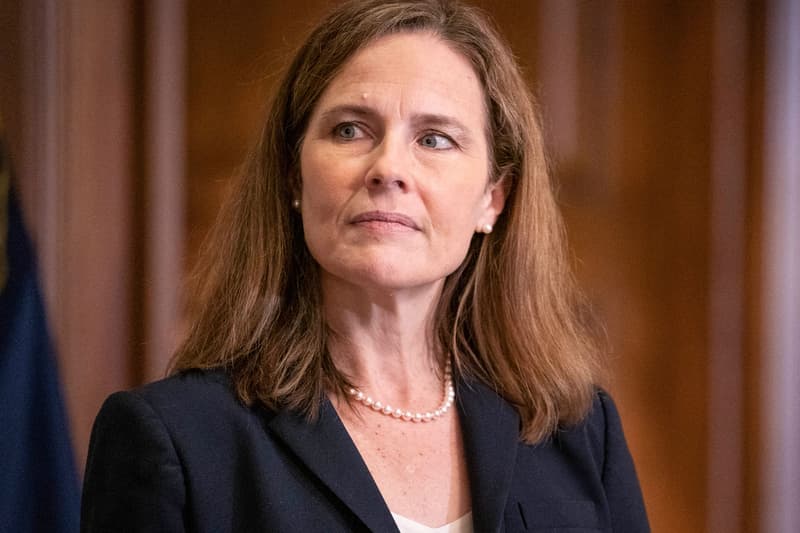 Culture
How Amy Coney Barrett Could Sway Roe v. Wade — And Where to Donate to Protect Abortion Rights
With Barrett's Supreme Court confirmation, the right to an abortion is at risk.
How Amy Coney Barrett Could Sway Roe v. Wade — And Where to Donate to Protect Abortion Rights
With Barrett's Supreme Court confirmation, the right to an abortion is at risk.
On October 27, Amy Coney Barrett was confirmed to the United States Supreme Court, replacing the late Ruth Bader Ginsburg. For many, Barrett's appointment was a symbolic — and literal — blow to Ginsburg's work towards establishing legal equality for women. Barrett, a conservative Catholic who believes life begins at conception, has repeatedly expressed anti-abortion views and considers herself an "orginalist," meaning she "interprets the Constitution according to the understanding of those who drafted and ratified it."
With Barrett's appointment, several crucial issues are at stake, including the Affordable Care Act (also known as Obamacare) and LGBTQ+ rights. Equally as concerning is Barrett's newly minted ability to rule on abortion rights — according to CBS, there are currently 17 abortion-related cases that will soon reach the Supreme Court. Though she said a complete reversal of Roe v. Wade – a landmark ruling protecting the right to a legal abortion — is unlikely, she would consider reversing precedent if she believes prior rulings are in conflict with the Constitution.
Though Barrett refused to offer an opinion on whether Roe v. Wade was correctly decided, she is in favor of increasing abortion restrictions on clinics providing the procedure, as well as on the timeframe in which women can get legal abortions. If passed, the restrictions Barrett have in mind may very well pose excessive hurdles to securing an abortion, essentially rendering access impossible. Oftentimes, the burden of abortion restrictions fall the hardest on poor women who cannot afford to, for example, travel long distances or take time off work for the procedure.
If Roe v. Wade were weakened or even overturned, the Center for Reproductive Rights reports that abortion rights would be protected in less than half of U.S. states. The center provides an interactive map indicating which states (mostly falling in the South or Midwest) have laws that would outlaw abortion or make abortion access incredibly difficult should Roe v. Wade be affected. For example, West Virginia Constitution passed an amendment in 2018 stating that there is no right to abortion under the state constitution.
If you're (understandably) concerned about the precarious state of abortion rights in the U.S., donate to an abortion fund. Consider prioritizing funds located in states known to have restrictive abortion laws. In addition to West Virginia, high-risk states include Mississippi, Kentucky, Missouri, Arkansas, South Dakota, North Dakota and Louisiana (see the Center for Reproductive Rights' map for a full list). The National Network of Abortion Funds has a list of funds, by state, that you can donate to or connect with, should you be in need of an abortion.
---
Share this article