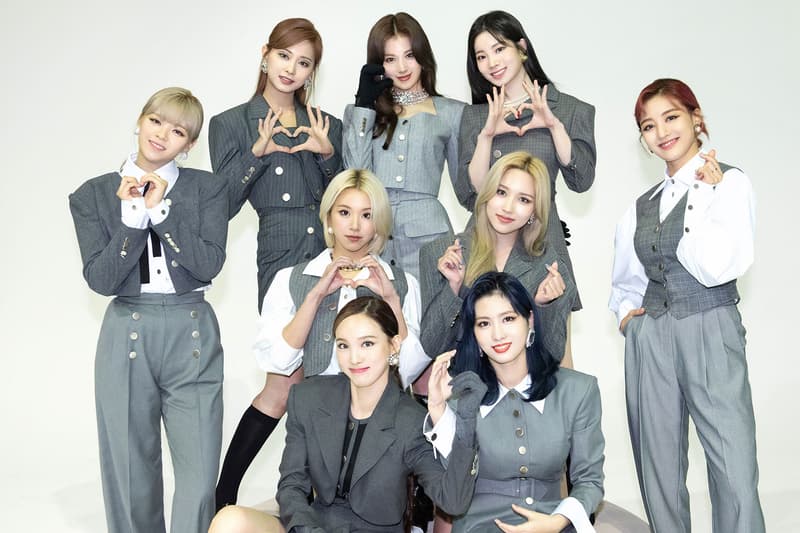 Music
TWICE Talks Inspiration Behind New Album, 'Eyes wide open'
Marking the K-pop group's second full-length project.
TWICE Talks Inspiration Behind New Album, 'Eyes wide open'
Marking the K-pop group's second full-length project.
Despite challenges posed by the pandemic, the K-pop industry has been thriving this year as it becomes a mainstream genre in regions like Europe. One of the groups that have continued to achieve success is TWICE, the JYP Entertainment act that has just released their sophomore full-length album Eyes wide open in celebration of their fifth anniversary.
After competing in the reality competition show Sixteen, nine members were chosen to create TWICE. Debuting with "Like OOH-AHH," the group has built a massive fandom that goes by the moniker ONCE. From "Cheer Up" to "TT," each release from the K-pop group has been a huge hit. The girl band has even expanded their reach to countries like Japan, and now the United States.
TWICE is one of the groups that has made history not only in K-pop, but also on the global music scene. In 2017, they were the only Asian women on Billboard's "21 Under 21: Music's Next Generation" list and took over headlines last year for selling over six million albums worldwide. On Twitter, users were more interested in Momo's teaser for the group's EP Feel Special than an Apple event that took place the same day. Most recently, the group was tapped by Riot Games to participate in virtual pop group K/DA's debut EP, ALL OUT. As K-pop continues to go global, fans can expect to see more from TWICE in the future, whether it be new tracks, music videos or collaborative projects.
Ahead, TWICE members Sana, Momo, Tzuyu, Jeongyeon, Mina, Nayeon, Jihyo, Dahyun and Chaeyoung talk to HYPEBAE about their new album Eyes wide open and more.
What have you been up to? How has this year been like for everyone so far?
Jeongyeon For TWICE, we have been finding ways to work around COVID-19 and how we can interact with our fans in a new, creative way. We are all hoping that one day soon we can meet our fans on tour, and give them the energy that they give us.
Chaeyeong We've been spending our time preparing for our comeback. Due to this record being our second full album, we had to take extra steps to make it perfect. I still had a chance to spend time for myself doing hobbies and writing lyrics while staying at home, but this year has definitely been different.
What are some things that have been inspiring you recently? Have you developed any new hobbies or interests?
Nayeon My biggest focus right now is our comeback. I have been spending most of my time working on Eyes wide open with the other members, so I haven't had much time to find a new hobby. However, I would definitely want to try finding one later on. I especially want to find a hobby that all of us can participate together in.
Sana As of now, my hobbies are gazing into the nightscape and collecting perfumes, scented candles and bath salts since I love all types of fragrances. I am trying to expand my list of hobbies by trying new things whenever I can. I would love to try Taekwondo and horseback riding next if I get a chance.
View this post on Instagram
What are some hair colors or makeup trends you have been into?
Momo Personally, my favorite hair color is black but I've been noticing recently how beautiful Nayeon's hair is with highlights, so maybe I'll try that one day. As for makeup trends, I don't follow any particular style when I'm putting on makeup by myself. I prefer trying something new that suits my schedule of the day. Recently, I've been into overlining my lips, ever since my makeup artist tried it on me.
Dahyun Ever since our debut, I've had a variety of hair colors, from blonde to ash gray. I would now like to try a natural color, which is why I'm into dark brown or black these days. Also, I've heard that some fans want to see my hair with bangs, so I tried that this time around. I hope everyone likes it.
Being a K-pop idol certainly is not an ordinary experience. What are some of your favorite things about your job?
Jihyo My favorite part of being a K-pop idol is that I receive so much love from my fans across the world. ONCE always makes sure we get plenty amount of love, and I am very grateful for that. The feeling of knowing that I'm getting love and support no matter where I am is something that motivates me to create better music and performances for our fans, so that I can return the love I'm getting from them.
Mina Meeting a wide variety of people is something that I enjoy about being a K-pop idol. I am grateful to have people next to me who support both myself and TWICE to achieve our dreams. The best part is definitely when all of our hard work pays off and we can present ONCE with the best music and performance.
Tzuyu The part I love about having this job is that I can bring comfort and fun experiences to my fans through TWICE's music. Knowing that I am adding vivacity into ONCE's lives makes me proud to be a member of TWICE and makes me feel motivated to continue to deliver my best vocals and performances.
Can you tell us about your second full album, Eyes wide open? What was the inspiration behind it?
Nayeon I was able to get inspiration from our title song "I CAN'T STOP ME" through its lyrics. This song has a very clear mood, which helped us find guidance and direction in sculpting our entire album. The story of our title track is also a continuation of our previous album MORE & MORE. By comparing and contrasting the two albums, we noticed how the story is continuing to develop and how we can effectively deliver the goal for our next album.
Sana Both our fans and members have been waiting for this album for a long time, so we wanted to fill it with a wide variety of concepts and styles that all of us asked for. Some members, including myself, wrote lyrics for the B-side tracks, and I am very excited to share them with the world.
Jihyo Eyes wide open is finally here after waiting for a long time since our first full-length album. As you can notice from hearing the songs in MORE & MORE, we started with bright and cheerful songs like "LIKEY." In contrast, Eyes wide open consists of songs with a more mature vibe, so I think you'll be able to see how TWICE has changed throughout the years if you compare the two.
What's your favorite track from the new album and why?
Jeongyeon I love our title track "I CAN'T STOP ME." We tried retro for the first time,  and the title track sets the tone for the whole album with the synth sources from the '80s. The retro sound matches the story of being unable to stop oneself from crossing the line between good and evil, so I'm very excited to share this song with our fans.
Mina My favorite track is "SAY SOMETHING." I describe this song as something that's beautiful and easy to listen to. The keywords for this track are "romance" and "city." These two words can help you picture a beautiful image while listening to it. We recommend this song while driving through an autumn evening.
Tzuyu I choose "UP NO MORE" as my favorite track from the album. I loved it from the very beginning since its demo version, but I grew to love it even more after I heard the members' voices singing this song. TWICE's voices fit this song perfectly, so I hope we can sing it to ONCE one day.
What are some things you want your fans to pay attention to when they listen to your new album?
Momo Because our B-side tracks in this album are wonderful to listen to, I hope our fans will take their time to explore this side of the album as well. We are also having some performances ready for them, so make sure to stay on the lookout for those.
Dahyun For Eyes wide open, members have actively participated in writing the lyrics for the B-side tracks. I participated in writing the lyrics for "BRING IT BACK" and "QUEEN." I hope our fans will enjoy listening to those, in addition to the title song "I CAN'T STOP ME."
Chaeyoung The album consists of songs that each have their own style and concept. Even though the title track "I CAN'T STOP ME" sets the overarching retro concept, the B-side tracks all have unique lyrics that make each track valuable to us and to the fans.
You went on your first world tour last year. What was the experience like?
Jeongyeon Getting over jetlag was not a fun experience, but meeting ONCE from other countries was worth the travel. As soon as we met ONCE across the world, the feeling of fatigue from constantly traveling magically melted away. I hope COVID-19 ends soon so we can meet our fans once again.
Sana We've been on tours before, but it was our first time going to the U.S. for a world tour. I was very excited to see how the reactions of ONCE differed based on the cities we went to. We were also able to receive a new vibe of energy from ONCE in America. It was definitely an unforgettable experience.
Jihyo We all had so much fun. If it weren't for COVID-19, we were planning to meet ONCE again this year, so we were very disappointed when the pandemic broke out. We cannot wait for the COVID-19 to be over and meet our wonderful fans again.
What were some things you learned about each other during the tour?
Nayeon Since it was a long tour and we were in multiple countries that we were all unfamiliar with, we felt tired and homesick a lot of the time. However, knowing that we had eight other members who feel the same way, we were able to rely on each other on a deeper level, and developed a stronger bond by sharing how we could overcome the situation together.
Dahyun It's actually hard for me to pinpoint a certain moment when I learned something new about the members, since we spend so much time together even outside of tours. Being together in a foreign country made us closer and definitely created some memorable memories.
Tzuyu I learned more about all of the members' charms and strengths during the tour. Since we had multiple performances during each show, I was able to see how each concert was different from another. It was fun to watch the other members perform and how everyone became more comfortable and would add some small twists to their moves.
Once COVID-19 is over, what other projects do you have in mind?
Momo Definitely performing in person. Because of the pandemic, we were unable to tour and spend time with our fans. We hope to get more opportunities to meet ONCE through concerts once the COVID-19 is over. That is something we all as TWICE are looking forward to.
Mina I would love to go on a trip with the members. We'll be able to take a good break and recharge ourselves for the next album. Being exposed to a new and unfamiliar environment can refresh our minds and help us come up with creative themes and inspirations.
Chaeyoung Like Momo mentioned, I would love to meet our fans in person again at concerts. The performances are never the same without the fans' presence and energy delivered through their cheer. I hope everyone stays safe and healthy, and we can't wait until the day we can host concerts again.
Share this article