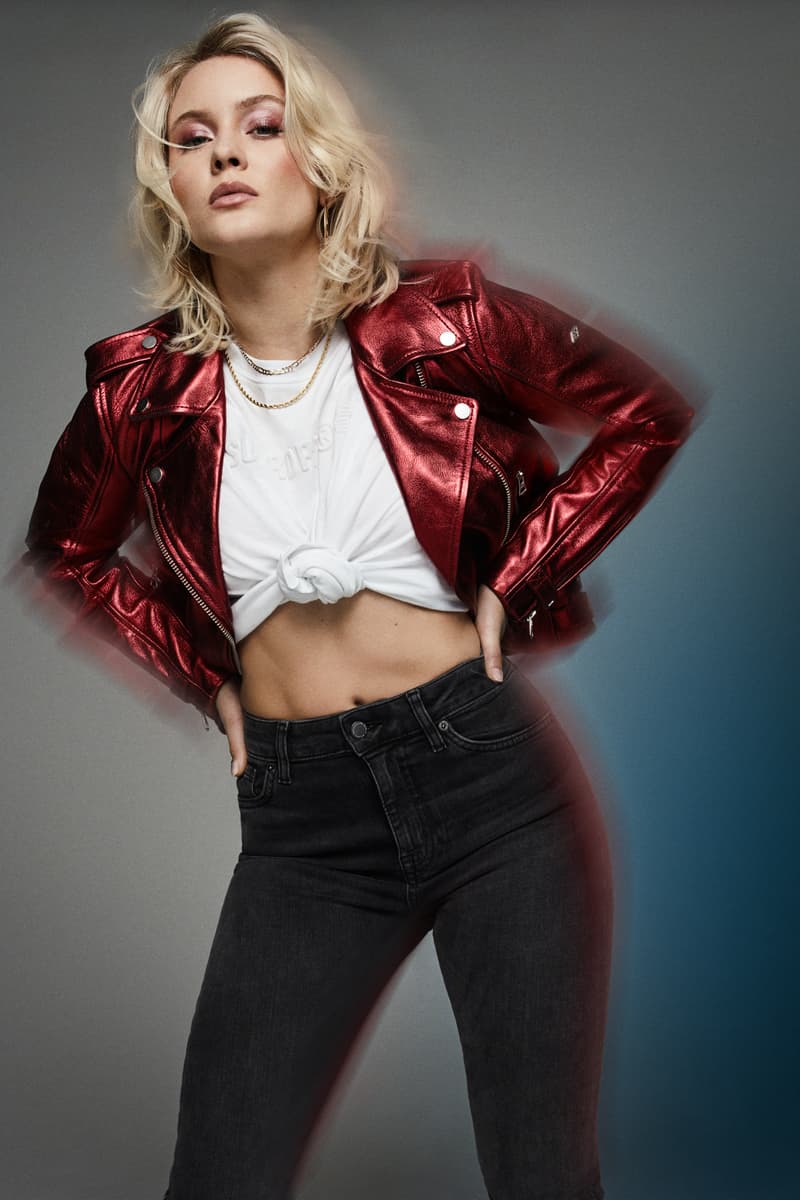 1 of 4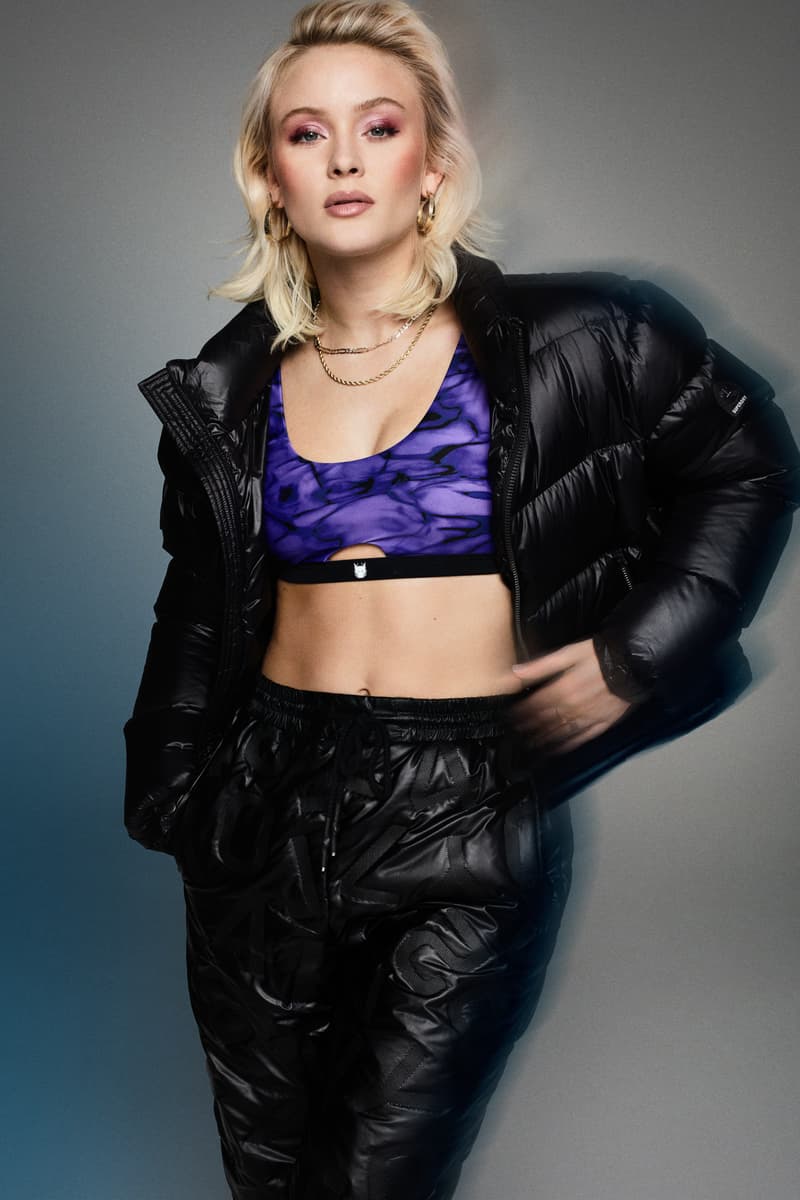 2 of 4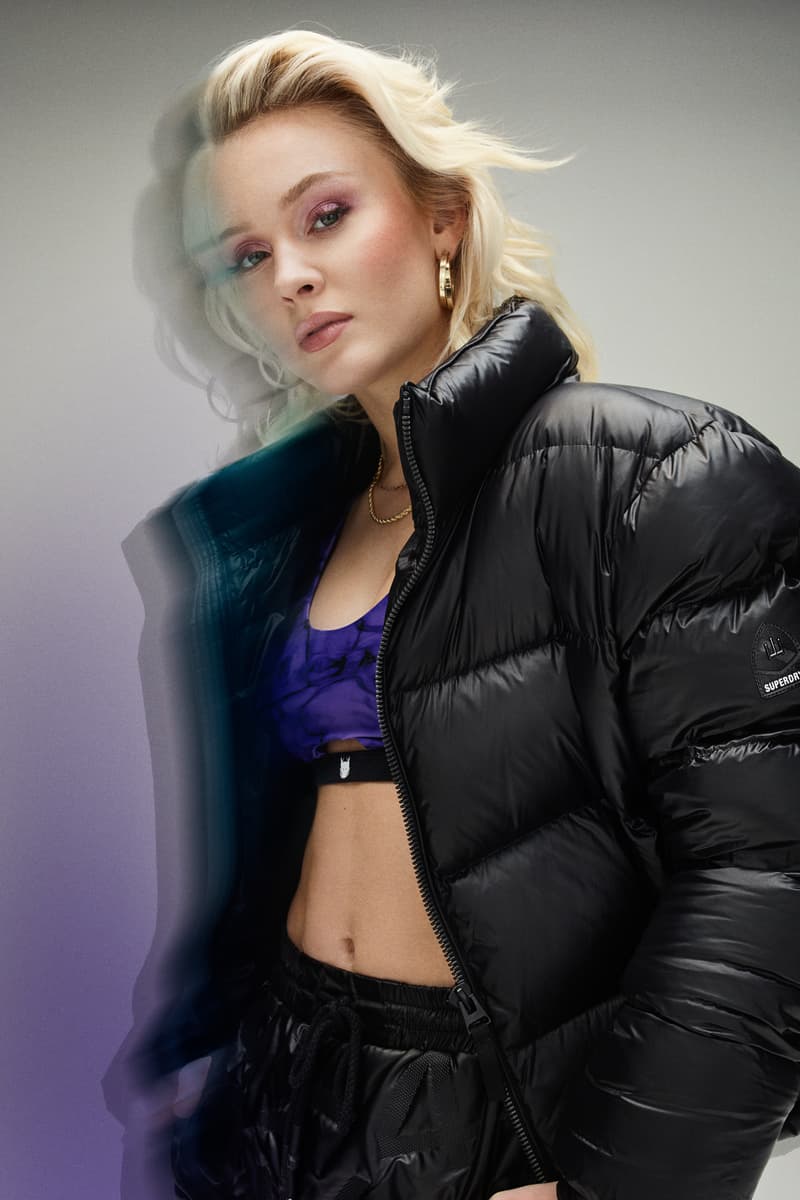 3 of 4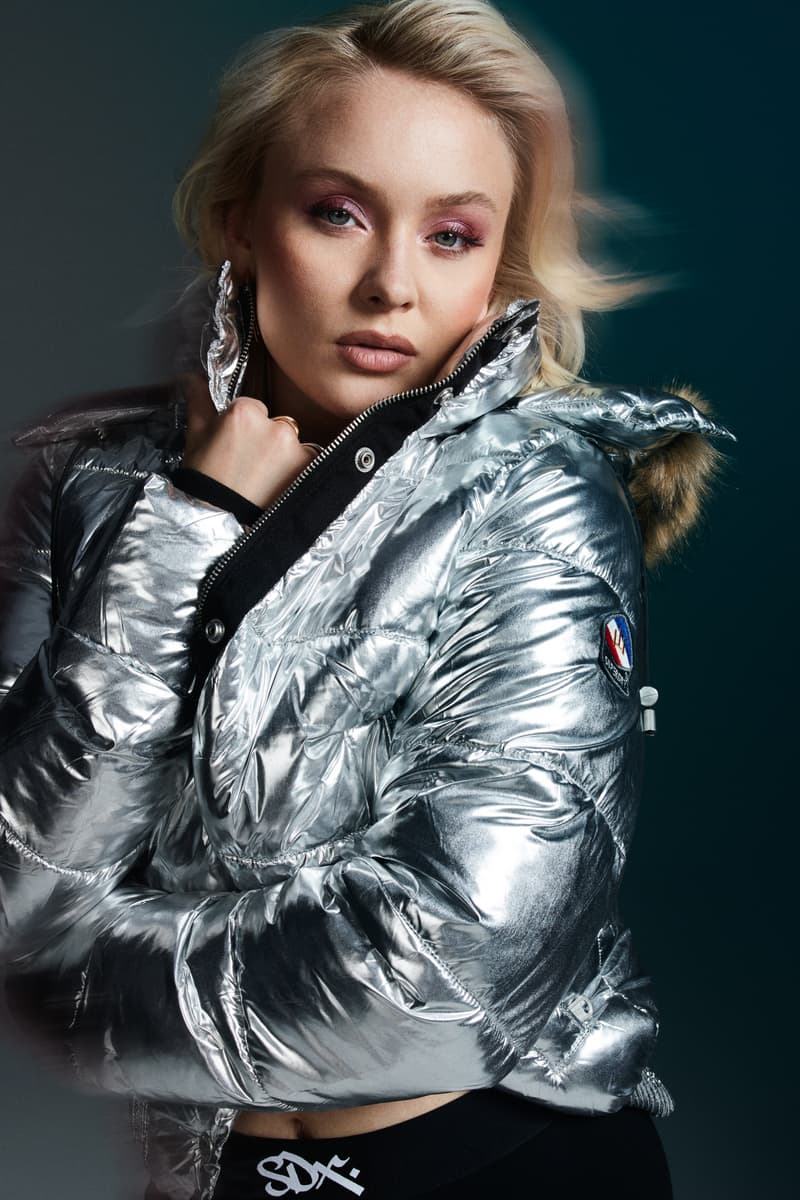 4 of 4
Fashion
Zara Larsson on Music, Her Fashion Icons and Shooting a Campaign in a Pandemic
The Swedish singer is the face of Superdry's latest campaign.
Zara Larsson on Music, Her Fashion Icons and Shooting a Campaign in a Pandemic
The Swedish singer is the face of Superdry's latest campaign.
Swedish pop star Zara Larsson is perhaps one of the most exciting names in music right now. Winning Sweden's Got Talent in 2008 at age 10, there's no doubt that the singer has a voice like no other, and now, she's gearing up to launch her new album before end of the year.
With multiple chart-topping hits, catchy singles and vibrant music videos, the star is also the face of Superdry's new outerwear campaign, sporting eye-catching statement pieces ideal for the season. Puffers, leather jackets and coats, the collection goes big and comes in minimal colorways as well as shiny metallics, perfect for those looking to shine bright.
Ahead of the campaign launch, we had the chance to chat to Zara Larsson about everything from her experience shooting a campaign in the middle of the COVID-19 pandemic, to her biggest fashion inspirations. Keep reading below for our full interview with the Swedish singer, and peep the full Superdry collection here.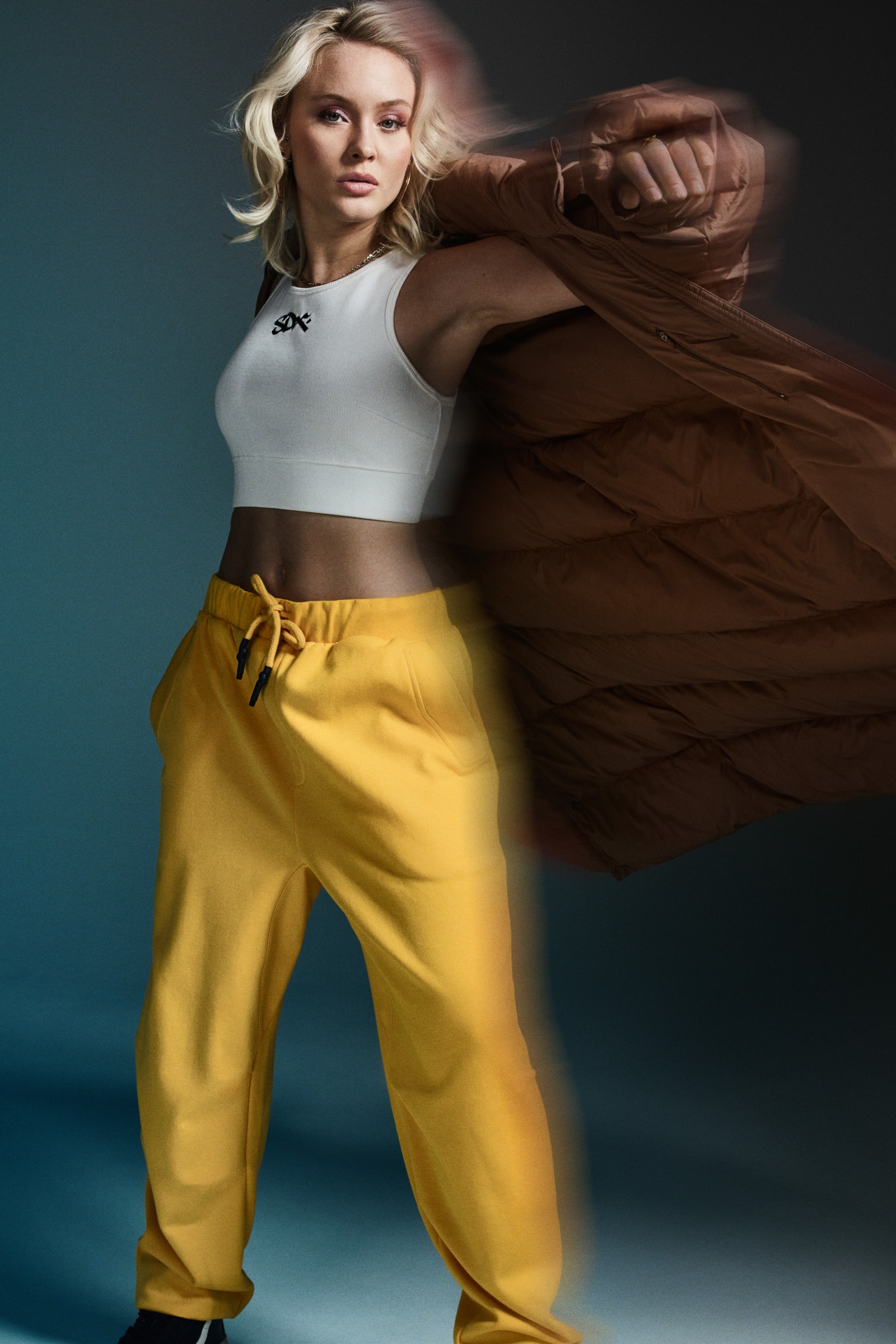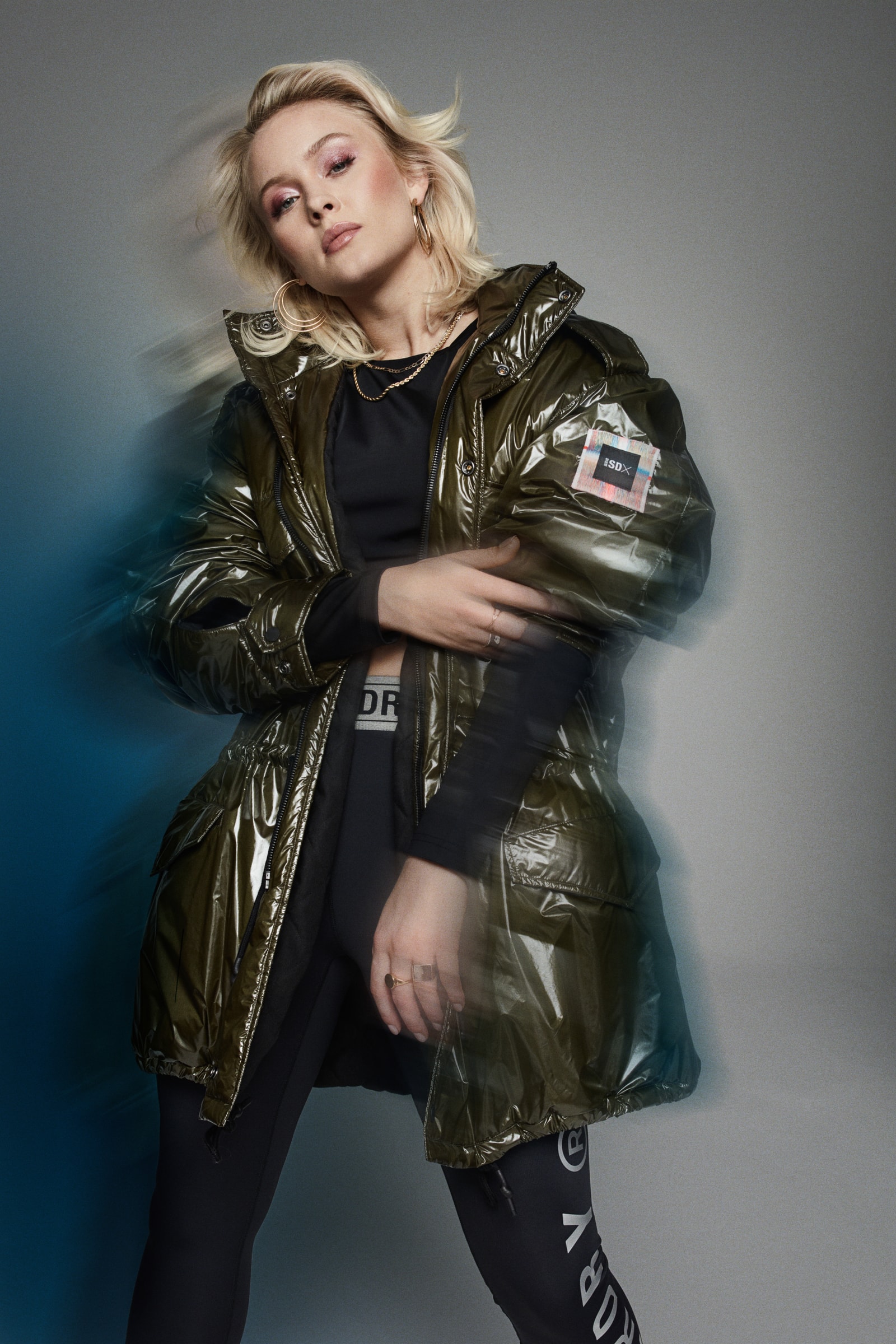 What's your experience throughout the pandemic been? How has it impacted your work?
The experience for me personally hasn't been that bad, I've enjoyed slowing down slightly and being around my friends and family at home, but as an artist, one of the downsides would have to be that I've had to cancel all of my shows this summer – which is a shame!
What has it been like growing up in the spotlight? How has your music changed over the years?
I personally feel like I didn't grow up in the spotlight. I've had a very normal childhood, maybe people recognised me at parties or something, but I can't lie, I liked the attention people were giving me as it's always been a positive experience. I've had some really great people be supportive of me and growing up I've had exposure to some cool experiences that I'm really lucky to have had, and I'm so grateful for.
How has growing up in Sweden inspired you and influenced you?
It's hard to say because I've never known anything different. In Sweden, if you're wanting to become a musician or work in the creative industry, you are taken quite seriously and there are government schemes, funding and grants that encourage people to further develop their skills. It really allows for most people to just go for it without having to worry about choosing between buying food and paying rent or becoming a musician. It allows for both, so it's not either or. It's really nice and I think that's why a lot of people dare to be creative. There's so many brilliant Swedish Writers, Artists and Producers and they've really paved the way for generations to come. When I visit other countries and tell people that I'm Swedish and I do pop, they are aware – that as a nation – we have a really good reputation, so that benefitted me a lot, especially internationally.
Who are some of your biggest fashion icons? How would you describe your style?
I love flirty, fun and young fashion but still really glamourous. In terms of people, Rihanna, I think is insane, her looks are always incredible. The same goes for Lady Gaga, she's iconic and she's very of our time but really fashion forward too. In terms of my own personal style, I suppose I dress for my mood, rather than a set style. So, some days I'll be happy in comfy trackpants and sweaters but then if I'm feeling more glamourous, I'll put on a dress and heels. I'd say my style is almost like an extension of my personality and shows my different moods!
What are your favourite pieces from the collection?
Ooohh! It's hard for me to choose, I love the cropped white logo tank top, but also the long jacket styles and I think my ultimate favourite has to be the Blue and White reversible jacket, this is perfect for wrapping up in the winter!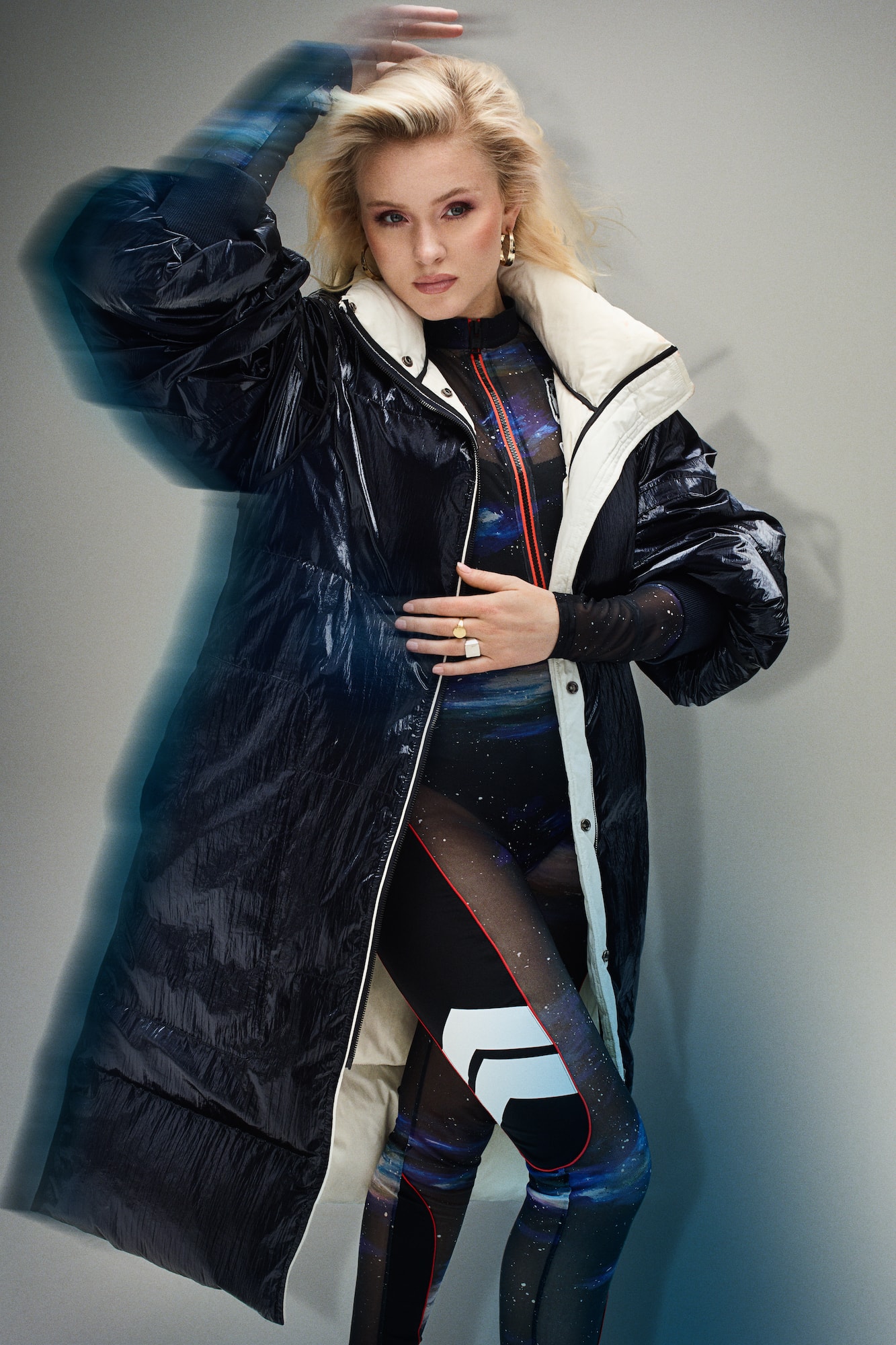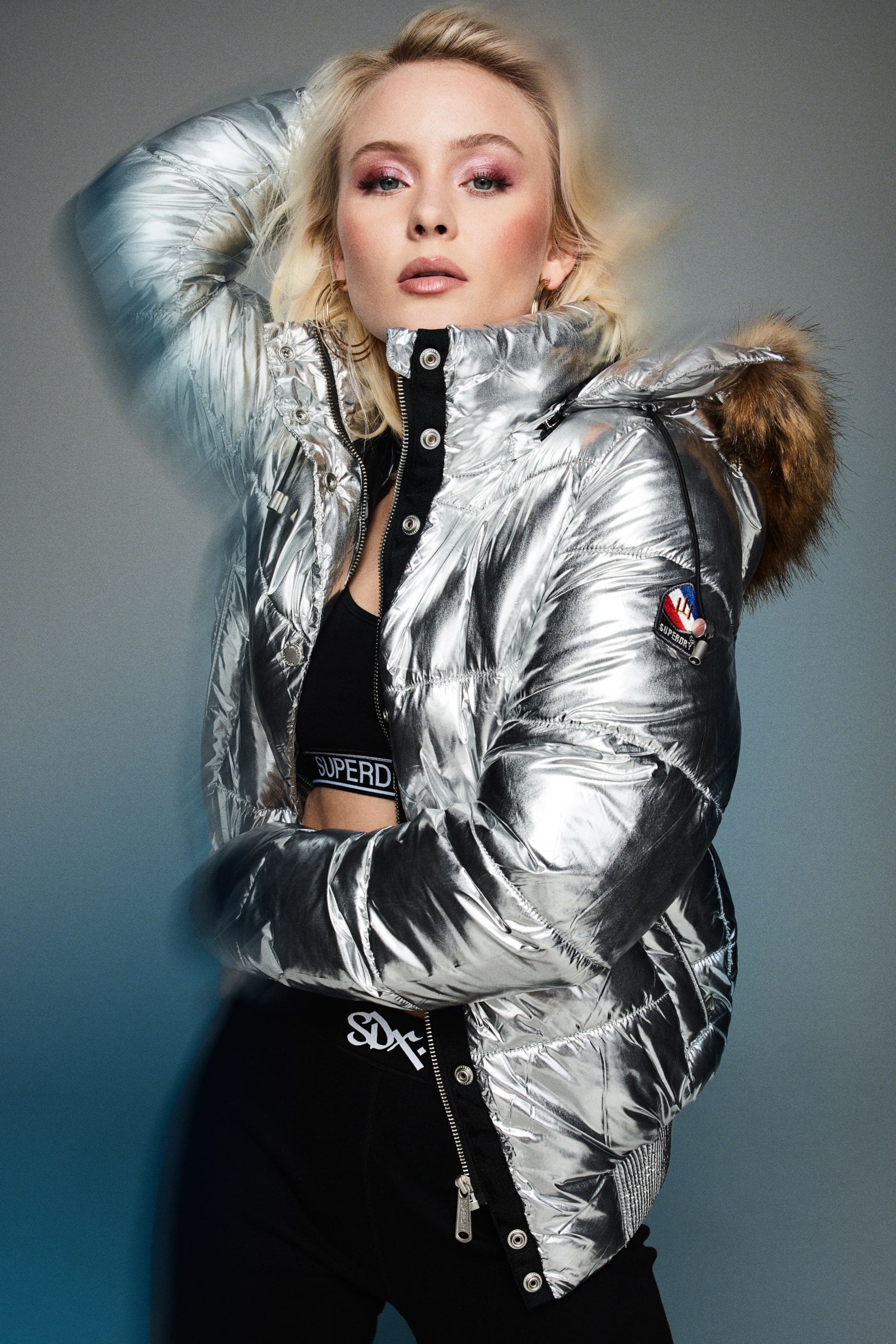 What has it been like shooting a campaign during a pandemic? And what has your experience been doing press virtually?
It wasn't too bad at all! I suppose it does take some getting used to having a Corona Officer on set, but the rules are there for a reason, so we have to respect them.
I think doing press interviews virtually has been quite easy for me to adjust to and something that I'm sure will continue after the guidelines around the pandemic have changed. I think sometimes working virtually is more beneficial as it saves people time getting to and from places, making it more efficient for everyone really.
What are you most excited about for the rest of the year?
For the rest of year, I'm really excited about releasing my new album, I've worked really hard on it and I'm excited to share it with my fans. I'm also really looking forward to my campaign launch with Superdry – it's all about jackets and really shows off my personal style, which is great because I love the cold. I'm looking forward to the crisp winter weather and wrapping up warm, which will be amazing when I get to go back home to Sweden for Christmas and spend time with my family.
What advice would you give to young creatives looking to break into the music industry?
I would say that it's important to keep pushing yourself in doing what you do, find people that really believe in you and surround yourself with them as a strong support system, and just focus on your personal goals. In this day and age, it's a lot easier to make it as a musician on your own, you can really put yourself out there. You don't need to be signed to a major record label, with technology and the way things are developing online, you're able to share your skills and grow organically – just keep believing in yourself!
---
Share this article