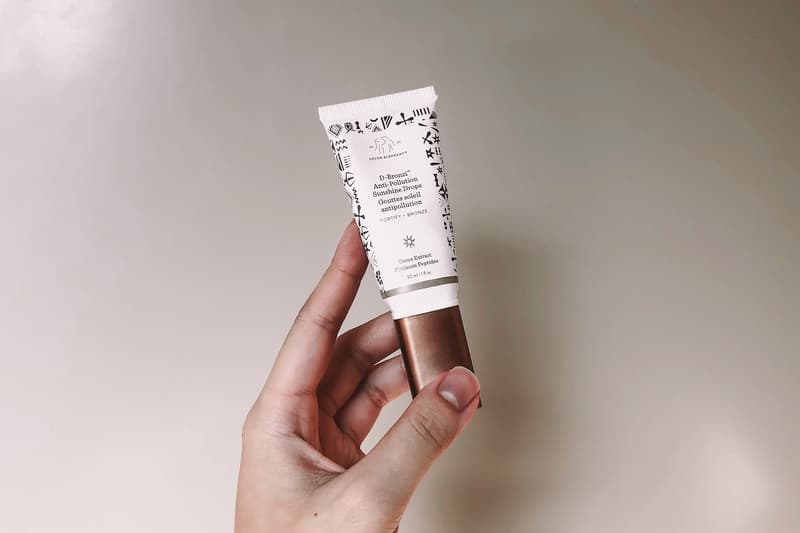 Beauty
Get That Sun-Kissed Glow With Drunk Elephant's D-Bronzi Sunshine Drops
This week's "Editor's Pick" is a beauty must-have during the colder seasons.
Get That Sun-Kissed Glow With Drunk Elephant's D-Bronzi Sunshine Drops
This week's "Editor's Pick" is a beauty must-have during the colder seasons.
In the past few months, I've only been putting makeup on once or twice a week if I have something special planned after work. On days when I don't need foundation or concealer, I usually just stick to my regular morning skincare routine, followed by filling in my brows and applying mascara on the lashes.
However, with fall in full force now and not having been able to get enough sun due to coronavirus restrictions, my skin has been looking a little dull lately. I needed something that would help give my complexion life. When I came across Drunk Elephant's D-Bronzi Anti-Pollution Sunshine Drops, I instantly fell in love with its formula and the natural-looking bronzy glow it gives my skin. The product is literally sunshine in a bottle without the harmful effects.
Read on for my honest review and find out why this "Editor's Pick" will be my go-to product this winter.
WHAT IS IT: Drunk Elephant D-Bronzi Anti-Pollution Sunshine Drops
WHY IT'S WORTH THE HYPE: Known for her brand's vegan and cruelty-free products, Drunk Elephant founder Tiffany Masterson wanted to create something that would give the skin a healthy glow, but the product would also have to fit her suspicious six-free criteria. After perfecting the formula with her chemist, the D-Bronzi was born.
Infused with omega-rich virgin marula, black currant seed oils and vitamin F, the liquid bronzer is a concentrated mix of protective antioxidants that acts as a defense against pollution and environmental stressors. Key ingredients include platinum peptides that help reduce the appearance of fine lines, cocoa and white tea extract that contain powerful antioxidant properties, and chronocyclin that mimics the antioxidant benefits of vitamin D.
The D-Bronzi is highly concentrated (as you can see in the image above), so I wouldn't recommend using the product alone. What I like to do is to mix a pump of the product with my sunscreen, and blend them together with my fingers before application. This combination always gives my skin a gorgeous, sun-kissed glow as if I have just returned from the beach. I find that I prefer using the D-Bronzi rather than a tinted moisturizer for no makeup-makeup days. Not only does the product look more natural, but it also helps protect my skin from environmental stressors.
WHERE YOU CAN FIND IT: The D-Bronzi Anti-Pollution Sunshine Drops retails for $36 USD on Drunk Elephant's website and at Sephora.
---
Share this article