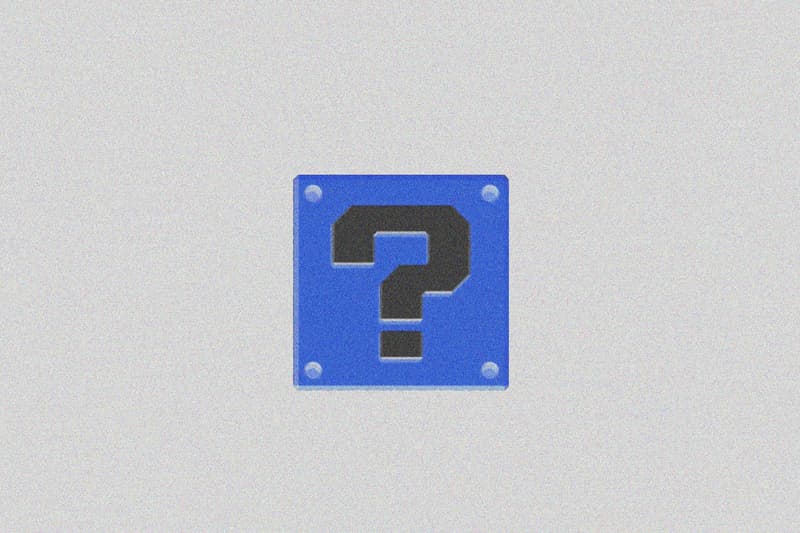 Fashion
Are Mystery Boxes the New Way to Shop?
As the fashion landscape is continuously changing, customers are seeking the thrill of a surprise.
Are Mystery Boxes the New Way to Shop?
As the fashion landscape is continuously changing, customers are seeking the thrill of a surprise.
The fashion industry has taken a huge hit following the COVID-19 pandemic. Our shopping habits have changed, both short-term and long-term, and it seems like we're not going to be returning to "normal" anytime soon.
With the physical shopping experience removed due to social-distancing measures, how to we keep the thrill of shopping alive? Browsing items online only does so much, and it removes the intimacy and element of surprise of shopping completely. When we no longer find joy in purchasing luxury pieces, what can we do? Enter: the mystery box.
The concept of a mystery box is self-explanatory. You get a box, without knowing what is inside, and when you open it you're surprised and excited to see what you've received. That's what sparked the idea behind HEAT, the company currently basing its business model around different mystery boxes, focusing on luxury brands through its streetwear and contemporary boxes. In our HYPEBAE box, we received a Jacquemus blazer, a bag from 1017 ALYX 9SM and a Marine Serre tee, and hat's only a glimpse at the big push behind the brand.
To learn more about the brand and the concept, we spoke to Joe and Mario, two of HEAT's founders. Keep reading below for our interview.
How did HEAT get started?
Joe: It's been a year since myself, Mario and the other founders first got together to discuss the potential of HEAT. We were all working in different industries but shared a common interest in fashion. This happened around the same time the 'mystery box' concept was growing increasingly popular on YouTube. At that time, there was sort of a grey area surrounding the idea of 'mystery boxes,' which we felt was because people didn't actually know if they would get value for money or not.
We wanted to remove that doubt and create a box where you're always guaranteed to get more than you spend. Mario, in particular, had a lot of connections to brands and retailers throughout Europe, so we decided to build on those relationships and using our network of influencers, we came up with the concept of HEAT. We provide a sustainable channel for brands, upholding original price tags, and protecting their image of exclusivity.
We pitched our concept to a few brands and stores who loved it, and within a month, we turned our idea into reality and launched on Black Friday last year. We sold over 1,000 HEAT Boxes in 20 minutes, reached the top 1% of Shopify Stores and received a 6% return rate on that drop. Following the positive response, we received the proof of concept that we needed, and HEAT has only continued to grow bigger since.
How do you think the COVID-19 pandemic has changed the way we shop?
Mario: COVID-19 has undoubtedly dulled the current retail climate, and as its long-term effects continue to come to light, shopping behaviour will continue to change. With more people feeling safer shopping at home, it was inevitable e-commerce would only continue to grow, which it was already doing fast before the pandemic.
Joe: Our second launch actually coincided with the initial peak of the pandemic in March, and we received an increase in demand from our customers — our team worked overtime to prepare for a re-stock to satisfy the mounting pile of orders. We were lucky to have recognised the impacts of COVID relatively early on, and promptly put strategic contingency plans in place. We relocated our operations, bringing distribution and fulfilment from Milan to the UK effective immediately.
Mario: We found that the HEAT box especially appealed to shoppers during this time, particularly the mystery element — it introduced an exciting new concept especially during a time when people were looking for a new 'at home' shopping experience.
What is it about mystery boxes that is so alluring?
Mario: The majority of our customers have shared that they love the element of surprise. We have built a reputation as a trendsetter through our influencers, and because of our partnerships with established brands — we receive a mixture of sought-after products which can range from new season to exclusive pieces, all of which can be found in a style-curated HEAT box. So not only do customers have the reassurance of getting value for money, the thrill of the unboxing experience adds to the overall fun of the product.
Joe: It's been great to see all the unboxing videos that have surfaced on YouTube, and we love seeing customers' reactions to their boxes. It's shown us how the brand has really built a community — especially at the moment, with a growing number of individuals spending time at home, and many in isolation, the sense of community has never been more inherently important. We're pleased to see that the mystery element has really appealed to shoppers, and even more so during this unprecedented period. Because of the nature of surprise, a box is a perfect gift to someone you love, or yourself!
How do you curate each box? What does the process look like?
Mario: We have a team of experienced buyers and stylists with backgrounds from Net-a-Porter and New Guard's Group who advise and curate the boxes. The contents of each box is handpicked to provide our customers with items and brands which are complementary and value-add.
How has social media acted as a marketing tool in the process?
Joe: We've  established a strong customer base of Gen Z consumers, which can definitely be attributed to our strong social media presence. In today's digital age, influencers play a crucial role in connecting a brand with consumers. We have built strong relationships with a diverse network of influencers over a stream of social media channels, primarily Instagram and YouTube, who are key to our business model.
Our audience are very active on social media, primarily shop online, often turning to influencers as their style inspiration. We partner with influencers who have demonstrated a strong sense of visual identity and personal style, in turn, they work with us because they buy into our product and believe in our ethos. Utilising our on-trend assortment of products, they put together looks that they would wear, and by extension that their followers would wear too. Because we have segmented our customer base and curated tailor-made boxes for each category of consumer, our customers no longer have to exert the effort of hunting down the best bargains on the same pieces that their favourite influencers are wearing.
What would you say are the best items one could get in a HEAT box?
Mario: I would say that it depends on your style. We have a growing list of brand partners that appeal to a wide range of people, it all comes down to what you like. Whether that's Amiri denim, or Casablanca's silk shirts, we have so many exciting pieces coming in all the time.

Are some boxes "better" than others?
Mario: Again, I would have to say that it all comes down to your style. At present, we have two style options; the Streetwear Box which has underpinned our success to date, would contain an assortment of sought-after products with a street culture edge. Our newest addition, the Contemporary Box, offers products from high-end fashion houses with a more refined aesthetic. So it all comes down to which aesthetic appeals to you! We offer two price points, £299 GBP and £500 GBP, and the items in the boxes differ based on their retail price point — but nonetheless, our expert team of buyers and stylists ensure that every piece that's put inside a  box is on-trend.
How do you picture the brand growing over the next few months?
Joe: We have so many exciting developments underway, especially in terms of the collaborations which we have planned with our brand partners, influencers and retailers. We also have a 'Style Profile' tool in the works. We believe personalisation goes hand-in-hand with luxury, and in order to provide an exemplary service, we want to get to know our customers. This entails understanding their likes and dislikes — whether that's brands, fit preferences or colours, gaining that information will allow our team of experts to curate more individually tailored boxes. Other exciting developments are coming soon, such as subscription and our loyalty programme.
---
HEAT's next box will drop on Black Friday online at HEAT.io
Share this article