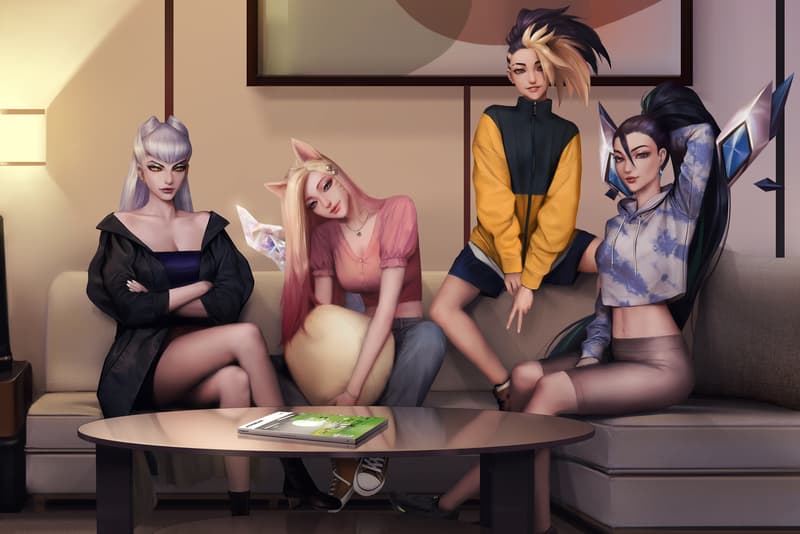 Music
Riot Games' Virtual Pop Group K/DA Is Ready to Go 'ALL OUT'
Ahri, Akali, Kai'Sa and Evelynn discuss their debut EP, future plans and beyond.
Riot Games' Virtual Pop Group K/DA Is Ready to Go 'ALL OUT'
Ahri, Akali, Kai'Sa and Evelynn discuss their debut EP, future plans and beyond.
Ever since their inception in 2018, K/DA has grown to become the four-member pop group breaking boundaries in the world of music. For starters, the team is entirely virtual featuring four characters of Riot Games' League of Legends, and boasts a star-studded roster of collaborators ranging from Madison Beer to (G)I-DLE and TWICE. In a world where in-person performances and shoots are not feasible as they once were, K/DA quickly rose to fame this year with their new single "THE BADDEST" and most recently, their debut EP titled ALL OUT.
The digital group features Ahri, otherwise known as the nine-tailed fox within the online battle game, who holds the team together. Evelynn is popular for her unrivaled charisma, while Akali has been the most active as a member of both K/DA and True Damage – another Riot-led virtual group. Completing the collective is Kai'Sa, who has been traveling the world to showcase new performances for fans.
Leading up to their EP release, our associates at HYPEBEAST Korea caught up with K/DA through a video call on Zoom to talk about what each member has been up to during their two-year-long hiatus, future plans and more. Read the full conversation below.
Hello K/DA, please say hi to HYPEBEAST and HYPEBAE's readers.
Ahri Annyeonghaseyo (hello)!
Akali Annyeong (hello)!
Evelynn Hello, HYPEBEAST and HYPEBAE.
Kai'Sa Hi, everyone.
You're finally debuting your first-ever EP as a group. Congratulations.
Akali Thank you, I think we're all really excited. I can't wait for everyone to hear it.
You made a grand return to the stage at this year's League of Legends World Championship Opening Ceremony, after two years since your debut. How does it feel to be back?
Ahri We were thrilled to be back on stage. Worlds really has a special energy.
Evelynn There's nothing like a live audience.
What were some aspects you particularly focused on this time around?
Ahri We believe connecting with the audience is the most important part of a live performance. We could only do it through an immense level of concentration and energy.
Kai'Sa It was a great chance for us to show off our full choreography. We really trained hard to put the performance together.
Was Kai'Sa in charge of choreography for this performance?
Kai'Sa Yes, I came up with the full sequence for the track, but it was all possible thanks to all members of the team.
Could you teach us key moves for the new track?
Ahri Let's show them the "more than enough" part.
Kai'Sa Sure, you first cross your hands like this, and one more time –
Like so?
Akali Yes, just like that.
View this post on Instagram
What was the most memorable moment from the Worlds 2020 Opening Ceremony?
Evelynn Akali's motorcycle entrance really made a statement. That was a striking moment and the whole crowd was stunned.
Akali That's right, I loved that part. You know my moves behind the wheel, don't you?
Ahri What would we do without you, Akali. She really knows how to wow the crowd.
Akali I'm always humbled by our queen.
Akali also performed at Worlds 2019 as a creator and member of True Damage. What's the difference between performing in the two groups?
Akali True Damage was awesome last year. That group is super talented. When we find our flow, we're always on the same page. It's like jamming with your best friends. Working with K/DA feels like home, though. We're all so different and we butt heads a lot but we've grown together. We're like a family.
There were some rumors surrounding Evelynn during your two-year hiatus. We know you're not the type of person to care much about what other people think, but do you have anything to say about it?
Evelynn I don't have much to say, other than to keep guessing. It's amusing to see what you all spin up.
Your producer Yasuo recently released a collaboration with AAPE. Considering that you're one of the most fashionable pop groups in the world, do you have any plans to create collaborative fashion collections with designers yourselves?
Evelynn Thank you – I actually design K/DA's outfits myself. We're definitely interested in a fashion collaboration.
Kai'sa – you have an international background, having spent your childhood in diverse cities. Where were you during your hiatus? Did you spend most of your time at Firefly Collective?
Kai'Sa I did go back to the U.S. to teach at Firefly Collective for a while. I also got the opportunity to travel for a few weeks to study more dance in Latin America and India. I visited France as well, to meet up with True Damage. There's so much inspiration all over the world.
A lot of people were surprised to hear the announcement of a full EP from K/DA. When did you start working on the record?
Ahri We started working on the EP at the beginning of the year. We had each taken the time to reflect and find a part of ourselves that we wanted to express. We all found a part of our identity to express, and we wrote our songs around that.
Where did you find inspiration for this comeback?
Kai'Sa What I learned during our hiatus definitely influenced our comeback. Each of our members comes from different and diverse backgrounds. We started conversations around what makes us special and how that brings us together as a group.
View this post on Instagram
How did you end up choosing "MORE" as the title track for ALL OUT?
Evelynn Our fans were asking for more, and we wanted to give it to them. We thought "MORE" was the perfect song for that. It's a gift from us, inviting you to the rest of our EP.
Akali The sounds of the track are richer. There was more of everything in the song, from vocals to production.
Ahri The most important thing is that "MORE" really shows who we are as a group. We are individuals on our own, but there's a special synergy when we're together. We believe "MORE" defines us as K/DA.
Seraphine was the only singer to be featured on the track. Evelynn – you were the one to discover her on social media and to introduce her to Ahri. What made you want to collaborate with Seraphine?
Evelynn I could tell immediately there was something special about her music. She sings with such unapologetic honesty. She reminds me of Ahri.
Ahri Funnily enough, Seraphine reminded me of you when I first saw her.
You've also released the music video for "MORE," which gained as much attention as your debut track "POP/STARS" did.
Kai'Sa I'm so glad everyone liked it. We went in a different direction than "POP/STARS," but to us it truly felt like the next evolution of K/DA.
Could you share any memorable moments from the video shoot? Which scenes were the funniest or most difficult?
Ahri Kai'Sa's zero-gravity room was definitely the hardest. She had to concentrate to perfect her moves.
Kai'Sa It was all worth it though.
Akali The best part was that Seraphine would get really nervous in front of the camera. I made some jokes to help her relax a little.
Evelynn Those moments ended up being included in the final video. It was too precious to edit out.
Akali – you were the executive producer for "THE BADDEST." What was the process like?
Akali I loved it. I got to bring a lot of energy from True Damage into the track. I pushed everyone a little, got them to rap, boast and be "bad." It's a hype song, for sure.
Did any of the other members take part in production?
Ahri Each member was a creative director for different songs. Akali took the lead for "THE BADDEST," Evelynn for "VILLAIN," Kai'Sa for "DRUM GO DUM" and myself for "I'LL SHOW YOU." Each track has a different sound and genre to showcase each of our identities, whereas "MORE" was about all of us together.
What are each of your favorite tracks from the EP?
Evelynn "VILLAIN."
Akali "THE BADDEST." Everyone's going to name their track, aren't they?
Ahri Indeed. My fave is "I"LL SHOW YOU."
Kai'Sa I love "DRUM GO DUM," but "MORE" is honestly my favorite.
With the ongoing pandemic, were there any difficulties as a globally active group?
Evelynn Of course. We had to change up our plans quite a bit. If it weren't for COVID-19, we would have been able to perform in front of a larger crowd and would have met our fans in person.
Akali I hope we can meet our BLADES soon.
What's the inspiration behind the naming of your fandom, BLADES?
Kai'Sa The name comes from a line in "POP/STARS" that goes, "I'm a goddess with a BLADE." Right?
Akali Yes, because our fans are ready to fight with us.
Evelynn They're sharp.
Ahri And by our side.
You've also released official lightsticks for BLADES. Will there be any other special merch releasing in the future?
Kai'Sa We've launched a special fan kit featuring art, music and more from which BLADES can enjoy more BTS content and even create their own K/DA works. It's on our official fan page.
There are billboards in subway stations here in Korea to celebrate your EP release. Have you seen it?
Ahri We've seen photos, and they're amazing. We're excited to see our fans from all around the world, especially Korea.
Can you tell us your upcoming plans? What does your schedule look like after the ALL OUT release?
Ahri A well-deserved vacation.
Kai'Sa Definitely, I'd love some time to relax.
Akali We'll have to see. I can't rest for long.
Any clues for your next release?
Evelynn We still have lots to show you. Just wait and see.
View this post on Instagram
Source
Interviewer

Yonghwan Choi
Share this article