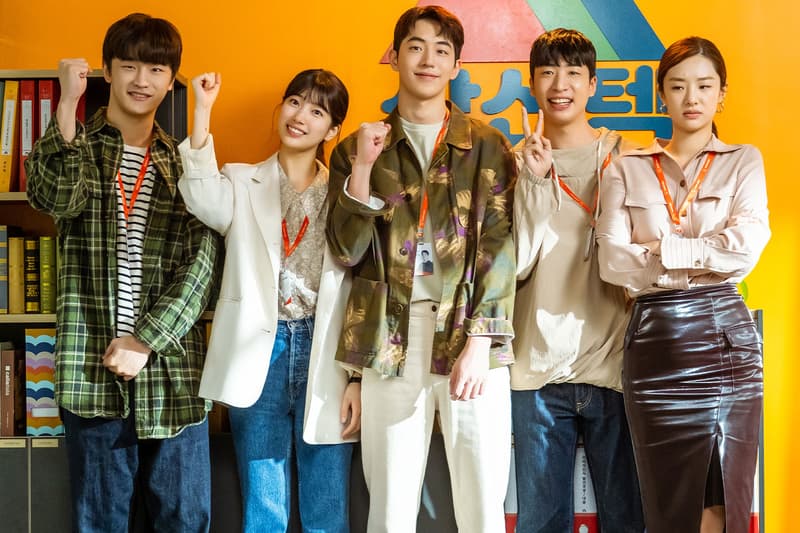 Film & TV
These Are the 11 Best Korean Dramas of 2020
Add these to your binge playlist if you haven't watched them already.
These Are the 11 Best Korean Dramas of 2020
Add these to your binge playlist if you haven't watched them already.
The rise of Korean film, which was highlighted earlier this year with director Bong Joon-ho winning four Oscars for his hit movie Parasite, has led to a boom in the Asian country's drama series industry, otherwise known as K-dramas. With more titles landing on global platforms like Netflix, shows have been receiving attention worldwide, especially with some of the latest hits including Start-Up and a new show titled The Uncanny Counter.
Whether unrealistic like Hi, Bye Mama! or more relatable like Record of Youth, each story touches upon various social and political issues, ranging from child prostitution and the division of Korea, to mental health and entrepreneurship. Itaewon Class highlighted diversity by featuring characters that were transgender and of color, while Start-Up spotlighted the obstacles small businesses may face in their developmental stages.
Some of these shows made new records in the history of Korean TV, with The World of the Married scoring an average nationwide rating of 22.9 percent for its finale. Many sparked new trends and challenges on social media, with various Soondubu (a Korean soft-tofu stew seen in Itaewon Class) videos emerging on platforms such as TikTok and YouTube.
In case you haven't seen them all yet, we've rounded up some of the best K-dramas of 2020. Make sure to save this list and let us know your top pick in the comments below.
A new title that just began airing towards the end of last month, The Uncanny Counter is a name to watch. The series, based on a webtoon of the same title, illustrates the story of high school student So Mun (Jo Byeong Gyu), who is chosen to work as a "counter" – one who hunts down evil spirits to maintain world peace. He works with his fellow "counters" Ga Motak (Yu Junsang), Do Hana (Kim Sejeong) and Chu Maeok (Yum Hyeran), who run a noodle shop together.
A show reminiscent of the American show Silicon Valley, Start-Up became one of the most popular series of the year, having premiered with lead ratings in Korea and ranking first in countries like the Philippines, Vietnam and Malaysia. It depicts the story of Seo Dalmi (Suzy Bae) as she works alongside Nam Dosan (Nam Joohyuk) to win a spot at start-up incubator, Sandbox. The pair come across obstacles as young CEOs under the guidance of Han Jipyeong (Kim Seonho), eventually leading to a love triangle between the three characters. A hot topic among K-drama fans, Start-Up gained much attention on social media as viewers were split on whether Dosan or Jipyeong should end up with Dalmi.
Record of Youth is a show worth binging if you're a rom-com fan. It follows the story of An Jeongha (Park Sodam), a rising makeup artist, and her encounter with her "stan" model Sa Hyejun (Park Bogum), who aspires to become an actor. Hyejoon works alongside his best friend and star model Won Haehyo (Byeon Wooseok), and the trio strive to fulfill their goals in the competitive entertainment industry.
Loved for its honest portrayal of mental health, a topic often considered taboo in South Korea to this day, It's Okay to Not Be Okay illustrates the story of Gangtae (Kim Soohyun), brother Sangtae (Oh Jungse) and Moonyoung (Seo Yeji). Gangtae, a psychiatric health worker who lives a nomadic lifestyle with his autistic brother Sangtae, meets famous fairytale writer Moonyoung while he works at OK Psychiatric Hospital. The drama series introduces each character with their own emotional wounds and mental health issues, ultimately delivering the message that it is indeed okay to not be okay.
Itaewon Class depicts a hopeful story of ex-convict and high school dropout Park Saeroyi (Park Seo-joon) in his goal to build the top restaurant franchise in Korea. Competing against Jangga Group, a family-owned conglomerate led by CEO Jang Dae-hee (Yoo Jae-myung), Park sets on a journey with his staff members Jo Yi-seo (Kim Dami), Ma Hyunyi (Lee Joo-young), Toni Kim (Chris Lyon) and more in fulfilling his dream. Through featuring characters representing sexual minorities and people of color, Itaewon Class took a step further in opening up Korean society to diversity and inclusivity. The show also highlighted the brutal chaebol (a family-owned business conglomerate) system in the country, portraying CEO Jang's son Geun-won (Ahn Bo-hyun) as a spoiled bully.
Focused on the perspective of Jisoo (Kim Dong-hee), a top student at his high school, Extracurricular is a dark-themed show that will keep you at the edge of your seat. Jisoo, who works an illegal part-time job as a coordinator for young sex workers to save up for college, gets himself tied in a chain of serious crimes with his classmate Gyuri (Park Joo-hyun). The two continue to make choices to get out of trouble, only to find themselves in a worse situation.
Based on the UK's hit TV series Dr. Foster, The World of the Married is a bluntly honest portrayal of marriage and divorce today. One day, doctor Ji Sun-woo (Kim Hee-ae) finds a strand of long hair on her loving husband Lee Tae-oh (Park Hae-joon)'s scarf, leading to an endless chain of speculation and distrust, which eventually leads to a brutal divorce. Sun-woo finds herself in a battle with her ex-partner Tae-oh and his new wife Yeo Da-kyung (Han So-hee), with her son Joon-young (Jeon Jin-seo) getting mentally traumatized along the way.
Boasting a star-studded cast including Cho Jung-seok, Yoo Yeon-seok, Jung Kyoung-ho, Kim Dae-myung and more, Hospital Playlist tells the story of five doctors who have been close friends since their medical school days in 1999. Instead of focusing on one specific plot, the show covers each character's personal and professional life with relatable topics like family. Lauded for its even mix of humor and tear-jerking episodes, the series will have you laugh and cry with each of the doctors' cases.
After dying from a tragic car accident while pregnant with her daughter Seo-woo (Seo Woo-jin), Cha Yuri (Kim Tae-hee) lingers around her family in a parallel universe as a ghost for five years. A miracle happens one day and she is brought back to the real world with the possibility of fully reincarnating to her old life in 49 days' time. However, her quest is not easy as her best friend and husband Cho Gang-hwa (Lee Gyu-hyung) is remarried to Oh Min-jung (Go Bo-gyeol). Each episode will have you tear up with touching stories on friends, family and love.
The King: Eternal Monarch is a romantic fantasy set in two alternate universes: a modern-day Kingdom of Corea and the Republic of Korea. Emperor Lee Gon (Lee Min-ho) attempts to cross the border between the two worlds by going through a mysterious portal, stumbling upon detective Jung Tae-eul (Kim Go-eun). Written by Kim Eun-sook, writer for 2016 hit series Goblin, the show is every fantasy lover's dream.
South Korea's well-known chaebol Yoon Seri (Son Ye-jin) accidentally gets stranded on North Korean territory after getting caught in a brutal storm while paragliding one day. She is discovered by Captain Ri Jeong-hyeok (Hyun Bin), who hides her from the authorities while trying to find the best way to send Seri back home. Throughout their journey, the two fall madly in love despite the division between North and South Korea.
Share this article