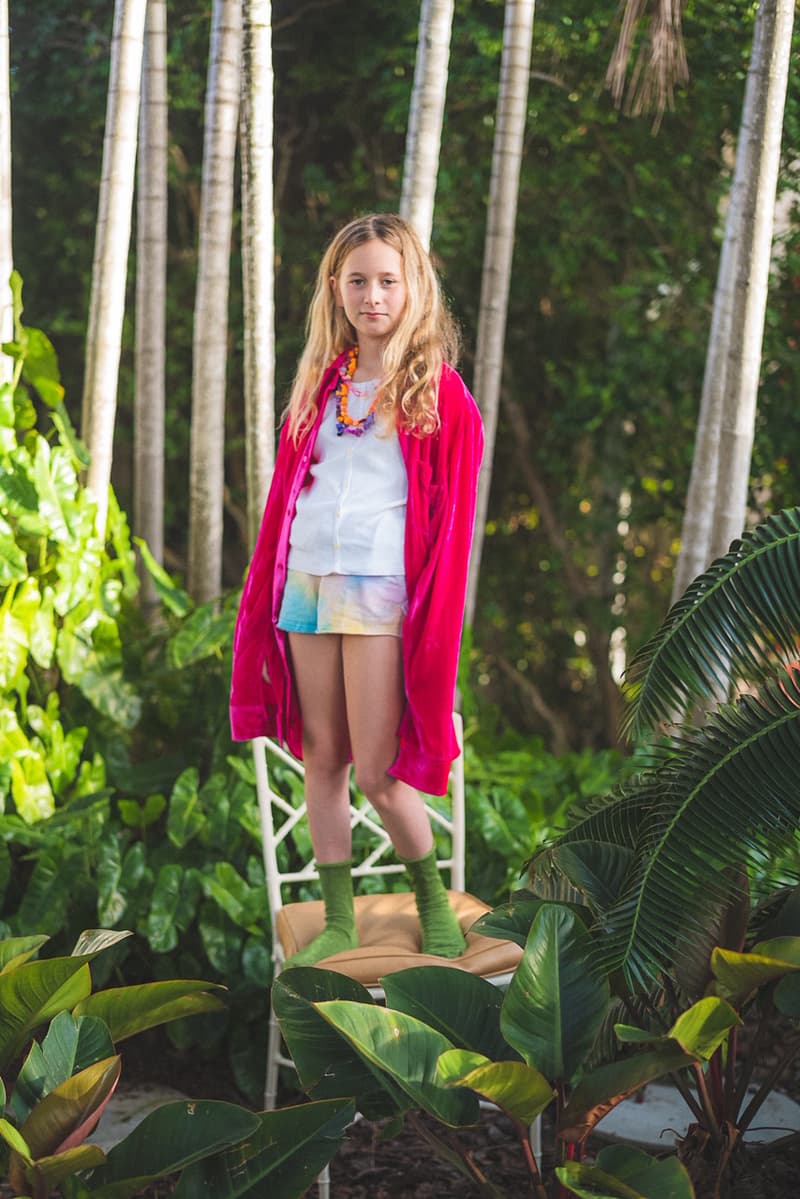 Lefty Korine Is the 12-Year-Old Designer Behind the Beaded Jewelry Taking Over Your Instagram Feed
Harmony Korine's daughter makes her own creative mark.
Fashion
Lefty Korine Is the 12-Year-Old Designer Behind the Beaded Jewelry Taking Over Your Instagram Feed
Harmony Korine's daughter makes her own creative mark.
Vibrant, beaded accessories recalling the nostalgia of childhood crafting were on the proverbial rise long before the coronavirus pandemic intensified in March. But once lockdown went into effect and people were stuck inside, anxiously watching the news and checking in on their loved ones, the shift towards cheerful, bright purchases increased (in fact, Susan Korn of Susan Alexandra — master of whimsy — reported an increase in sales during the pandemic). One of the designers championing our collective shift towards joyful fashion is Lefty Korine, jewelry maker and daughter of legendary film director Harmony Korine and actor Rachel Korine.
Only 12-years-old, Lefty launched accessories brand By Lefty at the beginning of August, offering colorfully beaded necklaces and bracelets alongside 14-carat gold hoops dangling with playful star and lemon-shaped charms. As demand picked up and Lefty's Instagram following billowed from a few hundred to a few thousand, the Gen-Z entrepreneur introduced more ambitious styles, including pearl strands dotted with delicate glass flowers and beaded "nameplate" bracelets strung onto gold chains. Considering her age, it's no surprise that Lefty's playful aesthetic feels authentic, a refreshing alternative to the contrived quirkiness that some brands are pushing during the pandemic. What is surprising, though, is her ability to balance childlike charm with refined polish, resulting in a brand that can be worn by Gen-Z'ers and Gen-X'ers alike.
Below, HYPEBAE chatted with the young designer for a quick Q&A about the inspiration behind her designs and the future of By Lefty.
Have you always been interested in design? What pushed you to launch your own jewelry line?
No — I wanted to buy stuff and I needed to make my own money for it, so I had the idea to start a business. Then people kept ordering things so I had to design more!
What inspires your designs?
The things in my brain. Fashion and lots of color, especially pink.
You work primarily with colored beads and 14K gold. Are there any materials you want to start experimenting with?
I want to start working with different colored gemstones and more original charms. I have some new designs for charms that are being made right now. I also want to make some clothing and maybe hats.
As your brand expands, do you plan to start releasing themed or seasonal collections?
Yes, I have a Christmas necklace and I'm going to start to experiment with more themes and ideas as I go.  I have a lot of new stuff I wanna try. I want to make more one-of-a-kind pieces with gold.
I remember when your Instagram had a few hundred followers and now it has over 3,000. What has it been like watching By Lefty grow?
It's fun for me to see people wearing the stuff I make.  I hope it all keeps growing. I like doing photoshoots with models and set decorating.
Have you encountered any difficulties running a business during the pandemic?
It's been pretty easy actually. I can make the jewelry from my home, and I have lots of time to work on new things.
Your dad is hugely respected in the arts. As his daughter, do you ever feel pressure to follow in his footsteps?
I like to just do my own thing, but he really seems to like what I've been making.
Share this article