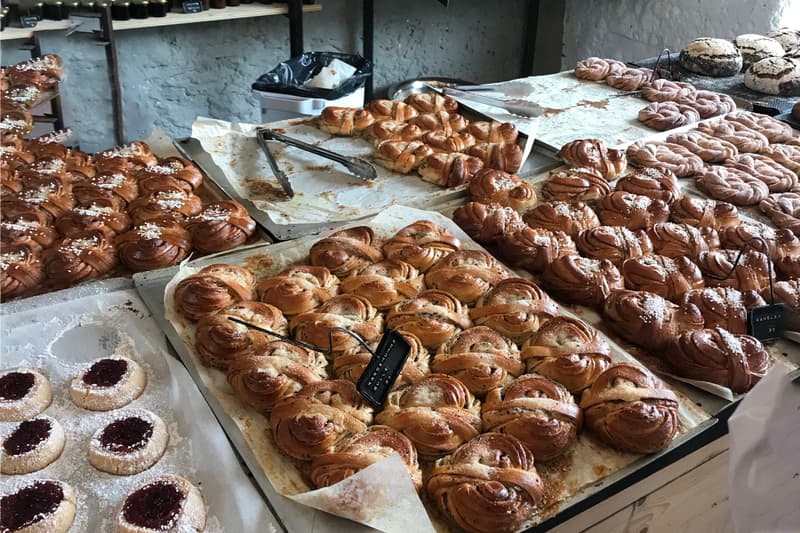 Culture
Here Are London's Best Bakeries for Pastries, Bread and Everything In-Between
Get ready to spend your dough.
Here Are London's Best Bakeries for Pastries, Bread and Everything In-Between
Get ready to spend your dough.
Good bread can be hard to find, and delicious pastries don't come around as often as one would wish. Whether you're looking for a big loaf of sourdough bread, a bag full of cinnamon buns or buttery croissants, we've compiled a selection of the best bakeries in London, serving up sweet treats as well as savoury satisfaction.
Ranging from Scandinavian hotspots like Fabrique and Bageriet, to local favorites like Jolene and Dunn's, we've put together all our favorite bakeries for bread, cakes and everything in-between below. Keep reading to see our top picks in the British capital, and if you're looking for more sugary gems, see all the best ice cream spots here.
Fabrique
Where:
Five locations across London including Fitzrovia, Holborn and Notting Hill.
What: Swedish bakery Fabrique is a must for anyone looking to indulge in freshly baked cinnamon buns. Bringing the Scandinavian treats to London, Fabrique offers sweet treats as well as bread, coffee and other seasonal baked goods. Ideal for a mid-week pick-me-up, Fabrique is the ultimate go-to.
GAIL's
Where:
Several locations across London,
find the closest one here
.
What: GAIL's boasts 20 impressive locations across London, ranging from Soho to South Bank, Camden and Pimlico. The chain has become a favorite for anyone looking to buy freshly baked sourdough bread, delicious pastries like croissants and pain au chocolates, muffins, as well as delicious coffee. GAIL's also features a restaurant portion, where the restaurant serves up brunch-worthy meals.
Pophams
Where:
Pophams has
three locations
in London, in Hackney, Islington and Centre Point.
What: Pophams is an artisanal bakery, and uses traditional techniques to create hand-crafted viennoiserie pastries as well as fresh pasta. Each pastry has 27 layers of butter, and you're going to have to look far and wide to find a better croissant than the ones at Pophams. The bakery also offer weekend-exclusive items, so make sure to pay a visit to try treats like the Millionaire Cannoli.
Bageriet
Where:
24 Rose St, Covent Garden, London WC2E 9EA.
What: Bageriet is a small and hidden gem in Covent Garden. The compact Swedish bakery serves up seasonal treats like the traditional "Semla" and saffron-flavored buns, as well as selections of other baked goods and bread. It is the perfect place to satisfy your sweet tooth at – if you're not too overwhelmed by the selection.
Ole & Steen
Where:
Eight locations across London.
What: Ole & Steen has been around for over 20 years, and provides a Danish take on bread and pastries through handmade goods from family recipes that have been passed down for generations. Expert bakers bake all night to make sure that there's always fresh bread, pastries and cakes every morning, and the bakery is a go-to for anyone looking for a Scandinavian flavor.
Jolene
Where:
21 Newington Green, Mayville Estate, London N16 9PU
What: Describing itself as a"contemporary bakery and cafe in a roomy, industrial-chic space, serving refined comfort fare," Jolene is a London gem you don't want to miss. With a selection of buttery croissants and danishes, as well as bread, cookies and cakes, the small space is a must-visit if you find yourself in Hackney.
Dunn's Bakery
Where:
6 The Broadway, Crouch End, London N8 9SN
What: Serving up a selection of bread, buns, doughnuts, sandwiches, cakes and more, Dunn's is a 360-experience. Starting with savoury treats like sausage rolls and rye bread, and ending with sweet cakes and pastries, you'll get the full experience at Dunn's. Served with piping hot coffee, you won't want to leave the bakery.
---
Share this article