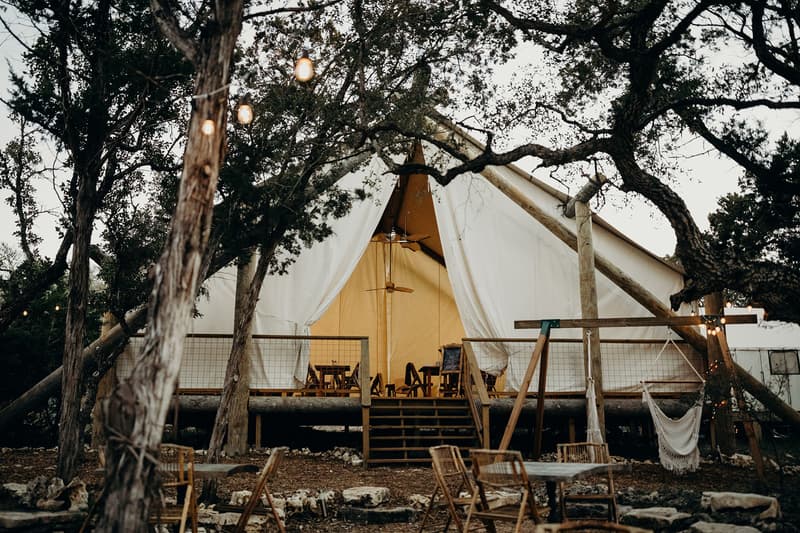 These Are the 8 Best Glamping Resorts in the U.S.
Where rustic meets luxury.
A travel concept that first emerged in 2005, glamping was born out of the idea of "glamorous camping." Appealing to the modern-day adventurer, glamping has since taken over the United States. For those who are looking to detox from the technology-driven world and explore the great outdoors without sacrificing comfort, we've gathered some of the best resorts in the country for your next weekend getaway. From Collective Retreats' Hill Country branch in Texas, to Joshua Tree Acres in California, see our top picks below.
For more travel inspiration, check out the most Instagrammable hotels in Los Angeles for all budgets.
Nestled on a quaint hillside of Windham, New York, Eastwind Hotel & Bar has created its own luxe take on a regular camping tent called "Lushnas." There are also bigger rooms in the vicinity that offer incredible views of clear blue skies and snowy mountains.
Price: Starting at $528 USD.
Location: 5088 NY-23, Windham, NY 12496
Whether you're a party of two looking for a luxury camping tent, or a group of 10 searching for an island lodge, The Resort at Paws Up in Montana has it all. Its 30 tents come with its own camp butler, air conditioning for the hot summer days and heated blankets for the chilly winter nights.
Price: Starting at $1,120 USD.
Location: 40060 Paws Up Rd, Greenough, MT 59823
Situated in the Black Hills of South Dakota, Under Canvas Mount Rushmore offers three different types of rooms only available for booking from May to September every year. The Stargazer room, in particular, features its own viewing window above the king bed, allowing you to view the stars at night.
Price: Starting at $174 USD.
Location: Presidio, 24342 Ranch Rd, Keystone, SD 57751
El Cosmico offers seven types of rooms that feature unique amenities and interiors. Known for its 120-square-foot Safari tents, the space is designed with wooden floors and durable canvas walls, and is furnished with queen beds.
Price: Starting at $100 USD.
Location: 802 S Highland Ave, Marfa, TX 79843
Overlooking the scenic Montesino Ranch in the heart of Texas Hill Country, the Collective Retreats offer modern, luxury-laced accommodations. Guests can enjoy an array of activities during their stay, including horseback riding and other outdoor adventures.
Price: Starting at $441 USD.
Location: 7431 Fulton Ranch Rd, Wimberley, TX 78676
Boasting rooms that feature custom-designed mattresses and premium linens, Big Sur's Ventana Redwood and Canyon Glampsites are the definition of luxury. Its safari-style canvas tents spread across breathtaking views of a 20-acre canyon.
Price: Starting from $400 USD.
Location: 48123 CA-1, Big Sur, CA 93920
If you live in LA and are in need of a break from the city, check out the Beverly Wilshire's Veranda suite. This private indoor-outdoor space is equipped with a Four Seasons queen-size bed, a crystal chandelier, marble lamps, fur rugs and antique nightstands.
Price: $3,500 USD
Location: 9500 Wilshire Blvd, Beverly Hills, CA 90212
Joshua Tree Acres is the perfect place for unwinding and detoxing from the city with your closest friends. Its five Airstream trailers offer just about anything you need, with amenities including air conditioning, a small electric heater for the winter months, a full-size bed, a kitchen and a bathroom.
Price: Starting at $1,127 USD.