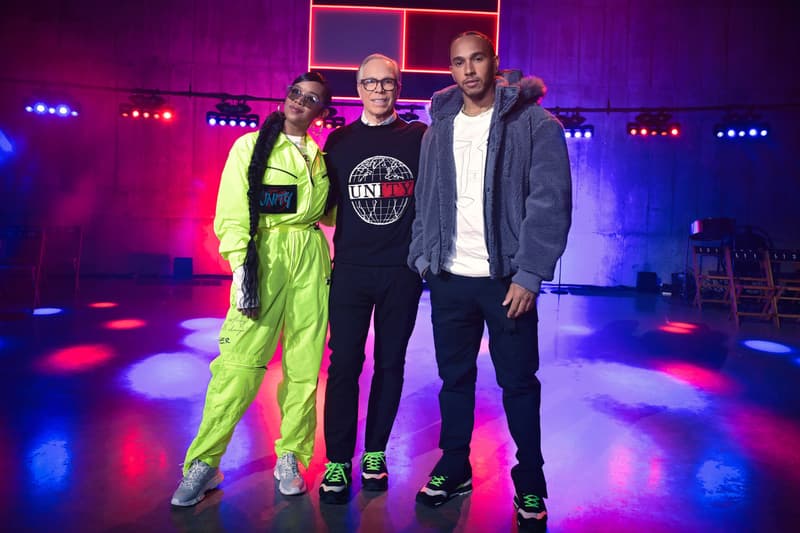 Fashion
H.E.R. Talks Collaborating With Tommy Hilfiger, Showing in London and Her Love for Fashion
Read our exclusive interview here.
H.E.R. Talks Collaborating With Tommy Hilfiger, Showing in London and Her Love for Fashion
Read our exclusive interview here.
London Fashion Week has just come to an end, and one of the biggest shows of the weekend was the highly anticipated Tommy Hilfiger presentation. For the new collection, long-time Tommy collaborator Lewis Hamilton tapped H.E.R. to create her own pieces, and we had the chance to sit down with the singer prior to the massive show.
Debuting a collection stacked with bright neon pieces, streetwear references and layered aesthetics, the show saw names like Naomi Campbell, Luka Sabbat and Parris Goebel parade down the runway, which took place at London's iconic Tate Modern museum. A choir opened the show, and throughout the presentation the music captured London's eclectic spirit by highlighting some of the country's biggest names.
Read our interview with H.E.R. below, and get an exclusive backstage look at the show. For more from London Fashion Week, don't miss Burberry's extravagant show here.
What was your initial reaction when Tommy Hilfiger came to you with this opportunity? 
I was very surprised, I was literally like, "really, me?" and I couldn't believe it to be honest with you.
What was your relationship with Tommy Hilfiger like growing up?
My biggest memories of Tommy Hilfiger is seeing pictures of my mum when she was my age in the 90s. She'd be wearing Tommy jeans and Tommy crop tops, and I feel like it was a very swaggy and iconic era which I am inspired by a lot.
As a musician, why is fashion important to you? How to you use it to build your own persona?
The similarity in music and fashion is self-expression, what you wear represents who you are on the inside which is why I've started to love fashion. Working with Tommy I got to learn the whole process, and it was such a surprise to me to see how easy it really was, and you really just have to trust your instincts.
What was the process like creating the collection?
It started off with phone calls, and I had to think of stuff I loved. I was really overthinking at first, but then I kind of realised that I could totally do this. I talked about creating cursive writing in some of the sketches to make the clothes very personal, as well as putting lyrics on there and creating a jumpsuit. These are all things that really represent me, and it all came together so smoothly. Lewis and I went to the design table and we both have similar taste, so there was a great vibe there. We would just look at each other and look at the pieces, and we would just know.
Where did you get the inspiration behind the collection?
Most of the inspiration came from what I wear on stage that I can also wear every single day. I was trying to find a cross between the two, because that's usually what I do. I'm all about streetwear fashion, but I pump it up a little bit with some hoops and some shades, and that's the H.E.R. look all the way.
How did you find your unique style in both music, as well as fashion?
It was definitely overtime, I've always been going against the grain with things like being comfortable wearing sweatpants on stage. It was just me being fearless as far as what made me feel good on the inside. Because you know sometimes you don't really feel like you can move around with that confidence, so anything I put on I knew I needed that comfortability in order to make me feel confident.
This season Tommy Hilfiger is showing in London. What does the city mean to you? 
London is probably one of my biggest supporters as far as my fanbase. I sold out my show's here, Janet Jackson actually came to one of them, but every time I come to London i just feel like they have a different appreciation for music. And my favorite restaurant is here.
Last year you were nominated for five Grammy Awards. How has your career grown since coming into the industry? What are you most excited about in the coming months?
The growth has been every single day – it has been non-stop. A lot of people have only known me for the past year, but there's been 10 plus years of putting in the work and growth that people haven't seen. A lot of it has been making sure I'm staying true to myself, writing songs that were totally me but also fit the world of what's going on, so it has been all about balance and self-discovery. A lot of people forget what is important to them, and you really have to figure out a way of navigating that.
When I dropped my first project in 2016, it was my baby, and I decided what is important to me is that the music is at the forefront which is why I came out as H.E.R. I didn't want anyone to know what I looked like, how old I was, all I cared about was the music and the message. Because I did that, my fans were really able to love me for my music, and now as I'm getting into the fashion world, a lot of what is coming is revealing more of myself. We could sit all day and talk about all the beautiful things I've experienced.
I'm really excited about getting into acting, getting back on tour and releasing what was supposed to be my debut album, but it didn't happen that way. I'm releasing a new project this year, I feel like I've been non-stop. I'm doing my festival again this year, and more fashion and acting is what I'm looking forward to.
As a young creative, what is some advice you'd give to other girls out there looking to follow a similar career path to yours? 
My advice is that there is no mould of what a female is, like I said earlier, you have to find what is important to you and stand by it regardless of what is going on in the culture or what the rest of the world is saying. You have to stick to your guns.
---
Share this article