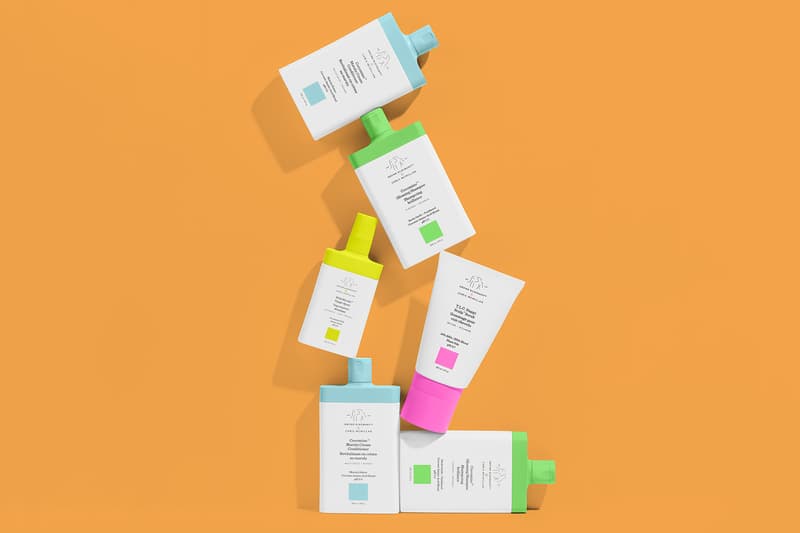 Beauty
I Tried Every Single Product From Drunk Elephant's New Hair & Body Launch – Here Are My Thoughts
A comprehensive review ahead of the collection's April 9 release date.
I Tried Every Single Product From Drunk Elephant's New Hair & Body Launch – Here Are My Thoughts
A comprehensive review ahead of the collection's April 9 release date.
I regret to admit that haircare has never been something that I've invested much thought or effort into. I would pick up shampoo and conditioner from the pharmacy aisle whenever I was at the supermarket for groceries, and it was more or less a decision on what was the most economic and smelled the best. However, I've slowly been making changes to both my beauty and household routines so that I'm placing more care and consideration into the products that I buy. Rather than choosing the most convenient items, I've been opting to purchase clean products that are less harmful for both myself and the planet whenever I can.
When it comes to clean beauty, there is perhaps no brand more ubiquitous than Drunk Elephant. Known for founder Tiffany Masterson's famous elimination of the "Suspicious 6" – which is a group of ingredients that are suspected to pose "a potential risk to the health and function of the skin organ itself," according to the brand's philosophy – the beauty brand is committed to helping skin reset to a balanced state, using only ingredients that directly benefit the skin's health.
Having already achieved cult status for its line of skincare products, it's no surprise that Drunk Elephant would now venture into both hair and body products. Following up to the official look at the complete line that we got earlier this month, I recently got a chance to test out each product ahead of the formal launch in April. Before I dive into a review of each individual item, I will say first that I have quite literally never had a cleaner shower.
I was a bit skeptical at first, not thinking that it would make that much of a difference to my hair and skin to use clean products, but I have certainly been proven wrong. One has to remember that the skin is the body's largest organ – it is highly absorbent and what you put on it really does matter. I've never thought about the fact that my economic shampoo choices are actually pumped full of synthetic ingredients and harmful chemicals – so much so that when I used nothing except for Drunk Elephant products for two full weeks, I felt a surprisingly noticeable difference. Thanks to my experience with the new DE range, I will definitely continue to use clean options for both my hair and body. Read on for a closer look at each product, and look out for Drunk Elephant's Hair & Body collection when it launches on April 9 on its web store, as well at Sephora online and in-store.
To see more from Drunk Elephant, read our review of the F-Balm Electrolyte Waterfacial overnight mask.
DRUNK ELEPHANT HAIR by Drunk Elephant & Chris McMillan
COCOMINO™ GLOSSING SHAMPOO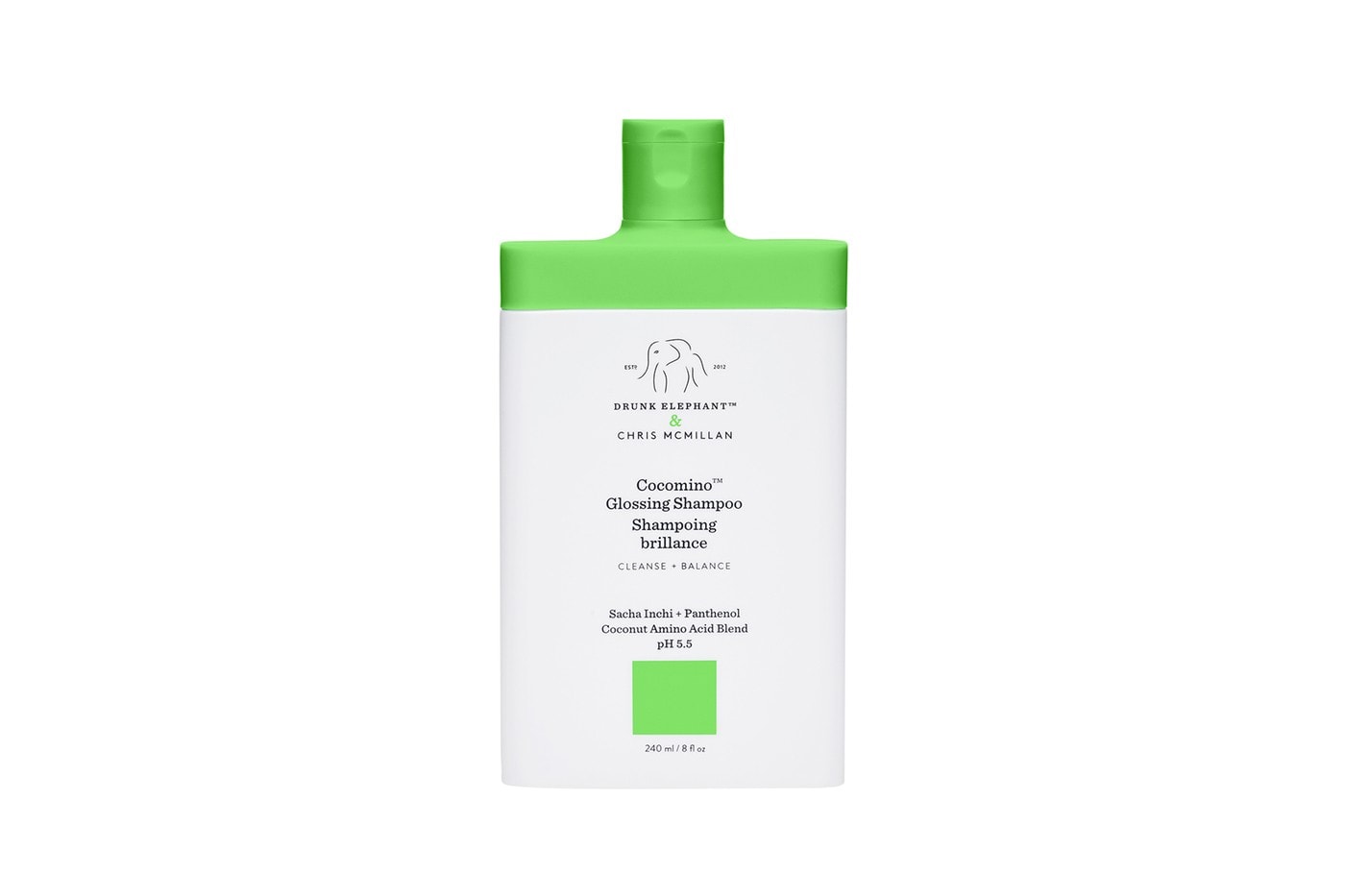 So what does a clean shampoo smell like? Although the bottle says "Coconut Amino Acid Blend," I found that the scent is actually closer to almond oil. It is a beautifully light fragrance that is tinged with a trace of nutty richness. One thing about the consistency is that it is a lot more watery than I expected – the first time I used it, the product came spilling out of the bottle and I almost didn't catch it all in time. This, however, is something that you can easily adjust to and once it is blended into the hair, the lather is just as lush as you would expect.
When I rinsed the shampoo off, this was actually when I noticed the most tangible difference from generic shampoos I used to favor – the DE shampoo does not leave any sort of residue on my hair, and this is something I never questioned until I experienced what a high quality shampoo feels like. The shampoo washes off very easily (I didn't realize how long I used to spend rinsing hair of shampoo) and does not make my hair feel stripped of my natural hair oil, which is something I would encounter when I used shampoo bars for a period. In the simplest of terms, my hair felt completely clean and rejuvenated, and that is quite honestly the most anyone can ask for from a shampoo.
I started to see results around the third day of use. When I woke up in the morning, my hair felt noticeably thicker and sleeker. My hair did not feel as flat as the Hong Kong humidity sometimes rendered it, and it just looked generally healthier in comparison to previous days. When I leave my hair down, I will usually apply wave spray to it and I found that with my hair in a healthier state after about two weeks of using the Drunk Elephant shampoo, the spray will now actually last longer in my hair throughout the day.
The Cocomino™ Glossing Shampoo retails for $200 HKD (approximately $26 USD).
COCOMINO™ MARULA CREAM CONDITIONER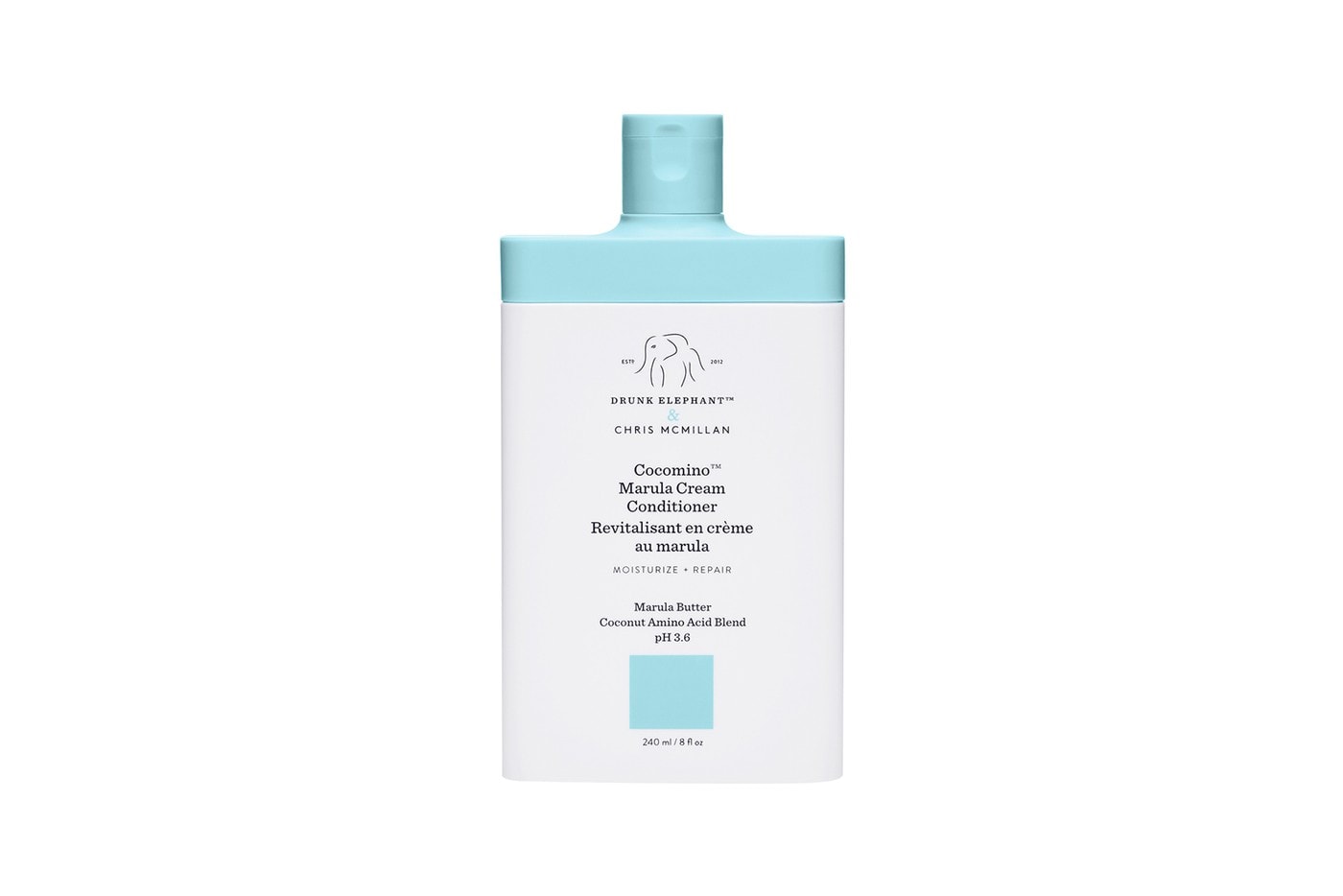 Similar to the Cocomino™ shampoo, the accompanying conditioner leaves my hair feeling sleek without the often rigorous ritual of endlessly rinsing off conditioner (gone are the days of my inner turmoil caused by bad conditioner: Have I washed it all off yet? Is is supposed to feel this slippery? Who does this conditioner think it is?) For best results, Drunk Elephant recommends that you use a comb to ensure that the product is evenly distributed from root to tip. This is certainly something that I've never tried before, but the sample set arrived with an oversized, wide-toothed neon yellow comb, so who am I to question the DE way. I tried using both ways – both with the comb and with just my hands – and found that although the comb is a lot more thorough, I am a slave to laziness and I ended up using my hands more than a few times.
Although the shampoo itself is an impressive product, the body and lushness that I achieved over the last two weeks is largely thanks to this conditioner. If you don't already, I recommend applying the conditioner and allowing it to sit and enjoy maximum absorption while you use body wash. Optimal results guaranteed.
The Cocomino™ Cream Conditioner retails for $200 HKD (approximately $26 USD).
WILD MARULA™ TANGLE SPRAY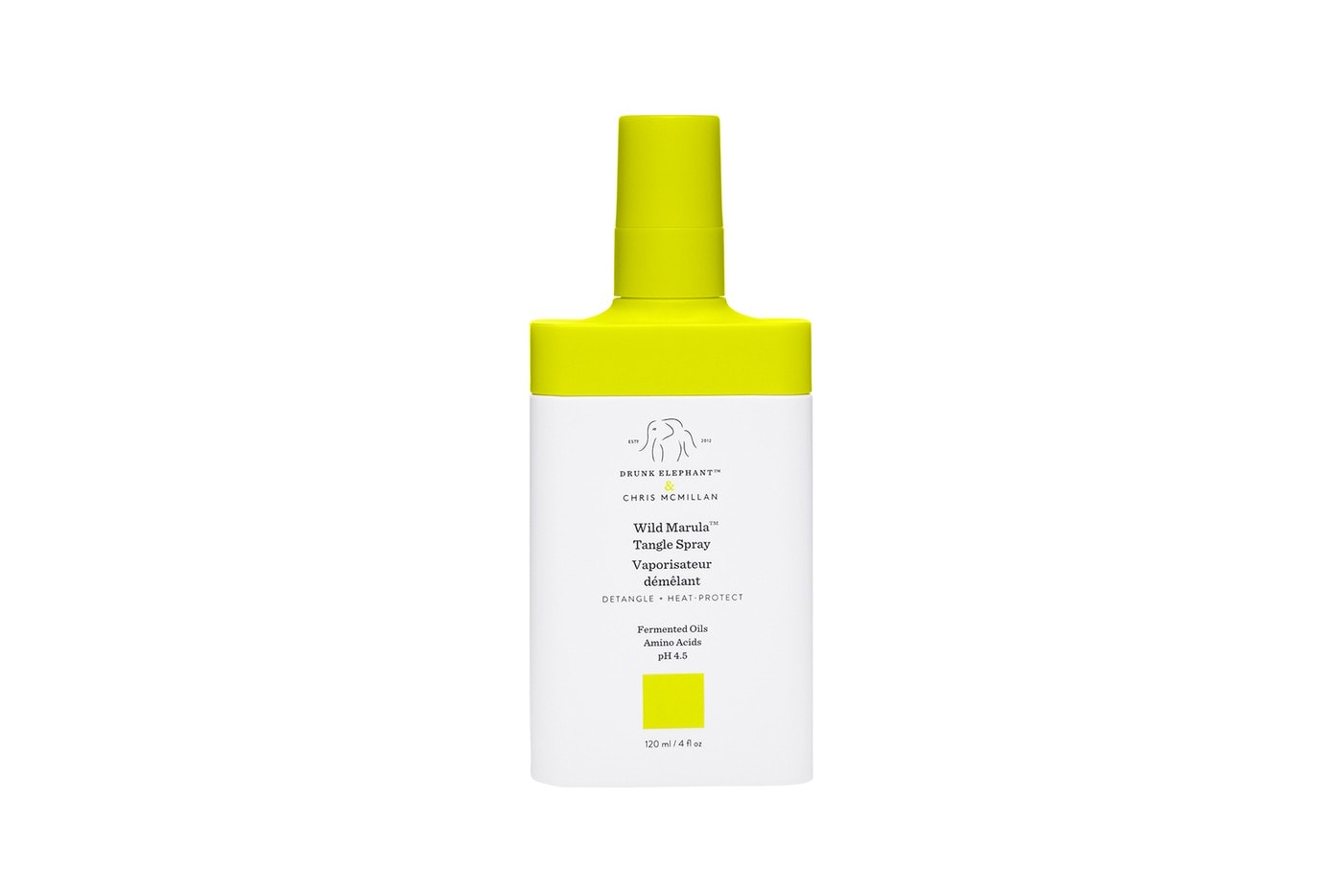 Before testing this product out, I had never used tangle spray before in my life. My Asian hair is quite thick and I had always been under the assumption that a quick comb-through with my fingers was an ample enough effort. Let me tell you this: I was wrong. Tangle spray isn't just about detangling – it's also meant to smooth hair, while also restoring natural movement and shine. With a good product, it should also make hair more manageable when styling and shouldn't weigh the hair down.
I tried a tangle mousse once when I was a teenager, and it left my hair sticky and hardened once it dried. I told myself, "Never again." With this product, I am a convert through and through. I am a believer of this tangle spray. Although I don't have much to compare it to, I can't really imagine a product that can improve on what this one delivers. The formula yields an incredibly fine, weightless leave-in mist that honestly doesn't even feel like it's there once it dries. It is meant to be sprayed on to damp hair and then combed – no rinsing necessary. By adding this simple step to my post-shower routine, it has added such a healthier sheen to my hair. After allowing my hair to naturally air dry and I run my hand through my hair, there really are zero knots and it feels silky smooth.
The Wild Marula™ Tangle Spray retails for $200 HKD (approximately $26 USD).
T.L.C. HAPPI SCALP™ SCRUB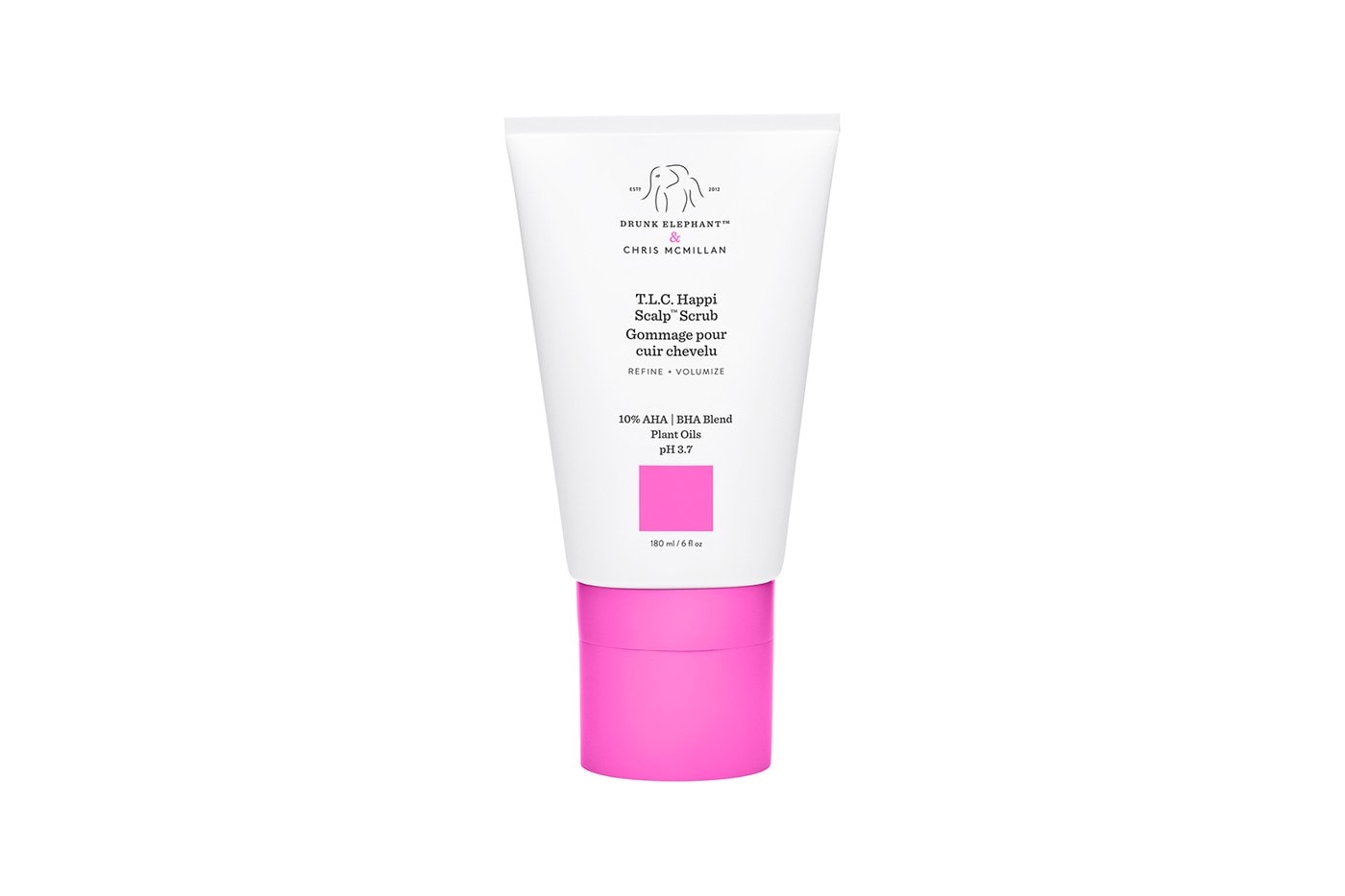 Within the entire range, I would say that the scalp scrub is probably the most indulgent product. It demands a "treat yourself" moment and evokes a spa-like experience from the comfort of your own bathroom. The scrub is meant to be used one to two times a week – I ended up only using it once per week because of the prep time. I had never done a scalp scrub myself before, so I followed the instructions closely. Massaging the scrub into my dry hair before the shower, it was very therapeutic. Although I am a big fan of both face and body exfoliators, I have admittedly never considered it an option for my scalp before. The scrub is very soothing and the overall experience is quite relaxing. However, I did find that I struggled with the 10-minute wait time for the product to be left in and for that reason, I found that I had to really schedule in time to use the product. I would certainly consider the scrub as a treat for my scalp once in awhile, but I don't see myself using it regularly.
Lucky for me, however, Drunk Elephant designed the product to double as a body scrub – this I found myself really getting behind. The scrub is a great body exfoliant, and adds an extra touch of luxury to my shower time. However, since the scrub is actually a microdermabrasion agent, it is recommended to apply SPF after use to avoid sun damage. Although it can be more difficult to observe the immediate benefits of the scrub on the scalp, its effect on my skin was obvious and made it feel baby soft. Finishing off the exfoliating process with Drunk Elephant's new body lotion was the cherry on top – more on that below.
The T.L.C. Happi Scalp™ Scrub retails for $285 HKD (approximately $37 USD).
DRUNK ELEPHANT BODY
KAMILI™ CREAM BODY CLEANSER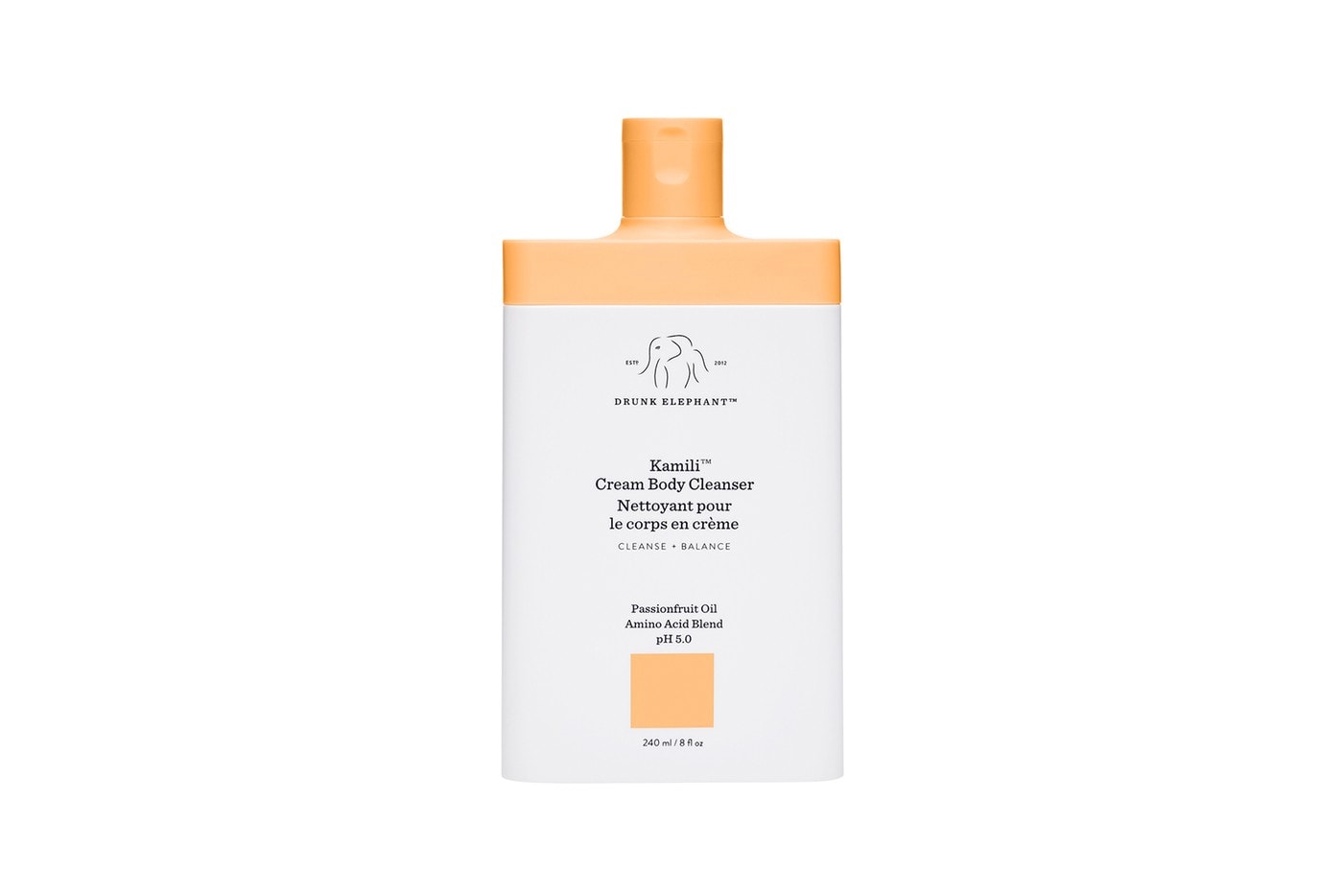 In the way that the Cocomino™ Glossing Shampoo washes off with a feeling of purity, the Kamili™ cleanser does the same for the body. The product is not overly fragranced, as many body washes can be. There is a feeling of freshness that can only be found when using a clean beauty product such as this. It leaves the body feeling moisturized and hydrated in a really natural, wholesome way. The simplicity of the product is its greatest appeal: it is comprised of pure ingredients that leave your body feeling clean and refreshed, all while giving you peace of mind that you're doing what's best for both your health and the environment.
The Kamili™ Cream Body Cleanser retails for $160 HKD (approximately $21 USD).
SWEET PITTI™ DEODORANT CREAM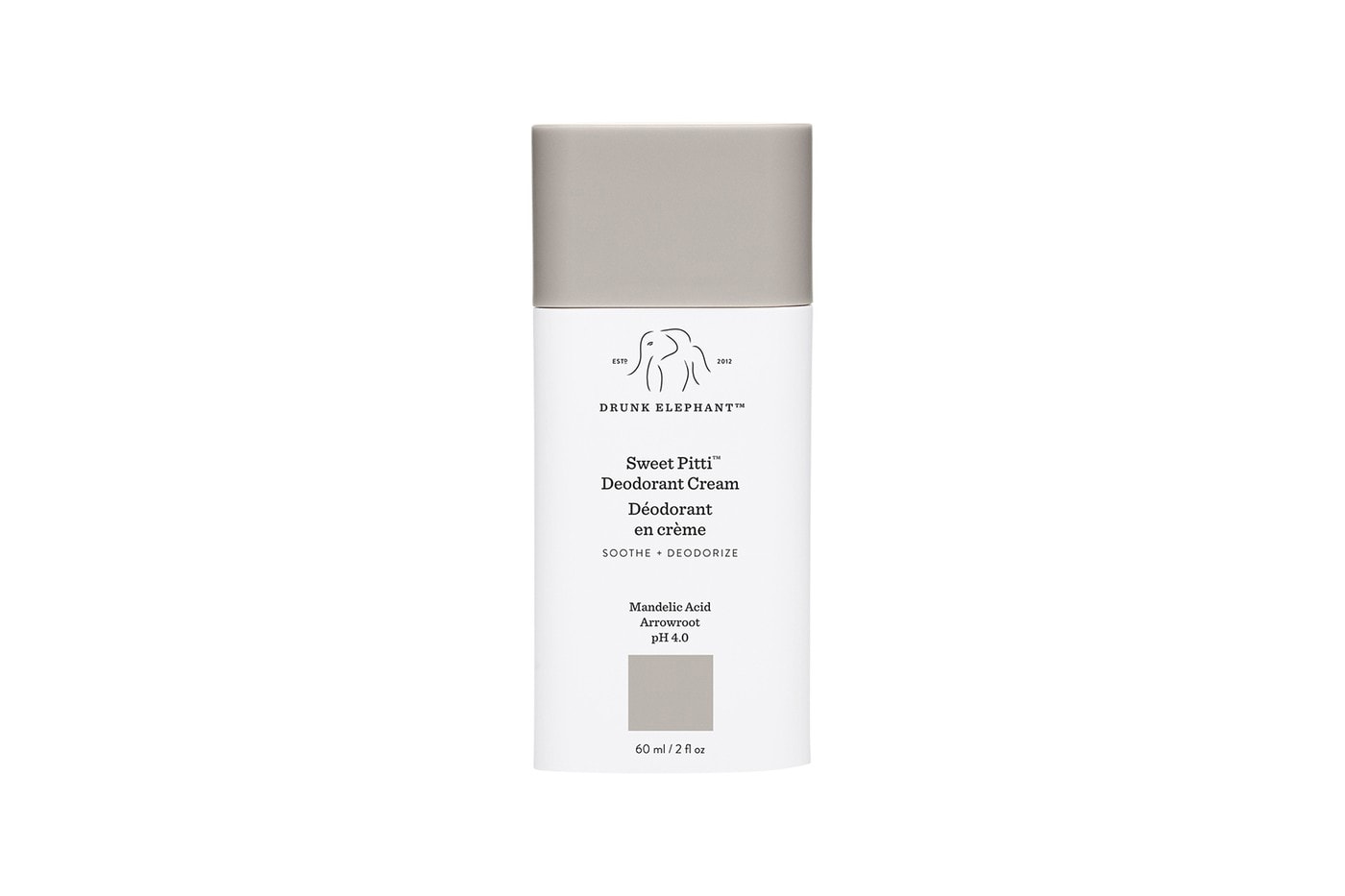 It did feel a bit strange at first, applying cream as a deodorant. However, once you overcome the novel texture, it's hard to go back to anything else. I've long been using natural deodorants ever since I found out about the dangerous cocktail of chemicals that often go into the products. I often experienced intense discomfort and itching when I used typical drug store deodorants, and noticed that these symptoms vanished once I switched to natural alternatives. The downside of these products, however, is that they are often very strongly scented with herbal notes. I found that the fragrance would became too overpowering and would unpleasantly blend with my perfume.
What I like about Drunk Elephant's deodarant is that it's essentially odorless once it is applied to the skin. Along with its soothing formula, the product does not produce any discomfort and most importantly, keeps you smelling fresh. Another positive note is that it does not leave any marks on dark fabric. As someone who wears a lot of black clothing throughout the year, this was the deciding factor to make Drunk Elephant's new dedorant my go-to.
The Sweet Pitti™ Deodorant Cream retails for $125 USD (approximately $16 USD).
SILI™ BODY LOTION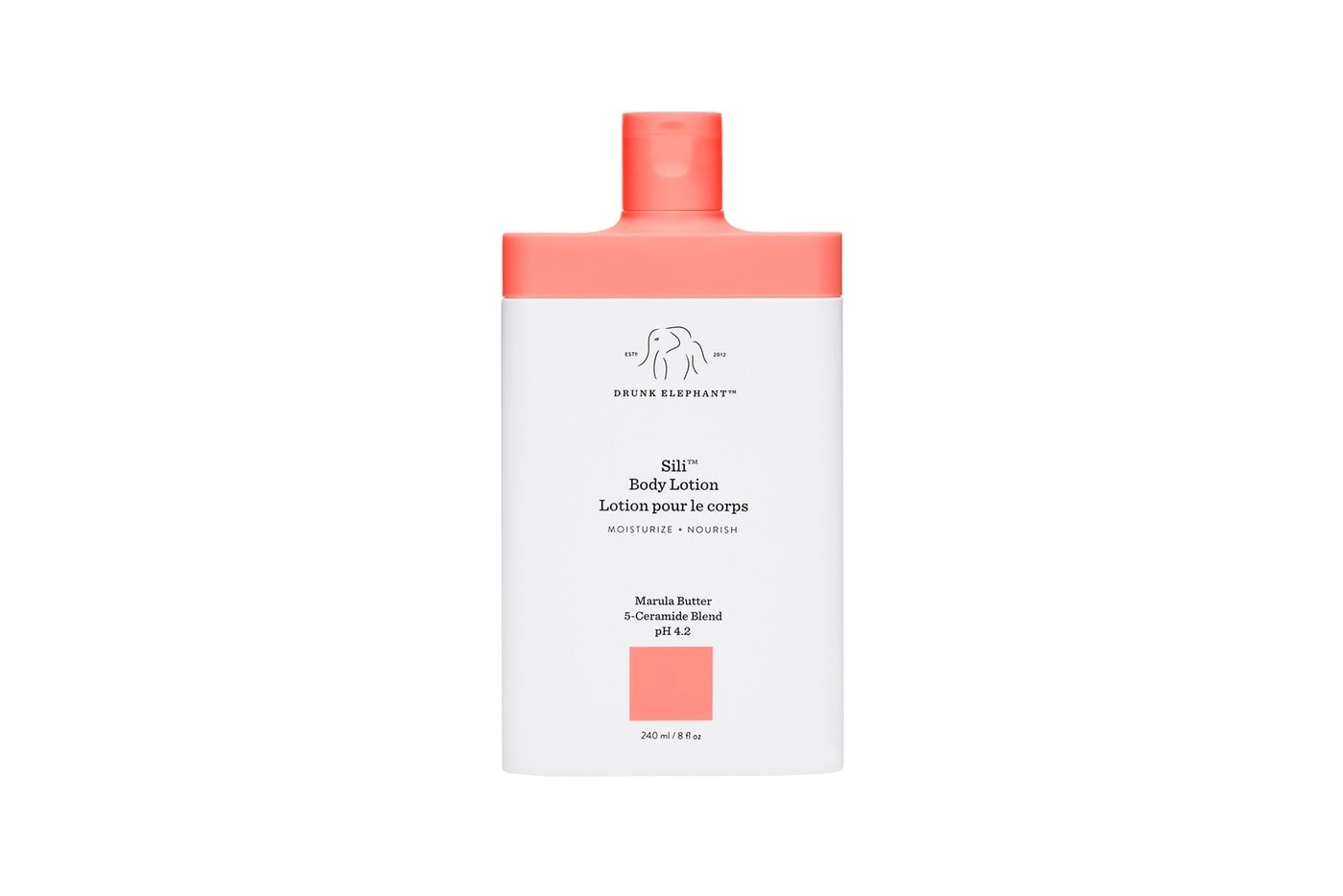 Much like the body cleanser, this arrival from Drunk Elephant is simple, but it works perfectly. The fragrance is similar to the rest of the products in the line: a clean scent with an almost indistinguishable scent of almond oil. The formula is not greasy at all (is there a sin so great as a greasy lotion?) and absorbs quickly into the skin. I have two cats that shed profusely, so the weight of the previous points are felt heavily in this review.
I've also been experiencing rashes lately, which is typical for me during this time of the year as dry, cold weather abruptly changes to humid, subtropical weather. This lotion has done a great job of soothing my skin, while restoring the moisture back to my skin in a balanced way. All in all, this is a great body care essential. For those who are looking to switch up their skincare routine into one of clean beauty products, this body lotion is definitely a must.
The Sili™ Body Lotion retails for $160 HKD (approximately $21 USD).
Share this article