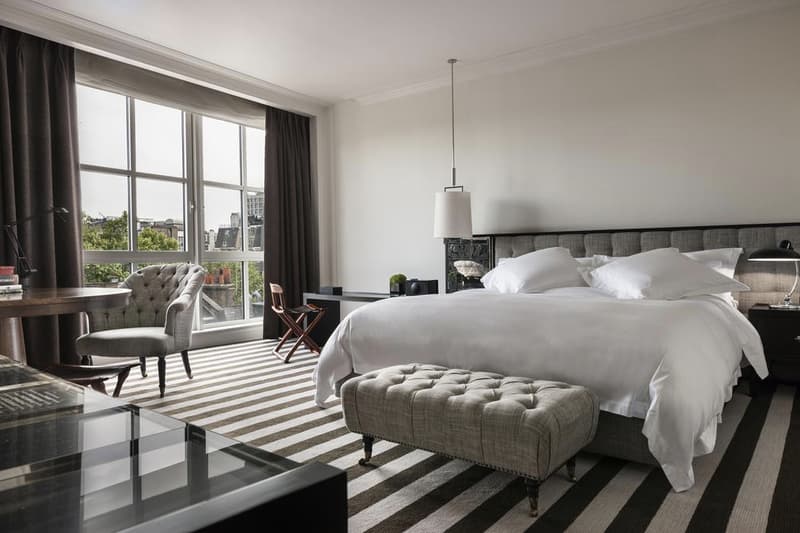 Culture
Here Are London's Best Hotels for a Staycation
Treat yourself to a luxury weekend home away from home.
Here Are London's Best Hotels for a Staycation
Treat yourself to a luxury weekend home away from home.
It is Friday and the weekend is upon us, so why not treat yourself to a staycation during these cold winter days? As we're slowly gearing up for warmer weather, we're taking a look at some of London's best hotels to stay for a night or two, exploring a new "home away from home." Whether you're looking to splurge and indulge in a luxury experience equipped with a spa and butler service, or explore one of London's most bustling neighbourhoods in a trendy boutique hotel, we've got you covered.
If you're in London, take a look at some of our top picks when it comes to a perfect weekend staycation. For more from the capital, don't miss all the best pasta places in London here.
Where: 252 High Holborn, Holborn, London WC1V 7EN
What: If you're looking for the ultimate getaway that is both luxury and cozy, London's Rosewood hotel is a must. Restored from an old Edwardian mansion, the hotel captures the London spirit, and is located right next to Holborn station. If you're looking to treat yourself even more, the hotel also has its own spa dubbed Sense, which offers everything from massages to facials.
Where: Ebor St, Hackney, London E1 6AW
What: If you want to spend a night in the bustling Shoreditch neighbourhood, the ultimate place to tuck in is Soho House's east London branch, Shoreditch House. Featuring a rooftop pool, gym as well as two floors of restaurants, the hotel is low-key and cozy and has great nightlife, as it is also a popular place to eat and drink. On top of that, you can also head to Cowshed spa for your beauty fix, and get a treatment after a long night out.
Where: 81 Great Eastern St, Hackney, London EC2A 3HU
What: The Hoxton is a cozy option if you're looking to spend the weekend out and about. The cozy rooms come in sizes starting from "Shoebox" to "Roomy," and are ideal for those looking for a casual night. The restaurant and bar always turns into a buzz at night, and you're a stone throw away from some of the city's best nightlife.
Where: 100 Shoreditch High St, Hackney, London E1 6JQ
What: Right in the center of Shoreditch's creative neighbourhood, Ace Hotel is the perfect stay if you're looking for a chic boutique hotel that oozes cool. Equipped with a rooftop bar as well as an underground music venue, you certainly won't have a boring night after checking in. For food, check out the hotel's popular restaurant Hoi Polloi, as well.
Where: 45 Park Ln, Mayfair, London W1K 1PN
What: 45 Park Lane has become one of London's most iconic 5-star luxury hotels, situated in Mayfair overlooking the city's famous Hyde Park. Home to steak restaurant CUT, the hotel is the perfect location to dine and spend the night. If you're looking for a luxury experience, 45 Park Lane is definitely the one to go for.
Where: 100 Queen's Gate, South Kensington, London SW7 5AG
What: The building formerly owned by Victorian aristocrat William Alexander has been transformed into a luxury hotel, situated in Kensington. The hotel has its own afternoon tea spot dubbed Botanica, as well as an all-day brasserie and a hidden cocktail bar. Ideal for a full weekend, the hotel is right next to some of London's most famous museums, and is perfect for a few days of exploring.
---
Share this article