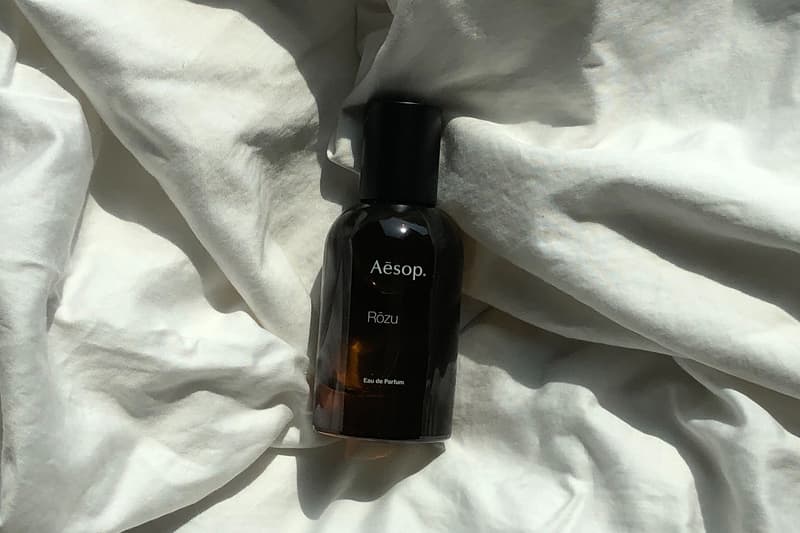 Beauty
Aesop's New Unisex "Rōzu" Fragrance Is for Those Who Can't Choose Between a Floral or Woody Perfume
With notes of rose, jasmine, guaiacwood, sandalwood and vetiver extract.
Aesop's New Unisex "Rōzu" Fragrance Is for Those Who Can't Choose Between a Floral or Woody Perfume
With notes of rose, jasmine, guaiacwood, sandalwood and vetiver extract.
I've never been a fan of floral perfumes. Instead, I tend to prefer fragrances that are more woody or peppery. However, I have found that when it comes to scents, Aesop loves to surprise fragrance lovers with unexpected combinations. One of my favorite perfumes to date is "Marrakech Intense" from the Australian brand. It is an intoxicatingly rich fragrance that is at once woody and spicy and floral, its scent profile completely mercurial and ever-changing from moment to moment.
Along the same vein as "Marrakech Intense," Aesop's newly introduced fourth fragrance, "Rōzu Eau de Parfum," is both complex and fluid. The new scent was created in tandem with long-term collaborator, Barnabé Fillion (unsurprisingly, he also played a hand in the olfactory design of Marrakech Intense). To create this new bouquet, French modernist designer Charlotte Perriand served as the central figure of inspiration. Known for her love of adventure and the great outdoors, Rōzu pays homage to her legacy with a fragrance that is as dynamic as the woman that inspires it.
What I like the most about this fragrance is that it's not outrightly floral. Although its most dominant note is undeniably Rose, there is a sensual smokiness that is equally commanding when you first experience the scent. Layers of Petitgrain, Bergamot and Shiso (which is an ode to Perriand's lifelong fondness for Japan) are also part of the opening notes, with the spicy woodiness of Guaiacwood coming through as the fragrance has more time to develop. Interwoven between the floral brightness of Ylang Ylang and Jasmine within the scent, the warm earthiness of Sandalwood, Vetiver Extract, Patchouli, Myrrh and Musk round out "Rōzu." In terms of how the scent smells the next day, I find that the floral sweetness definitely lingers longer than the woodiness. I find myself wishing that the overnight scent leaned a bit more on the musky side but even so, it is still an exquisitely well-rounded fragrance.
So, why does this scent stand out among the sprawling array of options out there? For me, the unexpected woodiness that comes from a rose-focused scent is oddly alluring. Similar to the first time that I smelled Le Labo's Rose 31 perfume, "Rōzu" is beautifully intricate in the way that it's able to create an uncomplicated ebb and flow between floral and musky notes. It cannot be defined as feminine, but neither masculine. It exists as an obvious spring favorite, but can just as easily be worn throughout the colder months of winter. The oscillation between two fragrant extremes is somehow able to cohesively come together in this one unifying perfume – a perfect marriage of opposites.
You can shop "Rōzu" now at Aesop locations in-store as well as on its web store, where it retails for $180 USD.
---
Share this article