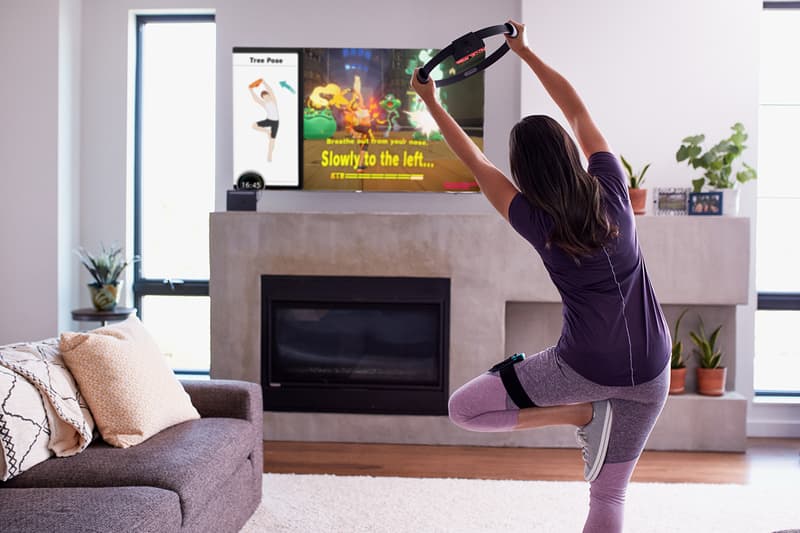 Tech
5 Fitness Video Games That Will Help You Exercise at Home
These Nintendo Switch and PlayStation games will make you sweat.
5 Fitness Video Games That Will Help You Exercise at Home
These Nintendo Switch and PlayStation games will make you sweat.
If you've been struggling to get enough exercise these days, incorporating a fun fitness game into your quarantine schedule may give you some motivation to stay active at home. From Ring Fit Adventure, a training video game comparable to HIIT sessions, to the more relaxed alternative Just Dance 2020, the list of games below will make you break a sweat. Continue reading to learn about some of the best workout games you can play on Nintendo Switch and PlayStation 4 among other platforms.
While you're at it, check out our favorite livestreams and online classes to tune in to for at-home workouts.
Ring Fit Adventure
Available on: Nintendo Switch.
Shop: The game is virtually sold out everywhere at the moment, but you may check Best Buy, Walmart and Amazon for availability or restock alerts.
An action-RPG that marries gaming and fitness seamlessly, Nintendo Switch's Ring Fit Adventure takes players on a monster-slaying journey that involves IRL exercises. The game arrives with two special devices, the Ring-Con and the Leg Strap, both of which help track your actions and turn them into in-game movements. From squats and overhead lunge twists, to sprints and high-knees, you'll get to really work your muscles throughout the game. In addition to the Adventure mode, you can also up your workout game with a variety of minigames and customizable workout routines.
Fitness Boxing
Available on: Nintendo Switch.
Shop: Best Buy.
A training game that you can play by yourself or with a friend, Fitness Boxing offers rhythmic exercises that are set to the instrumental beats of songs by artists like Lady Gaga, Maroon 5 and Justin Bieber. Choose between Normal and Fast modes and get your daily exercise ranging from 10 to 40 minutes long. To help you keep track of your progress, the game will approximate your BMI as well as daily calories burned as you punch and squat.
Just Dance 2020
Available on: Nintendo Switch, Wii, PlayStation 4, Xbox One, Google Stadia.
Shop: Best Buy.
Launched last November, Just Dance 2020 features 40 of the latest chart-topping hits, including Billie Eilish's "bad guy" and Lil Nas X's "Old Town Road (Remix)." Although the game may not be as physically demanding as some others, it'll certainly help get your body moving. The game also makes for a great pastime for you and whoever you're spending quarantine with, allowing you to groove to your favorite tunes for hours and to show off your dance moves.
Beat Saber
Available on: PlayStation 4, Steam, Oculus Rift, Oculus Quest.
Shop: PlayStation Store, Steam, Oculus.
Another game that appeals to music lovers, Beat Saber is a VR rhythm game where you slash beats (represented by levitating cubes) as they come toward you. Whether you're using an Oculus headset or the PlayStation VR, you'd use your controllers to wield the futuristic lightsabers. While it isn't marketed as a fitness game, Beat Saber is praised by many for being an excellent workout, with intense sword-swinging actions resembling movements of actual exercise routines.
Mario & Sonic at the Olympic Games Tokyo 2020
Available on: Nintendo Switch.
Shop: Best Buy.
Inspired by the upcoming Tokyo Olympics that is now postponed to 2021 due to the global coronavirus pandemic, Mario & Sonic at the Olympic Games Tokyo 2020 sees iconic characters from Nintendo's Super Mario and Sega's Sonic the Hedgehog series competing against each other in various sporting events. From tennis and fencing, to new Olympic categories like surfing, skateboarding, karate and sport climbing, get moving by playing more than 30 different events on your own, with your quarantine partner or compete online.
---
Share this article