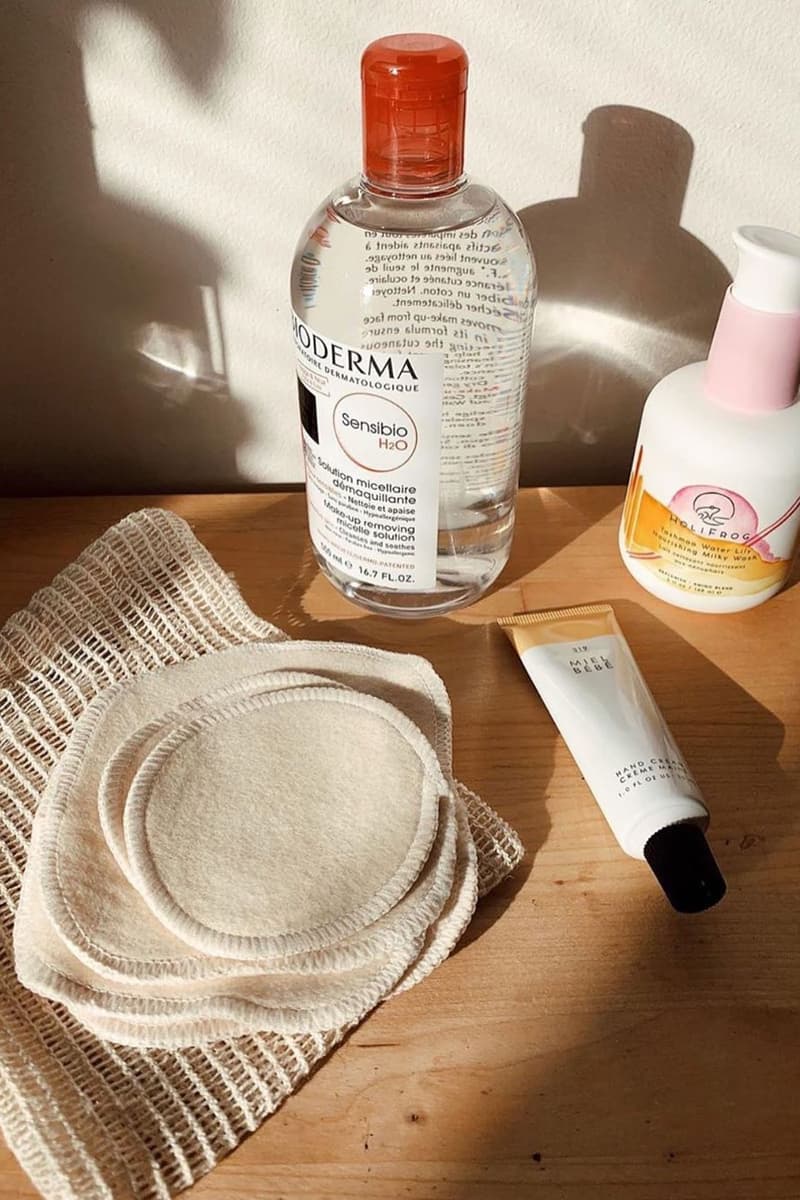 Why You Should Practice Intentional Beauty and Simplify Your Skincare Routine
A sustainable and less-is-more approach to beauty.
Beauty
Why You Should Practice Intentional Beauty and Simplify Your Skincare Routine
A sustainable and less-is-more approach to beauty.
Sustainability and social responsibility are increasingly significant aspects for companies and brands to consider when developing product. As highlighted in Business of Fashion and McKinsey's joint 2018 State of Fashion report, 66 percent of global millennials are willing to spend more on brands that are eco-friendly. While the concept of sustainability is now widespread across industries including fashion and beauty, it's crucial for consumers to understand how they can become more mindful of consuming products.
More specifically in the cosmetics industry, there are numerous environmental issues to discuss, from unrecyclable plastic packaging to the use of microbeads. As consumers, we can take small but meaningful steps in reducing waste from the products that we use by practicing intentional beauty, a new concept that is at the heart of K-beauty company Krave Beauty. Founded by influencer Liah Yoo, the label made the bold decision to refrain from releasing new products in 2020 to further improve what it already offers. "Intentional skincare is exactly what it sounds like — taking the time and effort to be intentional about your skincare practice and routine by learning to understand your skin and feeding it what it craves," Yoo explains.
A similar idea is promoted across other skincare brands, with additional elements of natural and clean beauty. Cyan, which launched earlier this year in January, only works with sustainably sourced and responsibly packaged products, emphasizing safety, transparency and quality over quantity. Using ocean-derived ingredients, Cyan commits to circular beauty to ensure that minimal footprint is left throughout its entire supply chain. The brand currently also carries only two essentials — a serum and a moisturizer — to nourish the skin with only what it really needs.
Another likeminded brand is Biossance, which provides customers with a full educational course on clean beauty so that they are aware of what ingredients their skin needs. Formulating non-toxic and sustainable products, the label also focuses on the essentials, from cleansers and oils to moisturizers and serums.
To gain more insight on the topic of intentional beauty and how we can better adopt sustainable practices while feeding our skin the right products, we talked to Krave Beauty's Liah Yoo, Cyan founder Ali Grace Marquart and Biossance president Catherine Gore. Read on to learn more about intentional beauty, as well as natural and clean skincare.
For more on sustainability, check out some of our favorite eco-friendly beauty brands.
Krave Beauty founder, Liah Yoo
Why should we practice intentional beauty? 
People often stumble upon skincare out of necessity to "fix" their skin problems, or through excitedly following recommendations from their friends, older siblings, social media and online publications telling them what they "need." With the increased popularity of skincare, we've seen people fall into this habit of having to satisfy voids in their routine or trying the "next best thing" just because, instead of developing a practice that tailors to the condition of their skin. Skincare should feel intuitive because no one knows how it feels more than you do. We have a million other things to stress about than whether our daily routine is up to par, and intentional skincare is really just about satisfying yourself, your skin and its health. On top of that, it can do some good for your wallet and free up mental space.
Overall, the practice of intentional skincare is just a friendly reminder that your beautiful, unique skin is a living, breathing organ that knows how to take care of itself when it is healthy. Treat it no differently than any of your other wellness practices, and simply seek to maintain its health.
For skincare beginners, it may be challenging to understand what the skin really needs. What are some ways to figure out what exactly it is that should be in your skincare routine?
We have all been there. At first, figuring out what your skin needs can feel like a really daunting task. I'm not going to lie, it's definitely going to take some trial and error, especially if your skin is particularly sensitive or acne-prone, but it will be worth it. It's like working out — you just have to put in the effort and keep at it.
You can, of course, always go to a licensed professional who will probably give a pretty good breakdown of your skin's condition. But if you don't have that luxury, you can join the masses who resort to the Internet instead, where your resources are limitless. It's great to start with learning a little more about your skin and recognizing the signs it's giving you. At Krave Beauty, we also try to provide resources on our website and social channels that provide insight into learning more about your skin.
How does intentional beauty tie to sustainability?
I think you can look at sustainability as a byproduct of an intentional skincare practice, or for some, even a reason for adopting it in the first place. By researching the products you bring into your routine, you may begin to realize that your skin doesn't need as many steps as you thought it would. As you further identify what works for you, you are no longer buying things you don't need and contributing to that cycle of waste. During this process, you can also take a moment to identify and support the brands that are making an effort towards sustainable business practices. Maybe this can further inspire people to take intentional consumption and sustainability to other parts of their lives as well.
What relation does intentional beauty have with natural or clean skincare?
Natural or clean beauty is like intentional skincare in that it is about choice. It's a section of the industry that further developed as consumers started looking more deeply into what they were actually putting onto their skin, and demanded choice for a certain type of formulation and its ingredients. Intentional skincare is about choosing what's right for you and that very well may be natural or clean skincare products, but you don't necessarily have to choose natural or clean skincare products to practice intentional skincare.
Cyan founder, Ali Grace Marquart
What makes a skincare product "clean"?
Clean feels a bit dirty these days, as what started as a positive movement toward making safer, non-toxic products has now become a battle of never-ending call-out culture and fear-based marketing tactics. We want to turn the tide on that and dedicate ourselves to a thoughtful, informed approach to formulation that combines the best of safe, non-toxic and research-backed natural and synthetic ingredients.  The industry may not yet be regulated, but we operate under an "act as if" philosophy, using pharmacopeia-grade ingredients and producing our products in small batches in FDA-certified labs. We also believe that "clean" is a responsibility that goes beyond the formula, so we strive for circular beauty, where each element can be reused or recycled to reduce waste.
As Cyan Skincare is focused on ethical production and sustainability, do you believe that consumers should minimize their routines and stick to only what their skin truly needs?
There's no doubt that the excessive consumerism that is so prevalent today has contributed to the dire state of our amazing planet, as has the general failure to properly discard that which we're consuming. We strive to make what we refer to as "elevated essentials:" multi-functional products that are incredibly effective for a wide range of skin types, regardless of age or gender. If you need fewer products to achieve your skincare goals and if you can share those products with friends and family, you are naturally able to reduce your consumption and waste, which is a win for both the individual consumer and the planet.
What are your thoughts on the 10-step skincare regime that has now become the popular way of taking care of your skin? 
Science has proven to us that "less is more" when it comes to skincare — the key to healthy skin is a flourishing microbiome, and an overly-complicated routine can disrupt that natural pH balance. Additionally, there are never enough hours in the day, and the last thing anyone needs is more stress. So, I think keeping it simple is a benefit for both mind and body. An ideal everyday routine involves cleansing and moisturizing and then exfoliating a few times each week. A serum that helps target one or two specific concerns, such as inflammation or anti-pollution, enhances that routine and should be applied after cleansing to help the delivery of the moisturizer, assisting it in more deeply penetrating the skin.
Biossance president, Catherine Gore
What is the difference between natural beauty and clean beauty? If a product is natural or clean, does that mean it is sustainable?
If a product is natural, this means that the ingredients should only be comprised of plants, botanical extracts and minerals. Being natural doesn't necessarily mean it's better for you — it just means it came from the Earth. For example, poison ivy is natural but not good for your skin. As for clean beauty, people assume that you can't use synthetic ingredients. We're trying to dispel this idea because thanks to today's technology, you can produce amazing, clean, synthetic ingredients that are better for both your skin and the environment.
At Biossance, clean is defined as non-toxic. We want to make sure that the ingredients inside any product are safe for our customers and the environment. Being sustainable, in a broad sense, means choosing to practice in a way that doesn't harm the Earth. That can be inclusive of ingredient derivation, conscious packaging and planet-first processes like low-water usage. Our commitment to people and the planet applies to everything we create. We innovate every aspect of our company and supply chain to do better for our world and be the leading pioneers in sustainable beauty.
This topic can be overwhelming and confusing for many which is why we created a comprehensive educational platform, The Clean Academy, to help consumers better navigate the clean beauty space. Guided by Biossance Brand Ambassador Jonathan Van Ness as well as scientists, environmental activists, like-minded brands and more, The Clean Academy content simplifies complex concepts and ingredients so that everyone has the power to make smart choices, no matter where they are on their clean beauty journey. 
With 10-step skincare regimes having become so popular, what are your thoughts on this in relation to sustainability in the beauty industry?
Overall, I think products are becoming more efficacious so it's quality over quantity.  This is very much a personal choice though, based on your skin needs.
Share this article