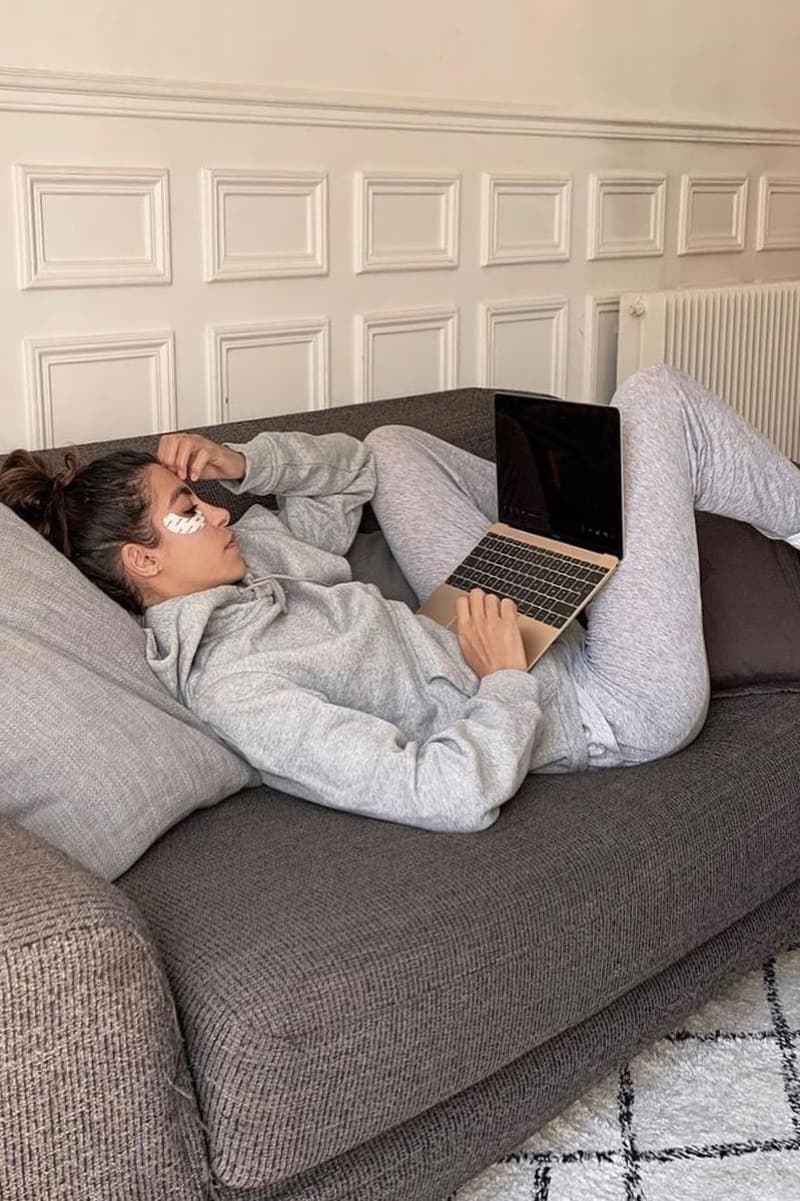 7 Editor-Approved Ways To Wear Sweats at Home
Here's how the HYPEBAE editorial team stays comfy-chic while working from home.
Fashion
7 Editor-Approved Ways To Wear Sweats at Home
Here's how the HYPEBAE editorial team stays comfy-chic while working from home.
With many of us being forced to stay home over the past few months, comfortable wardrobe staples like hoodies, leggings and sweatpants have been taking over our shopping lists. To provide styling ideas that will help you feel put together and motivated during self-isolation, we've compiled a guide on how our editors are rocking sweatpants as they work from home.
When it comes to elevating your look, it's important to pay attention to the details, with most of our selections including jewelry pieces such as necklaces and bracelets from popular labels like Bottega Veneta, Off-White™ and Numbering. Another standout category is slippers and slides, ranging from summer-friendly options like Nike's Benassi and the YEEZY SLIDE, to cozier styles such as the Rick Owens x Birkenstock sandals.
In the latest instalment of the "HYPEBAE Editors' Style Guide," we walk you through how we're keeping our 'fits comfy yet video call-ready during this time. Scroll down below for some at-home outfit inspiration.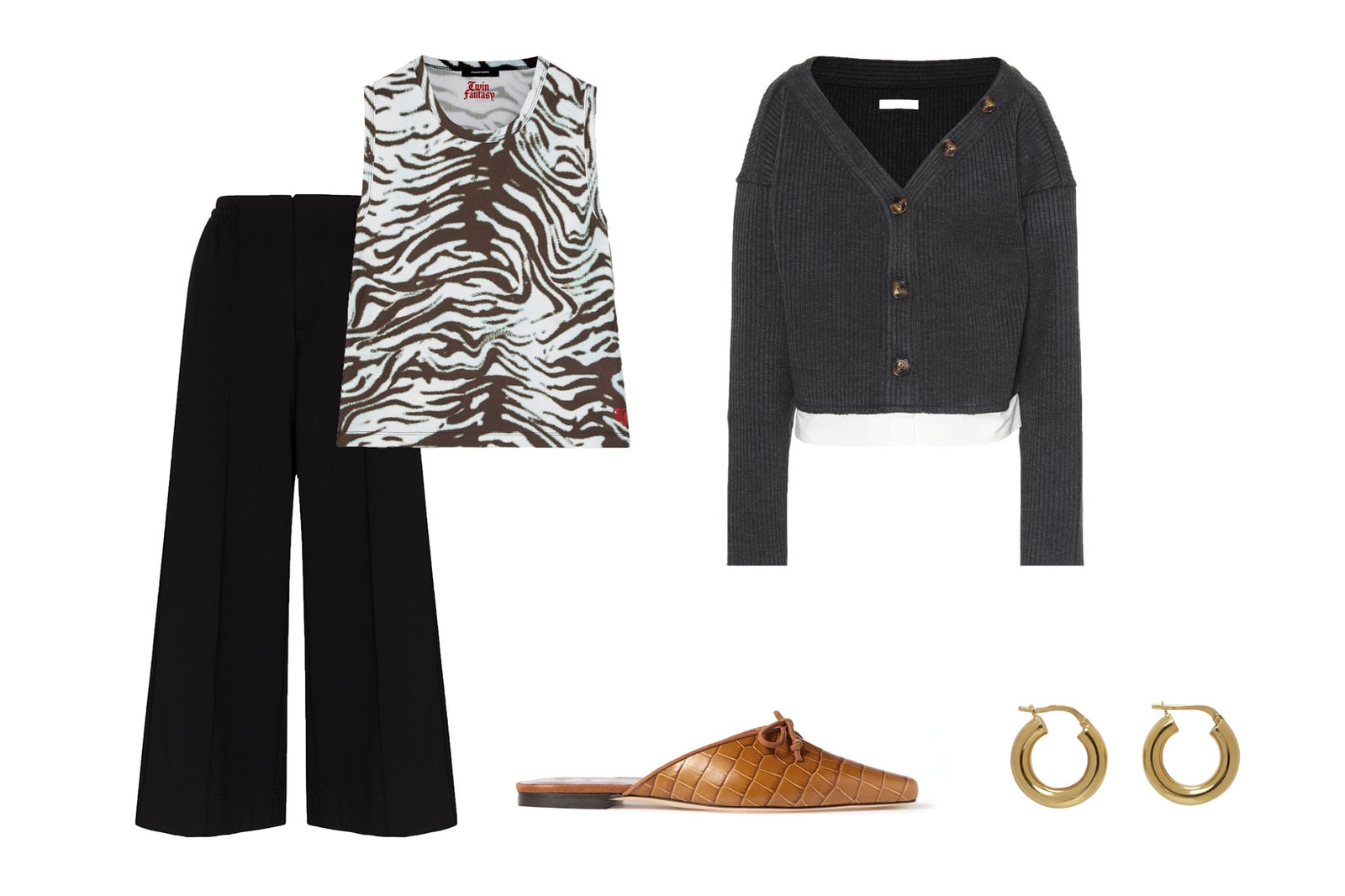 Though it remains to be seen how I'll adapt to longer-term quarantine, I've kept my getting-ready routine largely the same. To start the day productively, I'll leave myself a little over an hour before signing onto Slack to eat breakfast, have coffee and get dressed in an at least somewhat office-appropriate outfit. I'm certainly not reaching for a blazer and heels, but wearing something I'd feel comfortable going to work in keeps me motivated. 
For a more polished look, I opt for flared sweats like Y-3's Wide Leg Track Pants and pair them with a flat mule – STAUD's croc-embossed version is easy yet chic – when I walk my dog. To keep things interesting, I'll choose a printed top like Twin Fantasy's Cropped Tiger-Print Stretch Tank, a piece Joe Exotic would be sure to approve of. A slouchy cardigan is the perfect indoors layering piece – the Rejina Pyo Ella Ribbed Cardigan features a white shirttail hem, a workwear-inspired detail. Lastly, I'm never without a pair of small gold hoops like Bottega Veneta's versatile Gold Sterling Earrings (they're so lightweight, I keep them in while sleeping and showering).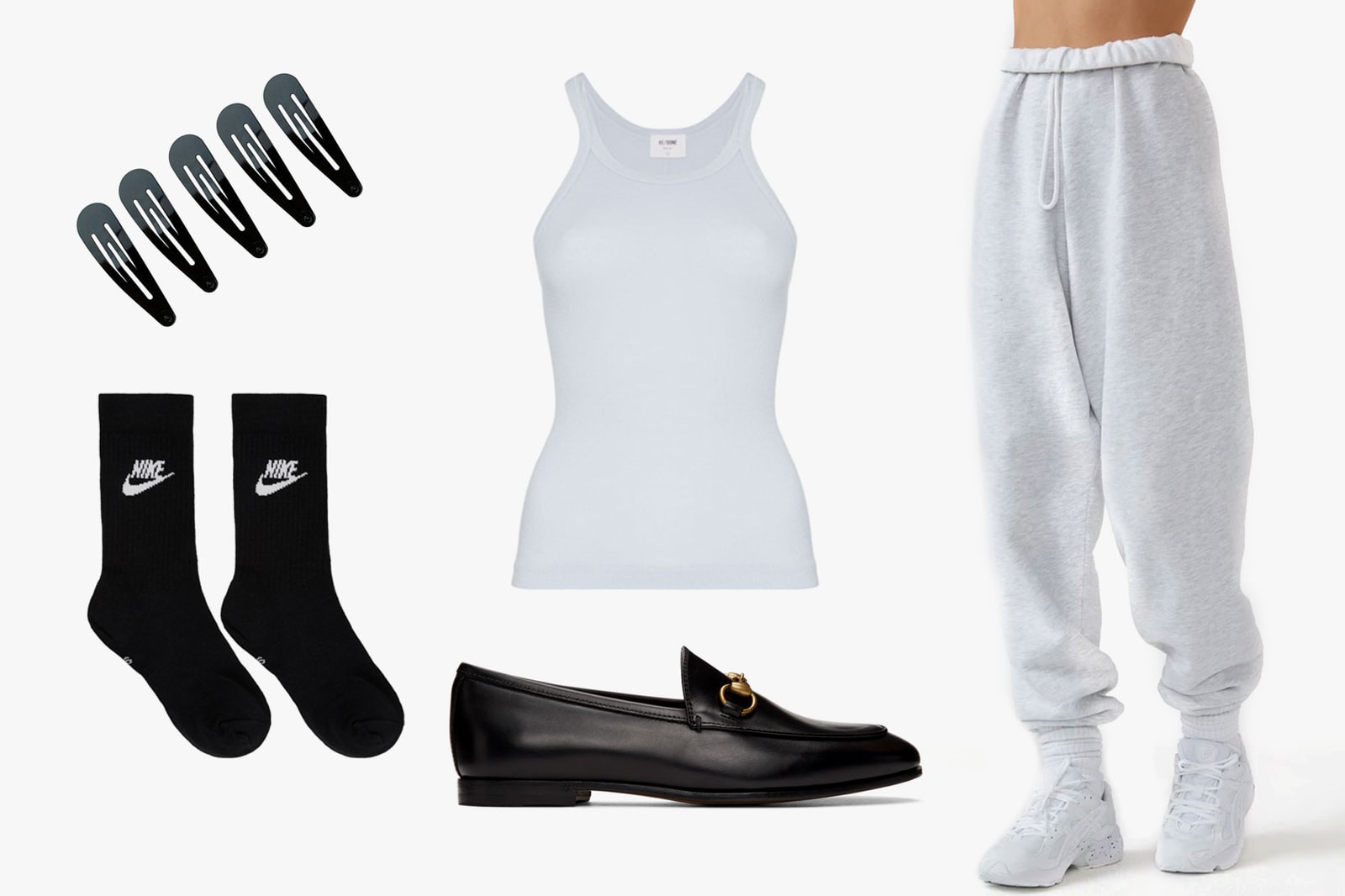 My roommate told me about a month into quarantine, "Your style hasn't changed at all." Validation in our new normal about old constants, was nice. 
In new news, I've picked up eating the same lunchtime turkey breast with swiss cheese sandwich everyday; the only thing that's changed is that I now eat standing up to give my legs an extra stretch. Bending over the plate on the counter, my overgrown bangs have on more than one occasion tacked themselves onto the mustard-covered sourdough innards. For mealtime and beyond, the tank, RE/DONE's Ribbed, over oversized Joah Brown sweatpants make a daily appearance in the kitchen. But that was nothing new. While my roommate wasn't wrong, this story lies in the details, namely, snap hair clips to keep errant strands tucked away. 
Rounding things out, Nike black crew socks with Gucci's Jordaan loafers to walk the dog.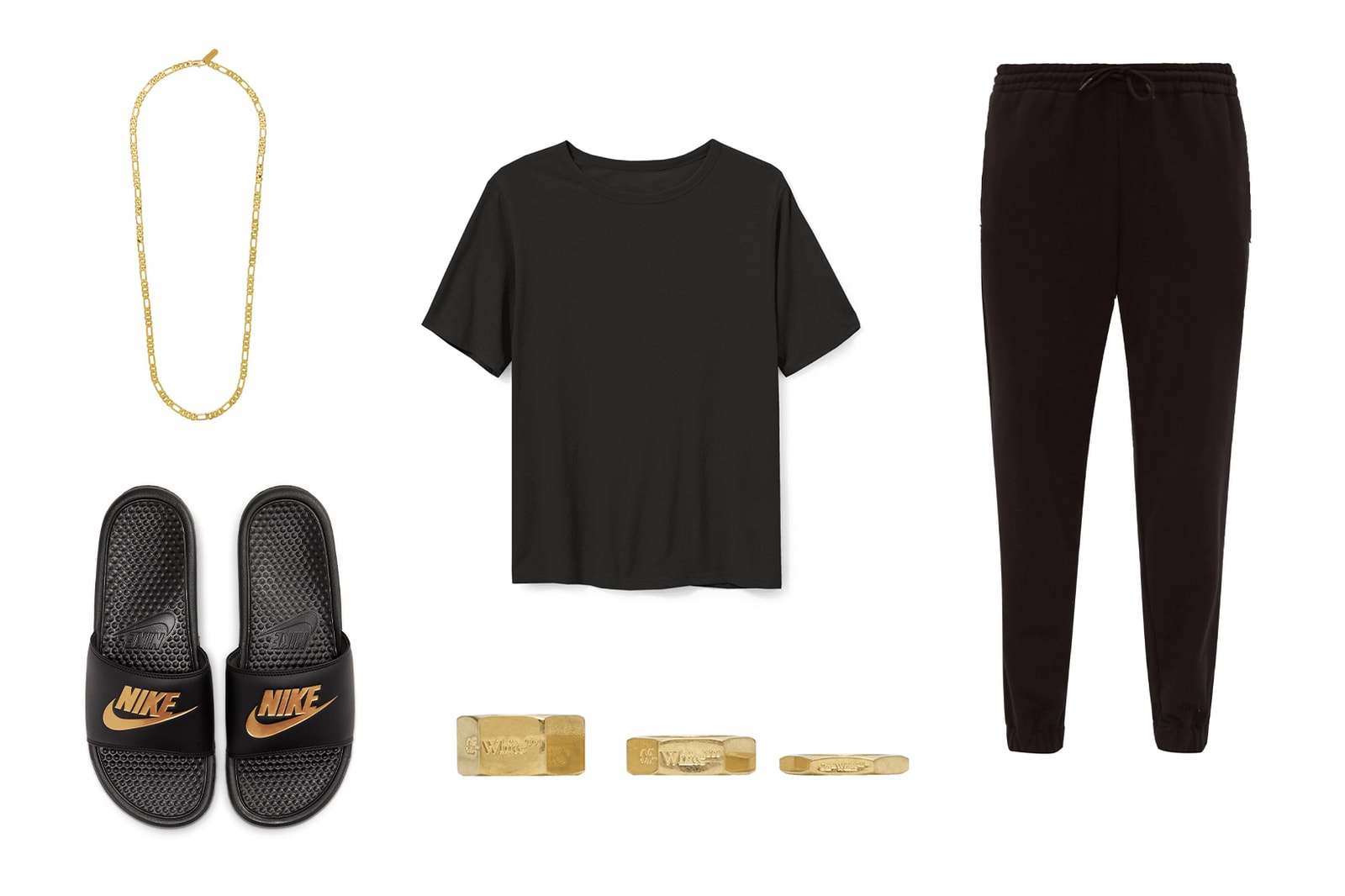 Working from home has been quite the adjustment ever since COVID-19 hit Hong Kong towards the end of January. I initially didn't have structure when it came to my daily routine, which led to major cabin fever and loss of motivation. However, when our government announced that we would have to work from home for the whole of February and most of March, I decided that it was time to switch things up. 
The first thing I do when I wake up is wash my face, followed by a glass of iced coffee to kick start my day. Before I have to clock in for work, I pick out a comfortable yet stylish outfit in case of any unexpected Zoom meetings. My closet's color palette pretty much consists of black, white and other neutral tones. Simplicity is everything to me, so I normally opt for a plain black top like Everlane's The Air Oversized Crew Tee and french tuck it into a pair of comfy sweats like WARDROBE.NYC's. Release 02 High-Rise Cotton Track Pants. With summer in full force, my Nike Benassi slides are going to be my go-to for the rest of lockdown. To round out my look, I usually wear a plain gold chain necklace along with a matching ring set to add a pop of color and a touch of elegance.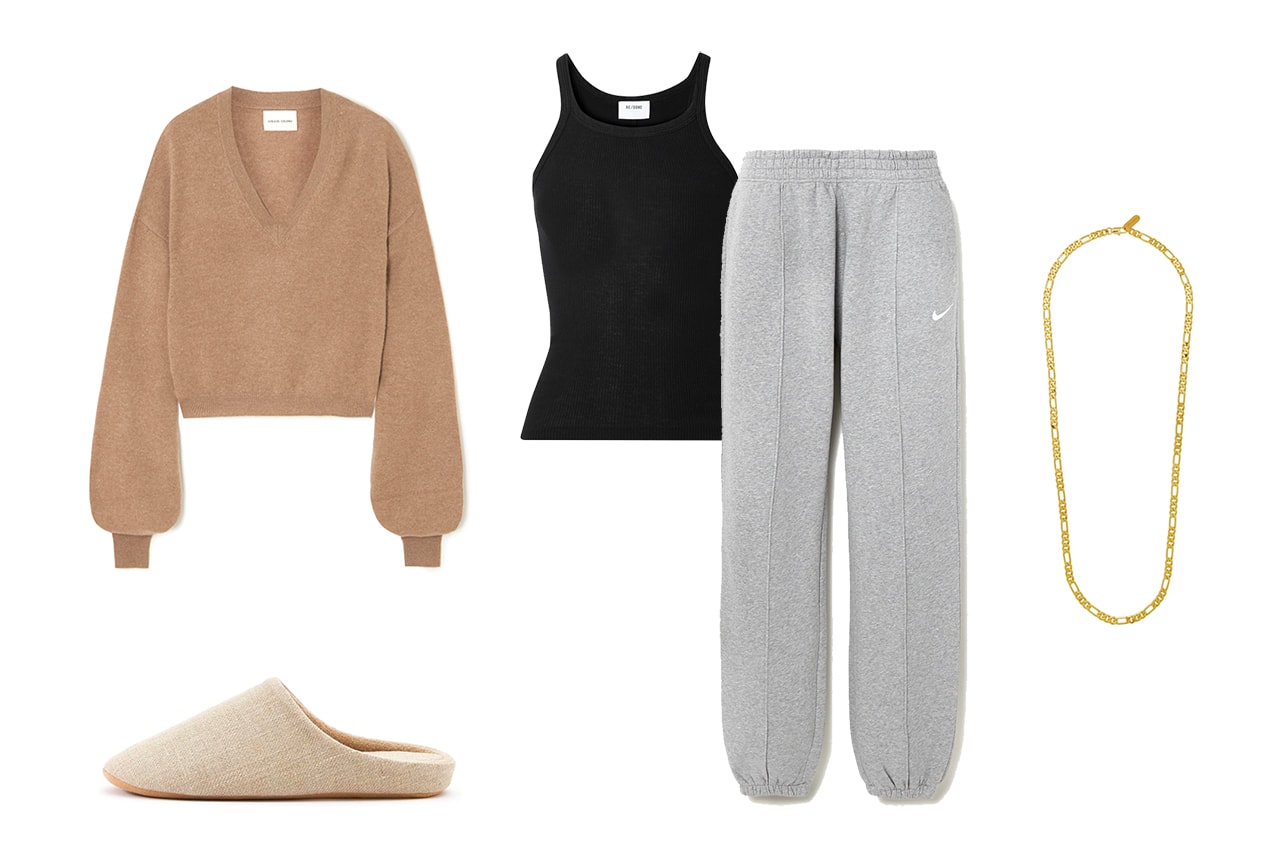 I was never really a sweatpants person, but this lockdown has changed me. They're pretty much the only bottoms I'm wearing these days. My favorite ones are these light gray fleece pants from American Apparel I got a couple of years ago, a style that now seems to be discontinued. Thankfully, I was able to find this pair from Nike that offers a similar fit.
Depending on how warm or chilly it is (because it can be sunny one minute, then overcast and snowing the next in Montréal), I'd either throw on a ribbed tank top, like this one from RE/DONE, or a camel beige sweater. This V-neck cashmere top from Chloé Harrouche's label LOULOU STUDIO comes with the perfect slouchy sleeves. A simple, gold chain necklace is optional unless I feel like making an effort, but these comfy MUJI room slippers are definitely an at-home staple of mine.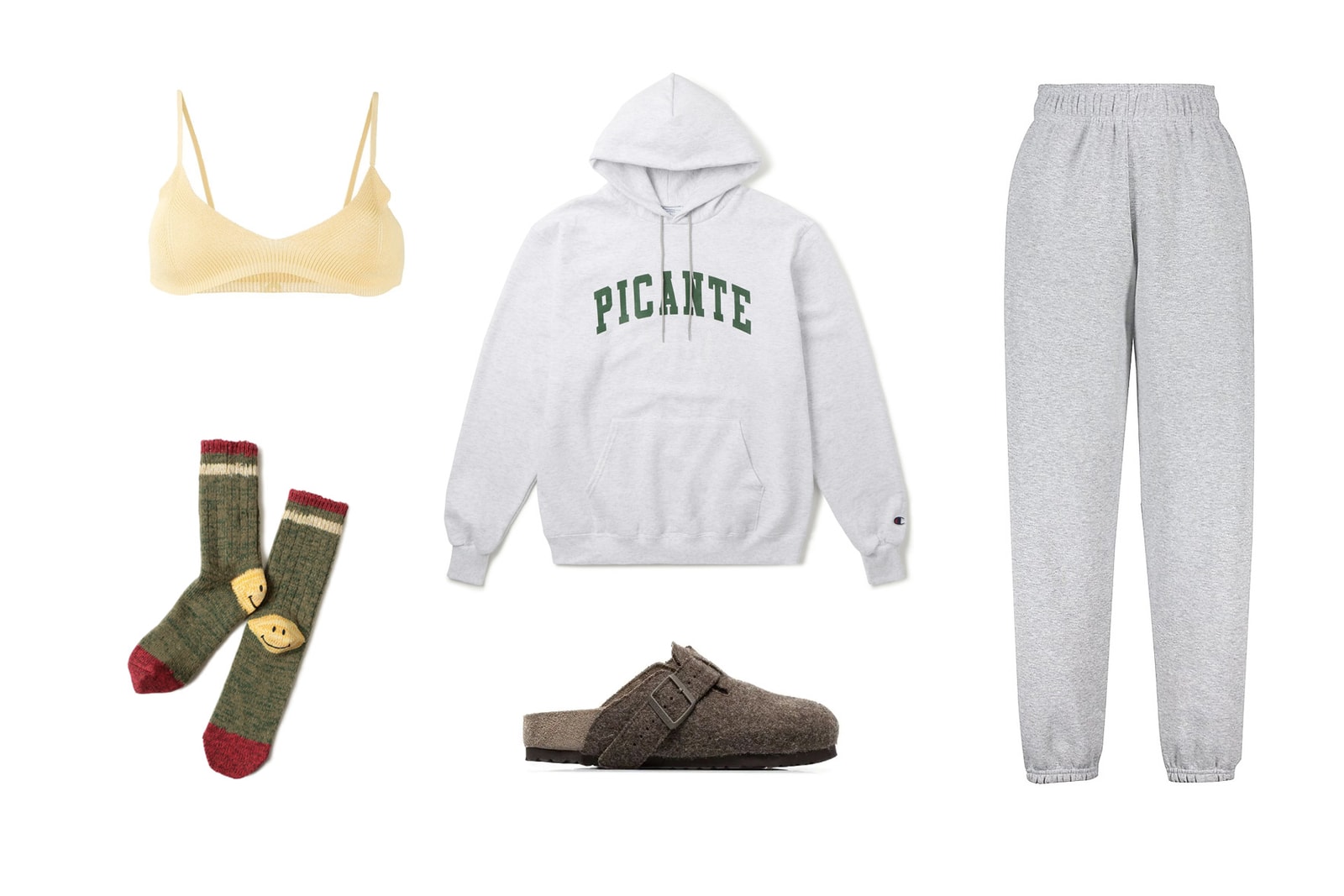 I'm not going to lie, self-isolation has not been kind to me. Getting dressed has been my favorite part of the day for as long as I can remember, and clothes have always been my way of expressing myself, so needless to say – I am struggling. It took me a few days to ease into the thought of wearing sweatpants every single day, but now I've decided to embrace the comfortable and safe style choices in these terrible and uncertain times. 
It's almost embarrassing to admit, but I swear by Brandy Melville's sweatpants. They are the best, and are also super affordable. On the daily, I usually wear Jacquemus' knitted bralette with my sweats whilst lounging on my balcony, and throw on my Soho House Memes Picante hoodie in the afternoon. It makes me think back to the days I took a cocktail for granted. Lastly, my trusted Kapital knitted socks I stock up on whenever I'm in Japan, as well as my now well-worn Rick Owens x Birkenstock sandals. It has become my uniform, and I'm okay with that. 
YeEun Kim – Editorial Intern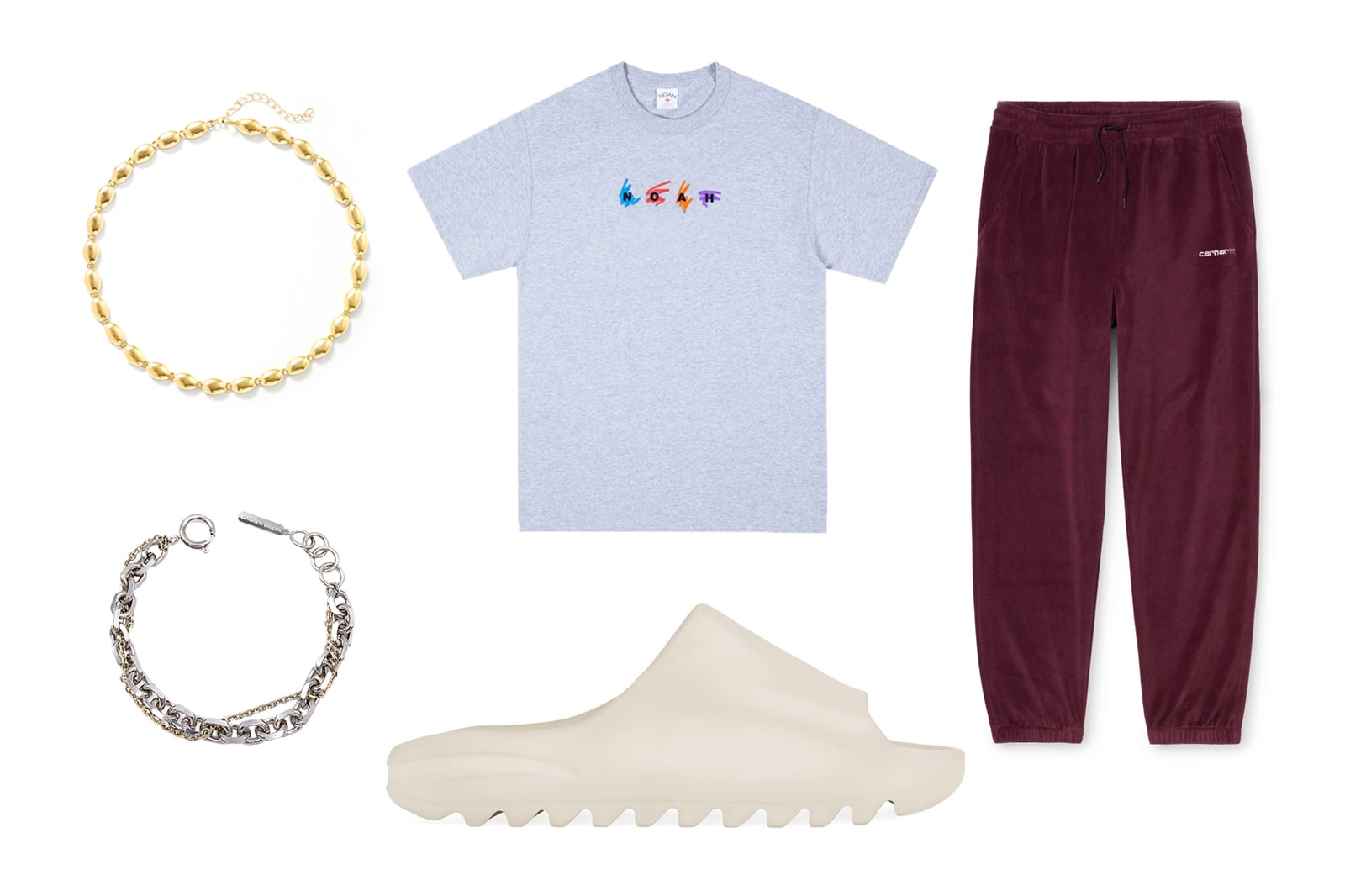 I can't say my style has changed much, since my wardrobe was already filled with track pants and sweats before we were all forced into quarantine life. During the first few weeks, I had trouble getting adjusted to working from home, struggling mostly with staying focused and motivated during my work hours. However, I've managed to find small but effective habits that change my attitude when I'm sitting at my desk.
Like many other people who are working remotely, I make sure that I'm not working in my pajamas. After waking up and drinking a cup of ice-cold, lemon-infused water, I'll change into an oversized T-shirt from NOAH and comfy sweats from Carhartt WIP, while elevating the overall look with a gold 1064studio necklace and Justine Clenquet's Dana Bracelet. On my feet are YEEZY's slides that I impulsively copped while scrolling through Instagram.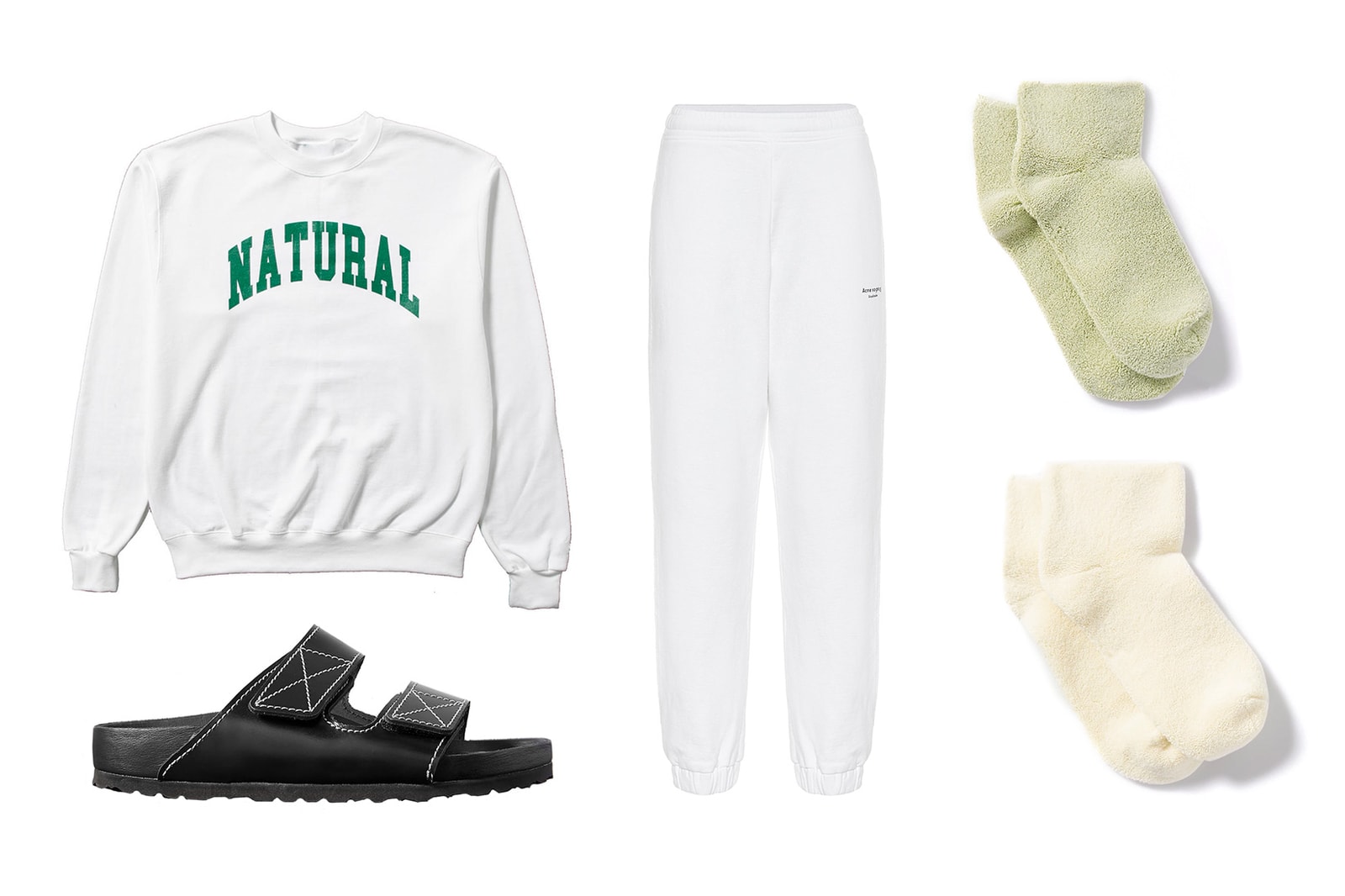 One thing I quickly learned while being in quarantine with two cats (one is a "Grey/White" colorway, while the other is "White/Brown") is that wearing my usual black color palette at home is not only foolish, but resentment for all parties involved arrives swiftly after. For this reason, I've modified my at-home uniform to one mostly of whites and greys. In between plucking stray cat hairs from every exposed surface of my face, I have also over time been able to drastically reduce the level of paranoia that comes with drinking hot milk tea while wearing pristinely white Acne Studios sweatpants, a recently appointed essential. To truly test my limits, I like to pair the sweatpants with an equally immaculately white "Natural" sweater from Peace & Quiet.   
As an added necessity to protect my ankles and feet against sudden vicious attacks from a particularly misbehaved child named Feline Dion, I make sure to wear Baserange's sustainable cotton-blend socks. Also, keeping your feet warm is important for optimal coziness. For grocery runs, I'll slip into the Proenza Schouler x Birkenstock Arizona sandals because shoelaces, who is she?
Share this article