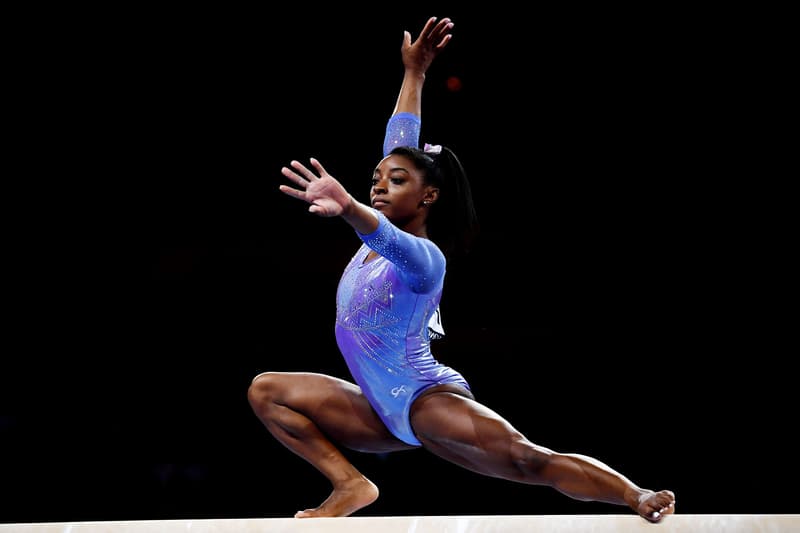 Fashion
Simone Biles Is 'Vogue's August Cover Star
The gymnast discusses abuse, the coronavirus pandemic and the Black Lives Matter movement.
Simone Biles Is 'Vogue's August Cover Star
The gymnast discusses abuse, the coronavirus pandemic and the Black Lives Matter movement.
Olympic gymnast Simone Biles stars on the cover of Vogue's August issue, photographed back in February (pre-coronavirus pandemic) by Annie Leibovitz. A series of powerful photographs depicts the athlete performing jumps and posing in pieces by Alaïa, Dior and Bottega Veneta.
Vogue's accompanying profile and interview, which was completed over the course of several months, details Biles' innate athletic abilities and her path to gymnastics stardom. Biles also speaks candidly about the sexual abuse she suffered at the hands of Larry Nassar, the former USA Gymnastics national team doctor who systematically groomed and abused numerous underage athletes. She describes her emotional state following Nassar's dismissal as team doctor in 2015 (at the time, the USA Gymnastics team told Biles that Nassar was ill): "I was very depressed. At one point I slept so much because, for me, it was the closest thing to death without harming myself," Biles admits to journalist Abby Aguirre. "It was an escape from all of my thoughts, from the world, from what I was dealing with. It was a really dark time."
Biles also discusses about the postponement of the 2020 Tokyo Olympics, and how she has been spending time in quarantine. "I felt kind of torn and broken," she says. "Obviously it was the right decision, but to have it finalized — in a way, you feel defeated because you've worked so hard." In the meantime, Biles is conducting Zoom sessions with her coaches, perfecting her cooking skills and taking care of her two French bulldogs, Lilo and Rambo.
In the final portion of the interview, which took place in early June, Biles talks about the Black Lives Matter movement and the mobilization of anti-racism protests, sparked by the recent killings of George Floyd and Ahmaud Arbery. "With the peaceful protests it's the start of change, but it's sad that it took all of this for people to listen," she remarks. "Racism and injustice have existed for years with the Black community. How many times has this happened before we had cell phones?"
Head to the Vogue website to read Simone Biles' full interview and see her accompanying photoshoot.
Share this article