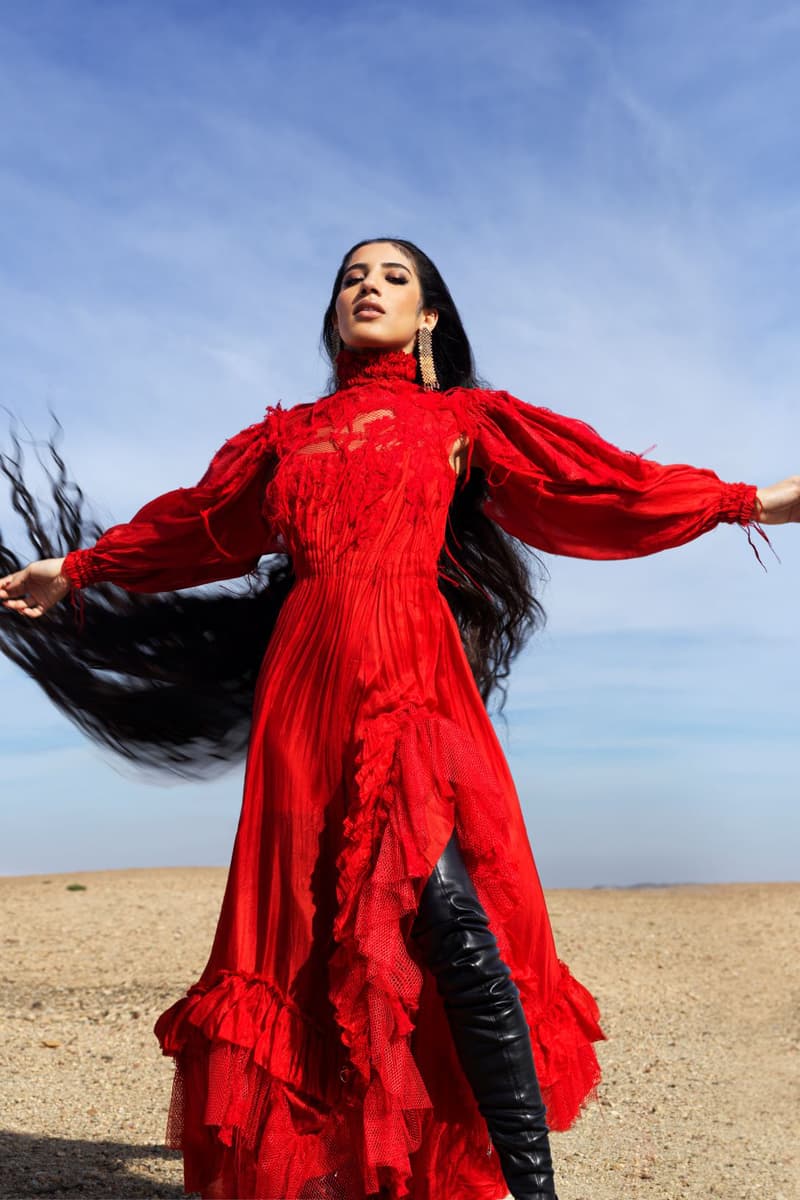 ABIR Shapes Her Own Arab Pop Sound With "Inferno"
The singer details the making of her new single and Marrakech-shot music video.
Music
ABIR Shapes Her Own Arab Pop Sound With "Inferno"
The singer details the making of her new single and Marrakech-shot music video.
ABIR's music has always been about self-empowerment. In one of her first songs "Wave," the Morocco-born, New York-based artist sings fervently about finding her own voice. In "Finest Hour," the Gold-certified hit that she collaborated on with electronic trio Cash Cash, the singer delivers an uplifting message about owning one's imperfections. Even on ballads like "Tango," in which she celebrates self-love with her warm, R&B-inflected vocals, that sense of strength is palpable.
Now, nearly two years since she released her debut project Mint, ABIR is back with new material and a whole new purpose to better represent her heritage. "I'm a lot of things a Muslim Arab woman isn't expected to be," the 26-year-old Atlantic Records signee reflects in a teaser video for her upcoming EP, HEAT. "The current narrative is uninformed, and honestly, it's f*cking boring." After spending the past two years reinventing her sound, delving deep into her Moroccan background and culture in the process, she returns by presenting an Arab Pop sonic landscape that is uniquely her own.
We spoke with the singer-songwriter about "Inferno," the first single from her sophomore EP, as well as the making of her cinematic music video shot in Marrakech pre-lockdown.
How has your music evolved since your last project, Mint? With your upcoming EP, would you say you've developed your own unique sound?
I think so. The sound of the EP bridges two worlds together — the East and the West. I'm a daughter to both, so it's important for me to have them coexist in everything that I do. As far as evolving, this last year was super transformative for me as an artist and as a human. My perspective on a lot of things changed, and all of my experiences in the past two years helped me grow into the woman I've always wanted to be. My sophomore EP, HEAT, unveils just that.
It has been almost two years since you dropped Mint. How long did it take for you and your team to bring the new record to life?
I spent most of the last two years in blind studio dates trying to find the right producer to help bring my vision to life. Finding someone who's willing to experiment on something that's completely foreign to them is really difficult. I met Mick Schultz, the Executive Producer of my project, a little over a year ago and he became such an integral part in creating the sound. We both felt like we were traveling in uncharted territory and equally felt dedicated to the project. It's amazing to work with someone who is just as devoted and excited to work on something as you are. There were no bad days with this project and I'm so thankful for that.
Tell us a bit about your new single, "Inferno." What served as inspiration for the song?
The color red. I've grown obsessed with the idea that it actually stimulates my mind, so anytime I lose inspiration in the studio, I'll make the room red. One night, I think I just said the word out loud — because I'm always trying to think of cool words I could flip — and it already sounded like a song about a relationship bound to end in flames.
The message of the record challenges how so often we associate the guy in the relationship with being noncommittal or "not looking for anything too serious," when that's not always the case. In my world, women are in control of how serious or not a relationship becomes, so I wanted to share that perspective.
The music video of "Inferno," shot against the backdrop of Marrakech, is absolutely stunning. What is the visual about and how does it complement the story of the track?
Thank you! It's been a dream of mine to film a music video in Morocco, and "Inferno" felt like the right one to kick it off. Unlike my other music videos, which hold a pretty literal explanation of the songs they are filmed to, this video is an abstract take on a woman being an "Inferno" and the power she holds, while the men are an afterthought.
The director, Sharif Abd el Mawla, has such a great way of capturing moments that make you feel like you're in another world, while still showcasing the beauty of the country and landscape he's in. I was so blessed and grateful to work with such an amazing crew to help bring the song to life. Having a cast and crew that are from the MENA region and understand the culture was so important for me. From the director to the creative director, to the glam squad, to the local producers on the ground in Morocco, it was incredible seeing our creative minds come together to bring the song to life — and start a fire on water!
What were some special moments that you experienced during this trip to Morocco?
Being there as an adult was kind of mind-blowing. All the trips I made prior were focused on seeing every family member I could make it to in a month's time. Morocco felt much different [to visit this time] as a 25-year-old working woman who's there for a project. As an immigrant, that's something I've always dreamt about — coming back to my country and being there for more than just family visits, even though the highlight of my trip was seeing my grandma. There were many moments when I had to pinch myself because I couldn't believe I was there with such dope creatives creating visuals for a project so dear to my heart.
"One of the biggest things I've been reminded of through the pandemic and uprising is how important it is for me to see my role as an artist as a weapon for change, and use it for the betterment of the world."
In our interview with you back in 2016, you mentioned you'd love to explore your Moroccan heritage a bit more in your music. How has that come into fruition in your sophomore EP?
I've always fantasized about what incorporating my Arab heritage into my music would sound like — what melodies I would sing, what instruments I would use, what I would talk about, etc. When I started working on HEAT, the process was so refreshing and addicting. It felt so natural yet it required a lot of research to do it justice and to find the right balance of everything working together. I'm still talking my sh*t per usual, but this project feels different. It feels powerful. It feels like freedom.
Despite changes in plans this year, what are you looking forward to the most about this next phase of your career? What else can fans expect from your new EP?
I'm looking forward to growth as both an artist and a human. Evolving into the woman I am today and experiencing everything I have up to this point really helped me find my peace and freedom to create art that represents who I am as a person. It clarified my purpose for me. One of the biggest things I've been reminded of through the pandemic and uprising is how important it is for me to see my role as an artist as a weapon for change, and use it for the betterment of the world. As a kid I would say, "I want to be a singer because I want to make enough money to help people in need." I was always waiting for some big cash-out to start, but it doesn't even have to be about the money. I'm looking forward to growth and using my voice to help the world in whichever way I can.
What have you been listening to in self-isolation?
I've been listening to a ton of music which is kind of abnormal for me. It's been keeping me company. I really love this tune called "Stay Alive" by Mustafa. I actually created a couple of playlists on my Spotify with everything I've been jamming to. "Khalas Habibi" has all the Arab songs I've been jamming to with my family, and "Keeping U Company" is pretty much every song I listen to on a daily basis. Keep them in your back pocket for any upcoming aux wars.
Share this article