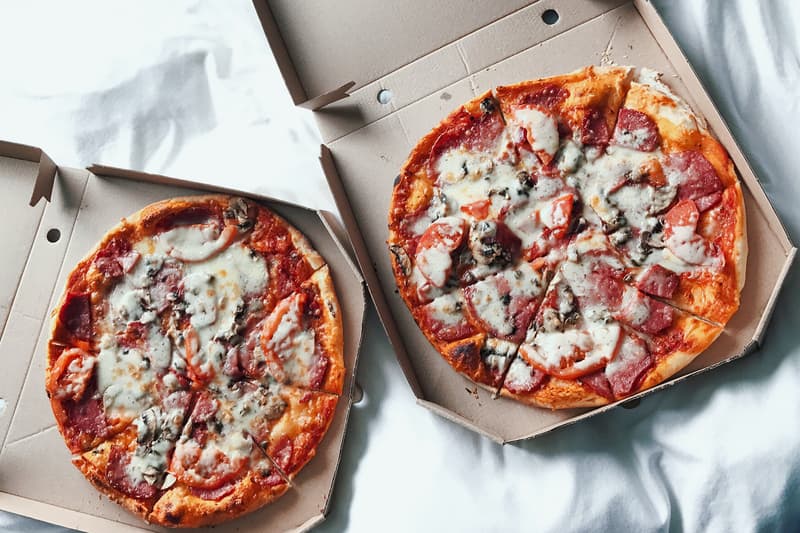 The 19 Best Pizza Places in New York City
Fresh slices for takeout and delivery.
New York is no stranger to pizza, and with a great number of restaurants across the city, New Yorkers may have different opinions on the best pizza joint in the Big Apple. This Italian specialty has been a part of the city's food history ever since Gennaro Lombardi migrated from Italy in the 1890s and started selling pizzas in a small grocery store in Little Italy. Due to popular demand, Gennaro opened a separate pizzeria in 1905 called Lombardi's.
Whether you're a loyal fan of Lombardi's coal-fired, thin-crust Neapolitan or you simply can't get enough of Two Boots' Bayou Beast topped with spiced shrimp, crawfish, andouille, jalapeños and mozzarella, our guide to the best pizzerias in New York City has got you covered. From Roberta's situated in Brooklyn, all the way to Dani's House of Pizza in Queens, read on for 19 restaurants that offer pizza delivery and takeout.
For more lunch and dinner options, here are the best NYC spots to order Thai food from.
MANHATTAN
What to order: New York pie.
Location: 1617 York Ave, New York, NY 10028
Website: arturosny.com
What to order: Buffalo chicken pizza.
Location: 144 9th Ave, New York, NY 10011
Website: gothampizzany.com
What to order: A classic cheese pizza with its signature thin-crust or the Tri-Pie.
Location: 168 1st Avenue, New York, NY 10009
Website: joeandpatsny.com
What to order: A classic New York slice.
Location: 7 Carmine St, New York, NY 10014 and other locations.
Website: joespizzanyc.com
What to order: Brooklyn Style pizza, Coal Fired slice or the Cheese pie.
Location: 278 Bleecker St, New York, NY 10014
Website: johnsofbleecker.com
What to order: Original Margherita or White pizza.
Location: 32 Spring St, New York, NY 10012
Website: firstpizza.com
What to order: Original Coal Oven pizza, Margherita pizza or Bolognese pizza.
Location: 2287 1st Avenue, New York, NY 10035
Website: patsyspizzerianyc.com
What to order: Pepperoni-loaded Spicy Spring pizza.
Location: 27 Prince St A, New York, NY 10012
Website: princestreetpizzanyc.com
What to order: Sicilian Pie
Location: 22 Orchard St, New York, NY 10002
Website: scarrspizza.com
What to order: Bayou Beast or V for Vegan.
Location: 42 Avenue A, New York, NY 10009
Website: twoboots.com
BROOKLYN
What to order: Funghi Misti Pizza.
Location: 849 Manhattan Ave, Brooklyn, NY 11222
Website: fornino.com
What to order: Brick Oven pizza, White pizza or The Original Large Pie.
Location: 1 Front St, Brooklyn, NY 11201
Website: grimaldispizzeria.com
What to order: Brick Oven pizza (request to add basil and garlic atop your large pie, as well as a side of dipping sauce).
Location: 575 Henry St, Brooklyn, NY 11231
Website: lucalibrooklyn.com
What to order: Square Pie.
Location: 346 Himrod St, Brooklyn, NY 11237
Website: opsbk.com
What to order: Benny Gee or Vegan Regina.
Location: 60 Greenpoint Ave, Brooklyn, NY 11222
Website: pauliegee.com
What to order: Famous Original or Bee Sting pizza.
Location: 261 Moore St Brooklyn, NY 11206
Website: robertaspizza.com
THE BRONX
What to order: Sausage Slice.
Location: 1300 Crosby Ave, The Bronx, NY 10461
Website: louieanderniespizza.com
QUEENS
What to order: Pesto Slice.
Location: 81-28 Lefferts Blvd, Kew Gardens, NY 11415
Website: danishouseofpizza.com
What to order: Fresh Mozzarella Slice or Grandma Slice.
Location: 265-21 Union Tpke, Queens, NY 11040
Website: luigispizzabrooklyn.com
---
Share this article