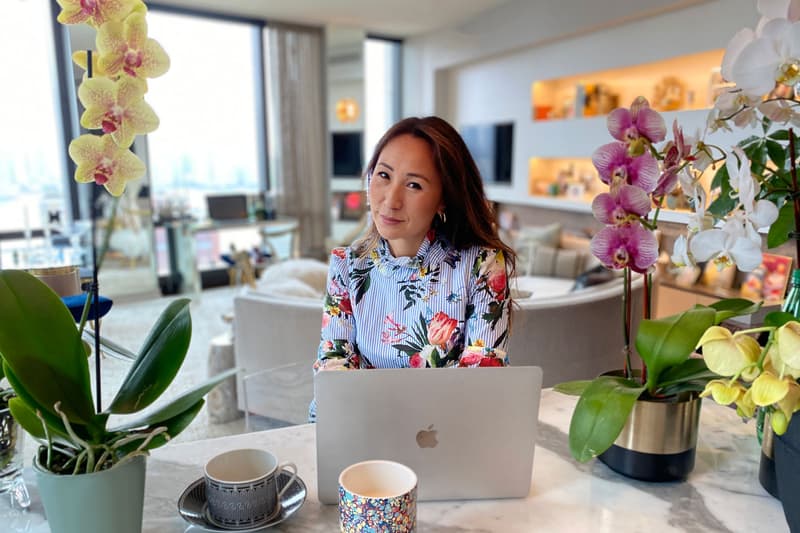 Culture
Jung Lee, Wedding Planner to the Stars, Built Her Empire With Scrappiness and Soul
The Fête founder walks us through her unorthodox career path, from designing delis to starring in TLC's 'Wedded to Perfection.'
Jung Lee, Wedding Planner to the Stars, Built Her Empire With Scrappiness and Soul
The Fête founder walks us through her unorthodox career path, from designing delis to starring in TLC's 'Wedded to Perfection.'
"I am still that young immigrant kid," Jung Lee professes. "I'm scrappy, and I want to give my clients the most for the least." The celebrity wedding planner and founder of Fête, one of the world's most respected event planning firms, speaks on the phone from the house she built for her parents sixteen years ago in Alpine, New Jersey. For Lee, the daughter of first-generation Korean immigrants, reflecting on her career while at her parents' house — which she constructed top-to-bottom on raw land — is a full-circle moment. After all, her success can be traced back to her family, not through inherited connections, but rather through an instilled belief in hard work.
Rewind to Lee's childhood: "We came to the States when I was five…[my parents] deliberately moved to an area where there were no other Koreans. We lived in what was historically an Italian neighborhood called Bay Ridge, Brooklyn," she says, recounting an early confrontation with cultural difference. "We go to Century 21 and [my parents] buy us lunch boxes. [They] thought that the school gives you the lunch and you put it in the box. I just remember everyone opening their lunch boxes and there's food in it and in mine, there was nothing," she recalls.
Lee was raised believing that success is the clear-cut result of discipline and dedication, a common sentiment among immigrants. "I am of the culture, the harder you work the luckier you are," she explains. Her parents bought their first deli, one of many to come, from an Italian-American named Dominic. At the time, they had no idea what cold cuts were. "I remember being 13-years-old and having one of our deli guys teach me everything: how to cut a nova, slicing it paper thin. In my childhood, I watched, I observed, I learned very quickly and we adapted," she reflects. Eventually, her family expanded into Manhattan with several delis spanning the Upper East Side to Gramercy. Lee was tasked with conceptualizing, designing and building their last store, Azure, located in Midtown.
Before beginning the massive undertaking of transforming a vacated bank into a 5,000-square-foot food store, Lee attended college at New York University. She started out at the hospitality school ("It wasn't what I imagined it to be") and jumped to politics and liberal arts. "I look back on those years now and I wish somebody had guided me. I didn't quite have that, so I feel like it was a bit of a miss," she admits. Despite a lacking college experience, Lee found her rhythm — and passion — working on her parents' final store. "That was an early training ground," she says, listing the lessons she learned: "Don't just leave it to other people, and don't just do what everybody else is [doing]. Use your brain; think about it — is there a way to get it done faster, cheaper, more efficiently, more effectively?" she questions. From sourcing the food (Azure offered a salad bar, sushi, pizza and hibachi) to obtaining requisite licensing to curating custom music that played over the speakers, Lee created an all-encompassing experience not unlike the events she works on today. "After that, I realized I love the notion of having nothing and making it something," she says of the formative experience.
Continuing to explore her newfound passion for turning nothing into something, Lee went on to build spec houses, homes that are constructed with the intent to sell. Simultaneously, she built the home her parents now live in. Around the same time, many of Lee's friends were beginning to get married. Puzzlingly, she noticed that their ceremonies were nearly identical. "I just felt like everything was cookie cutter — yeah, they had a different band, the color scheme was a little different, but all in all, it was the same," she remarks. Besides the redundancy, Lee also noted a reticence among guests to attend in the first place. "I think they were sort of like, 'okay, what time can I go without being rude,'" she says. "It felt wasteful in the sense that someone spent all this time and money for you to enjoy this wonderful, once-in-a-lifetime experience, and there were people trying to figure out their exit strategy before it had even begun," she continues. "Being an immigrant kid, I hate waste. My parents have always been very conservative," she explains, highlighting a value that she continues to carry in all of her work.
From there, Lee quickly identified a gap in the market for fully customized weddings. In 2002, she and her husband, who primarily worked as a trader, founded Fête to fill that gap. "We deconstructed the wedding and built it back up with soul," she says of Fête's ethos. "My litmus test is, if [guests] went to this wedding without the couple, could they identify that it was so-and-so's wedding?" she proposes. To Lee, the art of event planning is similar to that of movie directing. "I think about it…from a cinematic viewpoint. What are they experiencing? What are they looking at? It's never just about a great actor or the visuals, it's got to be everything." Though Lee "loves the challenge" of being so intimately involved in a hugely important day for many couples, wedding planning certainly has its unique difficulties. "Weddings are never in a vacuum where it's just the bride and groom," she explains, pointing out that family members and friends often insert themselves in the planning process with their own demands. "Quite frankly, weddings bring out the best and the worst in people, across the board," she adds.
As Fête continued to grow and position itself as a top player in the events industry, its detail oriented and customized approach garnered the business of high-profile clients including Joseph Altuzarra and Ronan Farrow. Picking up on Lee's talent and charisma, TLC tapped her and her husband to star on now-defunct reality show Wedded to Perfection, a whirlwind that was, if anything, a learning experience. "I was much younger. It was earlier in my career and there was so much that I looked to others for answers for," she reflects. Now, Lee realizes the answers were within herself. "You need quiet time [for] that answer to surface. When things are crazy, you need to be the one in control and say, 'you know what, I need a break' or 'this isn't right for me,'" she continues. "Because I was such a pleaser…I didn't want to rock the boat. I think I should've been more true to myself."
In 2013, Fête expanded into homeware with brick-and-mortar decor store Jung Lee NY, a natural extension of Lee's distinct eye for atmosphere. "I built the store for me, in that I wanted a sense of discovery. I wanted there to be whimsy and interesting things," she recounts. "We have the best 10-dollar glasses that are handblown to all of Baccarat and everything in between." Five years later, Lee launched registry service Slowdance, an endeavor borne out of frustration with existing options, as well as her outspoken aversion to wastefulness. "There are things that are still in boxes," she says of her friends' weddings presents. "That is waste and when I think about waste, I get hives," she declares.
Lee is well aware of the irony that accompanies her hate for waste — after all, many of the weddings she plans are extravagant affairs that can rack up expenses in the six figures. "People always say, 'that's crazy your clients pay so much; they could buy a house,' or whatever," Lee acknowledges. "It's not just a tangible thing of a car or a vacation, but it's a shared experience at this milestone time in their life. It's not right for everybody, obviously, but to [host] your parents, friends, grandparents, three generations…there's nothing like it. It's such a high," she says.
Having established herself as one of the industry's most sought-after event planners, Lee could easily sit back and pass the reigns of her empire to someone else. Though the team has grown and she no longer handles day-to-day responsibilities such as sourcing vendors, she is still intimately involved in Fête's operations. In fact, Lee is testing out flower arrangements as she details her work schedule. She has begun meeting with her team in-person twice a week, a new development as the coronavirus pandemic – which has reshaped the landscape of the wedding industry — wears on. There's "no typical day" on the job, she acknowledges, often moving between her store and apartment while juggling Zoom meetings and phone calls. Despite its tendency to get hectic, Lee truly loves her job. "My work doesn't feel like work. It is stress and pressure because it's a business and you have to keep it going, but it makes me happy," she says.
When asked about the best advice she's received, Lee quotes Maya Angelou and Benjamin Franklin, a distinctive pairing. "I remember going on The Today Show and it was Hoda [Kotb] who was interviewing me. She quoted Maya Angelou: 'People will forget what you said, people will forget what you did, but people will never forget how you made them feel,'" Lee recounts, stressing the importance of hospitality in her field. "All anyone can do is the best they can do today," she continues, and pivots to a famous Franklin quote. "'Don't put off until tomorrow what you can do today' — I'm a big believer in that," she asserts. "Try to do as much as possible today, with good intentions, and tomorrow will work itself out. I see so many people stressed and anxious about tomorrow and the uncertainty," Lee adds, referencing the pandemic as well as the havoc it has wreaked on the wedding plans of countless couples. "I tell all my clients, 'we don't know [but] we're going to do the best we can do today, and we'll move forward."
Share this article