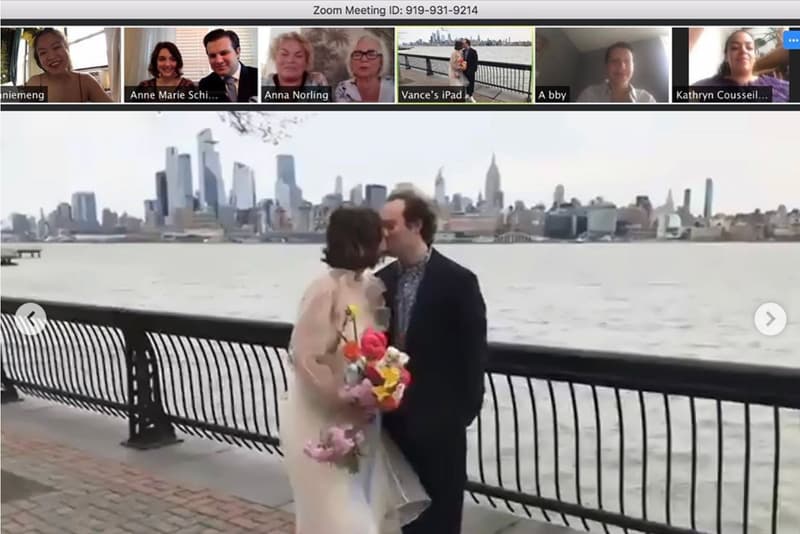 Culture
Virtual Weddings Push Couples To Embrace Love, Without Frills
The pandemic has turned the concept of a "dream wedding" on its head.
Virtual Weddings Push Couples To Embrace Love, Without Frills
The pandemic has turned the concept of a "dream wedding" on its head.
As the coronavirus pandemic began to uproot life in the United States just four months ago, engaged couples faced an unprecedented question mark: when can we get married? For those with save-the-dates already locked in place, the spread of COVID-19 posed an even greater challenge — rescheduling an entirely planned ceremony is no small feat, complicated by the uncertainty of a clear-cut end to the health crisis.
Even amidst a pandemic, love still prevails. Determined couples have come up with creative ways to tie the knot ranging from socially distanced outdoor weddings to "drive-in" ceremonies during which guests remain in their cars. Of newlyweds' myriad solutions, one in particular has proven to be a popular choice: the Zoom wedding. Riffing on the concept of a Zoom party or happy hour, the Zoom wedding takes place via video chat and allows guests to "attend" from the comforts of their own homes. The format has taken off to such an extent that New York Governor Andrew Cuomo signed an executive order allowing couples to obtain marriage licenses remotely and permitting officiants to perform ceremonies over video chat.
Now, couples are scrambling to plan their own virtual weddings while the wedding industry, a sector hit hard by the pandemic, has also taken note of this new trend — some companies now offer virtual packages that include a tech team to oversee digital celebrations and reduce the risk of technical difficulties.
HYPEBAE spoke to virtually married brides, as well as wedding planners navigating the coronavirus pandemic, about the rise of Zoom weddings and what cultural shifts they signal.
Virtual weddings pose unique challenges and opportunities to couples.
Before the pandemic intensified, Californian couple Tara and Ryan Boldt were set to get married on April 4. Every detail was locked down: the guest list, caterers, hair stylist and makeup artist were all confirmed. Just two weeks before the wedding day, Tara received a call from her venue — they had to cancel. Shortly after, the rest of her vendors followed. The couple, who got engaged in 2019 while on a medical mission in Papua New Guinea, were heartbroken. "We could taste the excitement and the victory of the marriage. To have that swept away from us was hard," Tara says.
After thinking it over, Tara and Ryan decided to proceed with a virtual wedding instead of rescheduling their in-person plans. Since vendors couldn't — and still can't — provide a definitive re-opening date, Tara was inclined to go digital. "Had we been [given] definite answers — ok, maybe four weeks from now, maybe six weeks from now — we would've been a bit more confident to potentially [postpone the wedding]," Tara, currently living with Ryan in Temecula, reflects. "We just didn't want to waiting for an unknown amount of time," she adds.
The couple quickly reformatted their wedding and pushed it to an earlier date, March 28, so that Tara's Minnesota-based parents could physically attend without risk of getting trapped in California by travel restrictions. Ryan's parents, who live in the Temecula area, offered their backyard as a new venue and Ryan's uncle, also local, officiated the ceremony. The groom's aunt was in charge of livestreaming the exchange of vows from Tara's smartphone via Facebook Live.
As weddings go virtual, technical difficulties become potential snafus that, for the most part, don't exist in an IRL format. Though Tara and Ryan's experience was mostly seamless, they did encounter problems streaming the ceremony to a dedicated Facebook page they set up for about 100 guests. As a quick fix, Tara opened the livestream to all of her Facebook friends. 600 people ended up tuning in.
"It ended up being a blessing," Tara says of the unexpected turnout. "We got so many messages from people we hadn't spoken to in years sharing how much they loved being a part of the experience. That uplifted us during this time, particularly." Though Tara deeply felt the absence of her close friends and family members, the turn of events led her to reconsider the importance of a traditional ceremony: "It wasn't about the wedding itself, it was about the marriage," she concludes.
For Sara and Alex Norling, a couple who describes themselves as spontaneous, a virtual wedding ended up being a first choice — rather than a backup plan — suited to their unorthodox tastes. The newlyweds, living in the Greenpoint area of Brooklyn, got engaged in March as the pandemic was beginning to take root. They made it official one month later on April 20. "It was a beautiful thing for us to do when times are the worst," Alex, who lost his job due to recent pandemic-related layoffs, says. "This is one of the hardest things we've gone through together — that's why we wanted to do it during this time," Sara adds.
In just a month, the couple's wedding plans came together. An acquaintance of Sara's created a bouquet of foraged branches and bodega flowers. New York designer Sandy Liang let the bride-to-be borrow a dress. Cupcakes replaced a traditional wedding cake. On the day of their wedding, Sara and Alex drove to a scenic spot in New Jersey for a small, in-person ceremony attended by ten of Sara's family members, who helped stream the celebration on Zoom.
When reflecting on the overall experience of getting married virtually, Sara points out the pressure that often accompanies the expectation of a "dream wedding," which, for most, would take place IRL. For her and Alex, going digital allowed them to let go of the traditional, typically pricey, trappings of a wedding and simply focus on the significance that marriage vows hold. "It was going to be the best day of our lives regardless, because we were marrying each other," she explains. "We did this totally out of love instead of planning an expensive thing that we didn't need."
Alex concludes, "The outcome is the same regardless if you had a ten story cake or cupcakes."
Despite their fleeting nature, virtual weddings can be just as memorable as in-person ceremonies.
Though Tara and Sara actualized their virtual weddings without the help of a planner, companies are launching packages to facilitate larger, more complicated set-ups, as well as create bespoke experiences. Jung Lee, founder of renowned event planning company Fête, hopes to redefine the expectations of a virtual wedding. Since the pandemic hit, Lee has worked with clients in the New York area — she names the Hamptons and Greenwich, Connecticut as two examples — on creating memories that will last long after guests log off.
In Lee's experience, couples tend to assume a virtual wedding won't be elegant or sophisticated. However, Lee and her team want to bring a special refinement and intentionality to their work. "Things surrounding your wedding shouldn't feel disposable," she asserts. Lee has been executing in-person ceremonies, held outside with social distancing in place, while rescheduling larger, follow-up celebrations to take place next year. In the meantime, the expert ensures couples take something special away from their big day by designing custom backdrops or canopies that are then fashioned into decor such as bed coverings or pillows for newlyweds. "These become their relics," she explains.
As for hair stylists, makeup artists and caterers, all of whom Tara and Sara went without, Lee has continued to collaborate with them. Though not entirely essential, these components may be non-negotiable for the affluent clientele Fête caters to. "Obviously, their temperatures are taken. All of these precautions are taken, because we want everybody safe — that's the most important thing," Lee says. To ensure external teams don't enter a couple's home and potentially contaminate it, Lee organizes bathroom trailers for them to use. For one wedding taking place in July, Lee is organizing seating arrangements for a 30-person guest list by household. "We're keeping couples together, and we're social distancing…it's a little awkward but it is what it is, and people are so excited for it," she explains.
Wedfuly, a wedding planning company that made a name for itself by operating entirely online even before the pandemic, has streamlined the virtual wedding process by partnering with Zoom on an $800 USD package, that includes a processional, ceremony and reception. (Fête's virtual wedding package starts at $500 USD and includes a consultation, bouquet and customized ring dish or pillow. Anything beyond that, such as Lee's aforementioned relics, is an add-on.)
"At that price, our team runs all the tech and MCs the entire Zoom wedding," Caroline Creidenberg, Founder and CEO of Wedfuly, explains. "During the event, we mute and unmute guests, change camera spotlights and angles, play any selected media or coordinate live performances and organize reception tables using Zoom's breakout room feature so couples can socialize more intimately with their guests." The Wedfuly team also offers complimentary support to more technologically challenged guests to ensure they understand how to operate Zoom. For those willing to shell out additional fees, the company will also handle e-vites, wedding websites, surprise videos or guest appearances and virtual live music.
Despite their differing approaches, both Lee and Creidenberg note that virtual weddings have pushed couples to focus on what's really important: love. Like Sara, Lee cites the pressure and expectations that surround traditional weddings ("all of that other noise gets in the way," she says). With the lower stakes of the online version, the couple becomes the focal point. "It's really about two people wanting to commit their entire [lives] together, even during these darkest times," Lee says.
Creidenberg agrees. "With all of the grandiose food, drinks and decor stripped away, the true sense of love really shines through at its core," she explains. "Toasts and conversations become the main focal point during virtual weddings, and we've seen how emotional and memorable this can be for both the couple and their guests."
Experts predict virtual weddings will endure even after the pandemic.
Though it remains to be seen how exactly coronavirus will impact human interaction, namely, the ways we gather to celebrate, mourn and socialize, Lee and Creidenberg are confident that virtual weddings will endure beyond the spread of COVID-19. "Couples can save a significant amount of money," Creidenberg argues, a point that may hold increasing weight as the pandemic results in job losses and other economic uncertainties. In addition, virtual weddings can accommodate larger guest lists as well as those unable to travel for financial or logistical reasons.
"I think it gives people a different option that was never really there before," Lee adds. "Everyone has different circumstances, and I love options." Looking forward to the day people can safely convene, Lee expects these gatherings to hold greater meaning. "When people come together they will be so grateful. They will rejoice in a way they haven't done before," she anticipates.
In the meantime, Lee offers sage advice to couples considering a virtual wedding. "If [you're] considering it, [you're] more than halfway there," she says, encouraging awaiting brides and grooms to reflect on what exactly they want to remember and cherish from their big day. "A year after, in ten years — that's what I want people to think about. Because right now, it feels really scary. You've been in a vacuum for so long. But the options are tremendous."
Share this article