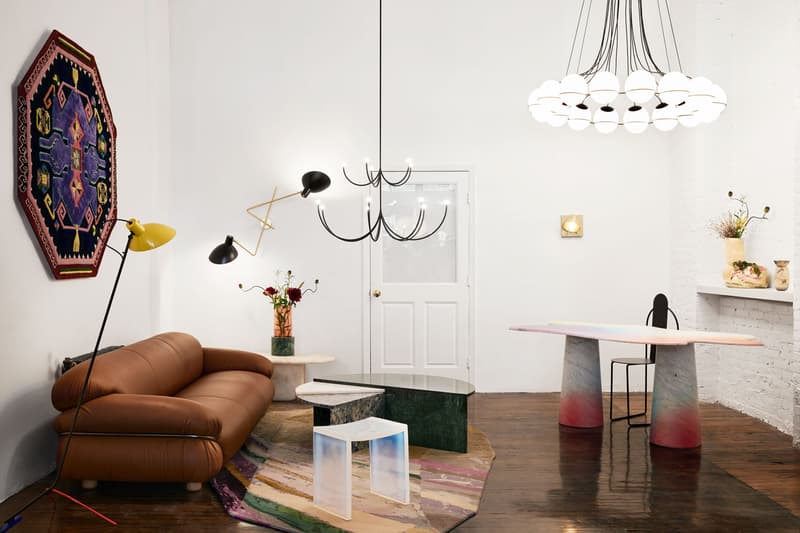 The 7 Best New York City Home Decor Stores For Design Lovers
For all styles and preferences.
Furniture is an investment, and though interior design certainly isn't immune to the ebb and flow of trends, home decor is typically a semi-permanent purchase. From couches to lighting to kitchenware, your home is, well, home to more components than you may realize. Unsurprisingly, New York City is one of the best cities to find forward-thinking furniture and decor that will last a lifetime. From longstanding landmark ABC Carpet & Home to MoMA's directional design store, to antique treasure trove Furnish Green, interior decorators and hobbyists alike have numerous stores to choose from.
Whether you're looking to furnish a new apartment from scratch or add to your existing design scheme, read on for our favorite home decor stores in New York City.
Location: 888 Broadway, New York, NY 10003
Founded in 1897, ABC Carpet & Home began as a humble discount rug store and has since evolved into a luxury home furnishing emporium located in downtown Manhattan. Selling everything from lighting to furniture to finishing touches such as throw pillows and home fragrance, the cavernous store is stocked with both modern and antique pieces. When you get hungry from traversing all six floors of the warehouse, stop by one of three in-house restaurants from famed chef Jean-Georges Vongerichten: abc Cocina, abc Kitchen and abcV.
Location: 37 Orchard Street, New York, NY 10002
Founded in 2013 by couple Helena Barquet and Fabiana Faria, the chic wares at Coming Soon perfectly embody the store's location at the intersection of Chinatown and the Lower East Side. Stocking colorful brands such as Dusen Dusen, Cold Picnic and Raawii alongside its own collection of refurbished vintage picks (Milo Baughman pieces aplenty), the store is a haven of whimsical yet sleek design at a range of price points. If you're having trouble deciding on what to buy, Coming Soon's website offers curated selections according to zodiac sign.
Location: 1261 Broadway Suite 309, New York, NY 10001
For those who favor vintage styles over contemporary design, Furnish Green is your answer. Located near Herald Square, the store sources antique and vintage pieces, bringing in about 15 to 35 new items each week. Styles range from Regency to Mid-Century to Neo-Futurism across categories including seating, lighting and storage.
Location: 25 West 29th Street, New York, NY 10001
World-renown wedding planner Jung Lee brought her expertise to shop-able life with the opening of her very own home decor store in 2013. Jung Lee New York offers feminine-leaning furniture, dinnerware and accessories at surprisingly affordable prices. Of course, heftier items are priced steeply, but shoppers can also find a wide range of delicate glassware, decorative objects and bar accessories for well under $200 USD.
Location: 405 Broome Street, New York, NY 10013
Not for those uninitiated to the world of design, Matter is a gallery and showroom that offers a highly curated selection of international contemporary wares. Founded in 2003 by Jamie Grey, Matter also boasts its very own manufacturing division, Matter Made, and an in-house team of designers. As expected, cutting-edge furniture, lighting and accessories by a roster of talent including Ana Kraš and the late Zaha Hadid are accompanied by aspirational price tags.
Location: 44 West 53rd Street, New York, NY 10019
MoMA established the world's first curatorial department devoted to architecture and design in 1932, so it's no surprise that the museum's sister design store is equally as ground-breaking. Exclusive designs by Eames, Noguchi and Maurizio Cattelan are sold alongside an extensive collection of office and tech accessories, kitchenware and furniture. Museum members are in luck — the Design Store offers its subscribers a discount on all items, many of which are wallet-friendly to begin with.
Location: 55 Great Jones Street, New York, NY 10012
Founded in 2003 by David Alhadeff, whom The New York Times dubbed the "foremost champion of American design," The Future Perfect is a gallery-meets-store specializing in avant-garde furniture. You'll find balloon-shaped chairs by Seungjin Yang alongside Dimoremilano's geometric dining tables and branch-like lighting fixtures from Karl Zahn. The Future Perfect even sells by-the-yard fabric by Raf Simons, along with store-exclusives by a selection of over 50 designers.
Share this article