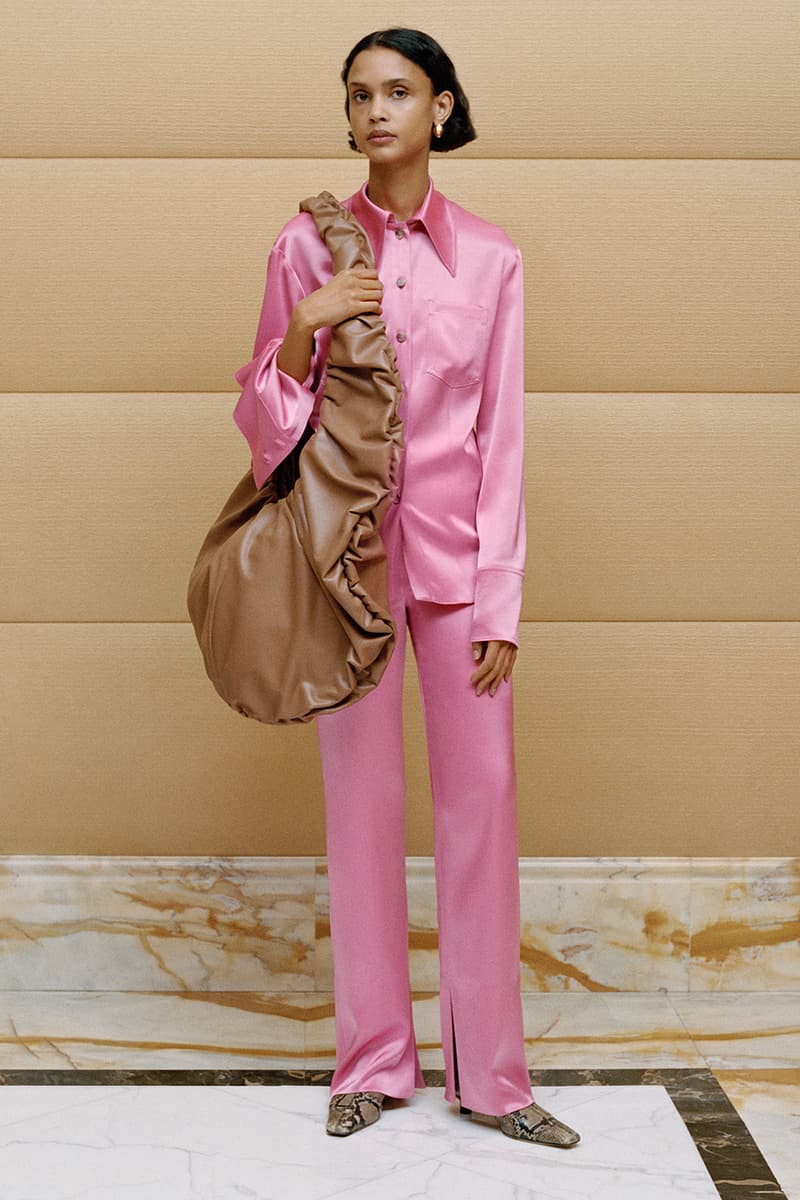 Nanushka Is the Brand at the Forefront of Sustainable, Eco-Conscious Fashion
Founder Sandra Sandor talks about the core values of her minimalist-chic label.
Fashion
Nanushka Is the Brand at the Forefront of Sustainable, Eco-Conscious Fashion
Founder Sandra Sandor talks about the core values of her minimalist-chic label.
In this day and age of social media, the fashion industry has naturally gravitated towards platforms like Instagram over the past few years. Many consumers are looking to influencers, rather than magazines, for style inspiration today. Among the many influencer-favorite brands that have emerged is Nanushka. With a unique and sleek aesthetic, the cool-girl label has taken the fashion world by storm, with Gigi Hadid, Hailey Bieber, Margot Robbie and more recently Michelle Obama spotted wearing its designs. Having made its runway debut at New York Fashion Week in 2018, the Budapest brand has become hugely popular among style enthusiasts.
With the use of vegan leather, Nanushka has also been at the forefront of sustainable fashion. From jumpsuits to Bermuda shorts, the label not only keeps its products free of animal use, but it also keeps its pieces available at an affordable price point. The brand commits to a circular economy with eco-conscious practices that use recycled materials, while minimizing carbon footprint by keeping its production sites close to its headquarters in Budapest.
By delivering high quality and timeless designs while continuously making an effort to tackle environmental issues, founder Sandra Sandor has been able to build a brand attractive to millennial and Gen-Z consumers. Last year, the label expanded its product range to menswear and is continuing to grow, as it is being stocked at global retailers like Net-a-Porter. The brand is also set to open up a new retail location in London.
"Picked up by Net-a-Porter in its infancy, together our partnership has helped the brand grow into the industry leader that it is today," Libby Page, Senior Fashion Market Editor of the luxury e-tailer says. She continues, "Best known for their soft vegan leather, Nanushka has seen so much success in this area that they now have a core vegan leather program which they supplement every season with a fashion offer of new shapes and colorways. Leather has become a key player in our wardrobes. It's now much more accessibly priced and the breadth of styles means we can wear it all year long."
Below, we spoke to Sandor to learn more about the label's eco-friendly production processes, as well as how it is responding to coronavirus-related changes. Read on for our interview with the founder, where we talk about faux leather, upcoming projects and beyond.
You can shop Nanushka's latest items over at the brand's web store and on Net-a-Porter.
Has Nanushka always aimed to be an eco-conscious brand?
Sustainability has always been very important to me, from both a personal and business perspective. One of the founding values of Nanushka was, and still is, to cherish the planet and all living creatures, so it was always present and embedded in the core of the business in different forms. A connection with nature is very important to me, and I think it has truly manifested itself in the new Resort 21 collection, which I have designed while in lockdown in the Hungarian countryside. The collection, titled "Human/Nature," explores nature's transformative effect on the human world. It features materials that also are a reflection of nature. The materials are similar to previous seasons, but with upgraded sustainability credentials.
Can you give our readers a brief explanation of the type of vegan leather used at Nanushka? Where and how is the material produced, and how is the production process kept environmentally friendly?
Our vegan leather is made of polyester and polyurethane. We call it vegan because it is not animal skin and no animal derivatives are used in the manufacturing process. We believe it is a good option for those who are vegan and are seeking products with a leather-like feel.
Nanushka is not an entirely vegan brand. We use a combination of vegan leather and regenerated leather, which we introduced in our Fall/Winter 2020 collection. There has always been debate surrounding leather and its impact on our environment. It's a gray area since both of them have pros and cons. Nanushka's commitment to sustainability involves finding ways that will have the least amount of impact on the environment while not compromising our aesthetic and quality.
Going beyond faux leather use, what are some sustainability measures that Nanushka has been taking?
I think we achieved the biggest progress in our sourcing. Sustainability starts with the design process, so the fabric usage and sourcing are key elements. We have recently signed with Canopy and made a commitment to ensure our cellulose-based materials come from sustainably managed forests that are mainly connected with our slip satin range. We also use recycled faux fur, regenerated leather, responsibly-sourced wool and recycled cashmere. In line with our commitment to a circular economy, we recycle and upcycle our fabrics to give them new life. Soon, we will also be announcing our new partnership with RePack. We are working on a repair service as well.
The majority of our factories are a short car ride away, in either Hungary or Serbia. Our frequent visits foster a strong working relationship with the owners and employees built on shared values of sustainability, transparency and responsibility. Their proximity also helps us minimize our carbon footprint and operate a clean supply chain. Transparency is key for us as we want to be held accountable for our progress, so the next step will be to highlight the product's journey, tracking where and how it was made. This will be visible on our website.
We have also started a long-time collaboration with Noha Studio for a project dubbed "Noha for Nanushka," which is very close to my heart. It provides skills and work opportunities to women in Terény in rural Hungary, by teaching them how to make ceramic buttons and beads that we use in our collections.
What are some of the biggest challenges in the brand's journey to becoming more sustainable?
I think the biggest challenge is time, as sourcing new and innovative materials and testing them require an extensive amount of resources. Finding the right partners and suppliers requires a lot of research as well. Sustainability is not an overnight process and is rather a step-by-step journey. We have built an in-house sustainability team who questions our processes and helps us find new innovative ways. It's very important for me to show that by buying sustainably-made products, we don't need to compromise on aesthetics and quality. To highlight that, these products are often even more beautiful and just as long-lasting with real values and care behind them.
In terms of the Nanushka aesthetic, where do you mainly look to for inspiration?
Nature and architecture are constant inspirations for me. I like organic shapes and textures, the urban nomad and nomadic lifestyle. They are present in some way in all my collections as Nanushka, for me, is modern with a bohemian spirit.
While social media serves as a platform for many businesses to connect with global customers, it also gives rise to an oversaturated market in various industries, including fashion. What kind of impact has it brought to Nanushka, and what does social media mean for the brand?
Social media has played an important role in the brand, as it helped Nanushka to get noticed. A couple of years ago, it was almost impossible to get global recognition if a brand wasn't based in a fashion capital. Social media has become a tool for community-building, inspiring and communicating, especially during the months of lockdown. We've been trying to help our followers cope mentally and physically by providing virtual meditation and yoga classes.
What is a belief or motto that you stand by in running the brand?
Nanushka's purpose is to redefine the luxury fashion segment by pioneering sustainability. Our means to build a sustainable business are based on three pillars: craftsmanship, experimentation and progressivism.
By craftsmanship, we mean the intelligent use of materials that unites function with beauty, and heritage with technology. We believe if a garment is designed to function well, it will be beautiful. We are capable of revolutionizing design with environmental considerations through finding new ways to use materials. Craftsmanship makes it possible for us to upskill and empower people by creating job opportunities. This way, we can support them to participate in society and increase their health and well-being. To us, craftsmanship means transparency and traceability, and is a way of doing business. We know the people behind our products. Last but not least, doing crafts taps into emotional values. Crafts is a therapeutic activity contributing to spiritual wellbeing. The things we make with love and care are made to be loved and cared for by the ones who use them.
The coronavirus pandemic has brought major changes to the fashion industry. How has this impacted your view on your business, and fashion in general?
Due to the pandemic, we have all been able to re-evaluate and rethink our ways of working, including the fast-paced environment and overconsumption. It will give us the chance to redefine what we really need and why. Meaningless products without the right values will be less of a trend. Comfort, functionality, longevity, quality and provenance should take over from hype. Creativity and good design will claim back its role as the leading force behind the success of a brand.
Have these changes influenced future plans for Nanushka? For instance, do you have any plans for a new brick-and-mortar location or a runway show in the near future?
I think the last couple of months have really shown us how important physical contact is, so I definitely would like to maintain real-life shows and presentations in some form in the future. As for the brick-and-mortar locations, we are opening our next store in London at the heart of Mayfair. I think physical presence is still very important. It's not going to be only a retail outlet, but a place where our community can come together.
Nanushka is also stocked at luxury e-tailers like Net-a-Porter. What is it like working with the retailer?
The Net-a-Porter team has been a wonderful partner since we launched our first collection with them. It has formed our business in many ways. It has provided us with exposure to untapped markets, introducing us to a wider audience. The buying team's feedback is valuable for us in developing a more comprehensive collection. From time to time, we partner with Net-a-Porter for marketing events, which have had a significant impact on our brand awareness. We think that the future of wholesale must be based on a very close collaboration between the brands and the retailers.
---
Share this article