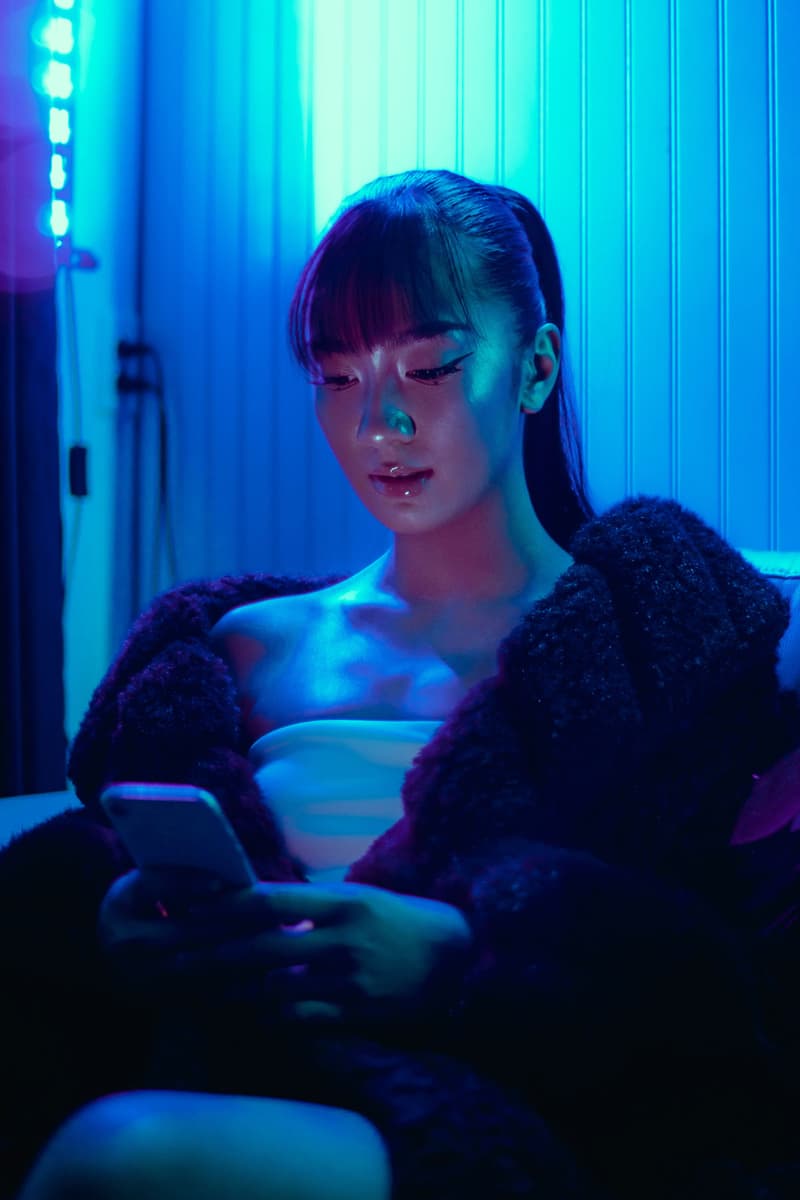 Dermatologists Break Down Blue Light And Its Effect on the Skin
Experts weigh in on whether you really need to protect against exposure from cellphones, computers and TVs.
Beauty
Dermatologists Break Down Blue Light And Its Effect on the Skin
Experts weigh in on whether you really need to protect against exposure from cellphones, computers and TVs.
Sunshine, sugar, over-exfoliation, under-exfoliation — there's an abundance of things to avoid when it comes to caring for your skin and, over the past few months, it seems yet another has emerged: blue light. Since the coronavirus pandemic took over our lives, forcing us indoors and in front of our screens, the term "blue light" has become a skincare buzzword. Emitted by ever-present electronics such as laptops, televisions and smartphones, blue light has been touted as an insidious, impossible-to-escape threat to the wellbeing of our faces. Brands have taken note as well, churning out blue light-blocking creams, serums and glasses to protect against the invisible force.
So, what exactly is blue light and what effect does it have on skin? Is investing in blue light-blocking skincare products worth it? HYPEBAE consulted two dermatologists and a cosmetic chemist to break down the phenomenon and what it's really doing to your face.
What is blue light and what emits it?
Very simply put, blue light is a type of visible light. Think of the visible light spectrum as the rainbow (remember ROYGBIV?) — as suggested by its name, blue light falls under the blue-violet portion of the spectrum. This blue-violet band is unique in that it has a particularly high energy level and thus falls under a category referred to as high-energy visible (HEV) light.
"HEV light is primarily from the sun, but it's also emitted by smartphones, tablets, televisions and computer screens," board-certified dermatologist Dr. Hadley King explains. (Though sunlight contains HEV light, it's important to note that ultraviolet (UV) rays do not fall under the visible light spectrum). Besides electronic devices, lightbulbs — particularly fluorescent and LED bulbs as compared to incandescent ones — emit HEV light as well.
What are the effects of blue light on skin?
Rest assured, blue light is not associated with skin cancer like UV rays are. However, blue light and HEV light in general are certainly not harmless. "HEV light penetrates deeply into the skin. In fact, it penetrates to deeper levels than even ultraviolet light," says Dr. Joshua Zeichner, director of clinical research in dermatology at Mount Sinai Hospital. "Fortunately, energy levels from our devices are low. However, long-term exposure can still have a significant impact on your skin," he flags.
Dr. King explains that blue light primarily causes the skin to age prematurely and can also contribute to hyperpigmentation and melasma (dark spots). Blue light also generates free radicals, unstable atoms that essentially "steal" electrons from other atoms, a process that damages cells. "Free radicals cause skin cells to produce enzymes that break down collagen and elastin in the skin," Dr. King elaborates. Cosmetic chemist Giorgio Dell'Acqua adds that blue light has recently been linked to the disruption of skin circadian rhythms, which regulate the body's repair of skin cells at night.
To what extent should blue light be avoided?
Though studies on the dermatological effects of blue light are limited, experts recommend erring on the side of caution and remaining wary of prolonged exposure. "So far only data in vitro — on cellular models — are available, so it is hard to drive a definitive conclusion on the effect of blue light on living skin," Dell'Acqua notes. "However, in vitro studies suggest that blue light could trigger skin damage. Given the uncertainty, he recommends limiting exposure on the face.
That being said, don't avoid blue light all together. "Routine exposure to blue light, preferably from daylight, helps regulate our body's sleep-wake cycle, improves our mood, keeps us alert and can enhance memory," Dr. King lists, adding that blue light can be beneficial for zapping acne-causing bacteria. "Studies show moderate evidence for the efficacy of blue light treatments for people with mild to moderate acne, but most of these studies have been small and do not report on long-term results, and there is a lack of data on outcomes in cases of severe acne," she mentions.
In short: you shouldn't entirely avoid blue light, but it may be wise to avoid lengthy periods of exposure via electronic screens. When you are exposed to blue light through devices such as computers and smartphones, consider using blue light-blocking screen covers or switching your laptop to Night Shift, which "significantly reduces blue light in favor of harmless yellow light," Dr. King says. Dr. Zeichner also recommends opting for a Bluetooth headset — such as Apple AirPods — instead of holding your phone to your face during conversations.
What skincare and beauty products work best for blocking blue light?
Though some skincare brands purport to target blue light exposure via specially formulated serums and creams, some verging into the hundreds of dollars, the best blue light-blocking product you can use is plain old sunscreen. "Mineral-based sunscreens offer some level of protection against HEV light," Dr. Zeichner states, adding that tinted sunscreens containing iron oxide pigment also block visible light. His top picks include Solara Suncare Time Traveler, an all-natural sunscreen that won't leave a white cast behind, and Neutrogena Anti-Aging Skin Perfector SPF 30, which offers broad-spectrum protection against UV light.
According to Dr. King, "We should all be protecting our skin from UV rays on a regular basis, so a product that combines UV with blue light protection is ideal." She goes on to note that ingredients used to protect against UVA and UVB rays don't necessarily filter HEV light. "Therefore, not all sunscreens include blue light in their standard broad-spectrum UVA and UVB coverage," she explains. "Zinc oxide and titanium dioxide-based sunscreens can reflect some portions of HEV light, but not all."
Instead, Dr. King suggests opting for sunscreens that contain iron oxide, an ingredient also cited by Dr. Zeichner. For protection against the aging effects of blue light-generated free radicals, Dell'Acqua recommends products containing antioxidants. Dr. King names two particularly potent antioxidants, Licochalcone A and Glycyrrhetinic Acid, and notes that the former offers "effective and extended protection from HEV light in addition to UV" when added to sunscreen.
The dermatologist endorses several affordable products including Ghost Democracy's Invisible Lightweight Daily Face Sunscreen SPF 33, Eucerin Sun Fluid Anti-Age SPF30 (which contains previously mentioned antioxidants Licochalcone A and Glycyrrhetinic Acid), Supergoop! Glowscreen SPF 40 (containing iron oxide) and lastly, Brush On Block's Translucent Mineral Powder Sunscreen, which can easily be reapplied without messing up your makeup. Pricier options, NeoStrata's Sheer Physical Protection SPF 50 and MDSolar Science's Mineral Creme Broad Spectrum SPF 50 are formulated with both iron oxide and antioxidants.
Share this article