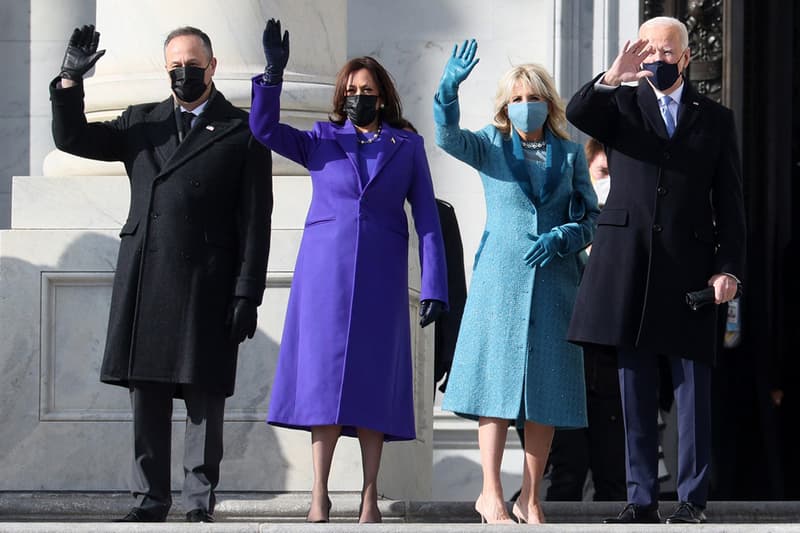 Fashion
Kamala Harris and Jill Biden's Inauguration Outfits Are Calls for Unity and Stability
Take a closer look at the politicians' historic outfits, crafted by up-and-coming American designers.
Kamala Harris and Jill Biden's Inauguration Outfits Are Calls for Unity and Stability
Take a closer look at the politicians' historic outfits, crafted by up-and-coming American designers.
This morning, Joe Biden and Kamala Harris were sworn in as president and vice president of the United States, officiating the beginning of a promising new administration and the end of Donald Trump's disastrous presidency. Today's socially distanced inauguration ceremonies were held at the Capitol, where the politicians and their family members convened, clad in face masks, to witness the historic moment. As the country continues to grapple with the violence that took place at the Capitol just weeks ago, both Biden and Harris took care to address the widening gap between the Democratic and Republican parties.
Biden's inaugural address confronted the divide and called for unity, while Harris used a subtler, yet equally effective mode to signal the nation coming together: fashion. Harris, who makes history as the first Black and Asian American female vice president, wore a purple coat by emerging designer Christopher John Rogers. (Of course, Harris accessorized the ensemble with her signature pearls.) Purple is a richly symbolic color that signals authority — historically, the shade was reserved for royalty, as purple pigment and dye were extremely rare and therefore expensive. On top of its authoritative connotations, purple is made by mixing red and blue, colors long associated with Republicans and Democrats respectively. During a time of deep political divide, it seems the vice president's outfit choice is an appeal for collaboration across party lines. (It's worth noting that Hillary Clinton wore the same color to today's inauguration ceremony, and opted to wear the shade to her concession speech in 2016.)
Jill Biden also tapped an up-and-coming American designer to wear to the inauguration. The FLOTUS, who used to study fashion merchandising, wore a bright blue dress and matching coat by New York-based brand Markarian, helmed by designer Alexandra O'Neill. According to a press release, the First Lady and O'Neill landed on ocean blue "to signify trust, confidence and stability." Biden wore another ensemble by Markarian — a royal purple overcoat with a plush ribbon closure — to last night's memorial honoring the hundreds of thousands of Americans who have died of COVID-19. Harris, on the other hand, was clad in a camel coat by Kerby Jean-Raymond of Pyer Moss, a label known for exploring Black history and culture with its collections.
Presidential fashion is undeniably influential, spurring both criticism and applause, embrace and rejection, by the mainstream media and fashion insiders alike. As reported by Dazed, global fashion platform Lyst experienced a 734 per cent surge in searches for "Pyer Moss coat" following last night's memorial tribute. Vanessa Friedman of The New York Times wrote that Harris doesn't engage with questions about her clothing, an interesting preference considering the openness of other White House style icons (such as Michelle Obama, who worked with a stylist during her time as First Lady) regarding their sartorial choices. As Harris's term progresses, we'll be curious to see if she breaks her silence — or continues to let her clothes do the talking.
---
Share this article