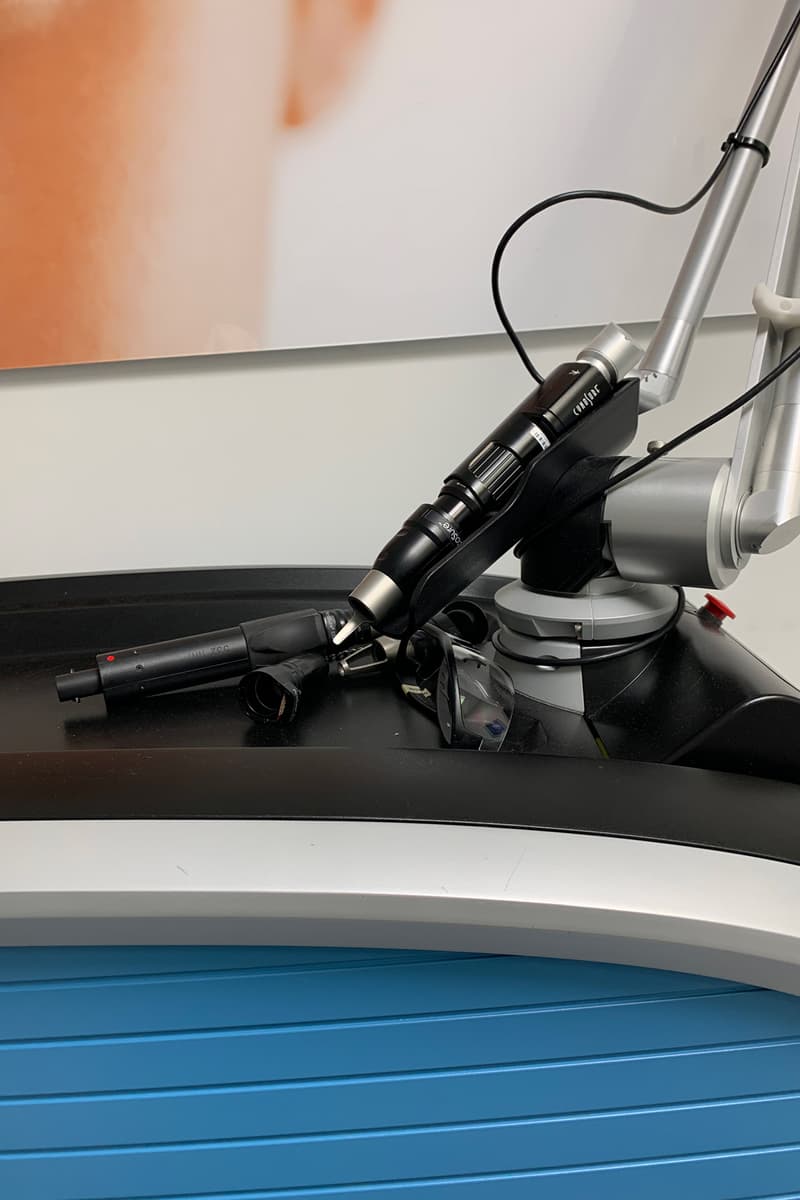 I Tried Laser Tattoo Removal — Here's How Painful It Was
What to expect from your first session.
Beauty
I Tried Laser Tattoo Removal — Here's How Painful It Was
What to expect from your first session.
I gave myself my first stick-and-poke tattoo at journalism camp when I was sixteen. It was the owl symbol from Twin Peaks, and I thought it was the coolest thing ever. Two years later, I'd made a habit of passing the dreary winter days at college in rural Vermont by giving myself and my friends homemade tattoos (I am not encouraging readers to do the same). On one particularly cold evening huddled up in my dorm room, I decided I wanted a flower tattoo on my right calf. I drew it out in pen, "sanitized" a sewing needle (again, please don't try this yourself) and got to work with a bottle of India ink. It didn't turn out quite as I expected. I pierced the skin too deeply, causing the ink to blow out into a blue-ish haze. It didn't look absolutely heinous, but I wasn't exactly enthused about it.
Since then, I've invested in several professionally done tattoos and, for the most part, sworn off homemade ones. Until recently, I refrained from getting my hand-drawn flower removed — it hasn't been too difficult to hide under pants and boots. But as I've gotten older, it's become increasingly tiring to look at — the flower isn't associated with any meaningful memory or period of time and at the end of the day, it's just ugly. In late November, I decided to take the plunge and try out laser tattoo removal.
I opted to get my tattoo removed using PicoSure, a type of laser that's widely regarded as one of the most effective modes for breaking up black and grey ink like mine. "Pico technology, as in the PicoSure laser, delivers energy pulses in a much smaller period of time, resulting in the ability to break up ink into smaller particles with less risk of damage to surrounding tissue," Dr. Jeremy Fenton of Schweiger Dermatology in New York City explained. According to the expert, whom I visited for my very first removal session, it typically takes five to eight appointments until a tattoo has faded to a client's liking.
When I arrived, I was escorted to Schweiger Dermatology's top-floor suite, a dazzlingly bright white medical mecca. Though the laser machine itself didn't look too intimidating, I immediately noticed two large needles sitting on the counter next to a vial of Lidocaine, a local anesthetic. Dr. Fenton and his assistant did a great job of making me feel comfortable and re-assured, even through a medical mask and a COVID-protecting shield. The entire removal process took about ten minutes — Dr. Fenton gave me two shots of Lidocaine, which certainly burned but wasn't unbearable. After waiting a few minutes for the numbing agent to kick in, I donned a pair of these Cinderella Story-esque goggles to protect my eyeballs from the laser's high-powered rays. The doctor then did a ten-second pass over my tattoo which, for reference, is about three inches high and one inch wide. Thanks to the anesthetic, I didn't feel anything. In fact, the most painful part of the entire procedure was receiving the Lidocaine injections.
Immediately after lasering, my tattoo took on a frosted, whitened appearance, a phenomenon that dissipates after a few minutes. Dr. Fenton explained that I should keep the area bandaged with medical gauze and tape for one to two weeks, or until the area is healed, and change the covering twice a day. Warm water and a twice-daily application of Aquaphor would keep it clean and moisturized. It would take eight weeks for my body to finish flushing out ink particles that the PicoSure had zapped.
I headed home with a numb ankle and high hopes. Once the Lidocaine wore off, the area felt as if it had been badly sunburned. It was red, swollen, slightly bloody and also incredibly itchy. The next morning, it looked pretty much the same. I took care to keep the area clean, Aquaphor-ed and covered. By day two, the darkest area of the tattoo — the head of the flower — had transformed into a huge blister. Overnight, it ballooned up into a larger, fluid-filled spot and a few days later, it popped, leaking yellow-ish pus. By the second week, I noticed a definite lightening of the tattoo. The top layer of tattooed skin was slowly peeling off, revealing faded ink underneath. Small areas that weren't heavily inked had almost entirely disappeared. My skin was done blistering but it still itched, an annoyance that lasted into week four.
Now that I'm eight weeks out from my first removal session, the area is fully healed, smooth and noticeably faded. That being said, I'll likely need at least a few more laser passes until it's faded to my satisfaction — anyone considering laser tattoo removal shouldn't expect a one-and-done procedure. Despite eight weeks of healing time, the entire process was relatively pain free. Bottom line? I'd recommend PicoSure to anyone who can handle a couple of needles and a few weeks of itchy, blistery skin.
Image Credit

Jasmine Chew/Unsplash
Share this article