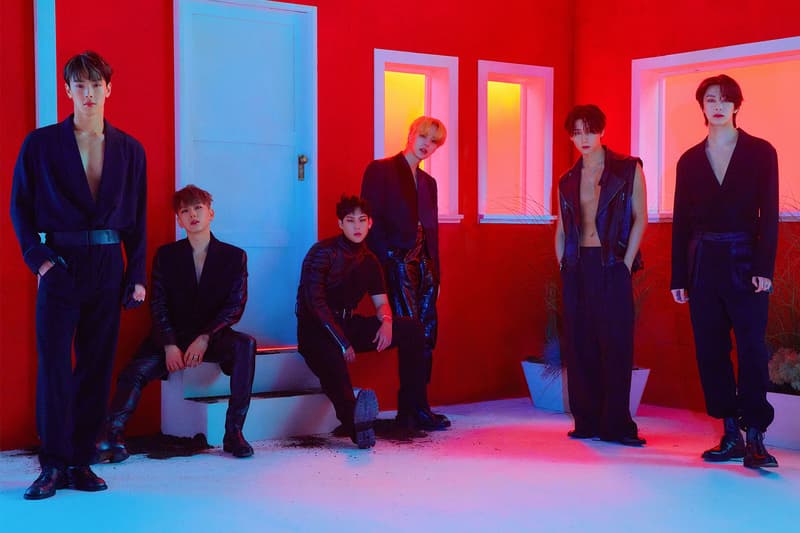 Music
MONSTA X Talk 'Fatal Love' and What They've Been Up to in Quarantine
The K-pop musicians also share their favorite pastimes, goals for 2021 and more.
MONSTA X Talk 'Fatal Love' and What They've Been Up to in Quarantine
The K-pop musicians also share their favorite pastimes, goals for 2021 and more.
Back in 2015, Shownu, Minhyuk, Kihyun, Hyungwon, Joohoney, I.M and Wonho competed in the reality survival show No. Mercy to form MONSTA X, one of the buzziest groups in K-pop today. Six years since its debut, the group is slowly but surely extending its impact worldwide with releases in regions like Japan and the U.S.
2021 is set to be another exciting year for the now six-member act. At the beginning of January, the artists won Best Group at the Golden Disc Awards, and were named the new face of makeup brand Urban Decay shortly after. Meanwhile, I.M is set to release his first solo single in February. While we're only a month into the new year, we're already sure MONSTA X will be bringing a series of exciting projects and releases for their fans MONBEBE to enjoy.
We've caught up with the six musicians on the making of their latest Fatal Love album, their favorite quarantine pastimes, new year's resolutions and more. Continue reading for our conversation with the stars.
What have you been up to as people are encouraged to stay home during this time?
SHOWNU When I'm free, I oversleep, rest, order delicious food, rest some more, watch YouTube, surf the web and watch movies.
KIHYUN Outside of work, I've been staying home and that's really it. Sometimes I cook and play games.
I.M I've been oversleeping, watching Netflix and eating late-night snacks. I've also been working out at home and reading letters from our fans. Oh, and one more thing, I bought a chessboard.
HYUNGWON I started working on a new song and I'm working out hard. I'm also watching Netflix.
JOOHONEY I'm watching Netflix, watching animations and playing games on PlayStation.
MINHYUK I'm doing well these days, following the quarantine rules when I work. I've been staying at home very well, too.
Are there any new hobbies that you've taken interest in? Kihyun, I've read that you enjoy cooking and investing in stocks.
SHOWNU I don't have any new hobbies. I'm a bit busier than you can imagine.
KIHYUN Yes, when I have free time, stocks, cooking and games are part of my routine.
I.M I've been playing chess for the first time in years ever since I watched The Queen's Gambit.
HYUNGWON I'm looking for healthy foods.
JOOHONEY My new hobby is watching animations.
MINHYUK I always enjoy the same hobby rather than a new one. For example, playing games or playing games and… playing games?
Congrats on winning Best Group at the Golden Disc Awards. Which aspect of MONSTA X do you think fans were drawn to in 2020?
SHOWNU I'm guessing our fun chemistry and intensity on stage attracted our fans. Our music has become more complete these days. Also, it's because our fans really understand our characters.
KIHYUN I think we know what our fans like and put it into practice.
I.M There is always the best fandom behind the best group. I think we worked hard to meet our fans' expectations.
HYUNGWON I think the reason why our fans liked our concept is that it fits us well.
JOOHONEY I think our desire to see our fans was conveyed to them.
MINHYUK I think the most attractive point was to show our true selves.
Fatal Love marked your first full-group comeback in roughly half a year. What was the inspiration behind this album, and what was it like creating music during a pandemic?
SHOWNU I like the unique and strong personality of this album and the title track so much, that I can't find a song or album that has a similar feeling.
KIHYUN We missed our fans so much and we released the album because that is the only way we can connect with them.
I.M Because of the pandemic, I think I worked relatively leisurely. I could be inspired by looking carefully at the small things around me.
HYUNGWON It's an album where we could incorporate the more mature sides of us. Since we couldn't meet our fans during the pandemic, we wanted to show everyone how much we have improved.
JOOHONEY Actually, I worked hard on the album and felt satisfied, but at the same time, I was sad because I miss them for real.
MINHYUK Whether there's a pandemic or not, the process of making an album always excites me the most.
What were some of your favorite moments in the entire making process and promotion for Fatal Love?
SHOWNU It was interesting because I felt like I was preparing a song that has deeper colors and mood in it. The music video came out really well, so I was very proud while I was monitoring it with the rest of the team.
KIHYUN I enjoyed shooting our music video the most, especially because it really turned out well.
I.M Our title track "Love Killa" is a bit different from other existing title songs that we've shown before, so the whole process of anticipating the response was memorable.
HYUNGWON The music video where we all had different concepts was super impressive.
JOOHONEY I tried to take a more in-depth approach in terms of sounds. I also did a lot of research. I think I felt the happiest and most proud when the outcome came out really well.
MINHYUK I felt sad that I couldn't show much in person due to the pandemic, but I've tried to communicate with our fans through our fan cafe and social media channels. I remember making some spoilers on our new album. I had fun!
"Love Killa" has been praised for its held back, yet powerful choreography. What were your first impressions when you saw the dance?
SHOWNU As you said, the choreography is restrained, but it brings out the mood of the song well so I was really looking forward to performing it while practicing and I really liked the stage.
KIHYUN I was like "Ok. This choreography is dope." I knew it would be a success.
I.M "'Love Killa' has been praised for its held back, yet powerful choreography." Your words are so on point. Word.
HYUNGWON I remember watching videos [of the dance] every day before I went to bed. I loved the choreography that much.
JOOHONEY I wanted to show it to our fans on stage as soon as I got the video.
MINHYUK I was like, "Yes. We made it."
Apart from the title track "Love Killa," which songs from the album do you personally connect with the most?
SHOWNU "Nobody Else" and "Sorry I'm Not Sorry" are my favorites. I thought that the latter was a very refreshing song that I got from the best DJ.
KIHYUN I'd say it's "Nobody Else." It was the first song written by Hyungwon, so it felt new to me, too.
I.M "Last carnival." The song is a sad one, but I really liked the concept, which is about dancing for the last moment. Ironic and beautiful at the same time.
HYUNGWON It's my first self-composed song and it contains a lot of my thoughts, so I feel connected to "Nobody Else."
JOOHONEY "STAND TOGETHER" is the song that I connected to the most. It is not because I composed the song, but because I want to unite with my fans and overcome this difficult time. It is meaningful in that I convey such a message.
MINHYUK There are lots, but "BEASTMODE" is the most energetic.
Are there any new music genres you want to explore for future projects?
SHOWNU Well, it's hard to pick one. I will make sure to let you know in the near future if I ever decide.
KIHYUN I would definitely choose rock.
I.M I'm still processing which genre I want to try in the future.
HYUNGWON An exciting EDM track that will make you dance. It's a genre that we really want to show you at the concert. Are you all ready to enjoy our performance?
JOOHONEY I want to try electronica, which feels like a combination of new genres of EDM.
MINHYUK I want to try a ballad song, which will all make you feel sentimental.
What goals do you wish to achieve in 2021, both personally and professionally?
SHOWNU It would be great if we could put our name on the Billboard Hot 100 Chart.
KIHYUN I never expected this to be my goal of the year, but I truly want to meet MONBEBE in person as soon as this pandemic situation ends.
I.M I want to let more people know who I am and what I have in store as an artist. 
HYUNGWON I hope I can participate in writing and composing more songs. It would be nice if I could perform on various stages.
JOOHONEY For me, I wish I could have some more time to spend on my hobbies and keep moving forward without losing my passion.
MINHYUK I hope I can make it into a well-known variety program one day.
Share this article