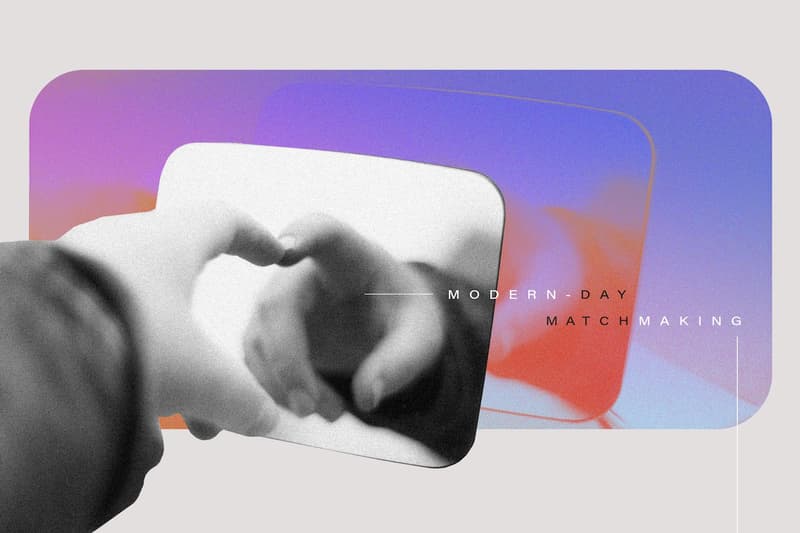 Sex & Dating
Modern-Day Matchmaking: How an Age-Old Profession Is Evolving To Serve Online Daters
Got dating app burnout? Hire a matchmaker.
Modern-Day Matchmaking: How an Age-Old Profession Is Evolving To Serve Online Daters
Got dating app burnout? Hire a matchmaker.
It's a tale as old as time, or at least the dawn of the 21st century. Two people swipe right. They exchange a few messages, and go on a date (in the age of coronavirus, likely over video chat). Things seem to go well — conversation flows, and there's mutual attraction. After a week of texting, and maybe one or two more dates, communication trickles off. Both parties log back onto their dating apps and the cycle begins all over again.
When Tinder launched in 2012, swiping was a novelty. Dating apps were a relatively new phenomenon and, for the most part, their gamified interfaces felt more fun and less like a mindless chore. Nine years later, however, some singles looking for commitment have found themselves at a dating standstill, overwhelmed by a deluge of ghosters, breadcrumbers and woke-fishers. And with COVID-19 numbers peaking across the United States, in-person alternatives to swiping, like coffee shop or dinner party meet-cutes, seem like a far-off impossibility. That's where matchmaking, a profession far older than the advent of online dating woes, is stepping in.
Matchmakers have long served as pillars of community in countries spanning the East to the West. In ancient Greece, promnestria helped negotiate marriage between the two families of a couple, and in Orthodox Jewish communities, a shadchan sets up prospective partners. The writings of Jane Austen wryly recount the practice of matchmaking in Regency-era England and in Japan, omiai is a longstanding tradition in which a nakodo introduces singles with the potential for marriage in mind.
Despite the rich history of matchmaking, the practice — which for many, carries antiquated connotations — has evolved to suit the needs of today's customers, who are drastically different than, say, marriage-oriented debutantes of the Victorian era. In fact, the profession is pivoting away from the more recent example of Patti Stanger, the star of Millionaire Matchmaker, whose speciality is setting up a particularly cringe-y archetype: the rich, emotionally stunted bachelor with young trophy wives. Emma Vernon, who describes herself as "TikTok's Millennial yenta," oscillates between embracing the label "matchmaker" ("I feel like I've sort of reclaimed the term," she says) and opting for alternatives such as "connector of people."
Matchmaking has been associated with religious obligations or cultural obligations. I really just want to help cool, dynamic people. – Emma Vernon
"Matchmaking has been associated with religious obligations or cultural obligations. I really just want to help cool, dynamic people," she proclaims, adding that she looks for clientele from any and all backgrounds. "I want everyone to feel like they can reach out to me regardless of gender, race, size, religion, sexual orientation," she explains, hitting on a point echoed by other matchmakers. Amy Van Doran, matchmaker and founder of the Modern Love Club, serves singles looking for marriage as well as those who don't want to settle down in the traditional sense. "A lot of our clients right now have decided not to have children. We have a lot of queer, non-binary clients as well as heterosexual women in their forties which historically, a lot of matchmakers haven't taken on as clients," she says. "We're able to pick people that are outside of the cookie-cutter Bachelor mold."
Claire Ah, owner of Friend of a Friend Matchmaking, also stresses the importance of inclusivity when it comes to her business. Instead of pairing people based on a checklist of physical features and shared attributes such as financial status — a hugely important element of marriage and marriage laws throughout history —  she seeks to work with open-minded clients across varied lifestyles, sexual orientations and income levels.
As for the actual matchmaking processes, Vernon, Van Doran and Ah's strengths lie where dating apps fall short. The three experts screen potential clients through preliminary "intake" forms and phone calls, looking for key traits such as open-mindedness, self-awareness and openness to feedback. After agreeing to take someone on and diving deeper into personality, dating habits and quirks, the matchmakers are uniquely able to gauge a client's values and from there, suggest compatible matches.  Values, which encompass core beliefs from loyalty to dependability to trust, are difficult for online daters to express through photos and text on a virtual profile. Sure, the appearance of a MAGA hat in someone's Tinder photo certainly suggests their politics, but other crucial markers of like-mindedness — such as world-views and aspirations in life — are nearly impossible to bottle in the short-form profiles of most online dating services. Erika Kaplan, vice president of membership at matchmaking company Three Day Rule, puts it nicely: "We try to match people based on values, goals and mindset — the qualities that make for long-term happiness and success but those that are hard to screen for on an app."
Van Doran explains her matchmaking methods in esoteric terms that transcend the algorithms of Hinge and Bumble. "I'm making two characters in my head, the way an actor would develop a character or a writer would develop a character," she illustrates. "I'm imagining how these two characters would exist. Would they be in the same story? If they're decorating their house together, would their stuff make sense together? If she makes a joke, would it land?" Ah brings up another skill set that sets her and other matchmakers apart from the cold world of dating apps — she's able identify the meaning behind seemingly superficial requirements some singles look for in a partner, such as height. "Often when I am working with women who date men, they're looking for someone tall. [When] we talk about that, they're actually looking for warmth and safety, and someone who will make them feel secure. I try to look for traits associated with that, instead of just 'tall.'"
Ultimately, I am a nice lady who knows a lot about you and is actively invested in your dating life. – Claire Ah
This tailored approach is part of what's fueling matchmakers' success, particularly amidst the pandemic. "People are forced to date more intentionally right now. For that reason, I think people are relying on expert help over dating apps, which oftentimes are all about quantity and not at all about quality," Vernon posits. People are also looking for professional guidance through an entirely foreign, COVID-era dating landscape. "If you told someone in March or April that they'd go on a video chat date they'd be like, 'Um, am I 70? What the hell is this,'" Vernon jokes, adding that she offers help with virtual date ideas and outfit planning.
For Ah, the appeal of matchmakers comes down to a desire for support and connection, two things that have become increasingly pressing during quarantine. "Ultimately, I am a nice lady who knows a lot about you and is actively invested in your dating life," she declares. "It's nice to have somebody to go to who isn't a family member, who isn't a friend, who isn't someone who has their own assumptions or agenda around you. I'm a relatively neutral third party who is very, very nerdy about dating." Van Doran agrees, explaining that the pandemic has heightened the innate desire for companionship. "People who are reaching out to matchmakers [have] found, more than ever, that connecting from a heart and mind place with someone who gets them and has their back during crisis is a really wonderful thing," she muses.
But matchmakers' expertise is a boutique service that comes at a price. Cost is always a barrier to entry, and matchmaking is no exception. To remain accessible to a wider range of singles, Ah offers sliding scale fees, as well as no-cost services to those who can't pay. For a yearly flat rate of $499 CAD (approximately $393 USD), she provides clients with one to five matches over the course of 12 months. Ah, who became a matchmaker after suffering a series of strokes that left her unable to work as she re-learned how to walk and eat, says her health struggles have informed her justice-minded business model. "Because I have been at lower incomes — certainly there was more than a year when I didn't have an income, when I was recovering from my strokes — I have a soft spot for sliding scale, low or no cost," she says. "I do find that I'm generous when it comes to love. I struggle at times to be a good businessperson, but I'm definitely a good matchmaker," she asserts.
[Matchmaking] is a huge investment. It's like buying a piece of art or a high-end handbag. – Amy Van Doran
Vernon also keep prices affordable to appeal to a wider pool of people. "I'm not trying to gate-keep anyone with a price point," she adds, mentioning that she's in the process of pivoting to a membership model. Though the screening process to join her "club" will be more extensive than a simple questionnaire and phone call, once you're accepted, it's completely free. Members can then opt to pay a fee per match. "You don't have to pay anything to be accepted, but if I find a match for you, you pay for the intro," she clarifies. "I'm still working a [price point] out…It's not something that's going to cost more than an annual membership to Spotify," she says, explaining that her core demographic, singles in their early 20s to mid-40s, are willing to pay for quality matches but won't necessarily shell out thousands of dollars. (For context, monthly membership to Spotify Premium adds up to approximately $120 USD per year.)
Van Doran, however, takes on a limited number of clients each year and employs recruiters and co-matchmakers. To pay her employees a living wage, as well as respect the time and effort she puts into her work, she charges many thousands of dollars. "Matchmaking is a luxury," she maintains, adding that it's an investment akin to buying a piece of art or a high-end handbag. For a steep fee, Van Doran's clients pay for a year-long "curated dating journey," which she believes is a smarter buy than any luxury item. "You learn about yourself, you go on this journey and solve a problem that is important to most people."
The online dating industry has taken notice as frustrated swipers turn to matchmakers for their hands-on methods and tailored advice. Offering more than just age and location filters, a crop of new apps are fine-tuning the online dating experience with bespoke features. Struck, for example, bills itself as an "astrology-based matchmaking app" and pairs people based on their birth charts. Though the app, which is free, may not provide users with one-on-one expertise, Struck consulted with professional astrologers including in-house advisor Nadine Jane to build its unique matching algorithm. "The algorithm pairs users based on the compatibility — or synastry, for those in the know — of their full birth chart, not just their sun sign like you see on a lot of mainstream dating apps. In layman's terms, we're taking your birth chart and checking your moon against their moon, your sun against their Venus, and so on. It's actually very complicated," explains Rachel Lo, co-founder and CEO of Struck. "Our philosophy is that five intentional minutes per day are worth more than an hour of mindless swiping," she adds, a statement that may resonate with today's selective, COVID-conscious daters.
Clearly, singles are suffering from swiping fatigue, a phenomenon perhaps compounded by the pandemic. Longing for the days of socialization sans masks, we've all realized the importance of human connection. For many, this realization is spurring a return to "slow dating," the matchmaker's cure for most dating apps' fast-paced, quantity-over-quality attitude. Though paying for the prospect of love may seem like an unsavory idea, matchmakers are effective, if anything. Of Van Doran's 2020 cohort of clients, five are engaged and two are expecting. "I can tell if someone's ready to meet their soulmate. If I have their soulmate, then I will put it in front of them," she says.
Share this article