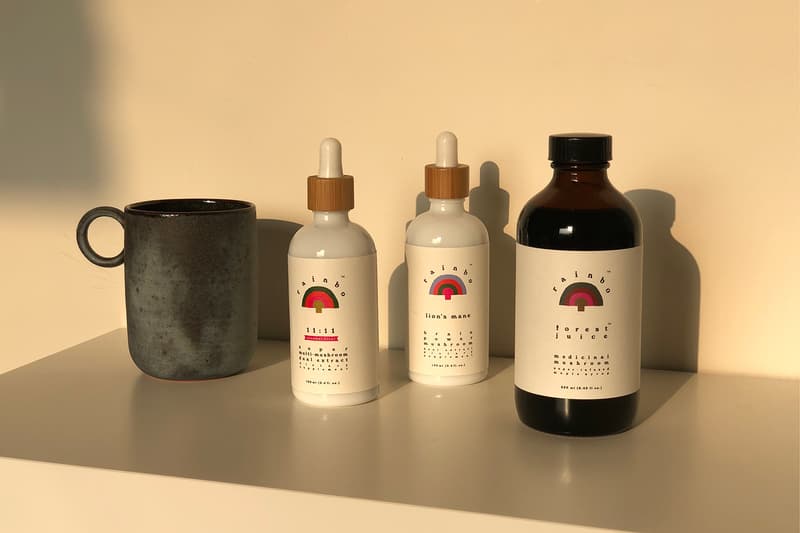 Health
What Happens When You Add Medicinal Mushrooms Into Your Daily Routine for a Month? This Editor Finds Out
Rainbo founder, Tonya Papanikolov, tells us more about the healing powers of mushrooms.
What Happens When You Add Medicinal Mushrooms Into Your Daily Routine for a Month? This Editor Finds Out
Rainbo founder, Tonya Papanikolov, tells us more about the healing powers of mushrooms.
When people first hear the words, "medicinal mushrooms," the first words that often come to mind are: psychedelic, hallucination or perhaps even, psilocybin. Unfortunately, this grand misconception has been confusing the masses for decades because of the widely recognized effects of the recreational drug known as "magic mushrooms," popularized in both film and television alike. Despite the massive disparity between what medicinal mushrooms are mistaken for and what they actually are, that hasn't stopped Rainbo founder, Tonya Papanikolov, from bringing her passion for wellness and mycotherapy to all.
Founded in 2017 by Papanikolov, who is a holistic nutritionist, raw food chef and wellness leader, Rainbo became an extension of the founder's passion for healing through food and lifestyle. The first step has always been education, explaining that medicinal mushrooms are actually a centuries-long practice that dates back to the origins of Traditional Chinese medicine. For generations, mushrooms have been used as an effective form of preventative healthcare. In short, keeping your body healthy in order to avoid ailments, not to treat it when you're already sick.
In her line of tinctures (and even a seasonal maple syrup), the multi-mushroom extracts are categorized by benefits such as Immunity, Energy, Brain Power, De-Stress and Longevity. When I first started incorporating Rainbo into my daily routine, I was vaguely familiar with the properties of lingzhi – which is a Chinese medicinal herb that is praised in certain cultures for its "healing powers" – so I was intrigued and excited to try a new holistic routine. Of course, it doesn't hurt that all of Rainbo's products are incredibly aesthetic and looks great in any kitchen space alongside handmade ceramics and natural sunlight.
I had never been one to embrace preventative medicine in the past, but with my growing paranoia brought on by COVID-19, 2020 was definitely a year of welcomed change when it came to health and wellness practices. Rainbo's medicinal mushroom concoctions taste indescribably delicious (think an earthy, almost chocolate-y flavor) and I now look forward to adding it to my morning coffee everyday. With daily use, I've found that I feel more focused throughout the day, and although it's hard to say whether I've actually improved my overall health or not (I'd like to think that I have), I definitely feel more centered.
Read on below to explore my conversation with Tonya, as I learn more about her early foray into mycotherapy, the best way to channel Rainbo's healing properties, and how she plans to introduce medicinal mushrooms to the world. To shop Rainbo's products, head over to their website.
To start, what are medicinal mushrooms?
Medicinal mushrooms are certain species of fungi that have health-promoting compounds that influence our physiological processes.Some medicinal mushrooms are also culinary and edible mushrooms that we know!
Medicinal mushrooms are powerful and magical organisms that have an ancient history in Traditional Chinese Medicine and their use goes back thousands of years, yet are largely unknown in today's Western society. We are most familiar with the tasty button portobellos, oyster, shiitake – the edible mushrooms we eat as foods and which provide us with a dense nutritional profile. Edible mushrooms are great sources of fiber and protein (containing all nine essential amino acids) as well as many important nutrients including B vitamins, copper, potassium, magnesium, zinc, selenium, glutathione, and vitamin D.
Some of these edible mushrooms have also been discovered as having medicinal value due to the presence of biologically active compounds that are capable of influencing our physiological processes. These are considered medicinal mushrooms and they act as functional foods meaning they provide us with health benefits above and beyond the provision of essential nutrients.
What was your personal experience with mycotherapy and its healing properties? How did this influence you to start Rainbo?
I first learned about medicinal mushrooms in 2012; chaga specifically, which is known as the king of medicinal mushrooms! In the few years that followed I was taught how to forage and brew the tea from the Canadian forests that are in my backyard. Chaga is a very special fungus to find in the wild and is treated sacredly. In 2015 and 2016 when I was in school becoming a holistic nutritionist, I began a healing regimen and protocol where I started using reishi in high, therapeutic doses and this is where I experienced the profound shifts and healing in my body. That experience really solidified my interest, passion and reverence for medicinal mushrooms and mycotherapy. As I continued to dive into the world of mycology and fungi, I became even more captivated with just how incredible, regenerative and transformative fungi really are, and I felt the call of my dharma to help spread that knowledge through Rainbo and build a company that shared my values and vision for a healthier planet and collective.
There is a misconception when it comes to medicinal mushrooms, with many people mistaking them for psilocybin. What exactly is the difference between the two?
The main difference between the two is that psilocybin contains psychoactive chemicals and compounds which can alter our state of consciousness and of course, takes us on a trip! Whereas, medicinal mushrooms are non-psychoactive and contain a variety of scientifically proven bioactive compounds such as polyphenols, polysaccharides, glucans, terpenoids, steroids, proteins and so many more! This has an extremely beneficial effect on the body and the immune systems. Also they're all legal. This is truly nature's medicine.
With long-term use of medicinal mushrooms, what are the key benefits?
Enhanced immunity, they can can enhance both innate and adaptive immunity. Medicinal mushrooms are immunomodulators – bringing the immune system up or down based on what's needed. Consumed as a regular dietary supplement, medicinal mushrooms have a high potential for improving health by increasing resilience, delaying the aging process, protecting against chronic disease, and supporting the structure and function of the body.
I've been taking our mushrooms for over two years now (daily) and have not gotten sick once! I used to be someone who got the cold and flu every season.
From your experience, does this branch of holistic health face any stigmas? What has your journey been like in educating people on the benefits of medicinal mushrooms?
There are stigmas with many "natural" or "alternative" healing modalities, where not enough western science exists yet. Although there is now a plethora of scientific evidence showing the benefits and efficacy of medicinal fungi, still more is needed.
Mushrooms are very well researched but of course, more funding and studies are required on many levels: looking into different compounds and chemicals not yet studied, dosing, comparisons, as well as to back up all the anecdotal miracles and healings.
The other big stigma is that people are generally quite fearful of mushrooms! They're unsure about which ones are good for them, which might kill them, poison them or make them hallucinate – and so they just stay away. We're definitely coming into a time where mushrooms are becoming much more widely known and accepted as food and medicine but there is definitely a lot of education that we do to help our customers and community understand the complexity and range of fungi and all that they do.
One of our efforts to get people out of their myco-fear and into nature, is with our seasonal forays where we venture out into the forest as a group to pick and identify mushrooms. Our events sell out every year!
For obvious reasons, 2020 has been a year in which health has been especially paramount. For those who are looking to boost their immune system and mind their overall health, why would you recommend people turn to holistic nutrition and try supplements such as Rainbo's 11:11 Super Multi-Mushroom Synergy?
I believe nutrition, lifestyle and supplementation are paramount in a preventative health approach to staying well and healthy. Food and lifestyle are the easiest ways to support your body and amp up your immunity naturally, because the body will instantly respond to positive efforts to eat more vegetables and plant foods, drink more water, take supplements, sleep 7–8 hours a night, exercise regularly and manage stress through yoga, meditation, nature or whatever works for you. When emotions and stress are high and mental health has declined (as we've seen this year), it's even more important to double down on these elements, because if our bodies and minds are run down, we're much more likely to get sick.
Mushrooms are known for their incredible ability to modulate the immune system. That's not marketing, it's just what the data and science show. Of the many medicinally-relevant compounds, beta glucans are the main players that impact immunity. Beta glucans are carbohydrates found in the cell walls of fungi. They are acid resistant, allowing them to pass through the stomach following consumption, and reach the small intestine where they activate receptors located on intestinal immune cells.
"Food and lifestyle are the easiest ways to support your body and amp up your immunity naturally…"
There is such a wide range of benefits that come from the different types of medical mushroom ingredients. What are Adaptogens (found in the Reishi tincture) and what is their role in stress management?
Reishi! My absolute favourite mushroom, which is a known adaptogen.
Adaptogens are a unique class of herbs and fungi that remarkably help the body adapt to stress, support normal metabolic function and help restore equilibrium in the body. They increase the body's resistance to physical, biological, emotional and environmental stressors and help boost our defence response to acute and chronic stress.
Lingzhi (reishi's Chinese name) translates as "spirit plant," and this mushroom has a long history of use in Chinese medicine. Traditionally it is used to nourish the Chinese heart, which stores shen. The term shen usually is translated as "spirit," though that term is frequently misunderstood by non-Chinese speakers. Shen is a person's mind/consciousness and his/her emotional balance. Disturbances of shen cause anxiety, insomnia, bad dreams, fatigue, weakness, moodiness, confusion, irritability, poor memory and others. Reishi may be used for individuals with these conditions, along with other adaptogenic or sedative herbs.
Lion's Mane is described as a natural nootropic. What is this and why is it considered a Brain Power Super-Mushroom?
Lion's Mane is another incredible and popular medicinal mushroom touted for its brain protective qualities. It has been studied and shown to act as a natural nootropic -improving mood, memory and focus while also providing protection against age-related cognitive decline.
Lion's mane has been shown to support:
Mental clarity
Memory and learning
Concentration
Cognitive enhancement
Nervous system health
Gut health
Immune health
I've been trying Rainbo products for about two weeks now and what I really appreciate about them is their versatility and sweet, earthy flavor. They're not just supplements, but really do add a great flavor to recipes. When you created the Rainbo products, how did you envision them in a daily routine and integrating them into a holistic lifestyle?
I'm so thrilled to hear that you're enjoying the flavor profile! I also love the earthy, subtly sweet mushroom flavour and the tinctures are definitely easy to add to recipes like soups, smoothies, baking and beyond.
I envisioned the products really flowing seamlessly into people's routines and habits. That's why I chose to go with dual extract tinctures: the liquids are potent, bioavailable to the body, quick to absorb, don't require blending and can be dropped instantly into water, matcha, coffee or beneath the tongue. As an aesthete, I wanted the whole experience to be beautiful and sacred, so the bottles and every detail in between were considered so that these mushrooms could sit on countertops around the world! Reminding people to take their mushrooms, to nourish themselves and to reconnect to nature (ie. oneself).
Rainbo utilizes sustainable practices and is dedicated to giving back to the environment and communities. Can you explain what this process looks like and how do you see yourself growing as a sustainable business?
Since the beginning, social entrepreneurship and sustainability have been values of mine that I wanted embodied and brought to life through Rainbo. Sustainable practices have been part of my business decisions since Day 1: everything from sourcing our mushrooms locally instead of from overseas, to recyclable packaging, labels without plastic, recyclable-paper based shipping materials and of course our non-profit partners who we donate a portion of our profits to: One Tree Planted, Black Health Alliance, and various other mutual aid community care organizations.
I am so grateful to be able to grow my small business during this time of uncertainty, it's really a privilege and it's so clear to me and our Rainbo team that abundance needs to be shared and distributed so that we can all rise, thrive and get healthier together.
Rainbo is mission and values oriented, so it becomes pretty simple to check big business decisions against these values, in fact, it makes many decisions much easier. I see our growth and sustainability efforts hand in hand, evolving together – and I'm really really excited about that.
Share this article