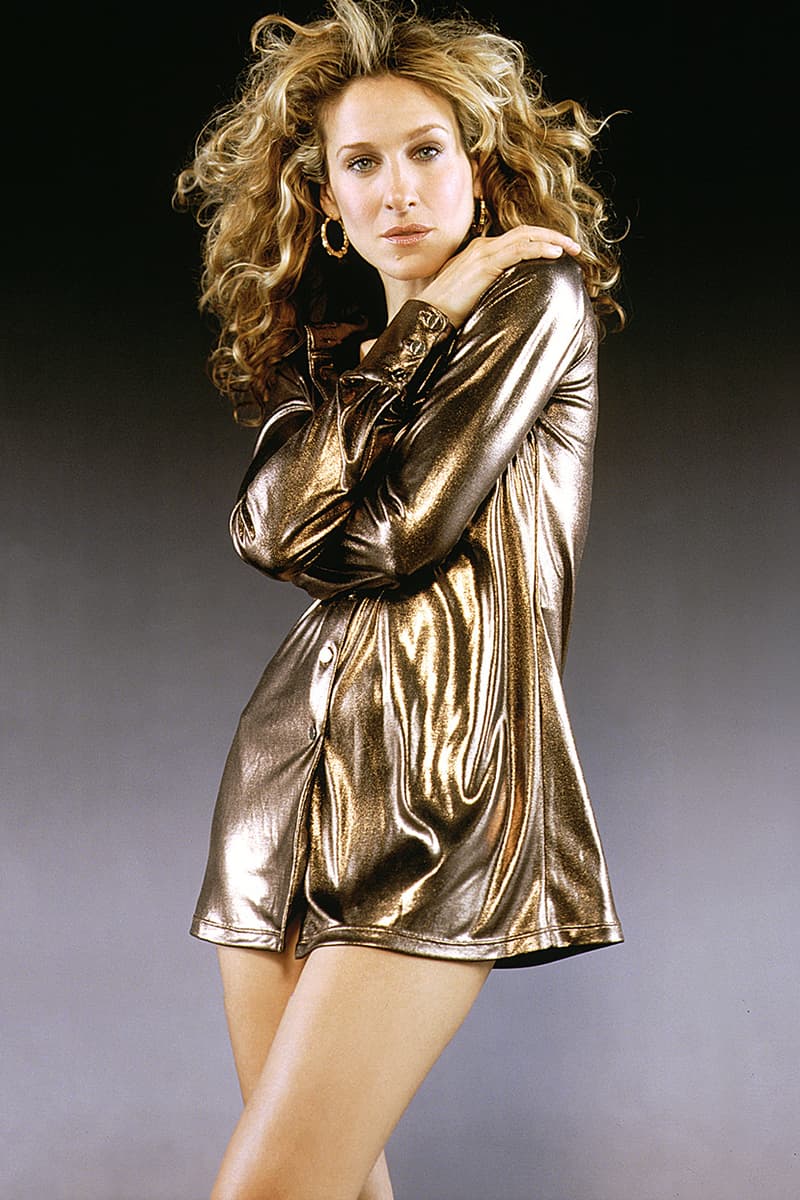 10 of Carrie Bradshaw's Most Memorable 'Sex and the City' Outfits
SJP's character has inspired the wardrobes of generations of style enthusiasts.
Film & TV
10 of Carrie Bradshaw's Most Memorable 'Sex and the City' Outfits
SJP's character has inspired the wardrobes of generations of style enthusiasts.
Sex and the City premiered its first episode on June 6, 1998. And, just like that, Carrie Bradshaw changed fashion as we know it.
For decades, from the show's early days to the SATC blockbuster era, the fashion-plate protagonist has inspired the wardrobes and style sensibilities of generations of fashion enthusiasts across the globe, and beyond — Carrie, along with stylist Patricia Field, launched some of the largest names and trends of Y2K fashion. Think Manolo Blahnik, the Fendi Baguette and the nameplate necklace, just to name a few.
In a word, Carrie's style is eclectic. Her dedication to experimentation is impressive; her sense of play is infectious and her ability to rock a look is unparalleled. At one point or another, Carrie has made us want to wear cowboy hats, tutus and bustle skirts. She has even made knickerbockers look chic! From high-fashion Alaïa and COMME des GARÇONS looks, to '90s slip dresses and knit rompers, Carrie has had a number of totally aspirational, totally memorable outfits over the decades.
To celebrate the premiere of the show's highly anticipated reboot And Just Like That…, and many more major Carrie fashion moments to come, we take a look back at 10 of the character's chicest Sex and the City looks of all time.
The Tutu (Opening Credits)
View this post on Instagram
The tutu that almost wasn't. It's hard to imagine, but Carrie's famed tutu wasn't SATC producers' first choice to outfit the show's opening sequence. After finding the iconic tulle skirt in a showroom bargain bin, stylist Patricia Field had to persuade showrunner Darren Star to feature the look. "It was very difficult for the producers to understand the tutu," Field told Entertainment Weekly in 2017. "Sarah Jessica and I were fighting for it, and Darren said, 'Okay, but I want other outfits as possibilities.'" One of the alternate looks? A prim blue dress from Marc Jacobs' Spring/Summer 1998 collection. In the end, Darren opted for the tutu. And we're glad he did. Perhaps more so than any of her other looks, the tutu fully embodies Carrie's inimitable approach to dressing: chic, eclectic and unexpected.
The Meet Cute Look (Season 1, Episode 1)
View this post on Instagram
Today, we know and love Carrie for her offbeat, often maximalist styling. Back in Season 1, however, the protagonist's style leaned minimalist. In the show's first-ever episode, Carrie runs into Mr. Big for the first time wearing a wrap dress, patent Prada purse and a pair of heeled Mary Janes — all in an uncharacteristically all-black palette. While Carrie's style has evolved since these early days, there's no denying that this is one eternally chic look.
The Naked Dress (Season 1, Episode 6)
View this post on Instagram
In Season 1, Episode 6, the SATC ladies describe Carrie's slinky, beige DKNY dress in a number of phrases: "fabulous," "tits on toast" and just plain "sex." However, no figure of speech has stuck quite like "the naked dress." While Carrie wasn't the first to wear the ubiquitous red carpet (and date night) look, she was the first to coin it. On the show, Carrie wore the look on her first date with Mr. Big. And, in real life, Sarah Jessica Parker donned the look to the VH1/Vogue Fashion Awards, nearly a year before the show aired.
French Girl Style (Season 1, Episode 12)
View this post on Instagram
This is Carrie's take on the classic "French girl" look. Worn to hop a flight to St. Barts with Mr. Big in the Season 1 finale, this Riviera-ready look reminisces Brigitte Bardot and Isabelle Adjani's L'Été meurtrier, in a bateau neck T-shirt, opera gloves and cherry peep-toe pumps.
The Revenge Dress (Season 2, Episode 18)
View this post on Instagram
At the end of Season 2, Carrie confronts a now-engaged Mr. Big wearing an ethereal white slip dress. The scene is the perfect — and perfectly cathartic — send-off to an ex-lover. And the dress is the most appropriate look for the occasion.
The Newsprint Dress (Season 3, Episode 17)
View this post on Instagram
Over the course of Sex and the City, Carrie — along with the show's stylist Field — launched some of the biggest trends and names in 2000s fashion. Think flower brooches and also the Christian Dior newsprint dress, worn during the show's third season. While the newspaper print trend persists into the 2020s, via brands like Miaou and celebrities like Kim Kardashian, among others, the look will always be synonymous with Carrie and Dior.
The Pond Dress (Season 3, Episode 18)
View this post on Instagram
For fashion lover and style admirers alike, the magic of Sex and the City exists in the symbiosis between plot and wardrobe. Sometimes, an outfit makes a scene. And vice versa. Would Carrie and Big's Season 3 pond plunge be just as memorable without the help of one Richard Tyler dress? It's as though the chiffon, bias-cut frock was made precisely for the scene. Or was the scene made for it? Either way, both this dress and the scene it outfitted are two unforgettable Carrie moments.
The Not-So-Morning-After Look (Season 3, Episode 18)
View this post on Instagram
After falling into a pond and effectively ruining her Richard Tyler dress, Carrie toweled off at Mr. Big's apartment, rebuffed his advances and delivered us her own take on the "morning-after" look: Big's shirt cinched with a slick Hermès belt. Wearable? Barely. But endlessly aspirational? Absolutely.
Y2K Trends (Season 4, Episode 7)
View this post on Instagram
Crop tops, newsboy caps and the low-rise. These are just a few of the ultra-Y2K trends Carrie sported during Sex and the City's original run. Here, in the show's fourth season, Carrie wears all her favored aughties trends in one midriff-baring look.
Eclectic Chic (Season 4, Episode 11)
View this post on Instagram
Plaid miniskirt? Check. Gucci waist pack, pearl necklace and capelet blazer? Check, check and check. Fluffy scrunchie? Why not! It's "…Baby One More Time" by way of "ladies who lunch." But it's also 100% Carrie. What makes the SATC protagonist's style so endlessly compelling is her sense of play, her dedication to the mix-and-match. Outfits like this one just shouldn't work. But they do — they really do. And they're Carrie Bradshaw at her very best.
---
Zoë Kendall is a writer and editor specializing in fashion and culture.
Share this article