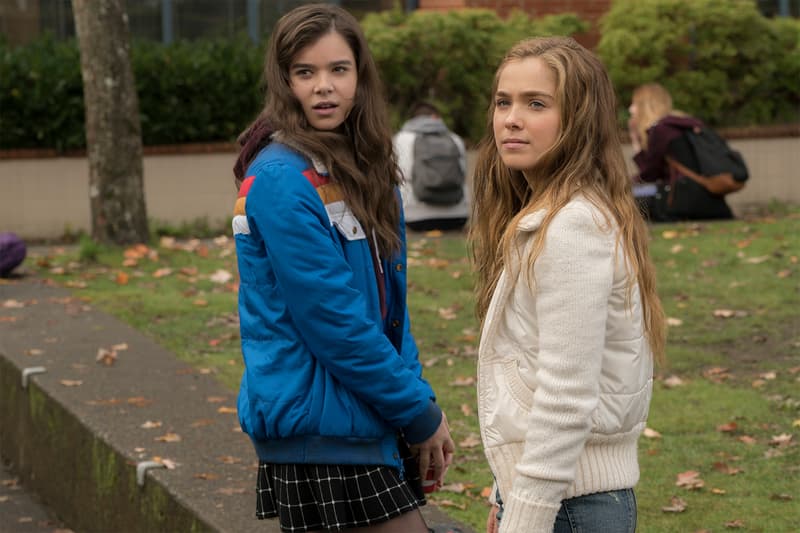 Film & TV
The 12 Best High School and Teen Movies To Watch on Netflix
From 'The Kissing Booth' to 'The Edge of Seventeen,' these films will take you back in time.
The 12 Best High School and Teen Movies To Watch on Netflix
From 'The Kissing Booth' to 'The Edge of Seventeen,' these films will take you back in time.
If you're on the hunt for new titles to binge on, teen movies are guaranteed to keep you entertained and even evoke the feeling of nostalgia, bringing back memories of your high school days. Below, we've gathered our top picks from the film category that are currently available to stream on Netflix. From 2016 coming-of-age comedy-drama The Edge of Seventeen, with Hailee Steinfeld playing the protagonist, to 2018 rom-com The Kissing Booth starring Joey King and Jacob Elordi, scroll down to discover all the films we're adding to our list.
For more movie recommendations, here are some of the best comedy films and romantic comedies of all time.
Easy A
Clean-cut high school girl Olive (Emma Stone) gets caught in her own pool of lies after telling her best friend Rhiannon (Aly Michalka) she lost her virginity to a non-existent college freshman, when in fact, she did not. Becoming the next rumor mill victim after Olive's classmate Marianne (Amanda Bynes) starts to spread her secret, Olive embraces her new reputation by wearing a red A, which stands for "adulterer," on her clothes, just like Hester Prynne in The Scarlet Letter.
Moxie
Inspired by her mom's rebellious past, 16-year-old Vivian (Hadley Robinson) starts a school-wide revolution to protest against her school's unjust system regarding gender equality. Alongside her friends Lucy (Alycia Pascual-Peña), Amaya (Anjelika Washington), CJ (Josie Totah), Claudia (Lauren Tsai), Kaitlynn (Sabrina Haskett) and Kiera (Sydney Park), the girls fight for their rights and call out misogynistic individuals like Mitchell (Patrick Schwarzenegger).
#RealityHigh
Studious senior Dani (Nesta Cooper) is focused on getting into the college of her dreams, U.C. Davis. However, when her longtime crush Cameron (Keith Powers) gets dumped by her former childhood best friend Alexa (Alicia Sanz), Dani and Cameron start to build a connection, distracting her from her goals. Out of the blue, Alexa decides to befriend Dani again. Being exposed to a different group of friends, Dani discovers a new lifestyle she grows to love but learns down the road that having a high social status isn't everything.
Sierra Burgess Is a Loser
Sierra Burgess Is a Loser is a modern adaptation of Edmond Rostand's 1897 play called Cyrano de Bergerac. Football jock Jamey (Noah Centineo) is head over heels for popular girl Veronica (Kristine Froseth). After being asked for her number, Veronica — who isn't interested in Jamey — asks Sierra (Shannon Purser) to pretend to be her in text messages. Over time, Jamey starts to fall for Veronica even more, unaware that he is actually speaking to someone else.
Tall Girl
Growing up, Jodi (Ava Michelle) has always been insecure about her height. Now six feet and a half tall, the 16-year-old high schooler meets Swedish foreign exchange student Stig (Luke Eisner) who is just as tall as her, making her feel more comfortable in her own skin. Realizing things were too good to be true, Jodi gets caught in a love triangle with Stig and her bully Kimmy (Clara Wilsey).
The Edge of Seventeen
The Edge of Seventeen is a coming-of-age film that centers on high school junior Nadine (Hailee Steinfeld). Her life turns upside down when she walks in on her popular older brother Darian (Blake Jenner) and best friend Krista (Haley Lu Richardson) almost having sex. Trying to accept the fact that Darian and Krista are together, Nadine feels alone more than ever. Thankfully, her classmate Erwin (Hayden Szeto) keeps her company while she tries to figure out how she can get the attention of her crush Nick (Alexander Calvert).
The Half of It
Introvert straight-A student Ellie (Leah Lewis) earns extra money by doing her classmates' homework while helping her widowed father perform his duties as station master and signalman in their hometown of Squahamish. Ellie's life becomes more interesting when football player Paul (Daniel Diemer) asks Ellie to help him write a love letter to his crush Aster (Alexxis Lemire). However, Ellie and Paul's friendship gets complicated when Ellie discovers she too has feelings for Aster.
The Kissing Booth
Childhood best friends Elle (Joey King) and Lee (Joel Courtney) have practically known each other their whole lives. However, things get a little awkward between them when Elle forms a budding romance with Lee's older brother, Noah (Jacob Elordi), after they make out at a kissing booth she organized for their school fundraiser.
The Perks of Being a Wallflower
Based on Stephen Chbosky's 1999 novel of the same name, The Perks of Being a Wallflower follows the story of socially awkward freshman Charlie (Logan Lerman). Two outgoing seniors – Sam (Emma Watson) and her stepbrother Patrick (Ezra Miller) – become his mentors, breaking Charlie out of his shell and expose him to a whole new world outside his comfort zone.
The Outcasts
Best friends Jodi (Victoria Justice) and Mindy (Eden Sher) are fed up being constantly bullied by popular girls Whitney (Claudia Lee) and Mackenzie (Peyton List). As revenge, Jodi and Mindy bring together the school's outcasts and start a revolution to dismantle the social hierarchy.
To All the Boys I've Loved Before
Lara Jean (Lana Condor) has written five love letters to her past crushes from her grade school days, without the intention of ever sending them. However, when her little sister Kitty (Anna Cathcart) finds the collection of letters, she mails them out. The following week, one of the boys who she wrote to, Peter (Noah Centineo), confronts her about it. Having just been dumped by his ex-girlfriend Gen (Emilija Baranac), Peter asks Lara Jean to be his fake girlfriend to make Gen jealous. However, their deal becomes a little complicated as both Peter and Lara Jean start to develop real feelings for each other.
Work It
Quinn (Sabrina Carpenter) is determined to get into Duke University. During her admissions interview, she is told that her straight As can only get her so far. Out of panic, Quinn lies and tells the admissions counselor she is part of her high school's dance team, The Thunderbirds. Not having any background in dance, Quinn asks her friend Jasmine (Liza Koshy) to help train her before her audition, which she flunks. As a result, Quinn starts her own dance group with the former champion of the "Work It" competition, Jake (Jordan Fisher), who becomes the choreographer of her team.
---
Share this article