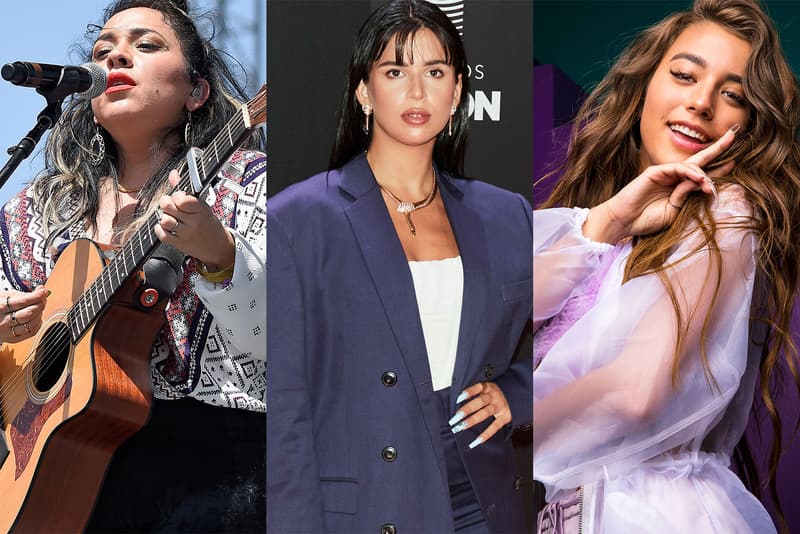 Music
The Top 7 Latin Artists To Watch in 2021
Get to know the emerging talents dominating the Latin music scene.
The Top 7 Latin Artists To Watch in 2021
Get to know the emerging talents dominating the Latin music scene.
The versatility of Latin music is unmatched — from Mexican ballads and contemporary bachata, to Colombian salsa and Latin pop, the catch-all genre has evolved over time with immense change and growth. Every year, the industry continues to expand with up-and-coming talents bringing even more excitement to the Latin music scene. For those looking to explore new tunes, below, we are highlighting some of the best Latin artists you should be listening to in 2021. From Los Angeles-based artist Alaina Castillo to Barcelona-based Argentinian singer Nathy Peluso, read on for a list of musicians you need to add to your playlist.
For more music recommendations, here are the top K-hip hop artists to watch this year.
Alaina Castillo put herself on the map when she dropped her single "i don't think i love you anymore" in 2019 and her hit track "just a boy" in 2020. Known for delivering a harmonic blend of pop, R&B and hip hop, Castillo incorporates her heritage into her work by combining the English and Spanish languages in the lyrics. Thanks to her the voicenotes EP, the young artist landed a spot in Spotify's U.S. RADAR Program last year.
Listen: Spotify | Apple Music
Chilean singer-songwriter Cami specializes in pop and rock, with songs that center on heartbreak, lust and grief. In 2021, Cami earned a Grammy nomination for the Best Latin Rock or Alternative Album award with her Monstruo album. The 24-year-old artist is currently putting together her third album, which she describes as "feminist" and "powerful."
Listen: Spotify | Apple Music
Mexican indie-pop singer and composer Carla Morrison has been in the music game since 2009 when she released her debut EP Aprendiendo a Aprender, which was independently produced at Jordan Beriault's home studio in Tempe, Arizona. By 2012, Morrison dropped her first full-length album, Déjenme Llorar, comprised of 14 tracks. The album was nominated in several categories at the Latin Grammy Awards, and received a Grammy Award nomination for Best Latin, Rock, Urban or Alternative Album in 2013.
Listen: Spotify | Apple Music
At the young age of 11, Chesca was signed to Sony but unfortunately had to put a hold on her career due to a tragic boating accident. The singer made the decision to move to Miami to reignite her passion for music. Now based in LA and signed to Saban Music Group, Chesca has a talent for creating upbeat tracks that blend Latin and Reggaeton sounds. Last year, her collaborative track "Te Quiero Baby" with Pitbull and Frankie Valli earned the artist her second No. 1 on Billboard's Latin Airplay chart. Since the start of 2021, Chesca has been rolling out a number of bops including "Como Tu Me Querias (Remix)" and "COMO TU (DIRTY).
Listen: Spotify | Apple Music
At 19 years old, Elena Rose decided to pursue her dream of becoming a singer instead of following the path of journalism. Having begun performing at local bars, Rose eventually had the opportunity to collaborate with Ricky Martin, as well as Becky G and rapper Myke Towers on "Dollar." By 2020, the songstress made her debut by releasing "Sandunga," "Fenomenal" and "La Ducha." Most recently, Rose was credited as one of the songwriters on Selena Gomez's "De Una Vez."
Listen: Spotify | Apple Music
Nathy Peluso, a Barcelona-based Argentinian singer-songwriter and producer, emerged on the music scene four years ago by independently releasing a seven-track EP titled Esmeralda. The next year, Peluso debuted her second EP La Sandunguera with Everlasting Records. After establishing her solo career, Peluso went on a tour with her band Big Menu and performed at BBK Live, Sónar and the Festival Internacional de Benicàssim. By 2019, the artist signed with Sony Music Spain. Last year, Peluso released a single titled "Buenos Aires" that received a Latin Grammy nomination for "Best Alternative Song." Shortly after, she announced her debut studio album Calambre.
Listen: Spotify | Apple Music
The first Latin artist to sign to indie label Glassnote Records in 2020, emerging artist Silvana Estrada is known and loved for her soothing yet commanding voice. Her music has even gained the attention of Mexican pop-rock and folk singer Natalia Lafourcade. On tracks such as "Para Siempre" and "Carta," Estrada's vocals show that they have the ability to put listeners in a trance. ​
Listen: Spotify | Apple Music
Share this article