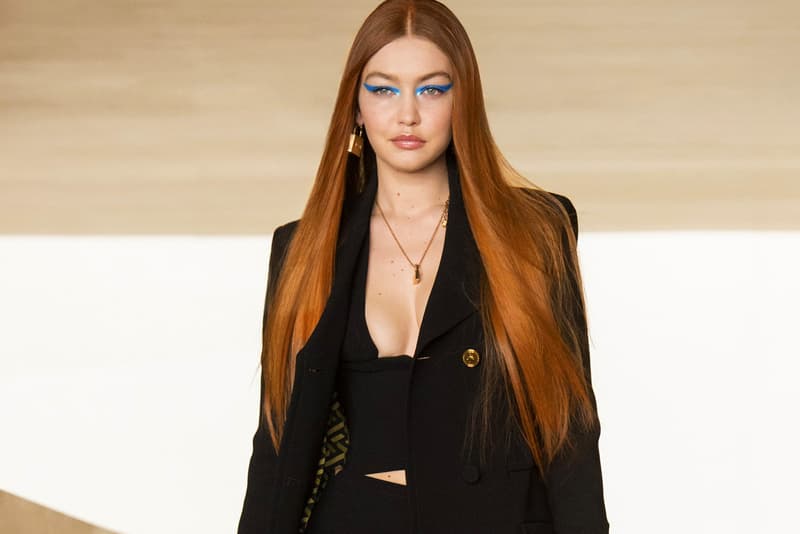 Beauty
Red Hair Is Hotter Than Ever — Here's How To Get the Look at Home
Expert colorists share their tips for going ginger.
Red Hair Is Hotter Than Ever — Here's How To Get the Look at Home
Expert colorists share their tips for going ginger.
The weather is getting warmer, and so is our hair — red locks are hotter than ever, thanks to perennial trendsetters Gigi and Bella Hadid. Last month, the former made her post-pregnancy runway comeback at Versace, opening and closing the house's Fall/Winter 2021 show with a sleek, copper-toned mane courtesy of hairstylist Panos Papandrianos. The model and new mom later took to Instagram Stories to explain that her new color was inspired by The Queen's Gambit, the hit Netflix show starring Anya Taylor-Joy as an auburn-haired chess prodigy.
A precursor to her sister's transformation, Bella debuted a fiery 'do in January, stepping out with face-framing red streaks. And, of course, long before the supermodel duo came ginger icons Julianne Moore, Amy Adams and Emma Stone. If you're looking to go scarlet but don't feel comfortable venturing to a salon just yet, fear not — we consulted with expert colorists for their tips on how to achieve the red-hot look at home.
Pick a shade that complements your skin tone
Even if you don't think you can pull off ginger hair, there's a shade of red out there for everyone. "Ideally, there should be a nice contrast between a person's hair color and skin tone," says Jane Adler, head stylist at Hally, a recently launched line of ammonia-free hair dye. 
"For example, a warm auburn-red would best suit someone that has a pinkish skin tone. On the other hand, a deeper brown-auburn would better suit someone with a cooler complexion," she explains. Celebrity hairstylist Justin Anderson agrees: "Warm skin tones should go with a warmer shade of red and vice versa," he posits. (If you're unsure whether your skin is warm or cool, check out this handy guide.) Warmer shades of red will appear more orange, à la Karen Elson and Madelaine Petsch, while cooler tones verge into burgundy (think Kehlani and Rihanna at the 2019 BET Awards).
Prep your hair for dye
"We always recommend you do a sensitivity test 48 hours before dying your hair any color, no matter what color your hair is to start with," Adler says. Apply a small amount of the hair dye you plan to use on an inconspicuous part of your body — like the inside of your elbow — and keep your eye out for an allergic reaction. The last thing you want is an irritated, itchy scalp, so don't skip this step.
While you're at it, Anderson recommends removing product buildup and adding moisture with a clarifying and conditioning mask. He uses Olaplex's No. 8 Bond Intense Moisture Mask a few days before coloring. Most importantly, don't forget to wash your hair 24 hours before dyeing. "The day after you shampoo is the best for coloring," Adler maintains. Once you get down to business, apply a barrier cream like Vaseline around your hairline and ears to prevent the dye from staining your skin. 
Extend the life of your new dye job
To preserve your newly red hair, try shampooing less often. When you do wash your hair, use a sulfate-free and color-safe shampoo. Red-color conditioners can also help refresh your hair color in-between dye jobs. Haircare brand oVertone offers a range of color-depositing shampoos and conditioners.
For those with oilier hair that requires more frequent washing, Anderson suggests dpHUE's Apple Cider Vinegar Rinse. "This is a great shampoo substitute that won't strip the color from your hair but still leaves your hair feeling clean and shiny," he endorses. 
Of course, touch-ups are inevitable — Adler notes that the further you dye your hair from its natural color, the higher maintenance it will be. In addition, red hair in particular requires more upkeep than other shades. "Typically, touch-ups will need to be done every four to six weeks, depending upon how fast your hair grows. When choosing to dye it red, that timeframe shifts closer to three to four weeks," Adler cautions. "You'll notice the ends of your hair lose their vibrancy more quickly and can look dull as quick as two to three weeks."
Minimize hair damage
It's a well-known fact that hair dye can dry out your strands, causing them to become brittle and break. To minimize damage, always read the instructions on your dye box and do not exceed the color's recommended processing time. In addition, Adler mentions that going lighter is always more damaging than depositing color or going darker.
Post-dye, Anderson uses Olaplex's No. 3 Hair Perfector to reduce breakage and strengthen locks. Similarly nourishing products include Kérastase's Reflection Mask for Color-Treated Hair and Color Wow's Money Mask.
Share this article