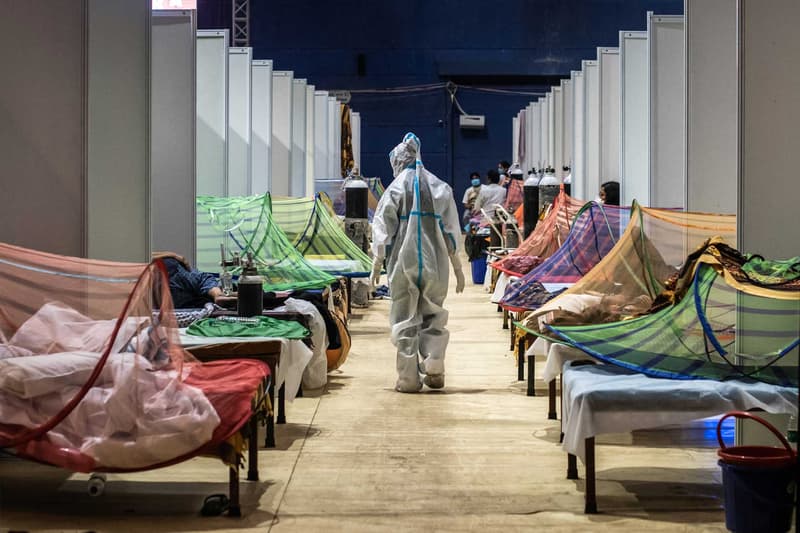 Health
How To Help India During the COVID-19 Crisis
India is experiencing a devastating surge in coronavirus cases — here's how to help provide relief.
How To Help India During the COVID-19 Crisis
India is experiencing a devastating surge in coronavirus cases — here's how to help provide relief.
India is battling a devastating surge in COVID-19 cases that has depleted the country's oxygen supply and overwhelmed its healthcare system. On Saturday, the government reported over 400,000 new COVID cases in a single day. Over 200,000 patients have died, a number many believe is actually much higher.
The New York Times reports that a variant of the virus, B.1.1.7, is behind the spike. Though India appeared to have cases under control just months ago (numbers were steadily declining as of February), officials loosened social distancing guidelines and were slow to respond when infections began creeping upward in early March. Compounding the crisis, less than 10 percent of Indians have received one dose of the COVID vaccine, despite the fact that India is a leading vaccine manufacturer.
As demand for oxygen, hospital beds and protective equipment exceed supply, organizations and activists are working to provide patients and frontline workers with PPE, ventilators, food and other necessities. Below, we've rounded up a list of initiatives to donate to, including organizations that accept contributions via international credit card.
The Aahwahan Foundation is providing healthcare supplies including PPE, oximeters, oxygen cylinders and hospital beds to remote villages in India.
Confederation of Empowerment Initiatives is collecting funds to provide tribal and rural families living in Maharashtra with PPE and month-long rations of food supplies. Many of these families are living below the poverty line and do not receive any government assistance.
Doctors in Diaspora is seeking doctors outside of India to remotely volunteer to augment the country's medical capacity. Volunteers will assist doctors working in quarantine centers and makeshift hospitals, provide training to medical personnel in India and connect with homebound patients in the country.
HumSafer, an organization advocating for the safety and wellbeing of truck drivers in India, is organizing to ensure these frontline workers — responsible for ferrying oxygen cylinders to hospitals — receive hazard pay and have access to mobile vaccination centers.
New Dehli-based non-profit Light Up (Emotions Matter Foundation) has launchd a fundraiser on Ketto, an Indian crowdfunding website, to provide PPE and ration kits to children and families in the sex worker community.
Mercy Mission, a coalition of NGOs based in Bangalore, is raising money to provide the city with food, oxygen cylinders and emergency transportation amidst the COVID crisis.
A group of entrepreneurs has banded together to launch Mission Oxygen, a campaign to purchase and deliver oxygen concentrators to hospitals in need.
Mukul Madhav Foundation has launched a fundraising campaign, #FightBackWithKindness, to provide marginalized communities, hospitals, caregivers and frontline workers with oxygen concentrators, ventilators, PPE and warm meals.
Rapid Response, India's leading disaster response agency, is distributing food essentials including rice, oil and sugar to families across the country.
India's Transgender Welfare Equity and Empowerment Trust is setting up and running shelter homes in Mumbai, providing trans folks places to stay during the pandemic.
GoFundMe has launched a page of verified initiatives providing COVID-19 relief to India.
Share this article