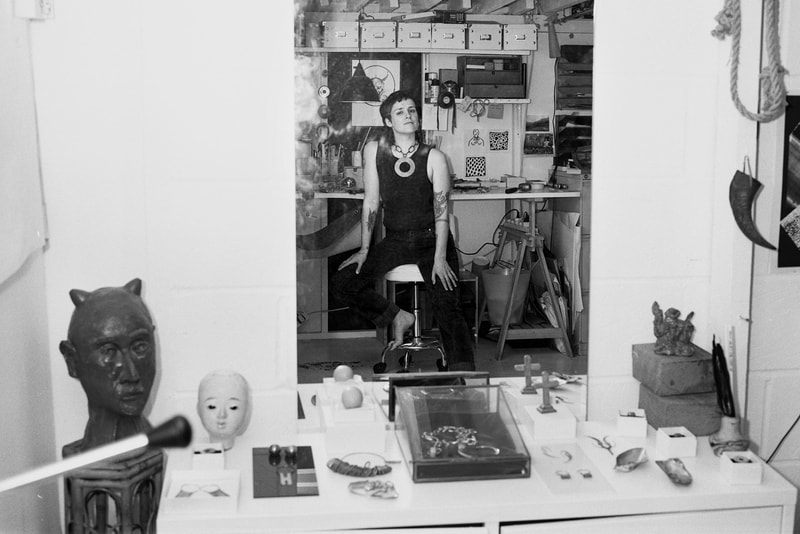 Fashion
For Mutter Founder Helena Vieira, Jewelry Is Sensual, Powerful and Precious
With a background in sword-making, Vieira brings a fierceness — and delicacy — to her designs.
For Mutter Founder Helena Vieira, Jewelry Is Sensual, Powerful and Precious
With a background in sword-making, Vieira brings a fierceness — and delicacy — to her designs.
"Battered metal" — it's the Instagram bio of Mutter, a UK-based jewelry brand founded by Helena Vieira. The phrase, one that recalls the strength and malleability of Vieira's materials of choice, is an apt description at that.
The designer, who discovered her passion for metal work while studying in Lisbon, forges a path between hard and soft, vigor and delicacy. A phallic appendage, reminiscent of a flower's pistil, sprouts from a heart-shaped charm engraved with the word "baby." A pair of gold hoops model sirens, mythological temptresses, after the Venus of Willendorf, the earliest known representation of woman. A literal "cock ring" riffs on the ouroboros, replacing a circular serpent with a penis that appears to be eating itself.
As tongue-in-cheek as Vieira's designs are, they exude a sense of deep significance. You can almost feel the craftsmanship that went into creating these tokens — the tactile nature of the rounded, globular shapes Vieira works with aren't overly fussy; they instead mimic the organic nature of something you might discover washed ashore, perfectly worn by the waves. They're pieces meant to be treasured both as objects and modes of self-expression.
We spoke with Vieira about the connection between strong women and jewelry, as well as the inspiration behind her designs.
How did you originally get involved in jewelry design, and what led you to launch Mutter?
It wasn't a linear path. I took a beginner's [jewelry-making] course [in Lisbon] for a few weeks and I loved it, but with a degree to finish and a new found love for photography, I didn't think about jewelry again until I was living in London four or five years later. By that point in my life, I was trying to carve a path of my own, one in which I felt connected to my ancestry, to strong women and to my passion for working with metal. It took experimenting with metal in different ways and slowly uncovering memories of spending time at my grandmother's home with my mother, digging through their past in their wardrobes and jewelry drawers. I wanted to be enmeshed in that world on a daily basis and share it with others.
You have a background in metal smithing and sword making — can you explain how those two crafts inform your work with jewelry?
I developed an obsession for blades pretty early on in my work with metal. They are sensual and deadly and hold a tension that I am drawn to. The act of forging is incredibly powerful in a metaphysical sense, from the chemical elements in steel to the act of using fire and water to anneal and quench. Striking while the iron is hot using the right amount of balance, strength and precision feels like poetry in motion and I try to encapsulate that battered quality into my designs, even when I am carving them in wax.
Who or what inspires your designs?
I think my work holds a tension between the sensual, the bold and the odd. Each collection focuses on different experiences in my life, from clean lines drawn from industrial components (my background in Product Design), to designing forged and mudlarked inspired objects (my affinity with metal smithing and ancient jewelry), to feeling isolated in the first lockdown and carving penises out of wax as a way to invoke human connection. This current collection with women blossoming out of flowers is how I wanted to feel emerging into spring after last winter's lockdown.
Mutter means mother in German. How did you select that name?
From the moment I was born, the women in my family have always given me jewelry. You keep these offerings with you until you pass them down or pass away. Both my mother and grandmother wore a lot of jewelry all the time; it felt like an inextricable part of who they were. As a child, I would often sneak into their rooms to browse their treasures and sometimes they would tell me stories about them. I have this memory of visiting an abandoned family home that my grandmother grew up in and finding some family jewels, like treasures that had been lost in time. These memories are precious to me and catalyzed my desire to connect to ancestry through jewelry.
Some of your recent work incorporates male and female anatomy. How do sex and gender play into your designs?
I have a flirty personality and I think that transpires in my work. Sometimes I like to beat around the bush with an abstract approach and other times I get straight to the point. I think of these pieces as tokens of that kind of expression.
Do you have any upcoming projects you can speak about?
I have started a long-term, ongoing project with the photographer Renate Ariadne in which we each respond to each other's work through photography and jewelry. This year I also plan to begin offering home accessories and small sculptures as part of my line.
---
Share this article