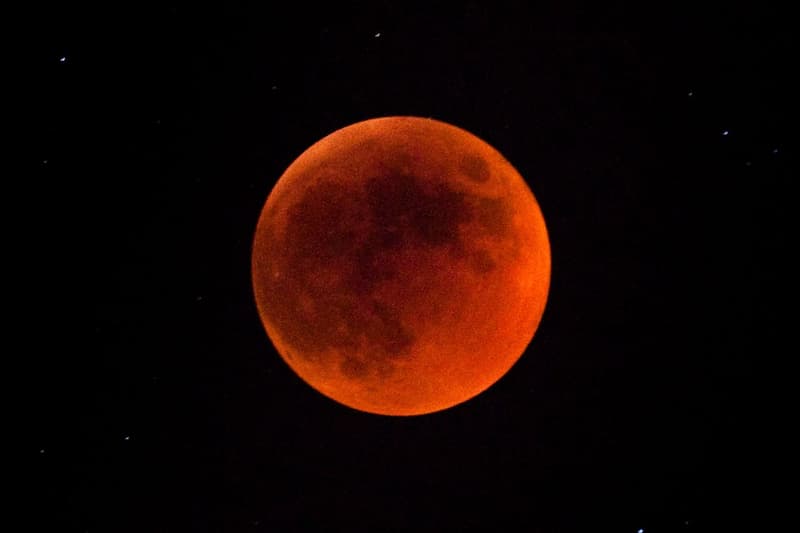 Culture
Here's How You Can Watch the "Super Flower Blood Moon" Lunar Eclipse Next Week
The last total lunar eclipse of the year.
Here's How You Can Watch the "Super Flower Blood Moon" Lunar Eclipse Next Week
The last total lunar eclipse of the year.
On May 26, the night sky will be taken over by a "Super Flower Blood Moon," the second and last lunar eclipse of the year.
As explained by NASA, a blood moon appears during a total lunar eclipse, which is when the Earth is in line with the moon and the sun, hiding the moon from any sunlight. "When this happens, the only light that reaches the Moon's surface is from the edges of the Earth's atmosphere," the agency explains. "The air molecules from Earth's atmosphere scatter out most of the blue light. The remaining light reflects onto the moon's surface with a red glow, making the moon appear red in the night sky."
The "Flower Moon" will be a supermoon, which means that the moon will appear larger and brighter than usual as it approaches planet Earth within 90 percent of perigee. It will also be a blood moon, as it will coincide with a lunar eclipse. The "Super Flower Blood Moon" will peak for around 14 minutes on the night of May 26.
The phenomenon, safe to view with the naked eye, will be visible on the "night" side of the Earth. This includes most of the United States and South America, as well as parts of Asia and Australia. The best spots will be in Hawaii, Alaska and Western states.
You can head to The Virtual Telescope starting at 3 a.m. PST (6 a.m. EST) on May 26 to see the "Super Flower Blood Moon" online.
In case you missed it, make sure to check out our guide to the solar and lunar eclipses of 2021.
Share this article