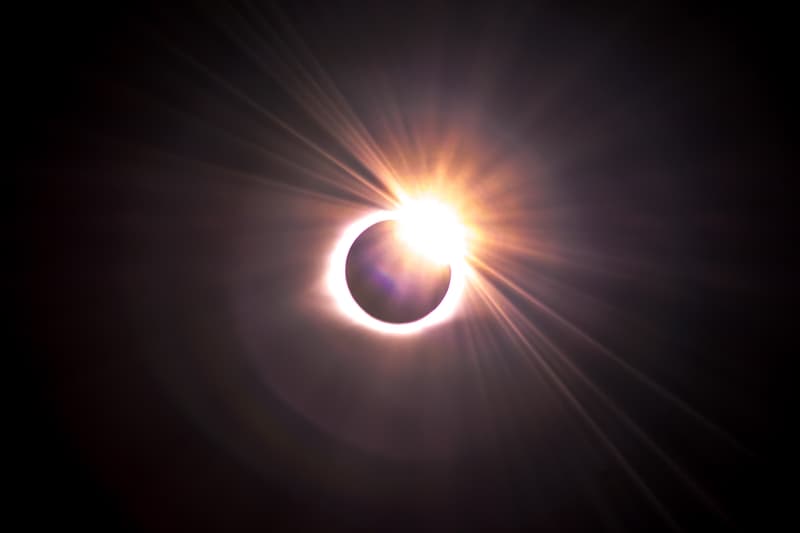 Culture
Your Guide to the Solar and Lunar Eclipses of 2021
An astrologer shares how these cosmic events may affect you.
Your Guide to the Solar and Lunar Eclipses of 2021
An astrologer shares how these cosmic events may affect you.
A total of four eclipses are set to take place in 2021, including two lunar and two solar eclipses. While some may see them as regular cosmic events, those who are interested in astrology may wonder how the upcoming eclipses will affect our lives.
There are two types of lunar eclipses: total lunar and partial lunar. According to NASA, total lunar eclipses are rare and typically occur when the "moon and the sun are on exact opposite sides of Earth." This causes the moon to look red and hence it is often referred to as a "Blood Moon." As for partial lunar eclipses, these happen at least twice a year. The way it looks depends on how the sun, Earth and moon are lined up.
A solar eclipse, which can be categorized as total solar, partial solar or annular solar, is when the moon casts two shadows on Earth. In terms of astrology, eclipses activate the lunar nodes on our birth charts due to the moon gliding across an elliptical that circulates around the zodiac. Comprised of north and south nodes, our birth charts will experience a shift during these cosmic events.
Below, Sanctuary astrologer Julia Modorsky breaks down each eclipse of this year and how you will be affected. Read on for the full guide, including specific dates to look out for.
View this post on Instagram
May 26: Sagittarius Lunar Eclipse
This eclipse will be asking us to let go of long-held beliefs, philosophies or perspectives we've been holding onto deep within us that are no longer a part of who we are. This will be a great and wonderful period of release as you purge those past selves to make way for your most authentic self in the now.
Check where 5°25' Sagittarius is in your chart to see where this will be influencing your life. What house is it in? Is it by any planets?
View this post on Instagram
June 10: Gemini Solar Eclipse
The Gemini solar eclipse will be a fresh period of communication, curiosity, adaptability and openness. Pay attention to the messages you receive and let your voice be free. This is our final Gemini eclipse of the cycle until the next decade or so. It'll be right next to Mercury Retrograde, so this can be more of a reflective and thoughtfully profound period. Neptune will square the eclipse — asking for compassion, not to forget oneness, the greater whole and your spiritual being.
Check where 19°47' Gemini is in your chart. What house is it in? Is it by any planets?
View this post on Instagram
November 19: Taurus Lunar Eclipse
This will be the first eclipse in Taurus since 2013, which was solar at the time and opposite Nodes. Ask yourself, what are you holding onto that you know isn't really necessary for you or doesn't serve you and your path forward? Are you possibly not letting go in fear of change or transformation (figurative death and rebirth) or of losing a sense of security?
This can be an illuminating period of newfound or re-discovered self-worth as well. Don't skip out on an Epsom salt bath if possible. Take care of your body and ask yourself where you feel rich in life. How can you also connect and release in and with nature?
Check where 27°14' Taurus is in your chart. What house is it in? Is it by any planets?
View this post on Instagram
December 3: Sagittarius Solar Eclipse
This will be the final Sagittarius eclipse for this cycle and a new period of embracing your truth and joy after so much release with the past Sagittarius eclipses, which began back in June 2020. This will be the time to really go for it after integrating all you've learned throughout this cycle.
Check where 12°22' Sagittarius is in your chart. What house is it in? Is it by any planets?
---
Having always been one to enjoy problem-solving, finding patterns and exploring the deeper meanings in life, Julia Arielle Modorsky discovered the intricate depths of astrology years ago and quickly made it her full-time career. Since joining Sanctuary in 2019, she's given thousands of readings to clients all over the world to help bring clarity, guidance and empowerment to their lives through the interworkings of the cosmos. You can find Julia giving readings on the Sanctuary app most nights, as well as on her Instagram.
Share this article