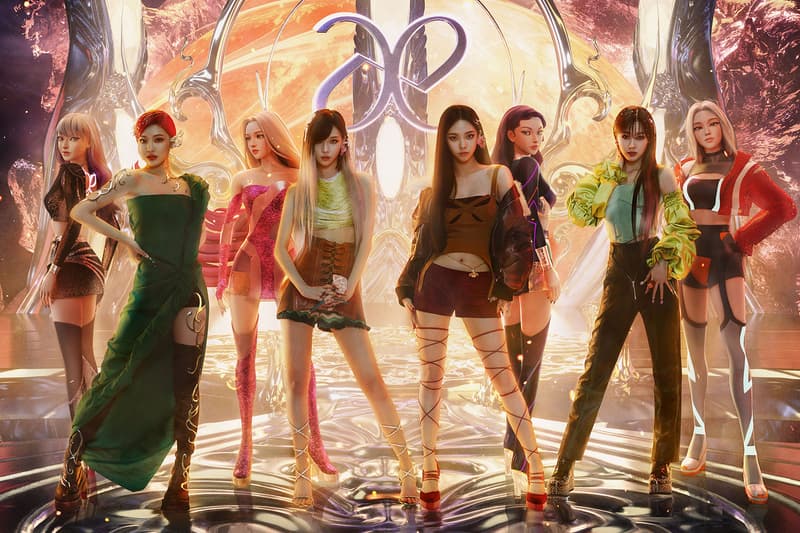 Music
aespa Expands Its K-Pop Universe With an Adventure to "KWANGYA"
We talk to members of the rising group about their virtual counterparts, new single "Next Level" and more.
aespa Expands Its K-Pop Universe With an Adventure to "KWANGYA"
We talk to members of the rising group about their virtual counterparts, new single "Next Level" and more.
In this "new normal" world that has become more digital than ever due to the ongoing pandemic, it only seems fitting that SM Entertainment would introduce its newest K-pop group, aespa, in a virtual hybrid format. Despite debuting in late 2020, when COVID-19 cases peaked in many parts of the world, the quartet garnered over 21 million streams on YouTube in just one day and marked the hottest K-pop debut by reaching 100 million views in less than two months. Following their sophomore release "Forever," the rising act now drop their much-anticipated third single "Next Level" with a CGI-filled music video.
The up-and-coming group's latest release serves as a further exploration of the aespa world, or the SM universe — similar references in "Next Level" are found in tracks by other SM artists like NCT U. KARINA, NINGNING, WINTER and GISELLE embark on a journey to a world called "KWANGYA" in order to defeat "Black Mamba," a villain that is disrupting the SYNK-powered world. As the story continues to unfold project after project, including an upcoming album on the horizon, aespa talks to HYPEBAE about the details behind the new single. Continue reading for our conversation with the four-member group.
It's been roughly half a year since your debut. How has the whole experience of releasing music and interacting with fans been so far?
KARINA Since our debut, we've been receiving a lot of love and support all around. Although it's only been about half a year, we have so much in store for our fans, from new music to exciting performances and content. We get excited thinking about showing everything to our fans. But most of all, I can't wait to finally meet our fans in person. When that day comes, I think I'll be very emotional, like going back to my hometown after a really long time of being away.
aespa is one of the very few K-pop groups that involve virtual characters. What were your thoughts when you initially heard about this concept?
WINTER When I first heard about the concept, I was very intrigued and excited to see how this story will unfold and be told through our music and performances. It's very refreshing and different from anything that we've seen before, so I am excited to be a part of it. As artists, it gives us a great opportunity to be creative and showcase unique, one-of-a-kind work.
With "Black Mamba" and "Forever," you've worked with two very different styles. Are there any genres or concepts you would like to try in the future? 
NINGNING There are so many genres and concepts I would love to try, but I am especially eager to try styles like R&B and jazz. I want to showcase as many different charms of aespa as possible through various refreshing concepts.
Tell us a little bit about your new single "Next Level."
KARINA Our new single "Next Level" is a hip-hop dance track that showcases powerful vocals and eclectic music arrangements. The lyrics tell the story of aespa and our personal avatar counterparts, "ae," going on an adventure to "KWANGYA" to find "Black Mamba," the antagonist that's threatening and interfering with our SYNK, which is the connection between ourselves and the "ae."
Apart from your music releases, you've also joined Givenchy as brand ambassadors. What do you love about the fashion house, as well as Matthew M. Williams' designs?
GISELLE We are delighted to be the new ambassadors for Givenchy. It's an honor to be able to work with the brand's Creative Director, Matthew. Working with the brand and modeling their clothes have broadened my perspective on fashion and further expanded my creativity on how I personally put together a look. I receive a lot of inspiration and influence from Matthew's work. There is so much more than what meets the eye. The more you learn about his work, the more you find yourself immersed in his designs and the creative processes behind them. It's really fascinating. I especially love the Givenchy chain necklaces and bracelets. They're definitely must-have items for me.
Other than work, what have you been up to at home? Are there any new hobbies or interests that you've each picked up?
KARINA I've been listening to a lot of different types of music these days. Usually, I enjoy R&B but these days, I'm really into music with a chilled vibe and mood. Songs like "Focus" by H.E.R. and "12:45" by Etham, for example. I've also been watching a lot of animated films on Netflix.
WINTER I enjoy watching Netflix while eating snacks in bed, or playing the guitar, even though I'm not very good at it (laughs).
NINGNING I like to draw or watch American TV shows while lying in bed.
GISELLE As I always have, I've been listening to a lot of music. These days, I'm really into making different playlists for different occasions and moods. I'll choose my playlist depending on what I'm doing and how I'm feeling on any given day.
Having debuted amidst a global pandemic, you've probably had a very different K-pop experience. What is the first thing you'd like to do once the pandemic is over?
NINGNING The first thing I'd like to do is to have a fan meeting so that we can finally meet our MYs in person. We've been communicating with them online for the most part, but I want to be able to perform our songs for them in person and create new memories together.
Share this article