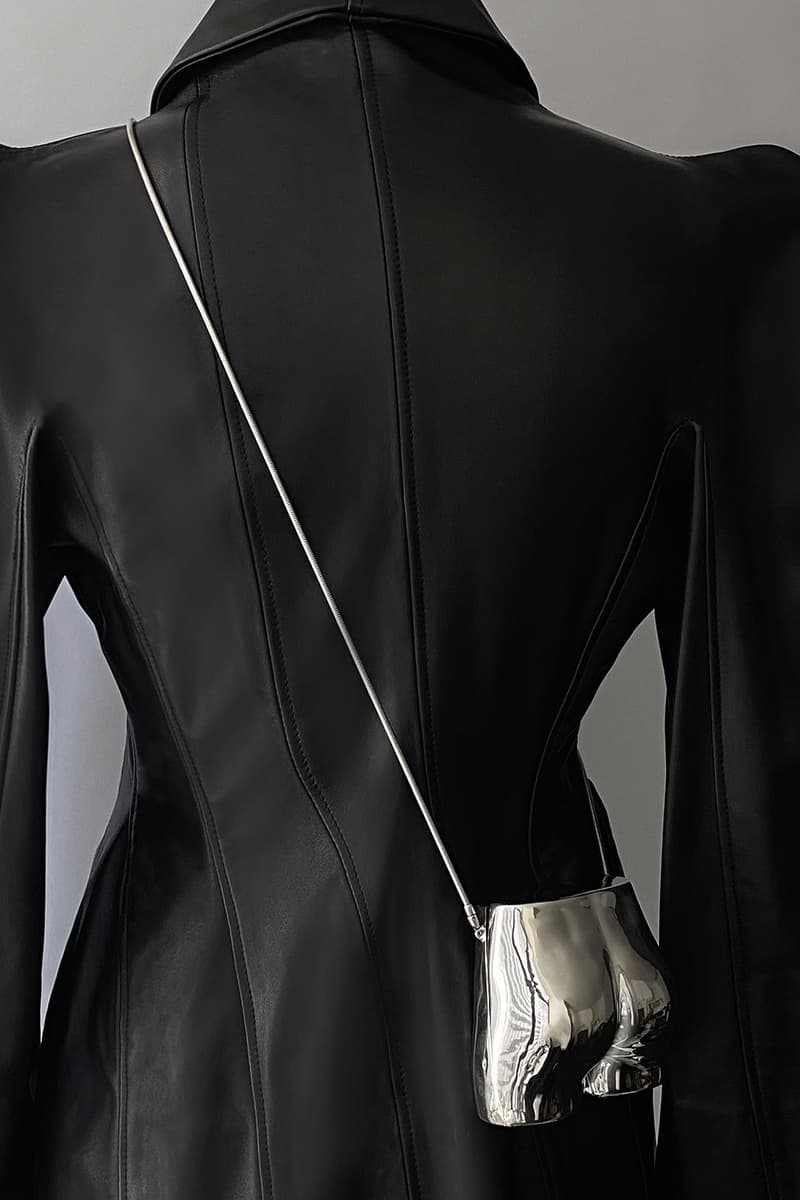 Grace Ling Is the Rising Designer Marrying Fashion With 3D Technology
Meet the young creative making unexpected silhouettes with sustainability in mind.
Fashion
Grace Ling Is the Rising Designer Marrying Fashion With 3D Technology
Meet the young creative making unexpected silhouettes with sustainability in mind.
A Central Saint Martins and Parsons alum with experience at labels like Thom Browne and The Row, Grace Ling is an up-and-coming designer utilizing 3D technology to create unexpected silhouettes while keeping sustainability in mind.
With 3D printing, CAD and CGI at the core of her design process, the Singaporean creative also takes inspiration from her background in sculpture and performance art. A combination of these different fields is what shapes Ling's unique style that is highlighted with structural garments and statement-making accessories. Some of her standout works include a jacket peeling from a circular wall frame, a mesh human-shaped cardholder, and a silver Butt Bag.
Although the coronavirus pandemic has challenged numerous designers around the world, Ling has actually found days of self-isolation peaceful and inspiring. Continue reading to learn more about the young creative, her design philosophy and upcoming projects.
Tell us about your career as a fashion designer and how that led to the launch of your eponymous label.
I have always dreamt of having my own brand in New York, and now I do! I love being able to share my worldview through design. Before specializing in fashion, I studied sculpture and performance arts. I also did fashion modeling on the side. This combination fueled the influence to create designs that are multidisciplinary. I am inspired by dystopian films, modern art and interior design. Later on, I studied fashion at Parsons and Central Saint Martins, and had work experiences at Thom Browne and The Row. All of my personal influences sprouted the launch of my eponymous label.
How would you describe your style or aesthetic?
A sense of eccentric elegance and intelligent femininity. Absurdist yet sophisticated. I love things that are timeless yet have a unique edge.
You've worked with sculptural silhouettes for your garments. What's the inspiration behind these designs?
I sometimes find color distracting. I think in shapes, forms and sculptures, and then add color later on. In form and structure, I see an unspoken and whimsical story of gestures and body language that can be told in many different ways. I wanted to create biomorphic silhouettes through the distortion of human forms. For example, the Circle Jacket has these "bent arm" sleeves. This was because I thought it was interesting that in social situations, our arms are more often bent than not.
What about the design process? How do you incorporate technology and fashion in your collections, and how does sustainability come into play here?
The bags are 3D-printed in New York and lined in leather in Italy. The combination of technology and traditional methods of craft completes a GRACE LING product.
The core of my design and development involves largely 3D tech, CAD and CGI. This allows me to calculate the exact amount of materials needed to create an item so we can create with zero waste. Through CGI, I can also iterate designs with zero carbon footprint.
I remember photographing my products and was thinking, "Wow this looks exactly like my CGI render, do I even need to make the sample?" This is revolutionary for sustainability around fashion production and business systems that are prime for change and progress.
View this post on Instagram
Aside from your garments, your accessories have also received a lot of interest for their unique designs. How did you end up taking the shapes of the human body and transforming them into everyday objects?
I would like to express my gratitude for everyone's interest, I am so excited to see people wear them! The human body is a language that transcends all cultures and backgrounds. I wanted to create wit and light-hearted humor without having to explain much. I was first inspired by a psychological phenomenon often referred to as "anthropomorphism." It basically means the attribution of human characteristics to inanimate objects. From an absurdist perspective, I wanted to see how inanimate sculptures can trigger an emotional response. This is also why the pot bag has "legs." I want it to look almost alive. As for the human parts, they become an allegory of "body" as bodily adornments.
There's also something about the femininity of a body. Some of the jackets are very covered up with little skin exposed, but there is a Butt Bag hung on the outside of the jacket. The butt is being looked at, but separate from the wearer. It is for me a way to display wit and playfulness through the accessories while maintaining sophistication and maturity in the garments. There is an odd sense of empowerment in that, it's a different kind of sexy.
How have you been navigating this pandemic, being based both in Singapore and NYC?
I had to fly around, quarantined several times and did many swab tests. Not going to lie though, I enjoyed quarantining. I found an odd sense of peace while quarantining. It allowed me to focus on my vision and have clarity in my thoughts. Fourteen days of guaranteed solitude is profound freedom. The hotels in Singapore were also kind enough to let me have my giant industrial sewing machine and mannequins transported in, which to be honest, looked quite hilarious at the time. When I was leaving quarantine I rolled out my designs on my mannequins and the hotel staff was clapping for me. It felt almost like a fashion show.
What are some things you're looking forward to for the rest of the year? Any upcoming projects that you can share?
Several celebrities have already requested my pieces, so I am excited to share that very soon. I am also currently working on a CGI film collaboration about the Butt Bags with a Paris-based CGI artist.
Share this article