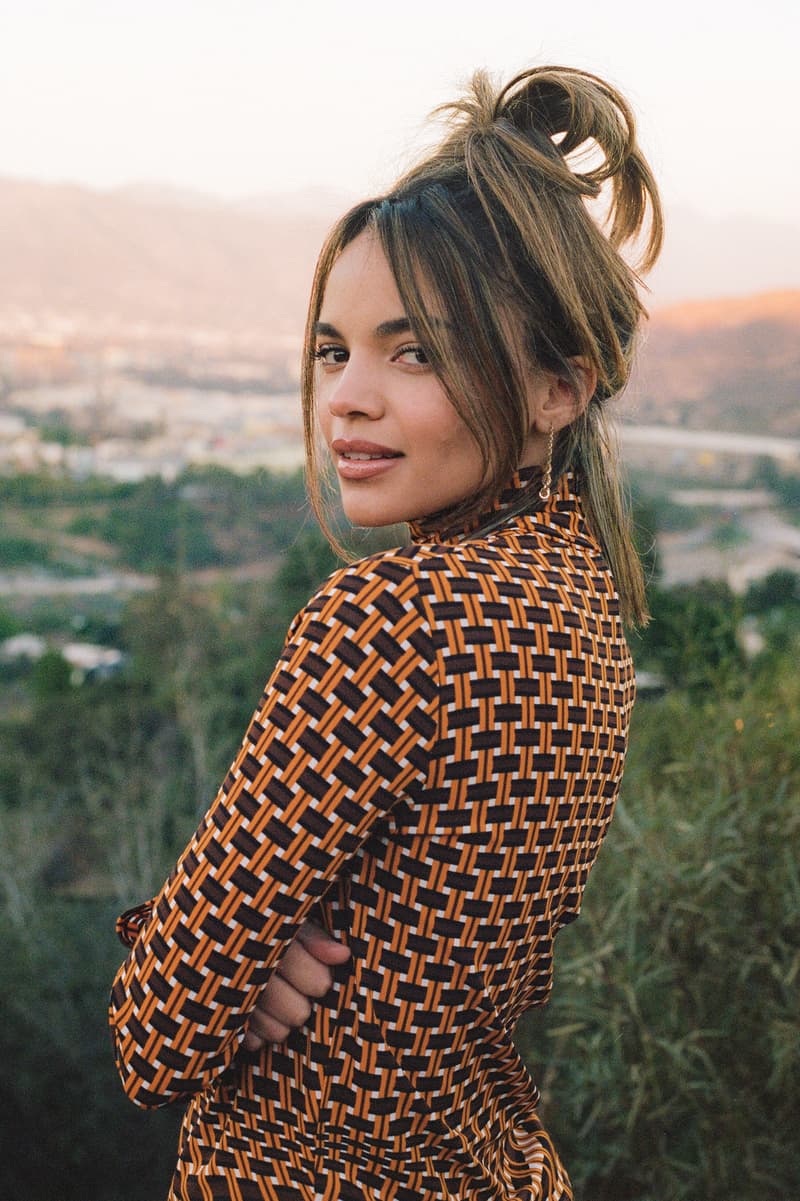 Leslie Grace Received the Biggest Blessing on Her Birthday — A Role in 'In the Heights'
The Latin Grammy-nominated singer stars in Lin-Manuel Miranda's musical as Nina Rosario.
Film & TV
Leslie Grace Received the Biggest Blessing on Her Birthday — A Role in 'In the Heights'
The Latin Grammy-nominated singer stars in Lin-Manuel Miranda's musical as Nina Rosario.
At only 26 years old, Leslie Grace Martínez — who goes by the stage name Leslie Grace — has received three Latin Grammy Award nominations and one leading role in a feature film. The singer-songwriter has collaborated with top Latin artists such as Becky G, Maluma and CNCO, but nothing could have prepared her for this next big career move. Announced in April 2019, Leslie Grace took on the role of Nina Rosario in Lin-Manuel Miranda's Tony Award-winning musical In the Heights. The cast members include Corey Hawkins, Anthony Ramos, Dascha Polanco and Stephanie Beatriz.
"This is the most exciting thing going on in my life. Every day, something else exciting is going on with this project and we've just been able to savor it even more, with the holding back of the extra year," Grace told HYPEBAE during our interview, which was conducted before In the Heights' premiere. She said excitedly that she has been able to bombard group chats with her anticipation for the film, and was able to gauge a few reactions from friends and family before the film officially came out.
With movies like In the Heights that make her feel seen and heard as a Latina from the Bronx, Grace loves to know that she's representing her community and being a positive role model for those generations after her. "We all feel that there's a sense of responsibility and pressure, but I like to call it responsibility and opportunities to create new pathways for people that we know and love," she explained to us about the lasting impact on those looking up to her. "To see something they've never seen before and dream bigger, and discover dreams that are within them that maybe they haven't seen externally and feel like they can't accomplish. They just need to see somebody do it. That's what fuels me. I grew up in a family that [believed in] hard work all the time, and I want that word to mean something."
As noted by critics, the film has faced backlash over the lack of Black and Afro-Latinx representation, specifically darker-skinned leads. While Miranda has released an official statement via social media noting his dedication to "learning and evolving," conversations around the film can be viewed as a way to hold TV shows and movies accountable for equity and inclusion. HYPEBAE caught up with Leslie Grace about her role as Nina Rosario in In the Heights, her Bronx upbringing and how she feels represented in the film.
In the Heights hit theatres on June 11 and is now available to watch in cinemas and on HBO Max.
This interview was conducted and written prior to the colorism controversy and backlash of In the Heights.
How excited are you about In the Heights? Tell me about the moment when you found out that you booked the role.
When I found out that I was cast for Nina, it was so crazy. It was the best thing ever because it was my birthday actually, and nobody knew. Lin didn't know — he's who called me. I was in my mom's old salon at home in Florida and she was doing my hair, getting me ready for this little birthday situation I was going to do. We had been waiting for weeks to maybe potentially hearing the news or not. I was like, "Oh, it's probably going to be after the holiday."
My mom just kept saying, "Maybe they'll call on a special day, like Christmas or New Year." I was like, "Mom, no. That is not how it works." We had just been speculating for weeks on when we would potentially hear "yes" or "no." While I was sitting in her chair and she was midway through my hair, Lin called. I get a random call from a "917" number. I obviously didn't have Miranda's number, so I didn't pick up. My mom was in the middle of my hair and it was FaceTime on top of that. We don't do cold calls. Then the same number texted me, and he was like, "Hey, it's Lin, can you pick up really quick for a couple of minutes?"
I think my team knew already that he was going to call me and give me the news. They were trying to get in contact with him to let him know that it was my birthday, and he never got word. It was pure coincidence that he decided to call me and share the news with me on that day. It was the biggest full-circle blessing ever and it was awesome. One of my best friends was in the room. My mom, who was ugly crying, and one of my cousins that had read with me before self-tapes and before I was ever any good was in the room, too. It was just really special. It was really a full-circle moment.
How did you bring Nina's character to life and what life experiences did you draw from to make this as relatable as possible for you?
[I've felt in my life] a lot of the things that are Nina's feelings in her storyline. No matter where you're from, where you grew up and where your parents are from, we all go through maybe a certain point in our life where we're at a crossroads. We're trying to accomplish what our parents might want for us or what we think we want for ourselves. Then we find out we want something different, what you really want to do or what you're made for. Are you worthy of the dreams that you have for yourself and that other people have for you? Nina's grappling with all of that.
I definitely have felt that pressure throughout my life, especially being a first-generation Latin American, Dominican American. I come from a family that's like, "Push forward, do your best and never stop". There's a strong work ethic in my family, and they're all entrepreneurs, so I grew up with that in my mind — never having the thought of giving up, and failure was not an option. You have been granted so much because of our sacrifices that it's already all laid out for you, so there are a lot of people's dreams on your back, and a lot of seeds of love and support on your shoulders. The least you could do is succeed at whatever dream it is that you choose.
Nina feels that from her community. She feels like, "Dang, like I'm going to Stanford. Nobody in my family has ever done this. The people I know in my community are not even thinking about going to college." I get it. This is my thing and I've been lining up to do this, but it can feel really lonely. When you're going to a place where nobody that you know has ever been before, and there's no clear path for you that you can follow, you have to create it yourself. Now she's straddling the fence of "Am I worthy of this? Do I have to forget who I am to be what I'm going to be?" and, "Do I have to conform, or do I assimilate and represent? What does that mean?" I definitely have felt these, and I think a lot of people have felt a lot of those things in their life.
I see that you were born in the Bronx. I was born and raised in Brooklyn and I definitely agree that sometimes in the neighborhoods that we grew up in, a lot of people around you don't think about college or long-term futures. How did your upbringing really put the battery in your back, and how does it feel for you to look back at where you came from to where you are now?
I totally relate to what you just said. My upbringing mainly fueled me — what I saw was overcoming all things to succeed at the thing in your mind that you've never seen before, because you're part of a bigger picture. I think that's what Nina finds out when she originally goes to Stanford, at least the way that I looked at it, because I've experienced that just in my own career. I didn't go to college. I got signed out of high school, but I was going into my career like it was college. I was going off into the world to be presented as this artist in a world of adults, and not really knowing who I was yet. I was expected to know a lot of things, and I'm still discovering a bunch of stuff about myself and what I really want for my life.
Nina goes off to Stanford and she has nobody to look up to. She has this thing in her head, that "I am the one everybody has told me all of my life. This is what you're made for. You're the little genius, you're going to do fine. Nobody's worried about you because you've gotten straight A's all your life. You're the least of our worries". That type of pressure, to uphold that, is so large. She goes thinking about all of that first. It almost stops her from being able to own her dream for herself. It's more so for everybody else.
She comes back in the summer and throughout the summer, she starts to find what about this pathway to go to Stanford makes it meaningful for her, what about it is about her purpose. [She also thinks about] what she represents for her community and how much that fulfills her person, what it means to her, and what her parents have done for her that allowed her the same opportunity to dream. I know I'm rambling all over the place, but it's very parallel to what I see my purpose.
We hear the word "representation" all the time, but not often is it implemented in the way that it should be. As a woman of color, specifically as a Latin woman, what attracted you to In the Heights, and why is it so important for young girls of color to see women like you in this role?
It's what I wanted to see when I was growing up. Every time I think about this, I get emotional because I just didn't even realize till midway through shooting — I realized that more and more every day talking about the project that I rarely saw [women that look like] myself on screen doing the things that I had hoped for myself. [When I was 10 years old,] I had to imagine myself being like Demi Lovato in Camp Rock, or like Britney Spears. A lot of young girls to this day still feel like, "What I look like and where I'm from, do all these things go hand in hand with these kinds of dreams, because I've never seen anybody look like me do this thing?"
I could cry every time I think about In the Heights. It's beautiful — it was the first time that I ever experienced that, even on the music end [as someone] coming from the Latin music industry. Feeling so seen and so beautifully celebrated, not just being talked about in a sense of, "You're underrepresented and we're talking about this struggle all the time," but we're celebrated as well. We're getting to step on set as our full selves, not a version of ourselves in order to fit in. You see that in the story, you felt that on set. I think you see it in our cast. On a day-to-day, we all felt blessed. Every single person felt so blessed to have experienced the story of In the Heights from its inception, and to be a part of the 12-plus years it took for this moment to happen.
---
D'Shonda Brown is a freelance culture journalist, public speaker and mental health advocate based in Brooklyn, New York with a passion for mental health, social justice and uplifting the Black community through her writing. As a mental health advocate and suicide attempt survivor, in 2019, D'Shonda became Mental Health First Aid Certified for adults and children, and graduated from the Advocacy Ambassador Program by National Alliance on Mental Illness. D'Shonda is a proud Spelman College graduate and has interviewed notable names from Angela Rye and Soledad O'Brien to Chloe x Halle and Justine Skye.
Share this article