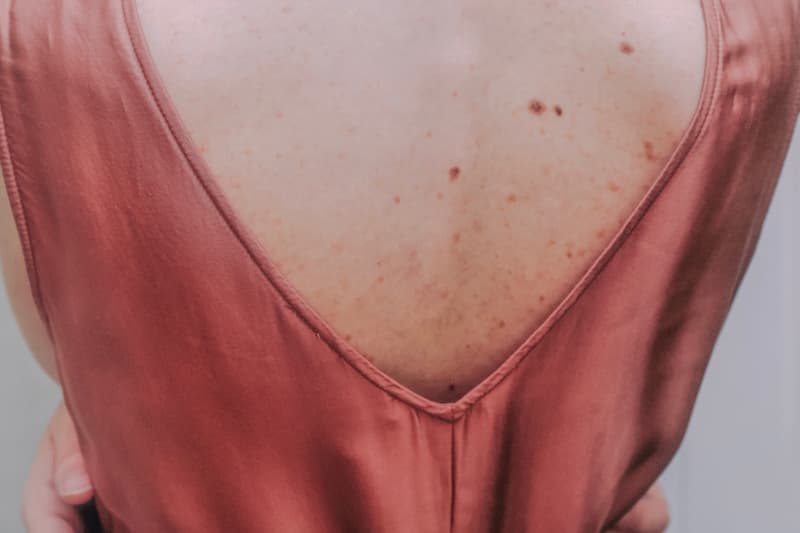 Beauty
Everything You Need To Know About Body Acne
Dermatologists talk below-the-chin breakouts and how to treat them.
Everything You Need To Know About Body Acne
Dermatologists talk below-the-chin breakouts and how to treat them.
Acne: it's the bane of skincare's existence and, much to everyone's chagrin, it affects more than just the face. At some point or other, you've probably discovered the odd pimple or two on your back. It likely disappeared in a few days, and you moved on with your life. However, body acne — a condition that can wreck havoc on the back, chest, shoulders and even neck — is an issue far more debilitating than the occasional butt zit.
During the summer, a dearth of clothing can make it difficult to conceal body breakouts. Compounding the problem, sweat worsens acne, and increased humidity creates an ideal breeding ground for pimple-causing bacteria. So, what are body acne sufferers to do? HYPEBAE spoke with dermatologists about the best ways to prevent and treat body acne, as well as how to avoid hyperpigmentation from below-the-chin breakouts. Keep reading for their tips and tricks.
What is body acne?
Body acne is exactly what its name implies — it's acne that affects areas of the body other than the face, according to dermatologist Alicia Zalka, founder of skincare brand Surface Deep. Most commonly, it affects the back, chest, shoulders and buttocks. In the case of "acne mechanica," a less common form of acne caused by friction such as rubbing or shaving, breakouts can appear on the scalp, neck, legs and underarms.
Body acne is caused by the same factors that trigger facial acne
Generally speaking, body acne is caused by the same factors that trigger breakouts on the face: excess oil production, clogged pores, bacteria, hormones and slow cell turnover. Dr. Zalka characterizes these five factors as a "recipe" for acne. According to the expert, the first two "ingredients" are what make the back and chest most prone to body acne. "These areas have a robust population of oil-producing skin structures and pores," she explains.
Though facial and body acne are largely caused by the same things, Corey L. Hartman, founder of Skin Wellness Dermatology, points out that body acne can also be triggered by sweaty, tight clothing — especially if it's not removed after a workout and washed regularly.
However, treating body acne requires a few unique considerations
According to Dr. Hartman, many of the same products used to treat acne on the face can be used to treat acne on the body. That being said, body acne often requires higher concentrations of pimple-busting ingredients such as acids and retinols. "Body acne can tolerate stronger products…Skin on the back and chest, for example, is actually thicker than face skin," Dr. Zalka illustrates. "For the face, I often recommend glycolic acid-based products at 5 percent but on the back, chest and shoulders, I will turn to as high as a 10 or 15 percent strength glycolic acid."
Dr. Zalka also notes that body acne begets a much larger treatment area than facial acne. "Putting an acne treatment gel on your nose is easy, but applying a gel to your entire back is more cumbersome," she says. To help make things easier, dermatologists encourage using applicator brushes or pads for treating hard-to-reach areas. "Think a selfie stick for skin on your back," Dr. Zalka describes, citing Dr. Cynthia Bailey's Back Applicator as a simple yet effective tool for applying creams, gels and washes all over the body.
So, what products are most effective?
Dr. Zalka recommends products that contain benzoyl peroxide, salicylic acid, glycolic acid or retinol. (When it comes to benzoyl peroxide, note that the ingredient can bleach dark fabrics and leave white spots on towels — so if you're using a benzoyl peroxide body wash, be sure to rinse thoroughly.)
Among the expert's personal favorites are Clean and Clear's Continuous Control Acne Cleanser, La Roche-Posay's Effaclar Medicated Gel Cleanser, CeraVe's AHA & BHA Acne Control Gel and Differin Adapalene Gel 0.1% (an RX-strength retinoid). For sensitive skin, CLn Skin Care's Body Wash is a safe choice. For underarm and chest acne, try Surface Deep's Anti-Odorant Pads.
Amanda Doyle, a dermatologist at Russak Dermatology Clinic, warns that oil-based products or heavily fragranced formulations can further irritate the skin. In severe cases of body acne, the doctor pairs topical treatments with prescription oral medication — consult with your dermatologist to find out if acne medication is a viable option for you.
When it comes to hyperpigmentation, prevention is key
Hyperpigmentation — AKA dark spots or discolored patches — is a pesky side effect of acne caused by inflammation resulting from a breakout. "The longer the inflammation persists, the more intense and long-lasting the hyperpigmentation can be," Dr. Hartman explains.
"The fewer breakouts you have, the less discoloration you will have. Ergo, prevention is key," Dr. Zalka adds. "Glycolic acid and other alpha hydroxy acid products are very effective at helping speed up resolution of hyperpigmentation from acne." However, treating hyperpigmentation is a long-term undertaking — sadly, your dark spots won't fade overnight. "Don't be fooled into thinking, 'I'll get really tan and the color will all blend in,'" Dr. Zalka cautions. "Too much sun exposure can actually lead to long-term worsening of unwanted darkening of the skin."
Certain lifestyle adjustments can help prevent body acne
Effective treatment may require some changes to your daily routine. After working out, remove sweaty clothing as quickly as possible and try to shower, especially if your exercise involve equipment such as a weight bench, rowing machine or bicycle. "The added friction of the back or buttocks leaning or rubbing on equipment can exacerbate acne," Dr. Zalka explains.
Dr. Hartman and Dr. Doyle also recommend assessing your stress levels. "I've had many patients improve with stress reduction and being aware that this can and does contribute to acne production," Dr. Doyle says, adding that acne treatment often requires a holistic approach. In addition, the dermatologist suggests switching to a hypoallergenic laundry detergent (she favors Arm & Hammer's Free & Clear).
If you still aren't seeing an improvement, consult with your dermatologist. "You may be a candidate for an in-office procedure such as a chemical peel, microdermabrasion or red or blue light treatments," Dr. Zalka says.
Share this article