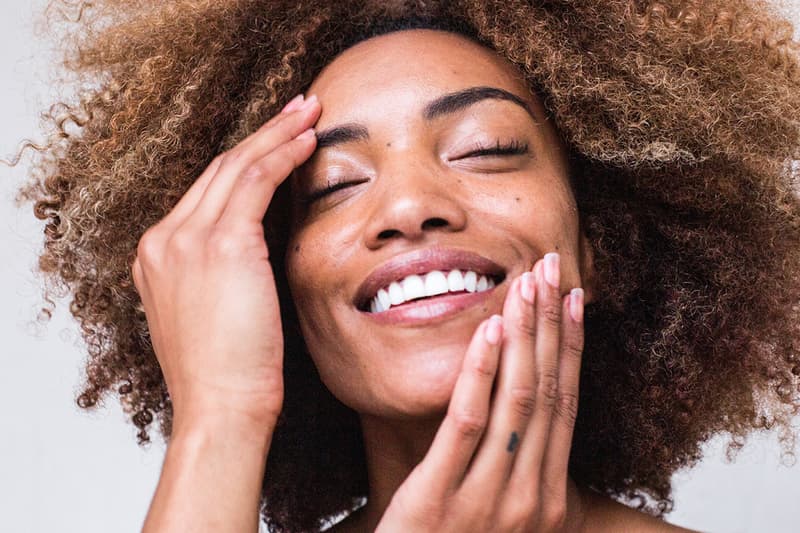 Beauty
Here's Why Everyone on TikTok Is Talking About the Skin Barrier
The latest skincare trend is all about restoring and replenishing the skin.
Here's Why Everyone on TikTok Is Talking About the Skin Barrier
The latest skincare trend is all about restoring and replenishing the skin.
There are nearly 130,000 mentions of #skinbarrier on Instagram, over 44 million views of the hashtag on TikTok, and Google search terms related to the topic have increased 72 percent in the past year alone. But how and why has the skin barrier become the latest trending buzzword to take over our social media feeds? According to dermatologist Dr. Sonia Khorana, this has to do with changes in consumer behaviour in recent years. "We've seen lots of new resurfacing products launched onto the market that are advertised for daily use," Dr. Khorana says. "I've seen clients use exfoliating acids twice daily, attempting at-home peels and microneedling. And a lot of people are now adding prescription retinoids to their routines on top of these," she adds. "People want immediate results, but this level of exfoliation can be very damaging to skin."
If the pursuit of smooth, clear skin and beauty trends like "glass skin" have led you down a path of DIY peels, mix-and-match acids and increased retinoid doses, chances are you're stripping your skin barrier in the process and actually doing your skin more harm than good. As the buzz over resurfacing products wears off, it's easy to see then why the next big skincare trend is all about restoring and replenishing the skin.
We're here to explain exactly what the skin barrier is, and how to look after it with products recommended by skincare experts.
What is the skin barrier?
In order to understand how skin works and responds to the products we use on it, it's important to get to grips with the skin barrier. As the name suggests, it's quite literally the uppermost and outermost layer of our skin, the one that has most contact with the outside world. Simply put, the skin barrier is responsible for keeping the good (for example, moisture) in and the bad (pollution and bacteria) out. "An intact skin barrier means healthy, functioning skin. The skin is hydrated, healthy-looking, and keeps environmental pollutants and microbes out," Victoria Evans, Education Manager at Dermalogica, explains. She elaborates, "Whereas a compromised skin barrier leads to moisture loss, pH change, imbalance of the microbiome and invasion of irritants."
How can you tell if you have a damaged skin barrier?
Increased redness, sensitivity, breakouts and dehydration are all signs of a compromised skin barrier, alongside delayed wound healing and hyperpigmentation. You're likely to experience stinging when applying products, and notice that you're still getting breakouts despite using ingredients that claim to help clear congestion. Initial symptoms may present as mild irritation or sensitivity, but you may eventually experience a severe flare up of eczema, acne or psoriasis. "This is because when the skin barrier is damaged, it does a poor job of keeping irritants and germs out of skin," Dr. Khorana adds. A healthy skin barrier should also retain moisture properly, so your skin shouldn't drink your moisturizer up straight away and should remain plump and dewy after application. "Skin will appear dull and dehydrated", Evans says, adding that flaking, itching, rough texture and a tight sensation after cleansing are all common symptoms to look out for.
How does the skin barrier become compromised?
While the signs are pretty easy to spot, identifying what is responsible for damaging your skin barrier can be harder. However, doing so will help you figure out next steps and avoid future issues. "It can happen in lots of ways and usually quite unintentionally," aesthetic physician Dr. Ifeoma Ejikeme notes. "Using products which are too harsh for your specific skin type, over-exfoliating, overexposure to the sun and sunburn are the common causes." Remember that specific ingredients can also play a role, Evans adds. Overuse of acids and retinol and inadequate moisturizing are very common causes of a compromised skin barrier.
How do you fix a damaged skin barrier?
Once you've spotted the warning signs and identified your triggers, you can quite easily make a start on strengthening and replenishing your skin barrier. "It can take around six to eight weeks to restore the barrier function," Dr. Ejikeme says. "In clinic, once I note the skin barrier is compromised, I advise my patients to pare everything back, put away the retinol and the acids, and opt for a gentle cleanser and moisturizer." Evans adds that "layering on extra hydration and nourishment will restore lost moisture and relieve skin," not to mention thick creams will create a temporary physical shield, preventing moisture loss from reoccurring. If you have typically oily or blemish-prone skin, don't be afraid of moisturizing. The better hydrated your skin is, the healthier it is and the better it can fight bacteria and heal post-acne hyperpigmentation.
What ingredients help to support the skin barrier?
Just as there are ingredients that should be avoided if you have a compromised skin barrier, there are also specific ingredients that will aid repair and prevent future problems from arising. "Look for products with ceramides (the good fatty acids that make up your skin), glycerin (a humectant, so it holds moisture) and niacinamide. Most importantly, protect your skin with sunscreen, Dr. Khorana says. In addition to repairing skin, focus on restoring moisture levels and make sure that your moisturizer is up to scratch. "Hyaluronic acid is a key ingredient to look out for," Evans adds. "It helps the skin to hold onto moisture."
Below are a few of the best products for restoring the skin barrier and keeping it healthy.
Dr. Khorana recommends squalane for its ability to form a protective layer on the skin, therefore working alongside the skin's natural barrier. Due to its similarity to the skin's natural oils, the ingredient won't clog pores, and is suitable even if you have oily or blemish-prone skin. Biossance's oil is perfect as the final step in your evening routine to seal in moisture.
"Barrier Repair is designed to provide a protective layer for a compromised barrier," Evans explains. "Imagine it filling in the cracks in the cement." The Dermalogica product reinforces the skin's lipid barrier with evening primrose and borage seed oils, and contains oat to help minimize discomfort.
When celebrity facialist Kate Somerville saw an increase in clients with compromised skin barriers as a result of at-home peels, over-testing of products and use of advanced ingredients, she created the DeliKate line. This serum is packed with ceramides and omegas, and feels instantly soothing. The collection features an equally impressive cleanser and moisturizer, too.
Your choice of cleanser is super important when you have a compromised skin barrier. Dr. Ejikeme explains, "The ability for the skin to protect itself is reduced, and using a harsh cleanser can worsen this disruption. Opt for a gentle and hydrating formula like the CeraVe Hydrating Facial Cleanser to help restore the barrier function."
This multitasking moisturiser contains marine extracts and a ceramide complex that work together to reinforce the skin's strength, reduce sensitivity and improve moisture retention. What's more, it's specifically formulated for face massage, so you can spend time ensuring the ingredients are sufficiently absorbed into the skin.
Formulated with squalane and adenosine (a soothing and skin-restoring agent), this nourishing cream from Paula's Choice is ideal for calming inflammation. The product is rich in emollients and occlusives to seal in moisture, and to protect skin from the elements.
"UV radiation has a detrimental effect on the skin barrier," Dr. Khorana says. "Sunlight spurs the release of free radicals, which damage cells, fatty acids, collagen and even DNA." For that reason, SPF is an important and underrated addition to any routine focussing on skin barrier repair. This broad spectrum formula incorporates 2% niacinamide to simultaneously prevent moisture loss.
This cult Glossier serum has a loyal following thanks to its ability to balance oil production and clear pores. The hero ingredient is niacinamide, which according to Dr. Khorana, is beneficial to a compromised skin barrier. "Niacinamide increases ceramide production," she says. "Ceramides are the fatty acids that are vital in maintaining the skin barrier and retaining moisture."
Designed to act as an invisible barrier against pollution and damage caused by the environment, this light gel-textured serum contains a cocktail of skin-fortifying ingredients like niacinamide, phloretin and alguronic acid.
StriVectin is renowned for creating products that help fortify the skin barrier. This rich cream is formulated with NIA-114, an oil-soluble form of niacinamide that according to Francine Krenecki, VP of Product Development at StriVectin, is more bioavailable to the skin than regular water-soluble niacinamide. "It's clinically proven to strengthen the skin barrier and inhibit water loss," she adds.
Perfect for broken or intensely irritated skin, this reparative cream works hard to restore skin's ceramides while acting as a shield against potential irritants.
---
Grace Day is a full-time beauty editor based in Manchester, UK. Her first job, as a beauty advisor in department stores, was where her love of beauty began — and where she discovered the importance of a good concealer. She loves the science of skincare and counts herself as the resident skincare advisor among friends. You can find Grace on Instagram and her blog.
Share this article