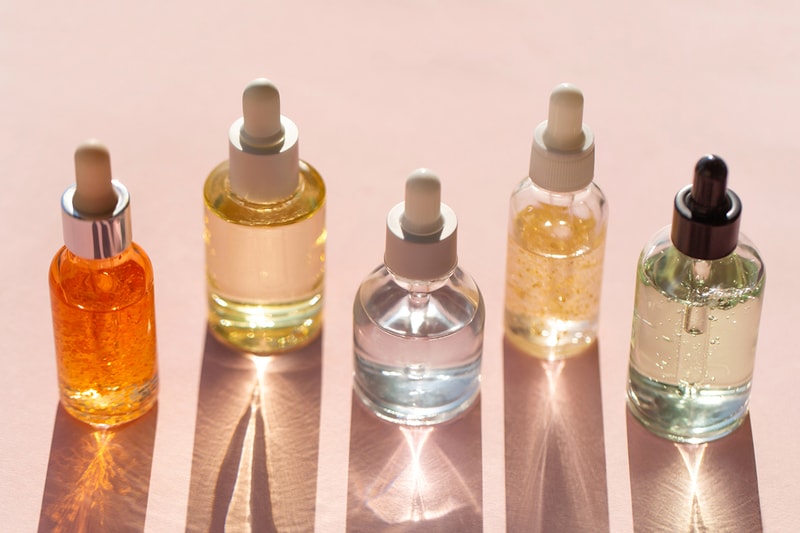 Beauty
Facial Oils: Skincare Fad or Savior?
Be prepared to look like a glazed doughnut before bed or you're doing it wrong.
Facial Oils: Skincare Fad or Savior?
Be prepared to look like a glazed doughnut before bed or you're doing it wrong.
It's that time of year when our skin is exposed to changing seasons and environmental stressors that attack the body's outer layer. Dry winter conditions can threaten the overall health of our skin, leading to inflammation, irritation and breakouts.
The stratum corneum, known as our skin barrier, protects our skin and body from the external environment, germs and harmful toxins. We are often seeking quick and easy solutions that may relieve temporary dryness, yet our skin isn't able to fully quench its thirst. There are numerous products on the market that claim they can leave the skin hydrated and plump, leaving consumers overwhelmed with which product they should choose.
So, how are we able to elevate our skincare routine with the addition of a singular step? The answer is an underrated skincare game changer: facial oil.
What are facial oils?
With the threat of environmental factors, free radicals and harsh climates, facial oils have proved to support the overall health of the skin. Facial oils are beneficial superstars that feel luxurious to the touch that can provide favorable results for radiant, glowing skin.
"Face oils are oil-based formulas designed to be used on the skin [and can] offer many advantages for those seeking alternative methods of moisturizing their faces," explains Dr. Corey L. Hartman, founder of Skin Wellness Dermatology in Alabama.
When looking for deeper hydration beyond a simple moisturizer, facial oils are a fantastic option during the cold and dry winter months. Dr. Hartman further elucidates that by forming a protective seal over the skin, its potent benefits are able to penetrate deep into the skin and reduce the opportunity for transepidermal water loss. "Face oil not only moisturizes the skin, but also helps to soothe irritation, can have antioxidant effects depending upon the active ingredients, helps to control bacteria and calms inflammation," Dr. Hartman says, illustrating the multifaceted benefits of facial oils.
Applied topically, facial oils typically have hydrating ingredients to boost radiance and combat dryness. "Facial oils are plant-based emollients that contain nutrients and fatty substances called lipids which soften dry, rough, flakey skin," Vanessa Marc, esthetician and co-founder of Vanessa Marc Spa explains. These hydrating lipids and nutrients work harmoniously to soothe inflammation and introduce smooth, healthy skin. If you're looking for deep nourishment and a softer skin surface, facial oils may be your weapon of choice.
The benefits of facial oils
Does facial oil simply deliver hydration advantages? Amie Tobin, an esthetician at Formula Fig sums up the benefits of facial oil succinctly: "Oils moisturize, plump fine lines and wrinkles, repair, promote elasticity, rebalance sebum production, while locking in hydration at the same time."
Dr. Hartman delves further into the untapped benefits, highlighting facial oils' ability to help the body's natural lubrication system by triggering the body's natural sebum production, whether you overproduce or underproduce oil.
The advantages don't stop there. Facial oils also include antibacterial and anti-inflammatory properties that can aid irritated and dull skin. For individuals that suffer from skin conditions such as acne, eczema and psoriasis, Marc asserts that facial oils have the capabilities to soothe these inflammatory conditions.
Do facial oils cause breakouts?
There are many misconceptions and misunderstandings when it comes to facial oils. Some believe that adding an oil to the skin is a recipe for clogging pores which leads to acne and breakouts. However, all dermatologists and estheticians included in this interview agree that nearly everyone can benefit from using facial oil. Nevertheless, they advise anyone with acne-prone skin to exercise caution and to buy facial oils that are noncomedogenic, so they won't clog your pores.
Comedogenic oils such as almond oil, cocoa butter, coconut oil, avocado oil, flaxseed oil, soybean oil and palm oil are known to have large molecules which can further exacerbate the clogging of pores and aggravate acne-prone skin. It is highly recommended to steer clear from these oils, as well as mineral oils, parabens, phthalates and synthetic fragrances, according to Marc.
Ingredients to look for in facial oils
There is no one-size-fits-all miracle facial oil. However, there are standout ingredients that should be on your radar when looking for a facial oil to purchase. For a diverse range of skincare concerns, Dr. Hartman recommends rosehip oil, jojoba oil, grapeseed oil and argan oil.
Marc establishes that the best oils are noncomedogenic, as they contain smaller molecules and effectively penetrate pores without clogging them, aiding in the elasticity of the skin and keeping oily skin acne-free. She asserts that rose essential oil is anti-inflammatory, and attests to its hydration capabilities and benefits for hormonal acne and rosacea.
Tobin recommends facial oils with skin-nourishing ingredients such as essential fatty acids, like Omega 3 and 6, marula oil, sea buckthorn oil, rosehip, hemp seed oil and black cumin seed oil.
7 Best facial oils for every skin type
If you are looking to give your skin some TLC this winter or you want to add deep moisture into your skincare routine, consider applying a facial oil once or twice daily and see how your skin successfully transforms.
Among the experts' favorites include Isdin Melatonik's Overnight Recovery Serum and The Ordinary's 100% Organic Cold-Pressed Rose Hip Seed Oil.
Tobin personally recommends the Vintner's Daughter Active Botanical Serum, the Venn Red Oil Serum, the African Botanics Pure Marula Oil, the Loa Skin Botanical Beauty Elixir and the Somerset Moss Facial Oil.
---
Roshelle Flores is a Vancouver-based writer who spends her free time playing with makeup and discovering the next It skincare product for glowy, healthy looking skin. A self proclaimed self-care queen, feeling her best is always at the top of her to-do list. You can find her on Instagram and TikTok.
---
Share this article