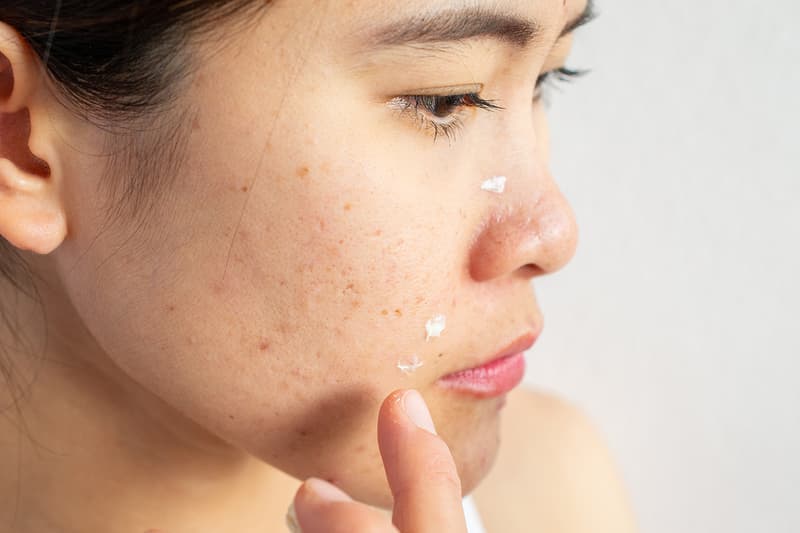 5 Skincare Ingredients to Avoid If You Have Acne-Prone Skin
According to skincare experts.
For those who have acne-prone skin, you know firsthand that finding a beauty product that doesn't cause your skin to break out is a cause to be celebrated. For sensitive skin types especially, it can be difficult navigating your way through the thousands of products and hundreds of brands on the market, clinging on to the mere hope that nothing will set off your skin's warning signals. On top of that, throw on the fact that ingredient lists on products can often read like a completely different language, with words too difficult to even pronounce.
Bottom line: The key to combatting beauty product-related breakouts is all a matter of becoming an educated consumer (you're already halfway there if you've read this far). To find out what skincare ingredients acne-prone skin should avoid, we tapped into the brains of two experts, including Dr. Joel Schlessinger, board-certified dermatologist and RealSelf contributor, as well as Ron Robinson, cosmetic chemist and founder of BeautyStat.
Coconut Oil
It may be good in your cake batter and DIY hair mask, but coconut oil is is a comedogenic ingredient that acne-prone skin should steer clear from. "Comedogenic products tend to clog pores and form blackheads," says Schlessinger. "That's why it's definitely wise to make sure your products are non-comedogenic if you have skin that's prone to breakouts." For oily- skinned folks, he recommends avoiding products containing oils (such as essential oils and mineral oil), as they contain many components that are known to trigger allergic reactions.
Fragrance
It turns out that tropical fragrance in your newly purchased moisturizer could be the culprit of a bad skin day. Both Robinson and Schlessinger agree that artificial fragrances are often a trigger for allergies, sensitivities and acne. As a result, they recommend that those with acne-prone skin avoid products with fragrance in them altogether. As fragrance is so commonly used to make a product smell better, those with sensitive skin should steer clear from words like "parfum" and "linalool" and actively look for products that are labeled "fragrance-free."
Alcohol
"Denatured, SD Alcohol 40, or Isopropyl Alcohol usually found in toners can dry out and irritate the skin," says Robinson. "It's okay if used in just an acne spot-treatment product, however." He notes that acne is a FDA-regulated over the counter category, so if a product is making claims to address acne, it has to use specific ingredients at specific concentrations. "Look for cleansers and treatments that contain FDA-approved acne-fighting ingredients such as salicylic acid or benzoyl peroxide," he says.
Cocoa Butter
Often found in facial moisturizers as well as body creams, cocoa butter can clog pores and exacerbate breakouts. For those with dry skin, it can be a dream, but for sensitive skin types, it's extremely comedogenic and can trap bacteria in the pores and lead to further breakouts. If you're in need of a hydrating product, opt for glycolic acid or hyaluronic acid.
Sodium Lauryl Sulfate
An ingredient that's been widely eliminated in hair products, sodium lauryl sulfate (SLS) is still commonly found in facial cleansers and body washes . Robinson notes that this ingredient is "a cleansing agent that can damage the skin's moisture barrier resulting in irritation." If the skin on your body is prone to breakouts too, you may want to reconsider using shampoos with SLS in them, as they can cause "bacne" and other skin irritations as well.
Product Recommendations For Acne-Prone Skin
For those in need of a deep clean, Schlessinger recommends this cleansing brush because "instead of trying to scrub skin clean, this actually activates water in such a way so as to gently clear up dirt and oil, making it a great tool for those who have trouble with clogged pores."
Robinson recommends this firming vitamin C serum for those who need to brighten dark spots and minimize the appearance of pores.
These circular acne patches feature hydrocolloid to banish blemishes and reduce redness.
This alcohol-free toner soothes and purifies dull skin before or after cleansing.
Share this article