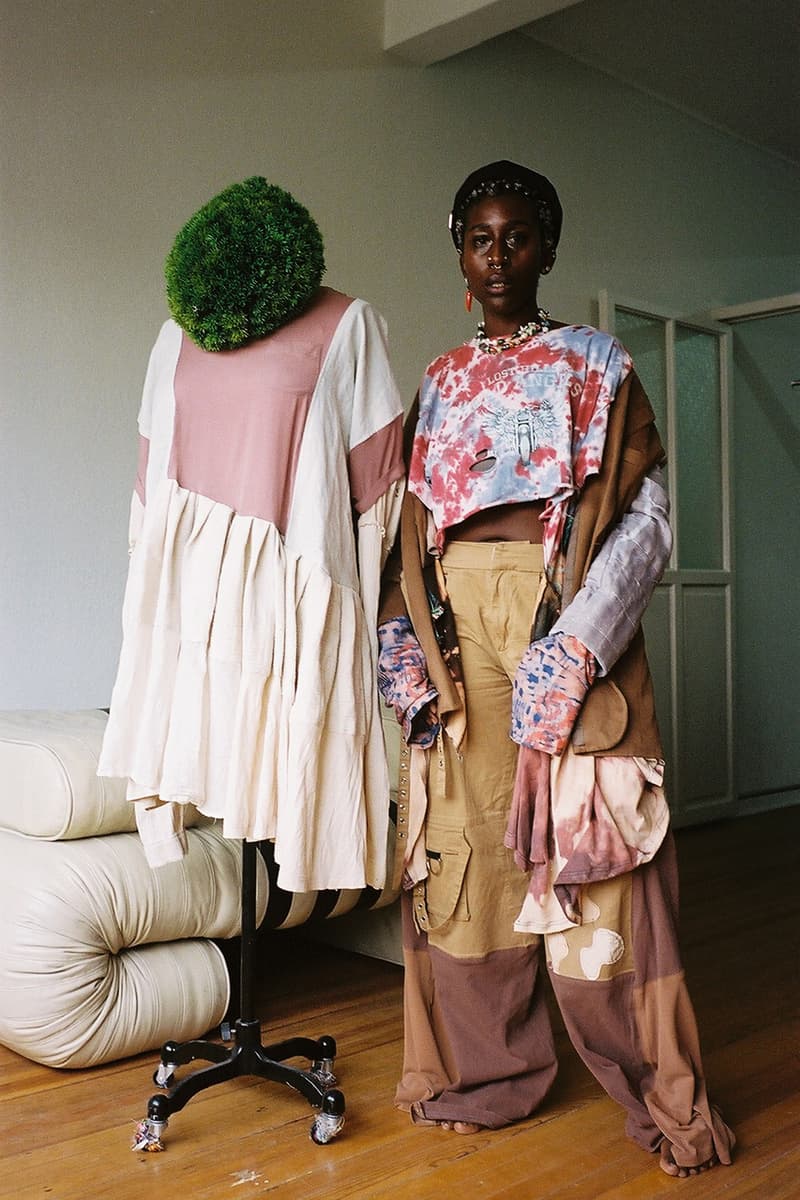 How Paulo Redeem Designer NaaAmerley Badger Develops Her Unique Personal Style
The AMIRI Prize winner looks to unexpected places for inspiration.
Fashion
How Paulo Redeem Designer NaaAmerley Badger Develops Her Unique Personal Style
The AMIRI Prize winner looks to unexpected places for inspiration.
Mexico City-based designer and founder of Paulo Redeem, NaaAmerley Badger, can usually be found draped in oversized trousers, structured shirtings and other enveloping silhouettes — even a voluminous pink dress crafted from an old curtain, avant-garde clothing that the average person could never pull off. "As I've grown more into myself, and been living more authentically, my style has evolved more authentically as well, where I'm not afraid to try things," Badger tells us.
Badger's academic and professional background is actually far from fashion-oriented. She studied political science at the University of Illinois, and spent time interning for a non-profit and an Illinois congressman. Shortly after graduation, she moved to Philadelphia to teach in public schools for five years, then transitioned to school leadership as an assistant principal at a different institution for the next six years, before resigning to focus full-time on Paulo Redeem in June 2021.
Immersed in the education system for over 10 years, Badger naturally possesses an affinity for the youth, and nurturing their development as well as becoming a mentor and positive influence to them. By abandoning the typical business casual dress code which is deemed "appropriate'" — yet just so mundane — in the classroom, she ultimately inspired her students by stepping outside of this standard and showing up unapologetically as herself.
Badger says she also took advantage of dressing eccentrically to engage her students. "The crazier I dress, the more they'll want to pay attention in class. It's a strategy." But they did more than just paying attention. Her students are to credit for empowering her fashion sense as well, continuously praising her unorthodox way of dressing. Badger has also always kept in mind the ongoing influence she continues to have on her former students. "When I think about the work I'm doing, or who I'm working with, or sometimes what I post, I want the young people who know me to be proud of it. I want to make them proud and inspire them," she notes.
Badger looks to her African heritage for inspiration as well. "I look at the way Black people on the continent dress — my dad is from Ghana. Growing up, I would always have really great custom outfits made. We'd pick the fabric out, and get them made, and they were always really colorful and beautiful." She also expresses that she has always been enamored by color, as well as by the craftsmanship of these garments. "I love volume. I love playing with proportions," she says. "I love exaggerated fits — the bigger, the better for me. I want to be drowning in it." She also appreciates surprising sartorial elements like double sleeves, reassessed collars and asymmetry. Notable influences on her also include Erykah Badu, Christopher John Rogers, Ottolinger, Y/Project, riveriswild and Matty Bovan.
Not only have all of these muses influenced the cultivation of Badger's brand and personal style, but literature also has been a source of inspiration for her. Her brand's name. Paulo Redeem, was inspired by The Alchemist by Paulo Coelho, a book about a shepherd who knows that he has an alternative calling in life and wants to learn the secret of alchemy, to turn any metal into gold. The book's plot aligns with Badger's ultimate mission for her brand, with "redeeming" used clothing items to revive them and give them new life — new significance and context.
"It embodies this spirit of our journey. When I think about turning metal into gold, it's like, 'How do we turn what we know and what we have into gold, into something that we can be really be proud of, into something that really feeds our spirit?" she reflects.
Conceived in 2019, Paulo Redeem encompasses sustainable, handcrafted, one-off pieces which are produced utilizing recycled clothing, deadstock fabrics and interior textiles. The idiosyncratic merch assortment also includes upcycled blazers, jackets, hoodies, frocks, oversized textured tote bags and so much more.
As for the future of Paulo Redeem, Badger is currently brainstorming design ideas which can be more appealing to the masses and be manufactured on a larger scale. Along with the help of her mentorship she obtained from winning the inaugural AMIRI Prize last year, she will continue to cultivate and elevate her brand, as well as continue to inspire her students who, undeniably, will always be rooting for her success.
---
Tiffany Harrison is a multifaceted creative who is skilled in visual storytelling. She immerses herself in artful endeavors within photography, prop styling, product design and creative writing. Tiffany's work is very conceptual and is inspired by contemporary art, which she is truly passionate about. You can connect with Tiffany on her website and Instagram.
Share this article