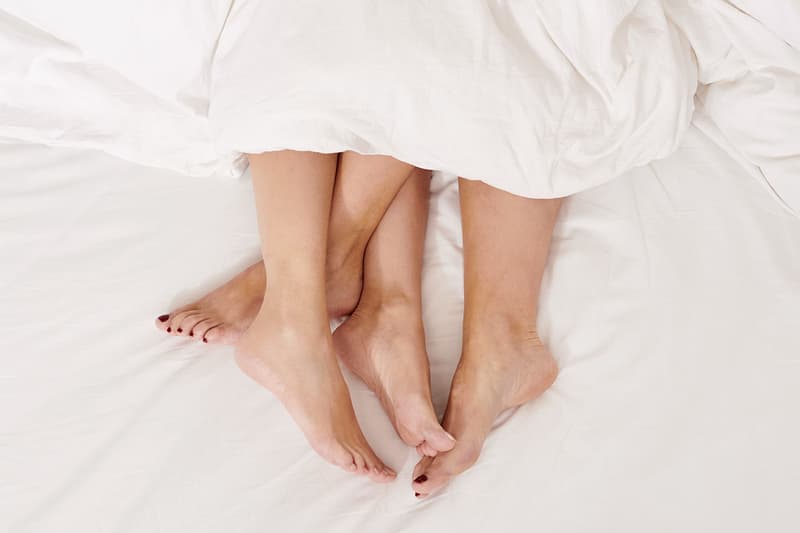 Sex & Dating
6 Sex Trends That Will Elevate Your Orgasms in 2022
Everything from solo play to space sex.
6 Sex Trends That Will Elevate Your Orgasms in 2022
Everything from solo play to space sex.
Sex toy brand Lovehoney has studied the most popular sex trends of 2021 and, after researching the sexual wellness market, has named six trends to look out for in 2022. 
Ethical non-monogamy (ENM) and more fluid relationships are becoming more common, and Lovehoney says that trend is here to stay. Arrangements like polyamory, swinging and open marriages are consensual and allow individuals to freely connect intimately, whether sexual or not. Sex and relationship journalist Abby Moss shares that ENM allows for more mental freedom and realistically considers the fact that one person shoudn't have to fulfill your every desire.
If this sounds outlandish, it's important to take into consideration that studies has been noticing this trend for years as well. We-Vibe, the sex toy brand that focuses on toys for solo play and couples, did a study across four continents that "revealed a threesome was the second most popular fantasy." Those intrigued by ENM should note the ethical non-negotiables like "consent, transparency and open communication."
As COVID-19 ceased the possibility of human interaction, the taboo around masturbation quickly faded. It reminded people that "if you can't get yourself off, then who will?"
Luckily for the fellow baes in the chat, the health benefits of masturbation are endless. Masturbating releases endorphins that "have pain killing properties." Womanizer's Menstrubation study even concluded that 90% of women recommend masturbation for period pain relief.
Unfortunately, individuals with disabilities have long been neglected in the conversation of sexual wellness. More specifically, sex toys. Thankfully, the World Health Organization has listed sexual pleasure as a human right and "sex tech innovators are setting a new standard for inclusive intimacy." As a result, individuals with disabilities can finally expect to be included in conversations of sexuality, and also find products that better suit them.
Environmentally friendly sexual wellness offers the perfect win-win: sexual pleasure while preserving the environment. Just like with beauty products, consumers want to make sure that the products they use are in alignment with their beliefs outside of the bedroom. In the future, consumers can expect more biodegradable and eco-friendly options that are rechargeable and use high quality materials, making the perfect vibrator a life-long friend.
Adventurous moments, like romantic dates with remote-controlled vibrating undergarments, can become even more efficient and exciting with these new expected trends. Sex tech companies like We-Vibe are consistently making improvements to, for example, apps and toys that allow partners to pleasure each other from long distances. This innovation will make it easier for partners to connect, especially in the current climate of COVID-19 that requires people to quarantine.
As billionaires make their way into space, conversation of sexual wellness in space is budding. In fact, We-Vibe deems "sex tech and toys as the only viable option for self-pleasure" that can deal with the main obstacles of sex in space: the lack of gravity, lack of privacy and liquid disposal." Simon Dubé, an Erobiotics researcher, says space agencies should approach "human sexuality from a positive, scientific, empathetic and inclusive perspective," adding that it is "paramount to our health, well-being, and the success of our extra-terrestrial life. " He shares, "Specially, they need to be reminded that: 1. sexual health is health, 2. sexual rights are human rights, 3. sexuality means diversity: 4. pleasure is fun and important; and 5. technology can help."
Share this article