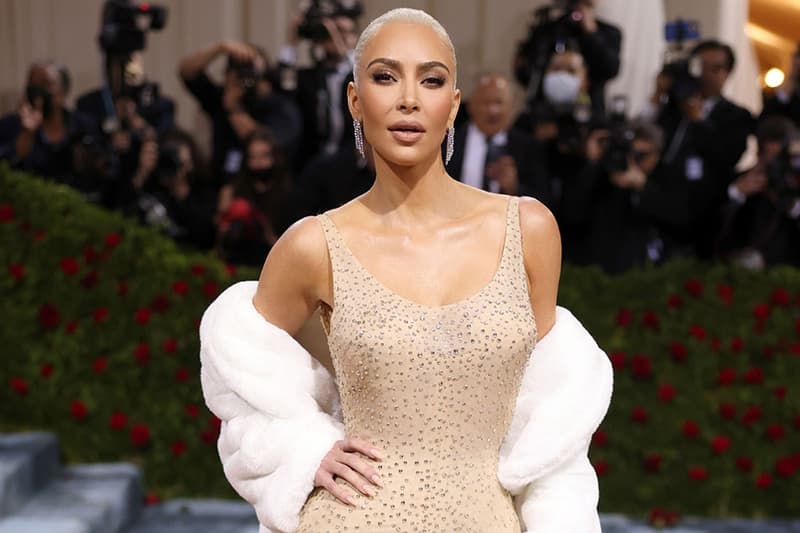 Entertainment
Kim Kardashian Shares Full Process Behind *That* Marilyn Met Gala Moment
On the latest episode of 'The Kardashians.'
Kim Kardashian Shares Full Process Behind *That* Marilyn Met Gala Moment
On the latest episode of 'The Kardashians.'
Kim Kardashian opened up about the intensive process behind her Met Gala outfit on the latest episode of The Kardashians.
Though most people know the deal about her Marilyn Monroe dress by now, and the extreme weight loss that the reality star went through in order to fit it, it turns out there's even more where that came from.
Alongside the dress, it appears the star had to dedicate a lot of time to achieving her platinum blond hair color. "Tomorrow is Met Monday, and I didn't get a lot of sleep because we had to pull an all-nighter to dye my hair blond," she says in the episode. "[The] process is so tedious and annoying and it's a lot. We don't have a shampoo bowl so we're having to rinse it a million times. It is what it is. It's dedication," Kardashian added.
The star's hairstylist, Chris Appleton, also made an appearance in the show, explaining that the last time he pulled off this level of color for Kardashian, it took a whole week. For the Met Gala however, Appleton had two days to make it happen. "I've never met anyone more dedicated than Kim. She's ready to sit for 15-hour sessions," the stylist shared.
Going back to the dress, Kardashian explained that once she got past the concept of trying it on and wearing it, there was still a lot to be careful about. "No one can touch me," she said. "If anyone touches me and gets their oils on the dress … it's too risky." Viewers also got a glimpse of the sauna suit that the star wore to help her lose the weight in time for the event. "I put it on and it makes you just sweat; even if it's water weight, it will help," Kim said.
During the intense process, Kardashian outlined that despite all the preparation, she'd likely be wearing the actual dress for no more than about 10 minutes. "All of this — this losing weight, dyeing the hair for 30 hours, leaving the hotel in a robe, getting there, changing on the red carpet, just walking to the red carpet, then changing again into a replica of the dress because we can't risk sitting in it and eating dinner — is all for maybe 10 minutes of my life … like, that's it," she explained.
Finally, as with most things that the Kardashians do, Kim expected there'd be some backlash. "I'm a little nervous some people will hate, and just be like, 'How dare she think she can step into Marilyn's dress' … and I get that," she said.
In other Kardashian-related news, check out the unlikely exchange between Britney Spears and Khloé Kardashian.
---
Share this article