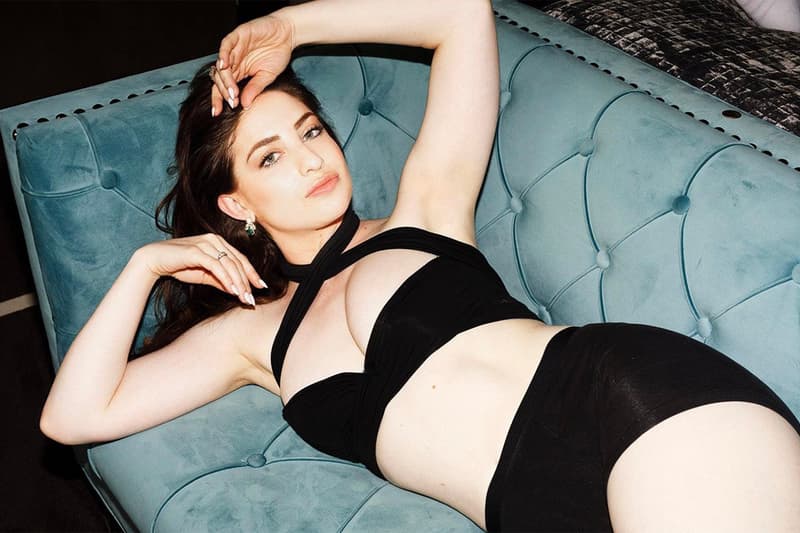 Sex & Dating
Leah Lamarr on Love After Heartbreak and Her Latest Tour, 'NFTs: Nice F-cking Titties'
"If you came for the titties, thank you for staying for the traumedy."
Leah Lamarr on Love After Heartbreak and Her Latest Tour, 'NFTs: Nice F-cking Titties'
"If you came for the titties, thank you for staying for the traumedy."
Comedian Leah Lamarr first rose to internet fame when her breakup led her to the at-the-time new app, Clubhouse. She found a love coach through the app and found healing, while also helping the world heal through her hilarious comedy room Hot on the Mic. She soon became the Clubhouse Queen and now she's on her NFTs Tour, which stands for "Nice F-cking Titties," making us question the f-ckery behind our deepest connections: social media, sex, and love.
With an outrageous I don't give a f-ck attitude and comedic self-awareness, Lamarr has paved a new trajectory for hopeful comedians in less than three years. Her work has led her to major success with her joining top names like Tracy Morgan, Conan O'Brien, Wanda Sykes, Bill Maher, John Mulaney and Hasahn Minaj for The New York Comedy Festival — one of the biggest comedy festivals in the world. Make sure you purchase tickets to her November 8 show here.
In addition to The New York Comedy Festival, she's been selected as the only comedian on the roster for Galaxy Racer's new Women's division — Her Galaxy and will be hosting the iconic America's Funniest Home Videos Awards Show in November.
If you can appreciate loaded love stories paired with career success and of course, chaos — keep reading for Lamarr's story of love and comedy.
How does it feel to host a tour with not only an iconic name – but concept – where you're able to discuss important issues, on a playful note?
It feels essential. My show explores the deepest parts of me, some of which I've never shared on stage, and I find it important to delve into that vulnerability and authenticity with others. At first, I thought, NFTs: Nice F-cking Titties would feel more like a cry for attention — which it is — rather than lead people to curiosity about the show — which it also did, thankfully — but I knew, either way, a provocative title is what I wanted. I've found that the types of people who came to my show are either interested in tech, comedy, or, let's be honest, titties. If you come for the titties, thank you for staying for the traumedy. NFTs is an analogy for how we want to be perceived online versus who we actually are in real life. Our digital personas have merged so much with our IRL experience, that I felt it was important to show who I really am without hiding behind my digital "perfect life" identity. So get ready to hear about how I lost my virginity to a man so hairy I thought he was the Missing Link.
"If you come for the titties, thank you for staying for the traumedy."

Was that breakup the catalyst for putting your all into Clubhouse comedy shows? Or was it simply a side effect of the journey?
After the breakup, I was starved for conversation, connection and, let's be frank, attention. Clubhouse perfectly filled those roles. I'm fortunate that I didn't lose myself in the breakup and that my passion for comedy remained evergreen. The people who were active on Clubhouse were for the most part, tech-obsessed, forward-thinkers who craved connection. Alas, I had intimate access to other intellectuals and great minds seeking deep conversations.
Spending most of my time on the app, I saw a gap in comedy, which I turned into an opportunity for myself and other comedians desperate to perform. My club, Hot On the Mic, was born from the success of all the comedy rooms and the dire need for laughter during those dark times.
If there was one element of Clubhouse and Web3 you could bring into IRL interactions and tours, what would it be?
Money — just kidding. Community is a staple of both web3 and Clubhouse and I'd be honored if my audience felt more like a community of people who knew each other, rather than strangers who all happen to enjoy the comedic perspective of a Jewish woman with daddy issues.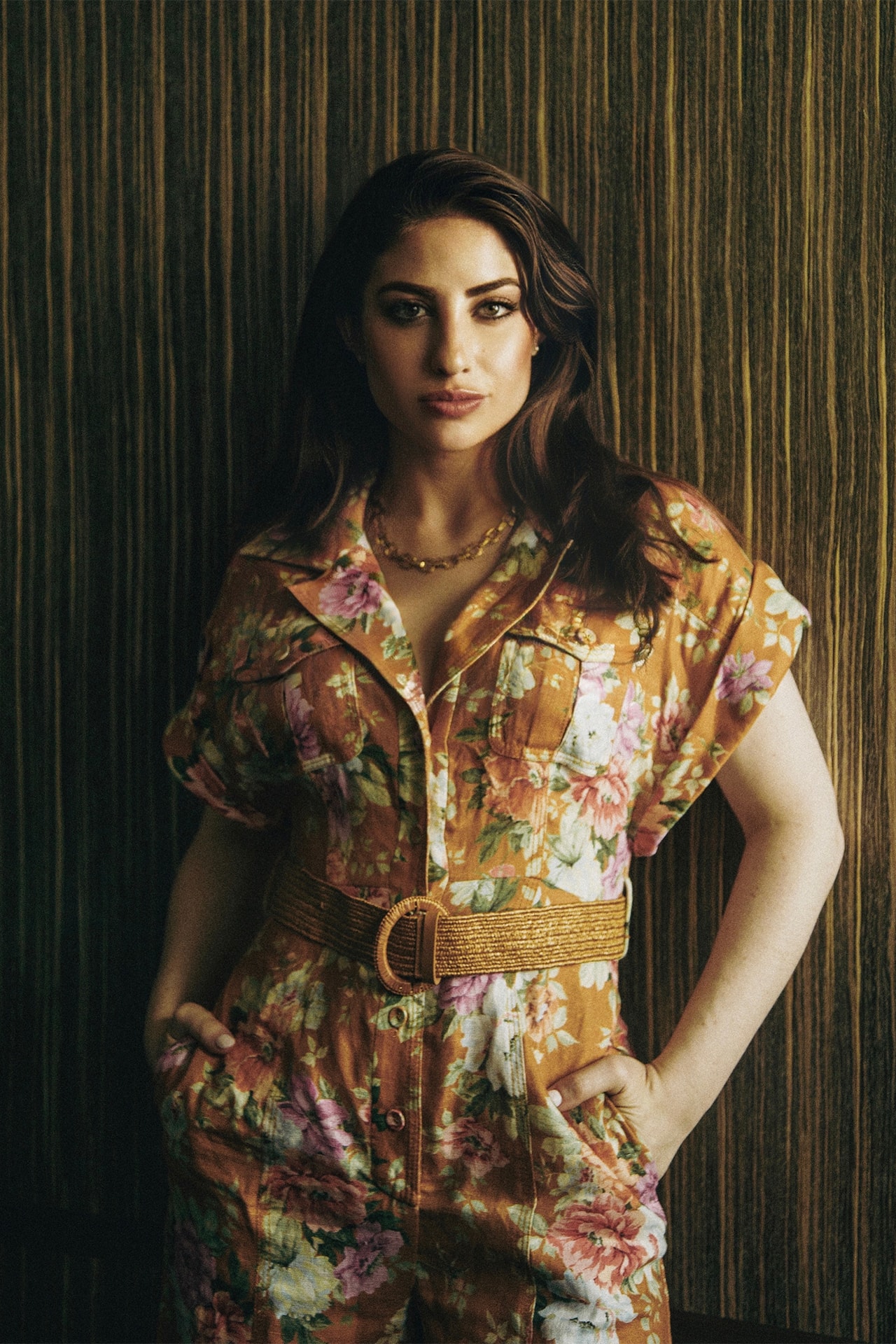 Your debut tour, NFTs, discusses everything from social media to sex and Web3. In your opinion, what's the biggest mindf-ck about life and sex post-COVID-19?
The biggest mindfuck about life and sex post-panny is that so many people broke up with their long-term partner or they quarantined with someone they had just met at the beginning of the pandemic and then got married. Stockholm Syndrome FTW. My personal biggest mindfuck is that I went to Ibiza toward the end of the pandemic, hoping to get over a situationship and ended up meeting the love of my life. So, yes, I found love in a hopeless place — and I think a lot of other people did, too.
How did the Nice Fucking Titties tour come to life? 
Nice F-cking Titties is my one-woman hour-long show, which came as a result of being at the intersection of technology and entertainment but also still caring about sexuality and my insanity. I was fortunate enough to catch the early mainstream NFT wave while I was on Clubhouse and become immersed in this new form of digital art and culture. I found that with my combined passion for blockchain technology and comedy I could create a show that encompassed the two in the title. If you can believe it, NFT actually stands for "non-fungible token" and has nothing to do with boobs. So weird, right?
My play on NFTs — aka including cursing and titties — allowed me to design the show to focus more on my unique perspective on childhood trauma, wild dating experiences and across-the-board fails. I share stories of shameful events that I've never said out loud before and I sometimes wonder why I feel the need to share them with a roomful of strangers, but that's a question for my therapist.
View this post on Instagram
Has your tour run taught you anything about life and sex that you didn't know before you embarked on it?
In short, it taught me that the power of relationships, communication and business intuition are all so important. In long: A good relationship with yourself first and foremost is the most important thing you can have, especially when you're touring and producing a show alone. That being said, having a healthy, stable relationship with a loving partner changed the game for me. I am lucky to have fallen in love with a wonderful man, who came up to Edinburgh for two weeks and, God bless him, he watched 16 shows back-to-back and didn't break up with me. Either he thinks I'm hilarious or he's mentally ill, either way he's perfect for me.
What could be better than waking up to a hot cup of coffee and breakfast after a long night of shows prepared by someone who emotionally supports you and is over 6 feet tall? An orgasm, of course, of wish there were many. I have been in so many bad, unsupportive, unhealthy, toxic relationships and they have never helped my mindset when trying to succeed. I feel very lucky to have found someone who understands my professional dreams and champions my passions.
Additionally, the tour taught me to trust my intuition about who I allow to be part of my work and your process. As an artist, I am deeply connected to my creations — it feels as if our souls are intertwined with our work and so I believe it's imperative to do your due diligence before agreeing to work with someone. Protect your work, protect your peace, and ladies, always trust your intuition.
When it comes to being authentic and pushing boundaries within the industry, what advice can you offer to femmes hoping to be authentic by any means?
The biggest gift you could give the world is to be yourself. My biggest regret in life is not being myself sooner. I created an entire personality and course of actions based on who I thought other people wanted me to be and I was completely inauthentic to myself. The mask I wore is essentially unrecognizable from who I am — it was designed to make my parents happy, get "that guy" — insert 18 different guys named Mike — to love me and to appear "perfect." Perfect is an illusion and the Mikes never loved me. This mask caused me to become physically and emotionally ill as if my soul was revolting against me. It was only when I allowed myself to express who I am through my art that I started feeling confident, joyful and alive. Although, I'm of course, still dead inside.
For the most part, anytime I listen to anyone other than myself, I either don't enjoy performing or have a bad set. So what's the point?! Do not artistically censor yourself. Allow your essence to shine through no matter what. This is how you become memorable. Create the art YOU like, not the art you think will appease others, and the audience for your sensibilities will find you. Don't hide from who you really are. Don't wait to be you. Be you now. Being authentic will only lead you to greater success and, trust me, the world is excited to meet you. Or at least I hope so, because that's what me and all the voices in my head have been telling myself.
This interview has been condensed for clarity.
---
Share this article