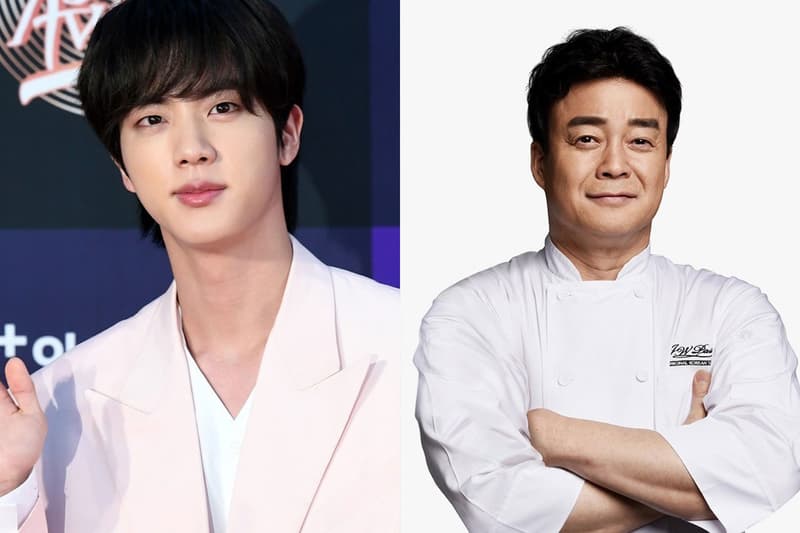 Culture
BTS' Jin Is Creating a Liquor Brand With Food Expert Paik Jong-Won
In an effort to bring back traditional Korean drinks.
BTS' Jin Is Creating a Liquor Brand With Food Expert Paik Jong-Won
In an effort to bring back traditional Korean drinks.
He might be enlisting in the military this week, but BTS member Jin has an exciting project in the works — a liquor brand in collaboration with South Korean food expert, Paik Jong-won.
For those unfamiliar, Paik is one of the biggest entrepreneurs in the Korean food and beverage industry. Also a television personality appearing in multiple food shows, the 56-year-old owns numerous franchises such as Bornga, Paik's Noodles, Paik's BBQ, Hanshin Pocha, Paik's Coffee, Rolling Pasta and more, which are found both in and outside the country.
According to OSEN, the K-pop star and the entrepreneur are working together to highlight the traditional drinks of Korea. The two, who recently partnered for a series on BTS' YouTube channel BANGTANTV on Korean alcohol, decided to create a liquor brand together.
"Jin is preparing a brewery under his name. He's been filling oak casts with alcohol, which should be ready to drink by the time he's discharged from the military. I want to add oak scents and flavors to soju, similar to whisky. There's no official name of this drink we're creating just yet," Paik said. He added that the reason behind creating the liquor brand is for both of the stars to share drinks with their families and friends.
Based on the interview, it seems like the liquor brand is in its early stages. Paik added, "We hope the general public will be able to taste these drinks once they have been fermented and finalized. We need a famous artist [like Jin] to create traditional drinks and share these with the world. That way, we can catch up on the years we've forgotten about our traditional liquor." He noted that South Korea's alcohol and drinking culture changed after Japan's occupation from 1910 to 1945. "They prohibited people from making alcohol with rice at home, which is why this entire culture of making soju at home disappeared… With more of these traditional liquors, we'll be able to further highlight Korean food and culture."
Watch the first episode of Paik on BANGTANTV below and stay tuned as we learn more about the new liquor brand.
Share this article